3 In-Season Roster Management Techniques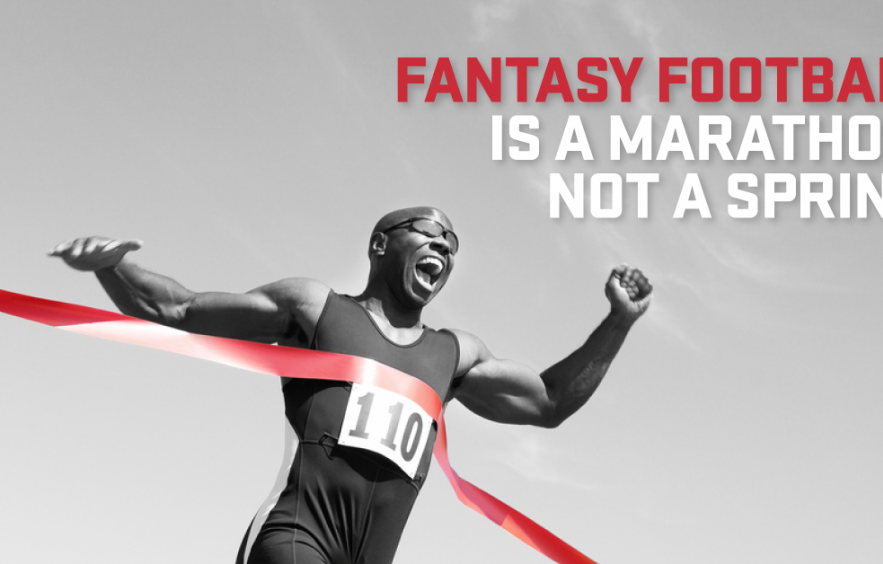 TJ Hernandez
Once the fantasy football season finally starts, how your team performs in the win column can and should have a major impact on your in-season roster management techniques. This article will examine various in-season scenarios to highlight how you should adjust your thought process on player acquisitions and lineup decisions throughout the season, based on the standings.
No matter the situation you find yourself in, the most important thing that a fantasy owner must do is properly assess their team. There's a significant level off luck in fantasy football, and understanding how luck has impacted your team and league standings is imperative. Just because your team is at the top of the standings doesn't necessarily mean that you have the best team, and losing teams may have been on the wrong side of variance..
The following scenarios assume that your team's record is an accurate reflection of the strength of your roster.
The Slow Start
Starting the fantasy season at the bottom of the standings doesn't mean that the season is over. It does mean that you should be especially aggressive on the waiver wire and in trades. Fantasy owners have a tendency to fall in love with the players that they draft and often have a hard time parting ways with those players.
When your team is in the cellar, though, it's no time to be proud. Instead, use your perceived desperation to your advantage. Since most of your roster is under-performing, it will be hard to sell your top players -- everyone knows that those supposed studs are floundering, so they're going to try to sell you short and selling low is never a savvy investment strategy.
If you have a player or two that have been performing above expectation, but your research shows that their success is unsustainable, then try to sell those players. Other owners might think that they are bolstering their roster and taking advantage of your dire situation, but you might end up landing one of their underperforming studs who is due to return to true form.
Since your team is near the bottom of the standings, you should have the pick of the litter when it comes to waivers. Again, don't let pride get in the way and leave valuable players in the player pool for other owners to pick up just because you have an emotional connection to the players that you drafted and are waiting for a break out from -- you don't have that luxury to hold onto your late-round sweethearts anymore.
Similarly, if you are in a league that uses a blind bid waiver system, it's not time to save those dollars. Bid aggressively to buy the best players available and give yourself a chance to salvage the season.
Back to those underperforming studs -- if you're doing your homework and you really don't expect a player to live up to expectations, don't be afraid to bench him for a "worse" player. Getting back into the mix might take extreme measures and the sharp fantasy players will put the highest scoring players in their lineups, regardless of the name on the back of the jersey.
Mediocre at the Midway Point
One of the hardest decisions in fantasy football might be for the owner whose team is on the brink of a playoff berth, but has been far from dominant. Is it best to stay the course or take some risks that could leave you out of the dance?
A lot of fantasy football owners subscribe to the belief that if you get to the playoffs, then anything can happen. As someone that wants to win every league that I play in, leaving my fate up to the football gods isn't an appealing idea. In reality, the teams that are dominating your league all year are usually the ones that are going to be winning the whole thing.
With that in mind, I'm looking to turn my average team into a juggernaut. Like the team that is struggling, if my team is just mediocre and I have a chance at a hot waiver pickup, I'm happily dropping middling starters or spending most of my free agent budget in the hopes of landing the next fantasy playoff superstar.
You should also be looking to take advantage of owners trailing you in the standings. Any team that is looking up at you likely has some massive holes to fill. If you have a surplus of talent at any position, now's the time to pounce on the bottom feeders. You might risk losing some valuable depth, but this is the point in the season where you need things to break perfectly for you to make a run at the title anyways. If you find an owner that is just desperate enough, an underperforming stud that is due to break out might end up on your roster.
Again, this is no time to be timid. I'd rather die a fast death trying to make a run at it, than squeak into a playoff tournament that I have almost no chance at winning anyway.
Crushing the Competition
If a first round playoff bye is in plain sight, then you've done most of the necessary work to build a dominant team. That doesn't mean that you should remain a spectator, though. Probably one of the reasons that you're at the top is because you've built a team of excellent players, not just in your starting lineup, but on your bench as well. While that depth is valuable to hold onto for most of the season, once you don't need the depth anymore (usually after the bye weeks are over), you are in the ultimate power position.
By the time bye weeks are coming to an end, you know who your studs are and you know which players are unlikely to make it into your weekly lineup, even if they are starting-caliber players. One of my favorite ways to leverage this situation is to have a fire sale. Even if other owners know what you're doing, someone in your league is praying to make the playoffs and will bite.
A classic scenario happens when you've been streaming quarterback all season and you have a bench full of running backs and wide receivers who are putting up quality numbers but not good enough for your starting lineup. Say a stud quarterback like Aaron Rodgers has a juicy playoff schedule and happens to be on a team in your league that's 4-7, with an outside shot to squeak into the playoffs if they win out. Dangle two or three players in front of him and see what happens. Usually in a package deal, the owner that's giving two or three players to get one is the winner.
Hanging onto depth out of fear of one of your starters getting hurt is a loser's game. Adding a piece that is going to make you unstoppable in the playoffs far outweighs the unlikelihood of a worst-case scenario like a devastating injury.
Gearing up for the Playoff Push
Regardless of what position you find yourself in the standings, there are a few strategies that all owners should be implementing leading up to the playoffs.
4for4's Hot Spots are an invaluable asset when it comes to gauging your playoff potential. Even a team stacked with studs can falter if they run into a murderer's row of defenses. In addition to individual weekly matchups, the Hot Spots breaks down average strength of schedule for every position in both two-week and three-week playoff formats, allowing users to find which teams really do have the easiest road to a fantasy championship.
When it comes to roster construction, owners in a position to make the playoffs, especially those with mediocre lineups, should seek out volatile players. While this approach could be uncomfortable at times, it's often the only way to fall a Goliath.
Here's how this concept works:
Assume that you are playing an opponent that averages 10 more fantasy points per game than your team. You're deciding between two players that average about 10 points per game, which happens to be exactly what both players are projected to score. The difference is that one player is a running back that has scored between eight and 12 points every game this season while the other is a wide receiver that has had outbursts of 20+ fantasy points, but also had some games without a target. As a huge underdog, you should play the volatile receiver who will at least give you a chance to take down the better team. While it could end in disaster, the consistently mediocre player will never give you a chance to win.
When gearing up for the playoffs as a big underdog, you can extend this concept to your entire roster. Stock up on volatile, high upside players. If things break just right, you could be the owner that barely got into the tournament that everyone thinks got lucky on a championship run. Usually the best fantasy owners create their own luck.
The Bottom Line
Being a passive owner is almost never going to win a championship. No matter your place in the standings, there are strategies that can maximize your chances to make a run at the title.
Owners that start slow should aggressively seek trades and waiver pick ups, but don't sell low. Considering benching some studs is even a possibility.

An average team is likely to have an average finish -- don't wait around for a better waiver pickup to appear. Look to take advantage of worse teams with massive holes in their lineups.

If you have a clearly superior team, you probably won't need your depth for the playoffs. Use your bench to your advantage by leveraging depth into a team that is virtually unstoppable.

When getting ready for the playoffs, pay attention to matchups beyond just the next week. Embrace volatile players if you think that you are an underdog going into the tournament.