Taylor Heinicke Keeps Commanders Afloat, Feeds Fantasy Assets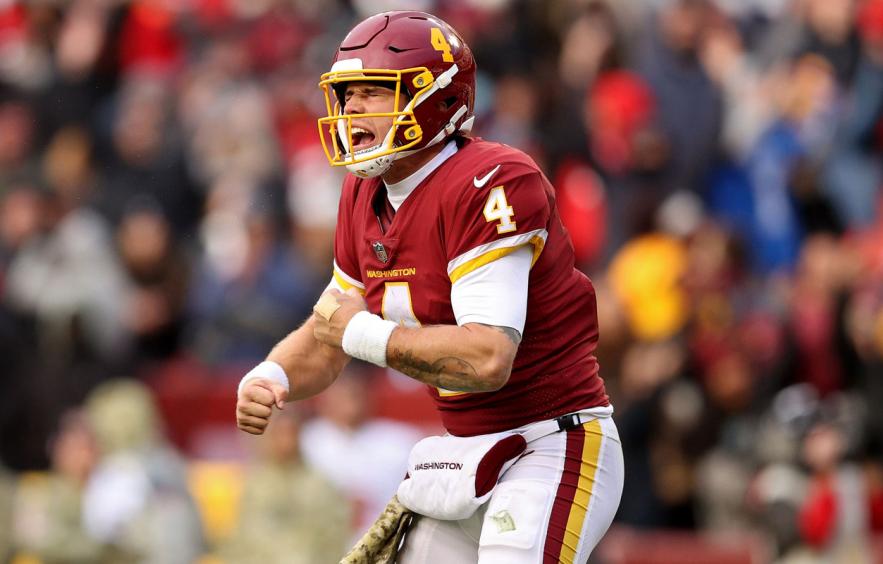 Patrick Smith/Getty Images
While it may be a deflating feeling for the Washington Commanders to come out of New York with a tie, the team is still firmly in playoff contention, and Taylor Heinicke had arguably his best game of the season, all the while feeding his fantasy football assets.
Wide Receiver Resurgence
After two weeks of passable fantasy output, Terry McLaurin put together a fringe WR1 week, turning his 12 targets into eight receptions, 105 yards, and a touchdown, his first receiving touchdown from quarterback Taylor Heinicke since Week 7. Heinicke's other passing touchdown went to first-year receiver Jahan Dotson, while Curtis Samuel added 63 yards on six receptions, adding 23 more yards on the ground.
After a week in which no receivers eclipsed four catches or 50 yards through the air, Heinicke's Week 13 performance buoyed the entire offense, providing three viable fantasy wide receivers and creating opportunities for running back Brian Robinson, who finished with a 21-96 stat line.
Taylor Heinicke

Getting Comfortable

Though the quarterback benefitted heavily from some impressive YAC performances —namely, from Jahan Dotson's highlight reel TD— Heinicke completed 66% of his passes on Sunday, keeping calm within the pocket despite taking a season-high five sacks from the Giants' pass rush. His two touchdowns accounted for the fourth time he's had multiple scores in the seven games he's started, making him a viable middling option in 2QB or Superflex leagues in most matchups.

The team decided to take the ball out of his hands during overtime; however, the former UDFA from Old Dominion snatched the team from defeat with a game-tying drive toward the end of the fourth quarter. With 3:43 on the clock, Heinicke completed six of eight consecutive pass attempts, throwing for all 90 yards the team needed to get into the Giants' end zone. Jahan Dotson would cap the drive with his impressive touchdown, but Curtis Samuel would also account for 51 of his 63 receiving yards, boosting him from a fantasy afterthought into a top-25 wide receiver performance.
What's Next?
Heinicke has been willing to take chances when it comes to throwing the ball, but he's also careful not to make bad decisions that can result in costly turnovers, unlike his predecessor Carson Wentz. Heinicke's ability to read defenses and find open receivers has been middling at times, but he's learning that when all else fails, he should be peppering Terry McLaurin, who finished Week 13 with a 30% target share.
Washington will head into their Bye Week before coming right back out in Week 15 to face this same Giants team, next time at home on Sunday Night Football. While the likes of Curtis Samuel and Jahan Dotson may be wavering in their fantasy potential in that next matchup, McLaurin is a player who should show up in every WR2 position.
While the Commanders continue to eye a potential spot in the NFL playoffs, Taylor Heinicke should continue to support players on fantasy teams with their own eyes on the playoffs. After the Giants game, Washington will take on the 49ers, Browns, and Cowboys, each of whom are middling against wide receivers in fantasy points allowed.