The Training Room: Week 3 Injury Updates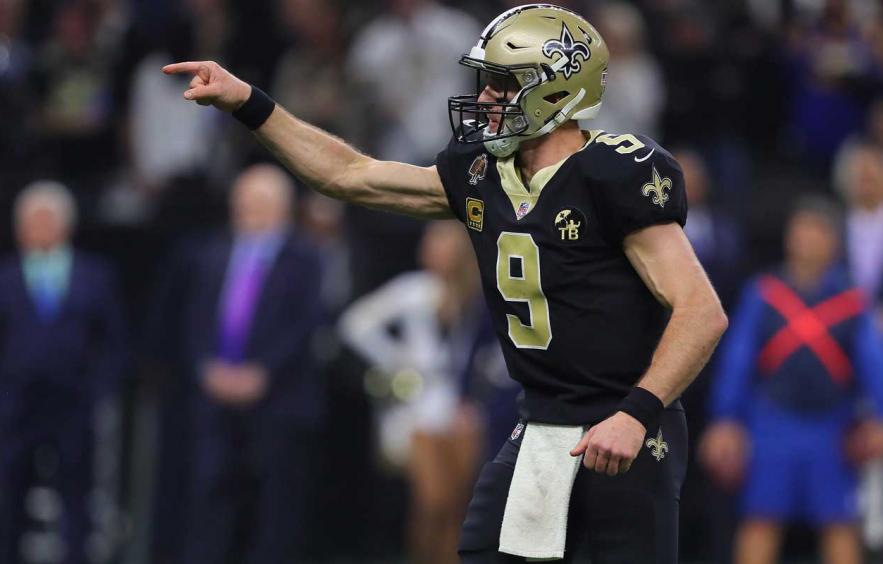 Jonathan Bachman/Getty Images
Week 1 brought on a decent amount of injuries, but it seems like every year Week 2 is a massive blow to fantasy teams and this year is no different. There are a lot of prominent players who sustained injuries this week so we are going to get right to it and give you an idea of what to expect for this week and moving forward. (Updated 9/22/19)
Injury: Sprained Thumb
Timetable For Recovery: Surgery - 6-8 weeks
Potential Replacement: Teddy Bridgewater, Taysom Hill
Comments: Brees got confirmation earlier today that what we all feared became a reality as he has a torn UCL in his thumb. Brees is now deciding who will do the surgery and as soon as he figures that out, it'll be done as soon as possible to get the recovery started. The Saints have a bye in Week 9 so depending on where the Saints are record wise, they would seriously need to evaluate how best to approach this. I would say 8 weeks is the minimum for Brees to come back and be effective as if he came back any earlier I'd be concerned about grip strength, the ability to accurate and also to be able to push the ball downfield effectively.
Injury: Torn UCL
Timetable For Recovery: Out for season
Potential Replacement: Mason Rudolph
Comments: Big Ben was seen grabbing his elbow a few times during the first half after throwing and did not return to the game after the first half. He had an MRI late Sunday night which revealed a torn UCL, which is very well known in baseball players as they require Tommy John surgery to address it. This is kind of a surprise as the initial area that he was grabbing at and having discomfort in was not anywhere near the inside part of the elbow but regardless the surgery will end his season abruptly. Although we don't see a ton of Tommy John surgeries in football, he should make a full recovery without too much limitations by the start of next season.
Injury: Sprained Knee
Timetable For Recovery: Ruled out for Week 3
Potential Replacement: LeSean McCoy, Darwin Thompson
Comments: Williams suffered a knee injury late in the fourth quarter and did not return. He hasn't been able to practice at all this week and has already been ruled out against the Ravens so the workload will fall on McCoy and Thompson. It didn't sound like Williams was anywhere close to starting to practice in any fashion so I'd consider him highly questionable for Week 4 as well.
Injury: Sprained Foot
Timetable For Recovery: 50/50 chance to play
Potential Replacement: Hayden Hurt, Nick Boyle
Comments: Adam Schefter is reporting that Andrews is only a 50-50 shot to play today which is surprising considering he went through the same routine from a practice schedule last week and performed well. My guess is either Andrews suffered some sort of re-aggravation or setback during the week or later this week as to why the Ravens are on the fence about playing him. Andrews has become a big part of what the Ravens are doing and although this matchup with the Chiefs would be more favorable with him in it, the Ravens aren't going to risk using him as they normally would if he does suit up. Keep an eye on his status as we get closer to game time.
Injury: Sprained Knee
Timetable For Recovery: Full practice, expected to play Week 3.
Potential Replacement: Jaylen Samuels
Comments: Conner didn't practice early in the week, but was able to get in two consecutive full practice days later in the week which should allow fantasy owners to feel confident in his health. I would use him as you normally would and could be utilized more now with Roethlisberger sideliend for the year.
Injury: Strained Hamstring
Timetable For Recovery: No practice all week, out for Week 3.
Potential Replacement: Frank Gore
Comments: Singletary continues to ramp up his involvement in the Bills offense, but he tweaked his hamstring in the second half of Sunday's game against the Giants. Singletary did not return. Hamstring injuries are not uncommon, especially early on in the season, but they do have a tendency to linger if it is not managed properly from the get-go. The Bills will be cautious with their rookie RB and see how significant the strain is to determine the next step.
Injury: Sprained Ankle
Timetable For Recovery: Questionable for Week 3. expected to play.
Potential Replacement: Damien Williams, Darwin Thompson
Comments: McCoy suffered an ankle injury late in the game and did not return. He was limited all week but did finally get in a full practice on Friday which means he is going to play barring any setbacks. He has looked good so far since reuniting with Coach Andy Reid and he'll likely see a heavy workload if his ankle is able to handle that against the Ravens on Sunday.
Injury: Strained Calf
Timetable For Recovery: Questionable for Week 3
Potenial Replacment: Jordan Wilkins, Nyheim Hines
Comments: Mack did not practice for the majority of this week but did take limited reps on Friday, which potentially puts him on track to play. The question will be how the calf feels before the game and whether or not the Colts want to risk a re-aggravation in the calf/achilles region.
Injury: Strained Groin
Timetable For Recovery: Full Practice, Expected To Play.
Potential Replacement: Jalen Richard, DeAndre Washington
Comments: Jacobs was able to return to a full practice without any setbacks and looks ready for Week 3. The problem is he's been under the weather as well and reports have it that he's lost 10lbs in the process this week which is more of the concering issue at this point. Fatigue could play a factor and even though his groin is deemed healthy, the Raiders might give more touches to Richard and Washington to help ease Jacobs back in.
Injury: Chest Injury, Lung Contustion
Timetable For Recovery: Ruled out for Week 3
Potential Replacement: Gerald Everett
Comments: Higbee has been ruled out for Week 3 as he continues to recover from a bruised lung. We'll see if he's able to make a full recovery by next week.
Injury: Hip Pointer
Timetable For Recovery: Expected To Play Week 3
Potential Replacement: Hunter Renfrow, Ryan Grant, Dwayne Harris
Comments: Williams has progressed quicker than I expected from the hip pointed he suffered and was removed from the injury report. He'll resume his role as the top option in the Raiders offense.
Injury: Strained Groin
Timetable For Recovery: Ruled Out For Week 3
Potential Replacement: Nelson Agholor, JJ Arcega-Whiteside
Comments: Jackson suffered the groin strain early in Sunday's game and did not return. There was a report from Eagles reporter Eliot Shorr-Parks after the game stating that Jackson was walking with a noticeable limp after the game. Groin strains can very troublesome for receivers who rely heavily on their speed as the groin is heavily involved when it comes to top-end speed and sprinting. I wouldn't be surprised if he missed this week and Week 4 as the Eagles play two games in 10 days these next two weeks.
Injury: Strained Calf
Timetable For Recovery: Questionable for Week 3. More doubtful than questionable.
Potential Replacement: Nelson Agholor, JJ Arcega-Whiteside
Comments: Jeffery left Sunday night's game against the Falcons relatively early in the game and did not return. Jeffery has not practiced all week, but he is still listed as questionable for this week. I am highly skeptical that the Eagles would risk having Jeffery suffer a re-aggravation especially with DeSean Jackson ruled out already and the fact that he hasn't practiced all week makes me think he's more doubtful than questionable at this point. I would have a backup plan if you have Jeffery as even if he does play, he likely won't be anywhere near 100%.
Injury: Torn Meniscus
Timetable For Recovery: 2-4 Weeks
Potential Replacement: Randall Cobb, Tavon Austin
Comments: Gallup had surgery on Monday to clean out a torn meniscus that was bothering his knee after sustaining the injury Week 2 against the Redskins. Gallup should be able to return sooner than later, but every athlete's recovery is different. If you look no further than D.K. Metcalf's return from the same issue, he was able to come back and be effective in less than 2 weeks. Gallup was looking great for the Cowboys so far so hopefully when he does return he doesn't miss a beat.
Injury: Concussion
Timetable For Recovery: Ruled Out For Week 3
Potential Replacement: Sterling Shepard, Bennie Fowler
Comments: Latimer hasn't even returned to any limited practices this week so his status for Week 4 is up in the air as well.
About Author