DraftKings Ohio Promo Code: $200 In Free Bets & a shot at $100,000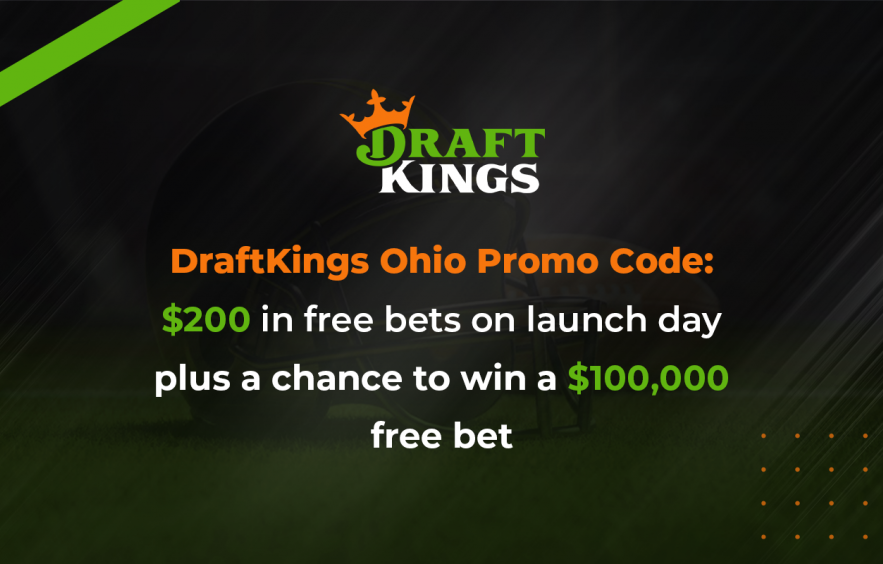 Greetings, Ohio! It's time to sign up ahead of time for mobile sports betting and DraftKings Sportsbook is offering a jump-start to Ohioans. By enrolling early, locals can grab an exclusive deal from DraftKings. Register now to claim $200 worth of free bets. Plus, five people chosen at random will receive a whopping $100K bet for free! This offer is only valid for DraftKings customers who have signed up before the Ohio launch on January 1st, 2023.

DraftKings Ohio Promo Code
Sign up for a DraftKings account prior to their mobile wagering launch in Ohio, and you will be awarded $200 in free bets on launch day. In addition, five customers will be chosen at random to receive a massive $100K free bet on that same day! This promotional offer is only available until January 1st, 2023 - don't wait any longer!
How to Sign Up for the DraftKings Ohio Promo
1. Just click right here.
2. Set up an account. This will provide a $200 free when the app goes live.
3. On launch day, make sure to return to collect your bonus.

DraftKings Ohio FAQs
Is DraftKings Sportsbook Legal?
DraftKings Sportsbook is a dependable and lawful sports betting operator. It respects rigorous regulations in each domain it works in for the protection of your funds and confidential information.
Where do I enter DraftKings promo code?
Luckily, you don't actually have to enter a physical promo code when signing up with DraftKings. If you click any of the links or buttons in this article, the promo code will be automatically counted for you, so all you have to do is input your information and you will be all set for the welcome bonus.
How is my account information protected?
DraftKings ensures the protection of all their confidential data with SSL (Secure Socket Layer) as represented by the padlock on your browser's address bar. They encrypt any private customer data and only allow access to personnel when it is essential.
Do I have to live in a certain location to bet on sports on DraftKings?
No, you do not have to live anywhere in particular to bet on DraftKings, but you do have to be physically located in a state that permits mobile sports betting. DraftKings uses a location tracker upon login to the app, and as long as you are physically located in a state that permits mobile sports betting you will be able to place any wagers that you wish.
How can DraftKings help me manage my play?
As part of DraftKings' commitment to Responsible Gaming, they offer a variety of ways to help you manage your play:
Player limits: If you want to limit your interactions with DraftKings but continue using the product, you can self-impose restrictions on certain aspects. These may include limits on deposits, entries, wagers, and time spent on DraftKings. Learn more about the player limits that are available for each product.
Cool-off period: If you are a Sportsbook and/or Casino player who would like to take a break, you can set a cooling-off period for yourself.
Self-exclusion: If you'd like to take a break from DraftKings, you can choose to temporarily exclude yourself from playing for a specific period of time, up to 5 years. Learn more about excluding yourself here.