What Jamaal Williams to the Saints Means for Fantasy Football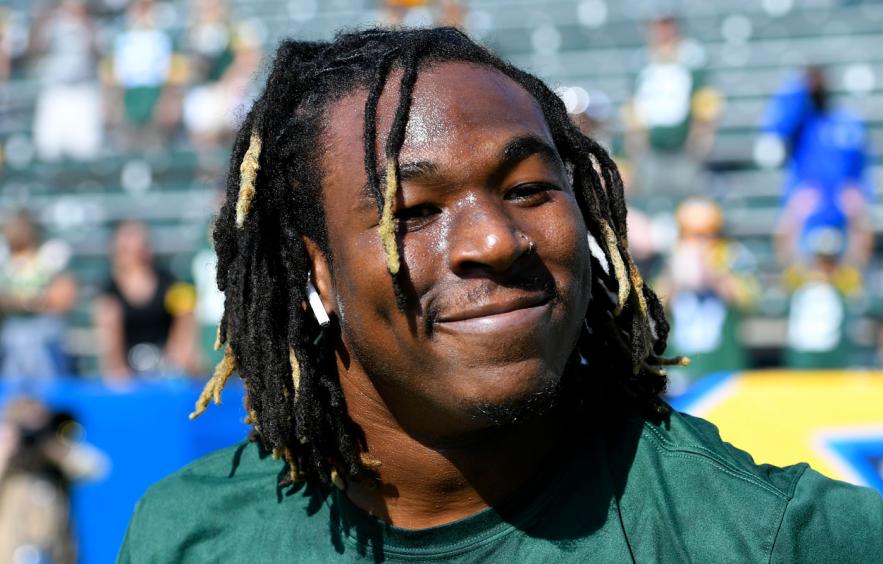 John McCoy/Getty Images
After a productive two-year stint in Detroit, Jamaal Williams joins the New Orleans Saints on a three-year deal worth $18 million. He'll presumably take on the complementary role to Alvin Kamara likely vacated by Mark Ingram, or possibly be asked to fill the lead spot if a suspension is handed down to Kamara due to pending legal issues from battery charges back in February 2022.
---
Click here for more 2023 Player Profiles!
---
Jamaal Willliams Career Arc
We've seen breakouts at various points in NFL careers, they don't have to come as a rookie, sophomore, or even as a third-year guy (see Cordarelle Patterson). In this case, Williams busted way out in year six of his professional career, smashing all prior rushing stats from both his four seasons in Green Bay and his previous year in Detriot. Not only did Williams lead the league in rushing touchdowns with 17 but he also carried the ball 262 times for 1,066 yards, when his previous highs were four scores via the run in 2017 and 153 rushes for 601 yards in 2021.
Jamaal Williams

Career Output

| Year | Team | Games | Carries | Rushing Yards | Receptions | Receiving Yards | Total TDs | Fantasy Finish (.5/G) | Half-PPR/Game |
| --- | --- | --- | --- | --- | --- | --- | --- | --- | --- |
| 2022 | DET | 17 | 262 | 1066 | 12 | 73 | 17 | RB11 | 12.9 |
| 2021 | DET | 13 | 153 | 601 | 26 | 157 | 3 | RB46 | 8.2 |
| 2020 | GB | 14 | 119 | 505 | 31 | 236 | 3 | RB42 | 8 |
| 2019 | GB | 14 | 107 | 460 | 39 | 253 | 6 | RB40 | 9.1 |
| 2018 | GB | 16 | 121 | 464 | 27 | 210 | 3 | RB64 | 6.2 |
| 2017 | GB | 16 | 153 | 556 | 25 | 262 | 6 | RB32 | 9.3 |
While we know that most of those touchdowns came in situations under four yards and that number isn't sustainable, Williams was brought in to be the short-yardage and goal-line magician for New Orleans in 2023.
Jamaal Williams

' Fit in New Orleans

After two spells spanning a decade, it was time for the Saints to move on from 33-year-old Mark Ingram. Last year Ingram ended the season on IR due to a knee issue and only posted 301 combined yards with one touchdown in 10 contests.

Williams brings reliability and solid rushing prowess to a somewhat unstable backfield. Kamara does have a potential suspension looming and was also utilized differently last season, with less goal-line and passing work than in previous years. That led to just four total touchdowns (two rushing, two receiving) with 897 rushing yards.

Utility man extraordinaire Taysom Hill was even called upon to grind out runs in 2022, posting a career-high 96 rushes for 575 yards and seven touchdowns, which is something that should no longer be a thing with Williams in town.
How Does
Derek Carr

Factor into the Situation?

Kamara had over 81 receptions in each of his first four seasons with the Saints, then posted 47 and 57 in 2021 and 2022, respectively. When on the field, the 27-year-old should be decently involved in the passing game with Derek Carr at the helm. The new QB is likely to throw underneath in New Orleans, and lead a more effective offense than Andy Dalton did last season.

In seven of Carr's nine seasons as a Raider, his running backs finished among the top 10 in team target percentage, with the other two campaigns producing the 11th and 18th highest target share in the NFL. Pass-catching backs for the Raiders averaged 132.1 targets per season from 2014-2022, with an average target share of 23.5%.

While Williams was known as a bruiser in Detroit, especially last season, the 27-year-old did show pass-catching ability back in Green Bay. Aaron Rodgers tossed him the ball over 40 times in both 2018 and 2019, which he converted to 463 receiving yards and five scores. If Kamara were to miss time, which seems likely, Williams and Carr could be a solid connection for both real and fantasy football.
Fantasy Outlook for the
Saints

' Backfield

The arrival of Jamaal Williams isn't great news for Kamara in the fantasy realm, regardless of possible time missed. We're looking at a true committee backfield situation that cuts right into Kamara's bottom line. Last year he finished as RB17 in half-PPR points per game with 12.2 despite a drop in efficiency due to volume. With Williams on the roster, there's now a better alternative than using trickery or an aging Ingram.

Williams can't possibly live up to the 17 touchdowns from 2022, but he lands in a great spot with a run-heavy scheme and a QB who loves to pepper his backfield with targets. A fantasy RB2 outcome seems like a legitimate possibility, and for now, the new Saint carries an ADP 113.1 as RB36, but that should rise following Wednesday's news. Kamara is being drafted six spots before him as the RB30, with an Underdog ADP of 95.2.

Taysom Hill's role is still TBD, but we can only assume he'll be used less as the RB part of his hybrid moniker and more in the TE world. He is pricier than ever heading into 2023, leaving draft boards at 13.05 as TE16, but you can never seem to count him out for those random multiple-touchdown spike weeks.

Bottom Line