Manage Your Fantasy Football Expectations for Javonte Williams in 2023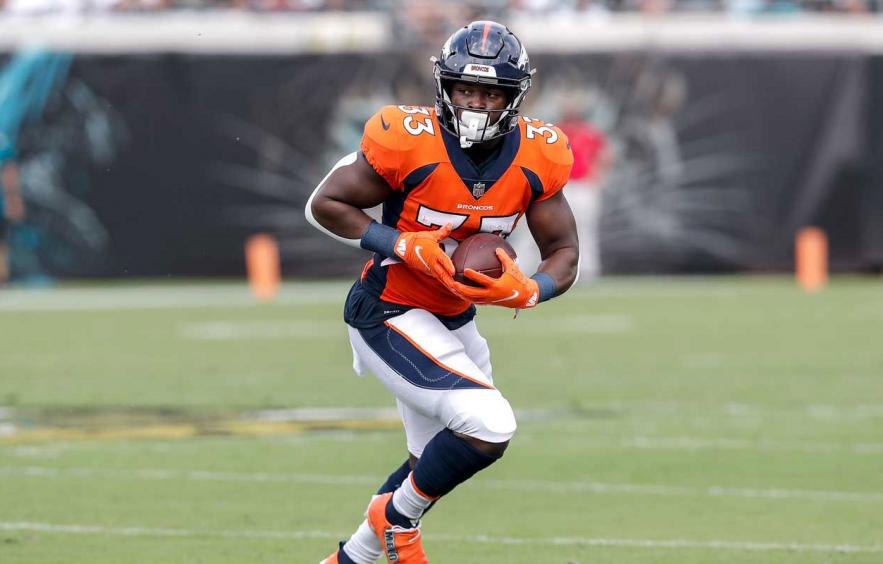 Don Juan Moore/Getty Images
In fantasy football we are not just chasing championships—sometimes we chase our favorite players as well. We see glimpses of potential and push our chips all in. No player embodies player chasing quite like Javonte Williams. Coming out of North Carolina, Williams' profile fit the mold of a workhorse RB that fantasy managers covet. However, after two disappointing seasons and fresh off an ACL-reconstruction (ACLR) most fantasy managers are wondering what to do with the Broncos' back in 2023.
---
Click here for more 2023 Player Profiles!
---
Running Backs Post-ACL
Running backs following ACLR historically do not perform well. Compared to their pre-injury levels here is a look at RB production the year following their ACL tear compared to the year before the injury:
RB Production Pre vs. Post ACLR (%), 2001–2021

| Attempts per game | Rush yards per game | Rush yards per attempt | Receiving yards per target | Fantasy points per game |
| --- | --- | --- | --- | --- |
| -14.3 | -18.9 | -8.8 | -1.4 | -19.2 |
Unless your name is Adrian Peterson, returning after an ACL tear is a struggle. Some of the running backs that performed better in the year after ACLR were heavily involved in the passing game. There is a small correlation between targets and fantasy output one-year post-op. Referencing the table above, receiving efficiency is less impacted by an ACL injury than rushing numbers. Therefore RBs with more pass-catching abilities can typically bounce back quicker in a fantasy sense.
In addition to William's ACL tear, he also injured his LCL. Research has shown that the average return to play is faster when the RB does not have posteriolateral corner or LCL involvement with their ACL tear—on average 330 days. When there is LCL involvement it can take an additional 100 days for RBs to return to game action, an average of 459 days to be exact. It's a small sample for both, but among the 14 RBs I have examined with a documented ACL surgery J.K. Dobbins and Gus Edwards had the longest recovery times. Both had LCL tears. It's worth noting that Williams participated in OTAs which is a great sign in his recovery and puts him ahead of schedule compared to the aforementioned Ravens' RBs but his LCL is still reason to proceed with caution.
Javonte Williams

' Two-Year Sample

Much of the upside that fantasy managers see in Williams is not backed by production. Granted he only played in three full games in 2022, but Williams has only eclipsed a 65% snap share twice in his career. In one of those games, Williams' teammate Melvin Gordon was injured and did not suit up. Williams has perpetually been in a timeshare with other RBs on the Denver roster. The RB committee has also set Williams up for failure as he has finished an RB1 (inside the top 12) just 23% of the time.
Javonte Williams

Weekly RB Half-PPR Finishes (21 total games)

| Top-12 | Top-30 | Outside Top-30 |
| --- | --- | --- |
| 5 | 6 | 10 |
Javonte Williams

' ADP

Even though this has appeared to be a Javonte Williams tear-down piece, his average draft position (ADP) is appropriate. Per Underdog ADP, Williams is currently coming off the board at RB29 and 91st overall. This is a fair target for an RB coming off a major injury. Williams is ahead of players with suspensions/looming suspensions like Jamison Williams and Alvin Kamara and others with question marks such as James Cook, Anthony Richardson, and Antonio Gibson. It's very interesting that Williams' new RB counterpart, Samaje Perine, is going a round later at RB35 overall suggesting there is a clear line in the sand—those who believe in Williams and those who do not. At RB29 Williams can be an RB3 with some upside in the second half and not a starter that needs to be relied on.

Passing-Catching RBs Under Sean Payton
I hinted at this in the first section of this writeup, but for whatever reason receiving production is less impacted than rushing production following an ACL tear. It's possible there is less cutting/pivoting involved in an RB route tree, movements that could be challenging after ACLR.
In New Orleans, Sean Payton's RBs were certainly involved in the passing game. You could argue that Alvin Kamara was the main reason for a high target share, but here is where Kamara ranked in team target share compared to other RBs:
| Year | Target Share (%) |
| --- | --- |
| 2018 | 21.4 (3rd) |
| 2019 | 20.1 (2nd) |
| 2020 | 22.5 (1st) |
| 2021 | 20.2 (1st) |
Although Williams has not shown to be a prolific pass-catcher, he has shown pass-catching capabilities and it's possible with Payton holding the play sheet that a Denver RB leads the league in target share again.

The Bottom Line
Following ACLR, RBs historically have not fared well. On average there is a 20% decline in fantasy points per game in the season following the injury compared to the season before.
Involvement in the passing game could help elevate the floor and there is some correlation between target share and better performance after ACLR.
Under Sean Payton, RBs have been heavily involved in the passing game. This could help Javonte Williams in 2023 or hurt him should that role lie strictly on Samaje Perine's shoulders.
Javonte Williams' intrigue is based on potential not past performances but his current ADP (RB29) leaves less room for fantasy managers to be disappointed. If his ADP rose I would be pessimistic he could return value, as he is 4for4's RB22 in half-PPR scoring.