J.K Dobbins: Injury Profile and 2023 Fantasy Football Outlook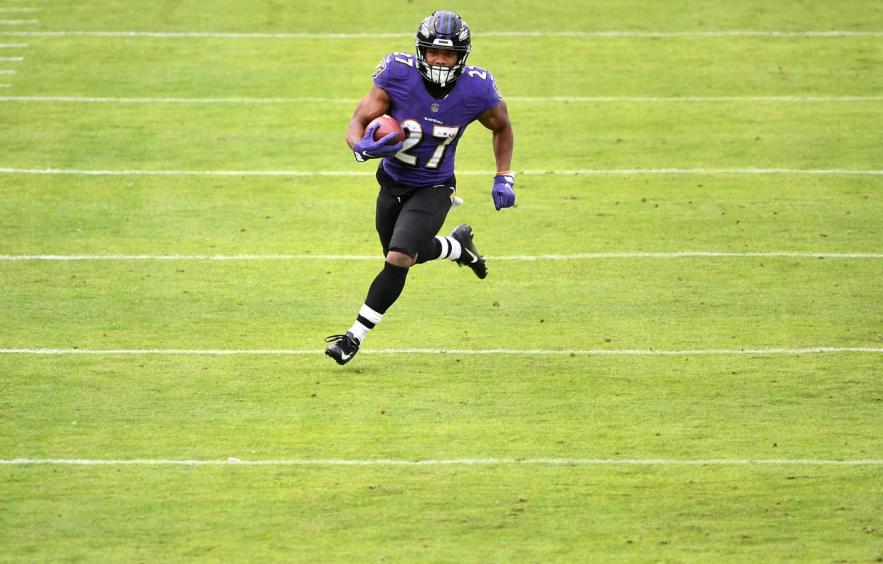 Will Newton/Getty Images
We have all heard these common expressions before. "A chain is as strong as its weakest link." "A picture is worth a thousand words." "An apple a day keeps the doctor away." And of course "NFL running backs tend to return to form two years removed from their ACL reconstruction and return value in fantasy football leagues." These sayings are just some of the basics but often there is a lot of truth associated with them.
After two injury-riddled seasons, J.K. Dobbins is primed to return to form in 2023 and is someone that could anchor your RB position in fantasy formats. History suggests that there should be an uptick in his production and availability compared to last season.
---
Click here for more 2023 Player Profiles!
---
Dobbins' Road to Redemption
2022 was always going to be a challenge for Dobbins to break through post-ACL reconstruction (ACLR) and become fantasy relevant.
There were early signs that Dobbins was not close to 100%. He needed revision surgery, had developed scar tissue around the knee which limited his knee range of motion and he simply did not look right.
What are these weird bumps on #JKDobbins knee? https://t.co/6n5u7Ihkf6 pic.twitter.com/YP5py8Gbqu

— David J. Chao - ProFootballDoc (@ProFootballDoc) December 15, 2022
The doubt surrounding Dobbins ultimately rang true at the start of the season as he missed Weeks 1 and 2, was outside the top-24 at the position and eventually needed to be shut down for a revision procedure on his surgically repaired knee.
Dobbins was able to have a strong finish to wrap up the season. Upon return, his carries increased by 61% and he averaged 11.8 fantasy points per game (RB19 Weeks 14-17). It's a possibility that this strong finish is why Baltimore did not add any competition to their backfield, installing confidence in Dobbins for 2023 and beyond.
ACL Reconstruction Year 1 vs. Year 2
As I mentioned above the running back efficiency suffers the first year back but two years removed, most see a return to baseline.
Career Avg. vs. Post-ACL RB Efficiency Year1 (2001-2021)

| Games Played | Attempts per Game | Yards per Game | Yards per Attempt | Fantasy Points Per Game |
| --- | --- | --- | --- | --- |
| -7.6% | -9.2% | -15.7% | -16.4% | -26.9% |
Career Avg. vs. Post-ACL RB Efficiency Year2 (2001-2021)

| Games Played | Attempts per Game | Yards per Game | Yards per Attempt | Fantasy Points Per Game |
| --- | --- | --- | --- | --- |
| 12.5% | 4.2% | 5.2% | 1.3% | -1.4% |
Additionally, when examing fantasy points per game compared to the year before their ACL tear, RB fantasy points dropped by 20% their first year back. In year two, RB production only dips 1.4%.

Dobbins 2023 Projection
Regarding Dobbins' fantasy football outlook, it is reasonable that he is available for most of the season. Looking at all of the offensive positions in fantasy football, it's not surprising to note that RB is the most fragile with ~11% chance to play a full season. Accounting for and weighing RBs who are two years removed from ACLR I would project Dobbins to play 14.5 games.
Being conservative and projecting Dobbins fantasy average with his healthy rookie season he would be at 154.0 points in 0.5 PPR leagues, slightly below 4for4's projection. Per 4for4's Multi-site ADP, Dobbins is coming off the board as RB16 in the middle to late fourth round. Given his recent struggles, it's understandable why the fantasy community is hesitant to push Dobbins up the rankings but if Dobbins can take any step forward and is healthy he is being drafted at his floor. Referencing the data below, he has favorable odds to play the games in order to be a top-24 RB and could easily be a high-end RB2.
Full season odds: 13.1%
Odds to play at least 12 games (average for top-24 RBs): 89.7%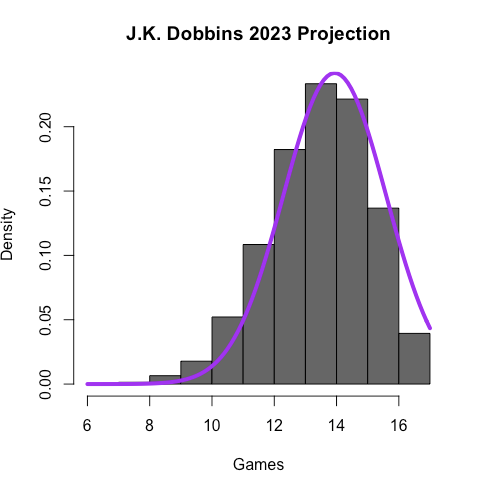 PUP
On Friday the Ravens placed Dobbins on the PUP as training camp is slated to start next week. As a general reminder, players can come off the PUP at any point during the preseason and they do not have to miss any games so Dobbins playing Week 1 is not unrealistic. If there is something wrong with Dobbins' surgically repaired knee this is an issue as he is far enough removed to not be having such issues. However there could be something else at play as Dobbins has flirted with a hold out. By placing Dobbins on PUP Baltimore can keep him under contract for another season should he not play in 2023.
Interesting note on JK Dobbins + PUP:

"A player's contract will not be tolled while on PUP, UNLESS he is in the last year of his deal and he is both not able to perform football services as of the 6th regular season and is not activated during the regular season or postseason"…

— Jeff Mueller, PT, DPT (@jmthrivept) July 21, 2023
There could be some mind games going on, espicially given the fact that the Ravens also just signed Melvin Gordon.
Bottom Line
Last season was a struggle for Dobbins. All the data points suggest this is normal and his production to start last season should be ignored.
The second year after an ACLR is when RBs return to form. Compared to their previous/healthy season fantasy production is essentially the same—on average, fantasy points per game only dropped by 1.4%.
The current 4for4 projection is a little higher than my injury projection but it gives a range of outcomes for the Ravens' lead RB. It's reasonable to get high-end RB2 production from Dobbins with spike weeks due to TDs in what figures to be a high-scoring Baltimore offense.