Damien Harris Will Be a Lesser Devin Singletary in Buffalo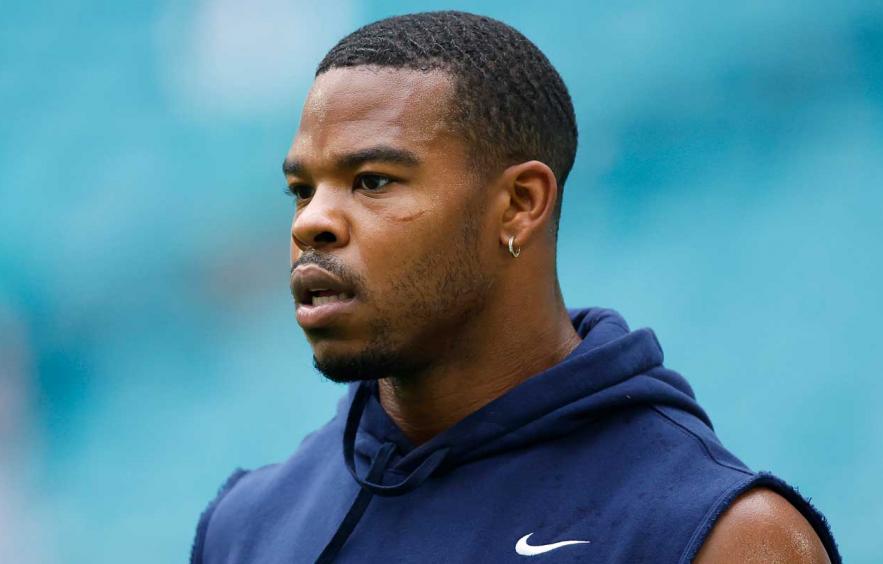 Michael Reaves/Getty Images
Damien Harris is now a member of the Buffalo Bills. In running back terms, after four uneven seasons with the New England Patriots, Harris goes from the land of confusing committees to the land of replacement rumors.
---
Click here for more 2023 Player Profiles!
---
Damien Harris

in New England

Harris had his ups and downs in New England, highlighted by a productive 2021 season, when he had 1,061 yards from scrimmage, including 132 receiving, and scored an impressive 15 touchdowns on 4.6 yards per carry. Falling behind Rhamondre Stevenson on the depth chart, he was limited to just 106 carries last season, hitting paydirt a mere three times.

The 2021 season is definitely what we need to look at if we want to find the high-end potential of what Harris brings to the Bills' offense, and more importantly, to fantasy managers drafting him. Obviously, the usual counting stats look good—particularly those eye-opening 15 touchdowns—but how do they stack up when you look a little deeper?

Let's look at that 2021 season, highlighting his efficiency in 3-WR sets.
Damien Harris

Efficiency, Overall vs 3-WR Sets (2021)

| | Rushing Attempts | Yards after Contact per Attempt | Broken Tackles per Attempt | Yards per Carry |
| --- | --- | --- | --- | --- |
| Total | 202 | 2.38 (53rd) | 0.089 (35th) | 4.60 (25th) |
| 3-WR Sets | 51 | 1.96 (61st) | 0.039 (58th) | 3.63 (59th) |
Data via Sports Info Solutions. Ranking is among players with at least 25 carries.
According to SportsInfoSolutions, the Bills were sixth in the league in 2021 in rate of rushing attempts out of 3WR sets and ninth in 2022. Harris' numbers in the context of broken tackles and yards after contact were mediocre in his best season and even worse when running out of 3WR formations.
The story these numbers tell is a back who took what was given to him and didn't add a tremendous amount of value aside from his workload. This lends credit to the Patriots' decision to feature Stevenson more often in the offense in 2022 and is probably the reason he was replaced by James Robinson as the backup in free agency this offseason.
On the plus side, Harris only has three career fumbles on 449 attempts, far better than the 13 fumbles on 672 attempts from Devin Singletary over the same time frame. Additionally, Harris carried the fifth-highest rushing grade from Pro Football Focus in 2021, so there's some hope for his talent as a runner to provide value to this Buffalo offense.
Damien Harris

' Opportunity in Buffalo

We know Buffalo likes to run out of 3-WR sets and we know they've been rumored to replace Singletary pretty much since Singletary took over the starting job as a rookie in 2019. We also know, despite the incessant rumors of his downfall, Singletary received a fairly prominent workload throughout his Bills tenure. He had at least 150 carries in each of his four seasons, including 177 last year. He also has 145 career receptions and is coming off two consecutive years with at least 1,000 yards from scrimmage. Not only that, but Singletary led the team in red zone carries last year with 33, scoring four rushing touchdowns from inside the 20.

The flip side of the above table is the known and quantified impact of Josh Allen's legs in the red zone. Harris, like Singletary before him, will need to contend with Allen's propensity to steal rushing touchdowns in the red zone.

Harris should slide right into that Singletary role, especially those 33 red zone carries. However, some splits are important to consider when we look at what role he's really sliding into.
| Player | Full Season Snaps | Snap % | Last 5 Games Snaps | Snap % |
| --- | --- | --- | --- | --- |
| Devin Singletary | 709/1085 | 65% | 170/335 | 51% |
| James Cook | 269/1085 | 25% | 143/335 | 43% |
From the 4for4 Snaps App, you can see that Singletary's role diminished over the final five games of the season, with rookie James Cook's role jumping up to 43% of snaps over that timeframe. Even more telling is that Singletary and Cook at nearly a dead-even split in touches over the final five games of the season; 12 per game for Singletary, 11 for Cook. This is the workload we can expect from Damien Harris in his new uniform: 216 total touches with a good shot at some short-yardage scores.
Thunder and Lightning
There is an argument for Cook to be the primary ball carrier and Harris to be the backup. Just search "James Cook SZN" on Twitter. However, Cook profiles physically as a more complementary back than a traditional three-down workhorse. The concept of a workhorse back is getting outdated for many teams, but it's even more true with Cook, who shared time throughout college and measures in at 5-foot-11, 190 pounds. While it's undoubtedly true the Bills will want to get the ball in the hands of their play-making sophomore, more than a 50/50 split seems overly optimistic for Cook.
Harris has at least 20 pounds on Cook and can take on much of the inside and early-down work to help keep Cook fresh and effective in his role, and Cook is definitely the more accomplished receiver. In a part-time role last year, Cook had more targets (32) than Harris has in any one of his four seasons a as pro. While it's possible Harris will see some work in the passing game, most of Singletary's 52 vacated targets are likely to go Cook's way. Additionally, Nyheim Hines is still on the roster. Even if something happened to Cook, Hines would likely get the bulk of the pass-catching work and would resume Cook's lightning role, though I imagine Harris might see a small uptake in carries.
Harris should get plenty of thunder work to Cook's lightning. His role in the red zone and ability to thump for 12 carries per game should still land him in the fantasy-relevant zone, albeit somewhere a notch below Singletary's best usage.
Damien Harris

as a Fantasy Value

So far, this has been mostly negative. Harris isn't that good, won't get a ton of work, and there's essentially zero hope for him to become a big-time target in the passing game. However, beauty is in the eye of the beholder, and there is value to be mined with Harris.

Singletary was drafted right around RB35 in the seventh round last year. With Cook-frenzy in full force, the questions surrounding Harris moving to a new team, and Harris coming off a down season in general, it's reasonable to guess his ADP won't rise any higher than that, even as we get further into the offseason. It may even drop further—he is currently the RB47 in early best ball drafts. If you can grab him that late, you may be pleasantly surprised with the number of RB3 and borderline RB2 weeks you get out of him. After all, despite a diminished workload and all the replacement rumors, Singletary was the RB24 last year. It's easy to see Harris having similar success in his new role.

Bottom Line
A deeper look at Damien Harris' time in New England shows him in a dimmer light than traditional counting stats.
Harris' opportunity should be similar to Devin Singletary's, but with likely fewer looks and probably less efficiency.
Harris can still be a value, so long as his ADP doesn't rise higher than the middle rounds. He'll be a fringe RB2/RB3 option and is currently a value as the RB47 in UNderdog ADP.