Bijan Robinson: Worth the Fantasy Football Hype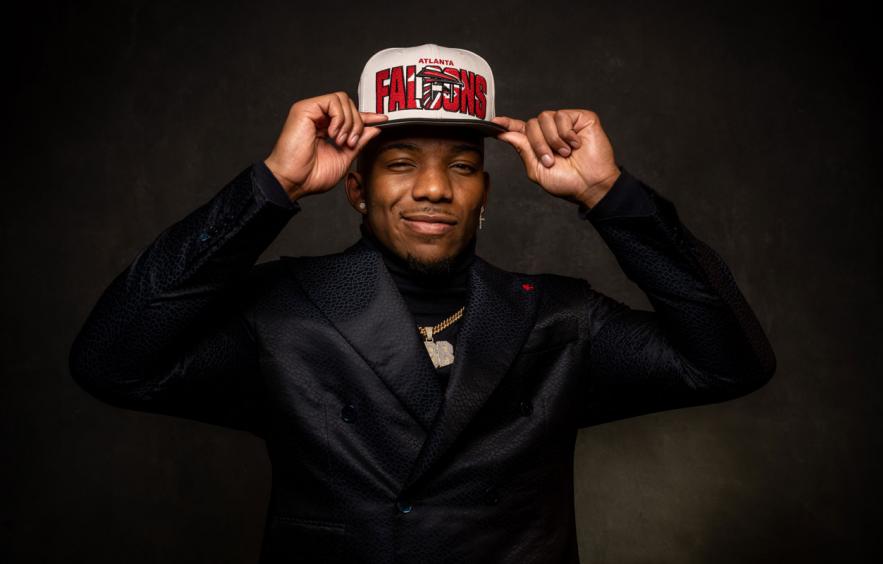 Todd Rosenberg/Getty Images
The Atlanta Falcons selected Texas running back Bijan Robinson with the 8th overall pick of the 2023 NFL Draft. Robinson, by far the consensus #1 running back in this draft class, joins a Falcons offense that is suddenly full of young talent. Here's an early look at Robinson's fantasy value in the NFL.
---
Click here for more 2023 Player Profiles!
---
Bijan Robinson

's Profile

In the NFL, it's almost impossible to declare that a prospect has zero flaws in their game. With this being said, it's really really really hard to find a defect with Robinson, who is the best running back prospect since Saquon Barkley back in 2018. He can seemingly do it all—at Texas, Robinson had north of 3,400 rushing yards over the course of his three-year career and a whopping 41 touchdowns. He added 805 receiving yards to his impressive college stat line, proving he can be a dual-threat option.

Robinson also led the nation in forced missed tackles in 2022 with 104 (per Pro Football Focus) and earned first-team All-American honors. He boasts a unique combination of agility, speed, and strength that truly might be once-in-a-generation. The only knock against Bijan, as is for all running backs, is injury concerns, but Robinson has maintained a clean bill of health so far in his football-playing career and there's no reason to believe that won't continue.
How Does Robinson Fit in Atlanta?
Robinson should immediately step in as the RB1 for the Falcons. While Tyler Allegier had a sneaky good rookie season (he had over 1,000 rushing yards!), he's a fifth-round pick that likely won't see nearly as much volume considering the capital the Falcons invested in Robinson.
Atlanta should continue to be a run-first offense this season under Arthur Smith. In 2022, they led the league in rushing attempts per game and had the lowest neutral-down passing rate in the NFL (40.8%). This is a great sign for Robinson, who should see plenty of touches as soon as he starts his first game. I don't want to get too ahead of myself, but Arthur Smith earned his chops as an offensive play-caller by leading the Titans' run game—I'm not saying Robinson will be Derrick Henry, but it's clear that Robinson will be the focal point of the Falcons offense in the same way that Henry has led the charge for the Titans these past few years.
Robinson will surely have a high fantasy football floor thanks to the volume he'll receive, but one of the keys to his ceiling will be QB Desmond Ridder. The Falcons are chock-full of young offensive talent, with a receiving corps that includes recent top-10 draft picks Kyle Pitts and Drake London. If Ridder takes strides in his sophomore season and can turn this team into a top-15 offense, Robinson would become essentially game-script-proof in fantasy—as a bonafide three-down running back, he will receive volume on the ground if the Falcons are able to take leads early in games and has the pass-catching acumen needed to produce through the air if the Falcons struggle to keep up with their opponents.
Assessing Robinson's Fantasy Draft Value
Considering how I've showered compliments on Robinson for most of this article, it shouldn't come as a surprise that he already has quite a high price tag in fantasy drafts: Underdog ADP had Robinson going as the RB4 and 13th overall player before he was even drafted. He will also be the undisputed 1.01 in dynasty rookie drafts. However, Robinson could still be worth it. Since 2015, there have been five running backs drafted in the top 10 of the NFL Draft. Here's how they performed in their rookie year:
The production is quite frankly astounding. All five of these players were incredibly fantasy-relevant and finished as RB1s in their rookie seasons. In a somewhat twisted manner, the lack of positional value that running back holds might have actually benefited this group of five and should help Robinson too—teams might be compelled to give their young running backs as much volume as possible early on in their career considering most running backs typically only have a few seasons of elite production before they start to fall off. So, even if Robinson might not have been the best value pick in the NFL draft for the Falcons, he's absolutely worth the hype in fantasy and should be gold.

The Bottom Line
Robinson is an absolutely incredible talent that should step in as one of the best running backs in the NFL. He is one of the most well-rounded running back prospects the league has ever seen.
In Atlanta, Robinson will have the opportunity to succeed as the clear top option in a run-first offense led by Arthur Smith. Robinson's ceiling could be further elevated if Desmond Ridder can make a leap and elevate the Falcons' offense as a whole.
While Robinson will be expensive in drafts, the historical precedent of top-10 rookie running backs indicates Robinson has the potential to be great. He possesses a unique combination of floor and ceiling that makes him well worth a first-round pick in redraft leagues, with an added bump in half-PPR and PPR formats.