SharpClarke's Week 3 Betting Recap: Jaguars Check-Up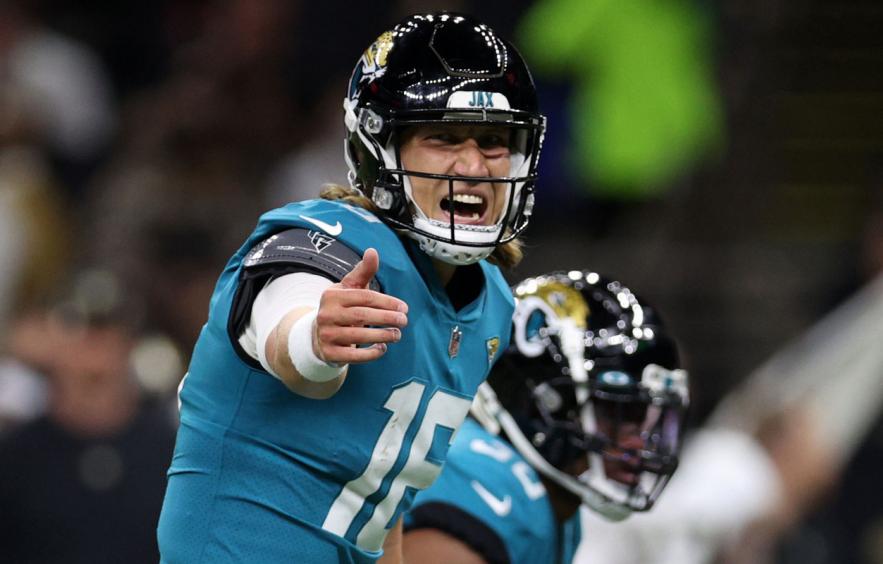 Chris Graythen/Getty Images
With three weeks in the books, it's time to start forming solid opinions on which preseason predictions were accurate and which need to be adjusted/abandoned. My belief that Russell Wilson would continue to struggle in Denver because he never adapted to the NFL's shift to two-high looks that take away the deep ball has been spot on. I have not adjusted the Broncos because they are exactly who I thought they would be. But on the other hand, my skepticism that Tua Tagovailoa could execute a high-powered offense has been dispelled. Mike McDaniel is the real deal as an offensive mind who has used the Dolphins' insane speed on offense to unlock something new. I have upgraded the Dolphins' offense accordingly. It's important not to lean too hard into prior expressed opinions. This leads us to my number one banner team coming to the season: the Jaguars. Let's dive into their beatdown of the Chargers.
JAC 38, LAC 10
Effectiveness Ratings
JAC: 6.13
LAC: 5.53
Effective Result: JAC by 7.2
We are all very excited about the Jaguars. They were my biggest bet-on team in the futures market to start the season and they have not disappointed. They measure up well in the results, beating both the Colts and Chargers by at least 24 points and losing narrowly to the Commanders. They also measure up well statistically and metrically. They are ranked second in overall DVOA, seventh in offensive EPA per play, and third in defensive EPA per play. Trevor Lawrence has taken a step forward in Doug Pederson's offense with new weapons around him, as expected. Their rookie defensive players and free-agent acquisitions have also made an immediate impact. It's all going well.
See who SharpClarke is backing with his Week 4 Betting Tracker!
But context is important. As the betting markets catch up to how good this team can be, it's possible they could become overvalued. I see several reasons for tempered optimism. Against the Chargers, they were the more effective team, but not by a landslide. I graded them 7 points better, so the 28-point win is a bit misleading. They benefitted from several short fields in the first half and avoided mistakes. But more importantly, the Chargers suffered massive impact injuries in that game. We all know Justin Herbert was not 100%, but they also played without Corey Linsley and Keenan Allen on offense. When Rashawn Slater also went down in the second quarter, that meant a hobbled Herbert was playing behind one of the league's worst offensive lines with no difference-makers at receiver. The Chargers also played without J.C. Jackson, and then Joey Bosa went down in the first quarter. Credit to the Jaguars for capitalizing on these injuries, but this was a shell of the Chargers by halftime. And the Jaguars did most of their damage after the break.
This follows a win against a heavily depleted Colts team. Meanwhile, the Jaguars have suffered almost no injuries. They also have benefitted from several dropped interceptions. For all his improvement and solid play, Trevor Lawrence has missed some throws. Badly. The defense is aggressive but Carson Wentz showed it can be burned. The Jaguars are a competitive team, and sometimes turning those opportunities for a win into convincing victories can propel a team forward. I hope that's happening with the Jaguars. But this week's trip to Philadelphia will determine whether they really can hang with the best teams in the NFL.

SharpClarke Week 3 Betting Recap
Week 3 was exactly the bounce-back I needed. I went 6-1 for +8.36 units, finally benefitting from an end-game scenario in Chicago that could have gone either way after some terrible bounces in Weeks 1 and 2. Our SuperContest entry went 4-1 with winners on IND +5.5, MIA +6, CHI -2.5, and DAL +1, but a loser with SEA -1.5. After a brutal 3-7 start, we are climbing back up now at 7-8. Let's dive into a couple of specific bets with some key takeaways:
CHI -2.5 -113, CHI -2 -110: This game demonstrates the importance of getting the best of the number. This game bounced between CHI -2.5 and CHI -3 most of the week, and getting the better number was the difference between a push and a win. My read on this game was not quite right, though. I expected much more from the Bears' offense and Justin Fields just does not have it. After valid excuses in the first two weeks, he had none here. Luckily, Roquan Smith made several big plays, including the game-winning interception. I feel fortunate to come away with this win and will be downgrading the Bears despite them coming through for me.
KC -3 -110, IND +7 -110: This game should have been a beautiful middle at 17-13 Kansas City. With a bigger bet on the Colts than the Chiefs, I was happy with the result. But with the Chiefs up four, they stopped the Colts and seemed to have ended the game. But Chris Jones said something and got a flag that extended the Colts' drive, leading to a game-winning touchdown. But the Chiefs were the much better team in this game. I saw some really concerning signs from the Colts, particularly being stagnant on offense and not being able to handle pressure.
NO -2.5, NO -9.5, NO -12.5: My only losing game of the week. I played it using alt lines to reduce my leverage because I lacked confidence in the Saints based on the market movement. That was the right call in the end, but this game did nothing to convince me that the Panthers are anywhere close to the Saints. They benefitted from a fumble recovery touchdown, a short blocked field goal, and an unlikely long touchdown on a wide receiver screen pass. The Saints were the better team overall. In short: I wouldn't overreact to this result.
For all my bets and analysis, you can join the 4for4 Discord via a 4for4 betting subscription (10% off with code SharpClarke) and follow @SharpClarkeNFL on Twitter for alerts. This sheet from Dan Rivera tracks all my betting picks (and those from the rest of the betting staff) on the year. Just click on the tab with my name on it for the results.
---
This article is intended for entertainment purposes and adult users only. Call 1-800-GAMBLER if you have a gambling problem.