SharpClarke's Best Week 3 NFL Bet: BUF @ MIA Matchup Spotlight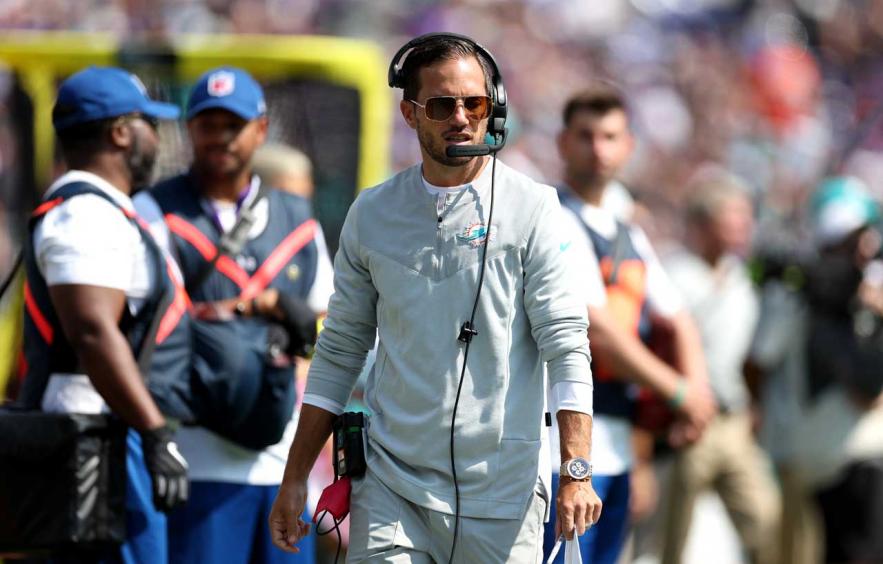 Rob Carr/Getty Images
Only one game in Week 3 features two teams undefeated against the spread this season. Bettors have been rewarded for backing both the Bills and the Dolphins, and now they face off in the heat of Miami in an early division showdown. The Bills came into the season with high hopes and have delivered in a big way, looking like an absolute juggernaut through two weeks. Meanwhile, Miami looks like the plucky underdog with Mike McDaniel unlocking Tua Tagovailoa's best play, thanks in large part to phenomenal speed all over the field. Bettors aren't quite buying the Dolphins hype fully yet, as the market has installed the Bills as 6-point road favorites in this matchup, signifying a significant projected gap in quality between these two teams.
My Numbers
Buffalo: 1st (Offense: 1st, Defense: 2nd)
Miami: 19th (Offense: 16th, Defense: 21st)
Baseline: BUF -5.5, -231 Moneyline
Matchup Breakdown
MIA Offense vs. BUF Defense
Let's start with the Bills' defense, which has been utterly dominant this season. In dispatching the Rams and Titans, the Bills have graded as the most effective defense in the NFL by a wide margin. Their defensive front exerts pressure in the pocket at a high rate, leading to bad throws under pressure. This makes the secondary's job easy. But this works particularly well against pocket passers who want to let plays develop. Both Matthew Stafford and Ryan Tannehill played into the Bills' defensive strengths, particularly because both teams insisted on running the ball on early downs and using traditional pocket passing concepts. And when the Bills built a lead, Von Miller and company were able to pin their ears back and wreak havoc on these immobile quarterbacks.
Miami brings something totally different to the table. I have been very impressed with McDaniel's early performance and love what he is doing with this offense. He has a quarterback with nice touch but poor decision-making under pressure and more speed than any team in the NFL. So he has crafted an offense built around quick, simple reads where his quarterback can just make a snap decision and let the skill players finish the play. This negates the advantages of a high-pressure Bills defense, especially when Tagovailoa moves left behind stud tackle Terron Armstead, who has played a huge role in turning this offense around. I expect quick passes on early downs and misdirection to keep the Bills on their toes and to keep drives alive. If he can avoid bad situations, he can avoid mistakes. That's the goal of this offense. He still needs to make good decisions, and just one or two errant throws here could be enough to set them behind the eight-ball. But I expect drive success above 50%, which will keep them in the game.
Furthermore, the Bills' secondary is very banged up. They will surely be without starting cornerbacks Tre'Davious White and Dane Jackson. They also will be without stud safety Micah Hyde, and Jodan Poyer is questionable. This is getting disastrous for this secondary against Tyreek Hill and Jaylen Waddle. They also played without Ed Oliver last week and Jordan Phillips is out with a hamstring injury. We saw what the Dolphins did to a banged-up Ravens secondary. I don't think the Dolphins have proven they can be trusted week to week, but they have at least flashed tantalizing upside that matches up perfectly against the Bills' strengths.

BUF Offense vs. MIA Defense
Incredibly, the Bills have also posted the league's most effective offense through two weeks. This has been arguably even more impressive because the Rams and Titans are not pushovers on that side of the ball. Josh Allen is playing out of his mind and the Bills have used a balanced attack, which negates the impact of some of the defensive scheme shifts designed to prevent big plays. For two years now, it almost doesn't matter what defense they are playing against; their own mistakes are typically the only thing slowing them down.
The Dolphins' defense lacks the power to bully the Bills' offensive line. But they have some speed in the secondary. There is almost no way they can stop this offense with any consistency. They will try to disrupt the Bills enough to force a few key mistakes. The Bills have struggled in short-yardage situations this season and have relied on too many fourth-down conversions for comfort. They have also capitalized against several blown coverages. Allen and Stefon Diggs, in particular, deserve some credit for those plays, but they aren't necessarily repeatable. The Dolphins have excellent cornerbacks and will try to make Allen earn every first down. That's the best chance you have against the Bills.
But there is some hope the Dolphins can get a few stops here. Against the Titans, Buffalo earned four first downs via penalty and converted two fourth downs. At home, they had crowd noise in their favor and manipulated the line of scrimmage all night. If the crowd comes out for this game and gets loud, it could help swing a few line-of-scrimmage battles in Miami's favor. Granted, that's no guarantee. Ultimately, they'll need some positive variance to win this matchup on defense.
More Week 3 Bets from SharpClarke!
Prediction
Both teams sustain long drives as the defenses try to take away big plays. They play efficiently and effectively but the long drives drain the clock, shortening the game. With both teams scoring touchdowns or field goals on most of their meaningful drives, the game goes back and forth into the fourth quarter, where Buffalo's defense finally forces Miami's signal-caller into a key mistake and wins the game.
Final Score Prediction: BUF 31-28.
Market Evaluation
This line has risen from its lookahead opening value following an impressive start by the Bills. But the Bills have performed exactly how I expected them to heading into the season. Meanwhile, the Dolphins have also impressed relative to expectations. Yet, the money on the Bills has inflated this spread to nearly a touchdown on the road. Bettors have more quickly bought into the Bills because we have seen this team be successful and expectations were high to start the season. But everyone can find ways to poke holes in the Dolphins' early success. The common perception is that the Patriots are just terrible, particularly on offense. And Tagovailoa just picked on an injured secondary in a comeback against the Ravens. Surely they can't sustain it against the best team in the league? I understand why this line got pushed up, but with all the injuries the Bills are dealing with, I don't think it's justified.
Best Bets
MIA +5.5 -110 (FanDuel, BetMGM, Caesars)
MIA TT Over 23.5 -110 (FanDuel)
MIA +3.5 1st Half -115 (DraftKings)
If you enjoyed this matchup breakdown, you can access all my picks with detailed write-ups for every play with a 4for4.com Betting Subscription. Sign up using the Promo Code SharpClarke for 10% off and get every bet I make in real-time. For the most up-to-date picks check out my Twitter and subscribe to our Discord. This sheet from Dan Rivera tracks all my betting picks (and those from the rest of the betting staff) on the year. Just click on the tab with my name on it for the results.
---
This article is intended for entertainment purposes and adult users only. Call 1-800-GAMBLER if you have a gambling problem.