SharpClarke's Week 12 Betting Recap: Potential Surprise Playoff Contenders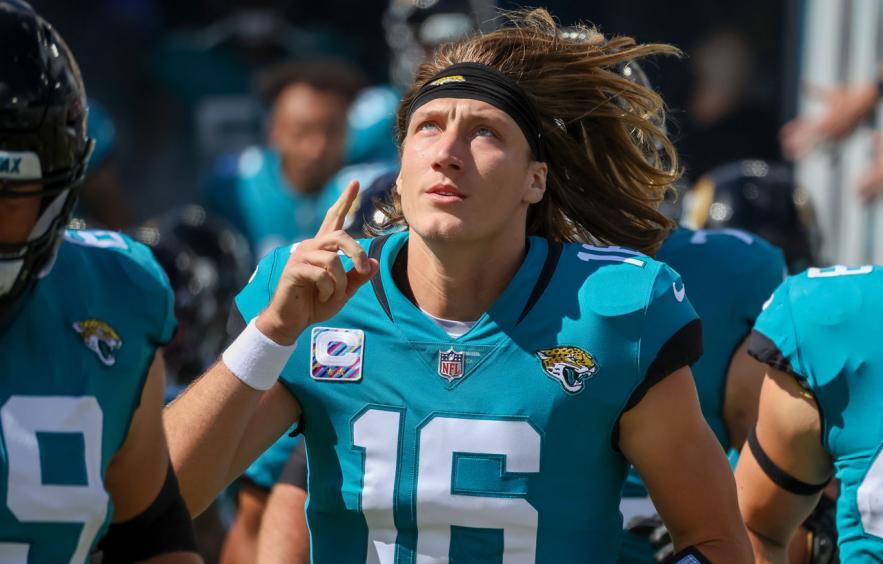 Mike Carlson/Getty Images
With Thanksgiving behind us, we can finally start talking about playoffs. The picture is clear for many teams, with the Chiefs, Eagles, and Vikings all but punching their tickets. Other teams just need to handle some inferior opponents to lock up a spot, such as the Bills and Dolphins. But some situations are more interesting. I'd like to talk about two potential playoff contenders who are both considered longshots as a way of recapping the Week 12 action.
Playoffs Futures
Jacksonville
Jaguars

(+600 to make playoffs on DraftKings)

Watching the Jaguars this season has been frustrating. They have played so well between the 20s but key failures in the red zone have taken wins away from them. Trevor Lawrence also has not displayed that clutch gene that elevates the best quarterbacks in key moments. This second part is surprising because he possesses all the tools that make quarterbacks good in the clutch. He has elite field vision, excellent decision-making skills, strong pocket presence, and mobility. His problem has been accuracy in key moments. This was Josh Allen's profile in his first two seasons as well. But Allen has extreme confidence and toughness and steps up his game in the biggest moments. To this point, Lawrence has displayed what appears to be a lack of confidence in those moments.

That might have ended on Sunday. Lawrence was surgical in a comeback win against a good defense In Baltimore. He was decisive and confident when it mattered, demanding that they go for two at the end of the game when Doug Pederson's initial impulse was to kick the extra point, given that they didn't have a healthy Travis Etienne for their best two-point play. He made mistakes, too, and got away with a fumble at the beginning of the last drive that would have ended it. But the way he responded—by firing a laser to turn 3rd-and-21 into 4th-and-5 and ultimately keeping the drive going—was new. The Jaguars have the talent to compete but needed the mental victory to get there.

Of course, they are still 4-7 with some tough games on the schedule. But the path is there. They have two games remaining against the division-leading Titans. They will likely need to win both. That's a tough task, but they have what it takes. With two common opponents (Cowboys and Texans), the Jags also have the Jets and the Titans have the Chargers. With the tie-breaker in hand (if they beat the Titans twice), my money would be on Jacksonville.

Verdict: Legitimate contender, but the price (+600) is roughly fair at 14.3% break-even.

New Orleans
Saints

(+800 to make playoffs on DraftKings)

The Saints have been battling injuries all year but are still playing at a fairly high level. Some unfortunate losses have also mired their season. Last week was no exception. In their 13-0 loss to San Francisco, my effectiveness ratings graded the teams as virtually equal. Back-breaking drops and skill player fumbles (not typically predictive) essentially decided the outcome of this game. Andy Dalton looked sharp against a fierce defense and the defense had life with Cam Jordan and Marcus Davenport returning, as well a crucial secondary piece in Bradley Roby. Marshon Lattimore appears close, and if they also get Pete Werner back this team will be at full strength.

At 4-8, their season might as well be over. But, like the Jaguars, they play in a winnable division. With three of their five games remaining against divisional opponents, every win is huge. The reason the Saints are interesting to me is that, when healthy, they are the most effective team in the division. Even though three wins is tough to ask for, they have a real chance in all of them. Unfortunately, their remaining two games are tough road tilts against Cleveland and Philadelphia. This is a huge uphill battle, but the Saints' season is not over if they can get healthy fast.

Verdict: Must win Monday Night at Tampa Bay to even stay alive. The price (+800) offers little value, and a Moneyline bet on Monday Night is preferable.
Week 12 Betting Recap
My winning streak ended in Week 12, going 5-6 for -4.93 Units. Unfortunately, I won my lower-value bets but lost my higher-value bets. Three of my losses were tough. After securing some closing value on DAL -9.5, NE +3, and ATL +4.5, they all ended up losers in difficult fashion. The Cowboys overcame a first-half slump to bury the Giants, and only allowed the last-second backdoor cover because Brett Maher missed a 46-yard field goal. The myriad of things that went against New England, including uncharacteristic special teams gaffes, led to a surprising loss to the Vikings. And the Falcons played Washington toe-to-toe, with the game a virtual toss-up late when Marcus Mariota threw an interception inside the 5-yard line.
But I am focused on the process. The Patriots and Falcons were good bets, particularly given how I broke down each matchup. The Cowboys were probably the right side, too, although some things went their way in that game. The spread was probably correct at 10, so getting 9.5 was arguably a small value play.
But even looking at the process, two of my losses were truly bad bets. I played the Broncos Moneyline against Carolina and the Colts against the Steelers on Monday night. And there is a common lesson with these bets. At this point in the season, some intangible elements of these teams must be accounted for. The Broncos' season has been an utter disappointment and Russell Wilson has lost his team. It doesn't matter how effective they have been at times and what they are capable of as a defense. The Colts have an inexperienced head coach and unknown motivations as well. The handicap for these games must go beyond effectiveness and factor in the way teams can fade down the stretch. I will be more cautious about betting on these teams that might sputter late in the season. Of course, there is always a price. I will just be more hesitant.
Overall, I am happy with my process and confident I can bounce back in Week 13.
For all my bets and analysis, you can join the 4for4 Discord via a 4for4 betting subscription (10% off with code SharpClarke) and follow @SharpClarkeNFL on Twitter for alerts. This sheet from Dan Rivera tracks all my betting picks (and those from the rest of the betting staff) on the year. Just click on the tab with my name on it for the results.
---
This article is intended for entertainment purposes and adult users only. Call 1-800-GAMBLER if you have a gambling problem.