How 7 AFC Coaching Changes Impact IDP Leagues in 2022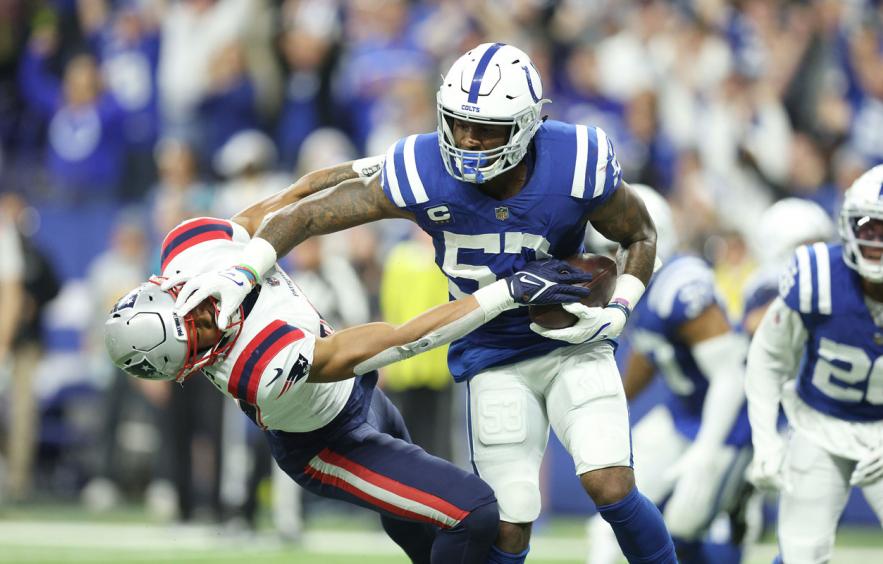 Andy Lyons/Getty Images
Along with player movement, we had a plethora of coaching changes that can have an impact on IDP leagues heading into the 2022 season. A scheme change can impact a player's alignment and deployment on the field, resulting in a potential change in positional designation on your preferred fantasy platform.
---
More 2022 IDP: Free Agent Landing Spots
---
We'll take a look at the AFC and analyze the implications of these changes and how to attack them for your IDP league heading into the season.
Baltimore
Ravens
Although John Harbaugh remains the head coach, the Ravens parted ways with the long-time defensive coach, Wink Martindale. The Ravens were an uncharacteristically bad defense last season and Harbaugh made the decision to move on and went with former Ravens and Michigan Wolverines' defensive coach, Mike MacDonald.
Defensive Philosophy
MacDonald reunites with coach Harbaugh, as MacDonald was the defensive coach for the Ravens between 2014-and 2020. In MacDonald's first season at Michigan, he enjoyed coaching up an elite talent in Aidan Hutchison and led the Wolverines to a top-10 finish defensively. Unless the Ravens unload the cupboard of draft picks, I don't foresee a reunion between Hutchison and MacDonald.
The principles of Baltimore's defense should remain intact and I'm sure MacDonald will put his stamp on the scheme. Baltimore and MacDonald will continue to use flexible fronts, and I foresee a return to the aggressiveness that's synonymous with Baltimore and an improvement in pass defense.
Defensive Line/EDGE
I'm excited about the development of Odafe Oweh heading into his second season. In his rookie year, he saw 421 pass-rush snaps and generated an 11.6% pressure rate. I'd love to see a few of his QB hits turned into sacks. I look for Oweh to repeat his role and be deployed outside the tackle alongside Tyus Bowser. Speaking of Bowser, he enjoyed his best season in a Ravens uniform. He produced a career-high in pressures (40) and sacks (7). MacDonald has a youthful duo on the edge. Calais Campbell will be back, but Father Time is knocking on the door. He'll be used more as a space/gap filler.
Linebacker
Patrick Queen started off 2021 with optimism, but his play tailed off. He missed tackles and didn't show any aggressiveness to get to the ball. Is he an off-ball LB? Can he play at this level? Baltimore brought back Josh Bynes, who seemed to help him along during the course of the season. Zachary Orr will take over as inside linebackers coach. Orr was a UDFA and emerged alongside CJ Mosley in 2016. I like Orr for Queen's development and will hopefully be able to drop some pearls of wisdom. Queen was wildly inconsistent in coverage but showed flashes of competence. Queen's coverage improvement will be a storyline to monitor.
Queen missed 10 tackles in his first five games of the 2021 season. Over the next five, missed 0 then went on to miss 10 over the last seven.
Baltimore deployed more two-LB sets in 2021, so we saw Bynes and Queen on the field together. Queen had his snaps dialed back mid-season but ended up appearing in 84% of the snaps in the last six games. I'm a bit higher on Queen than most, but this is his last chance for me. I'm more than happy targeting him as an LB3. His coverage will be key.
Defensive Backs
Chuck Clark is one of those rare safeties who play up near the line of scrimmage but just doesn't get tackles. He's produced an 8.6% tackle rate over the last three seasons, which is fine, but you'd think it would be higher. He's more of a DB4 and his role should remain the same as the play-caller.
I'm intrigued by Marcus Williams in this defense, especially in big-play scoring. He's the type of safety who will go for the ball and has a 59% career play on ball rate when targeted.
Marlon Humphrey has been solid in coverage, but his PFF coverage grade dipped below 70 in 2021. He allowed the most TDs (5) in his career, but still only allowed 54.7% of passes to be caught. Humphrey has 64 career-defended passes.
IDP Targets
Patrick Queen, Odafe Oweh, Tyus Bowser, Marcus Williams (big-play scoring), and Marlon Humphrey (CB-required leagues)
Denver
Broncos
The Broncos fired Vic Fangio and did some spring cleaning on their coaching staff. Nathaniel Hackett was brought in from Green Bay and he brings on Ejiro Evero from the Los Angeles Rams and his Super Bowl ring.
Defensive Philosophy
Evero will probably bring some of his philosophies from the Rams over to Denver. You should see two high safeties, a perfect fit for Simmons, and three safeties on the field. Evero could also deploy 1-LB sets more often, so this could impact all linebackers, but with the way Watts wants to deploy Baron Browning, he's the one I see being the full-time LB.
The theme will be to get to the QB early and often, so look for a big upgrade to the pass rushers, which could lead to turnovers by the secondary. Denver's defense is shaping up to be a 34 base but will be multi-front. Evero is going to build his defense around the player's strengths, so if a player rushes well, he's going to put him in a position to succeed.
Defensive Line/EDGE
Unfortunately for Evero, he will not have Aaron Donald, or even Von Miller, alongside him. He will take over a defense that ranked 18th in sacks (36) and 28th in non-blitz pressure percentage (29%). Denver should address this need in the draft, however, they did bring in former Cowboys rusher, Randy Gregory. Gregory produced a career-high 47 pressures - resulting in a 14.3% pressure rate. Bradley Chubb has been riddled with injuries after a stand-out rookie year - appearing in 25 out of a possible 49. He can get to the QB, but his most important ability, availability, has been a question.
I think Evero is going to get a lot out of Malik Reed and could flirt with a career-high in sacks this season.
Linebackers
This was a group riddled with injuries. AJ Johnson and Josey Jewell started the season, they were bound together by guys like Jonas Griffith and Kenny Young. Although it's worth noting, Denver brought back Griffith. He played well for a UDFA. The run defense, and IDP'ers, took a hit with Johnson's injury.
There's been a lot of coach speak regarding Baron Browning being deployed as a pass rusher. He's an athletic off-ball LB and has a good burst off the snap. Browning saw 36 pass-rush snaps - including 13 in Week 8. In the 2020 Senior Bowl, Browning saw 23 snaps and was deployed on nine pass rush snaps - resulting in a sack. He has the ability to get to the QB. OLB coach, Bert Watts, might have some fun with Browning in 2022.
Who slots next to Browning? There could be a rotation of Alex Singleton, Josey Jewell, and Jonas Griffith. If Browning plays on the edge, you could see Singleton and Jewell. In 2021, Denver deployed two LBs for the majority of their packages. Fangio used his LBs strictly at LB, so I do think Watts changes up the philosophy in 2022. If Denver brings in someone like Devin Lloyd in the draft, it will hurt the IDP value of the other LBs not named Baron Browning, IMO.
Defensive Backs
Justin Simmons is a perfect fit for Evero's defense, and I see him utilized in a similar fashion as Jordan Fuller - a well-rounded safety who can play anywhere on the field. Simmons has four or more INTs in three straight seasons, while also notching 90 or more tackles in three of his last four. Simmons has a 34% POB rate over his last three seasons - resulting in 14 INTs and 36 defended passes.
Patrick Surtain showed why he was worthy of a first-round pick. He allowed a QB rating of 69.7 when targeted - resulting in four picks and 14 defended passes.
IDP Targets
Malik Reed (big-play scoring; EDGE/DL designation), Bradley Chubb (but don't overpay; EDGE/DL designation), Baron Browning, Justin Simmons, and Patrick Surtain II. I'm letting others draft Alex Singleton, Josey Jewell, and Jonas Griffith (though he may be a dynasty hold).
Houston
Texans
David Culley is out as coach and promoted Lovie Smith to head coach after being the defensive coordinator in 2021. So, while Smith is the new coach, I don't see a lot changing from a scheme standpoint.
Defensive Philosophy
I'm expecting the same system from 2021, so those defenders who were IDP-relevant last season should hold their value in 2022.
Defensive Line/EDGE
Jonathan Greenard was one of the lone bright spots of the Houston defense. He was deployed on the left side for the majority of his snaps but played both sides, so that movement should continue under Lovie. Greenard was deployed mostly outside the tackles.
Linebacker
Christian Kirksey appeared in 13 games and 789 defensive snaps - the most since 2017. Houston traded away Zach Cunningham since Kamu Grugier-Hill took over his role during the season. Houston ran more two and three LB packages in 2021, so with the addition of Jalen Reeves-Maybin to the mix, that could continue in 2022.
Kirksey ended up wearing the dot and enjoyed a fine statistical season for IDP owners who took the chance on him when it became apparent he'd be the play-caller. KGH was a solid waiver wire pickup in-season.
Defensive Backs
Justin Reid is no longer part of the defense. Eric Murray is really just a guy. If opposing offenses are going to attack the secondary, Desmond King and Tavierre Thomas are going to be the primary targets. Thomas was targeted 40 times, while King saw 90 balls thrown his way.
IDP Targets
Jonathan Greenard, Christian Kirksey, Kamu Grugier-Hill (LB-streamer), Tavierre Thomas (CB-required), and Desmond King (CB-required)
Indianapolis
Colts
Matt Eberflus was hired as Chicago's new head coach, and unfortunately for the Colts, he took Alan Williams to be his coordinator. So, Frank Reich brought in veteran Gus Bradley to run the defensive side of the ball.
Defensive Philosophy
Gus Bradley typically runs a 43 base, so I don't envision any changes in positional designations. Bradley will also run a nickel package on the majority of his deployments, so Kenny Moore's IDP value should remain the same. He'll also run some two-high safeties but does have a box safety, or one roaming the line of scrimmage. He'll also run multi-fronts and bring an edge in on the defensive line.
Defensive Line/EDGE
The Colts should continue to run a base 43, which bodes well for Kwity Paye and Yannick Ngakoue - who shouldn't see any positional changes to LB. The assignments for Paye and Ngakoue will be simple, go get the QB.
After failing to produce a sack in his first six games, Paye recorded a QB takedown in four of his last eight. I'm really looking forward to Paye building on his strong rookie season.
DeForest Buckner is a disruptor, so his role shouldn't change. He's been a full-time player for his whole career.
Linebacker
Darius Leonard continues to rack up IDP stats as as one of the best off-ball linebacker. In 2021, just 111 snaps were from the middle. He can make plays from the left or right. He's got busy hands (forcing eight fumbles and defended passes). 2021 was his first season without a sack. Time to give up on him. I kid of course. I don't think Gus Bradley has had an LB of Leonard's talent.
Is the time clicking on Bobby Okereke? Gus Bradley might want someone a bit better in coverage, but for now, that replacement may not be on the roster. Okereke appeared in just over 1,000 snaps in 2021. He was a solid pass-rusher, but the rest of his game left a bit to be desired, and he missed a tackle in every nine attempts. He enjoyed a breakout IDP season, but keep an eye on his play throughout the season. If Indy adds any other LBs throughout the offseason, that could be a red flag on Okereke.
Defensive Backs
Gus Bradley has molded his safeties to play up near the line of scrimmage. He coached up Derwin James while in LA/SD and had Jonathan Abram last season. Abram played 87% of his snaps up on the line of scrimmage, with 53% spent in the box. Khari Willis is going to be the benefactor of Bradley's defense and in my early projects, I have him as a DB5. Health has been his only hindrance. Willis was on a 100 tackle pace producing an 11.1% tackle rate last season.
Kenny Moore is shaping up to be an elite CB1 once again playing in the slot and kicking outside. Moore should be a source of tackles and big plays and is one of the few corners who can be considered in DB mixed leagues.
Stephon Gilmore just signed on and should slot in the outside corner spot opposite Brandon Facyson. Gilmore has dealt with injuries over the past few seasons, but when healthy, is a solid shutdown corner. In his last full season, Gilmore made a play on the ball 27% of the time he was targeted.
IDP Targets
Kwity Paye, DeForest Buckner, Yannick Ngakoue (big-play scoring), Darius Leonard, Bobby Okereke, Khari Willis, Stephon Gilmore (CB-required) and Kenny Moore. Dayo Odeyingbo has some sleeper/breakout appeal if he earns more snaps this season. Keep an eye on him throughout their offseason programs.

Jacksonville
Jaguars
There's no way to spin Jacksonville's 2021 season - it was a mess. Urban Meyer didn't know he should travel with his team and had no feel for how the NFL operated. Urb's defensive coordinator, Joe Cullen, lasted just one season. Doug Pederson brought in Mike Caldwell from Tampa, where he served as LB coach under Todd Bowles.
Defensive Philosophy
Mike Caldwell won the press conference and catered to the fans, saying they were going after the QB. I do think that will be the case in his defense, especially if they add one of the two elite pass rushers during the draft.
Caldwell is a first-time coordinator, but I have a feeling he'll use the same core philosophy and principles that Bowles used in Tampa. The Bucs had more than 3,000 pass-rush snaps, so everyone at one time could be sent in to get the QB. I don't see Caldwell overhauling the components of the defense and remaining a base 34, but there will be plenty of different fronts and coverages called as well as blitzes. My only concern is Josh Allen getting the LB tag in 2022. However, if you're on a platform that uses multi-positions or can customize, it shouldn't matter too much.
Defensive Line/EDGE
Josh Allen bounced back after an injury-plagued 2020 season. Although he didn't reach double-digit sacks, he generated an 11.4% pressure rate and 21% win rate. He recorded 7.5 sacks and an additional nine QB hits. Allen is going to be one of Caldwell's favorite players I believe.
The Jaguars own the first overall pick so additional help for Allen is, hopefully, on its way with the likes of Aidan Hutchison or Kayvon Thibodeaux. As of now, outside of Allen, there really isn't much to get excited about. Dawuane Smoot is a DE3/4 and has 17.5 sacks over his last three seasons.
Linebacker
The Jags traded away Joe Schobert during the season and Myles Jack left for Pittsburgh in free agency. The Jags opened up the vault for Foyesade Oluokun in free agency, so he could be Caldwell's, Devin White.
Defensive Back
Unfortunately for Mike Caldwell, he doesn't have a safety of Antoine Winfield's pedigree. Andre Cisco should see more snaps after the Jags spend a third-round pick on him in 2021. He was still dealing with an ACL injury, which limited his snaps. However, near the end of the season, you could see his playmaking ability and penchant for causing turnovers. He'll probably end up playing the deep role.
IDP Targets
Josh Allen, Rookie Pass Rusher (Hutchison or Thibodeaux), Dawuane Smoot (DE4), Foyesade Oluokun, Rayshawn Jenkins (if he wins SS/box role), and Andre Cisco (big-play scoring or if he somehow wins SS role)
Las Vegas
Raiders
Rich Bisaccia was unceremoniously shown the door after guiding the Raiders to the postseason amid the distraction of Jon Gruden's email scandal, which led to his resignation. Gus Bradley ran his defense for 2021, but ultimately was shown the door, as well.
Vegas made a bit of a splash with the Josh McDaniels hire and he brought in Patrick Graham from the Giants to run his defense. Graham has familiarity with McDaniels during their time in New England, where he had exposure to Bill Belichick and his attention to detail and game planning.
Defensive Philosophy
I'm expecting a different defense in 2022, so with that said, I'm fading Denzel Perryman in 2022. Graham is going to use odd-fronts and will be deploying more big nickel and 1-LB packages if his stint in New York tells us anything, that's my reasoning in buying Divine Deablo over Perryman. I think Deablo gets the full-time role.
His safeties are asked to play all over. I envision Jonathan Abram as his version of Xavier McKinney. Abram will be asked to play the slot and deep, but that really isn't his strength and I hope Graham recognizes that and keeps him in the box. I'm not so sure.
Defensive Line/EDGE
Patrick Graham inherits an elite pass rusher in Maxx Crosby - an even better Leonard Williams. Crosby bounced back in a big way in 2021 after dealing with a myriad of injuries in 2020. He also learned from Von Miller during the offseason, which is not a bad guy's brains to pick. Crosby produced 108 total pressures - 15 more than his previous two seasons combined. This resulted in a 17.3% pressure rate and a 35% win rate. Although it didn't lead to double-digit sacks, he recorded eight and 56 total tackles (including 13 for loss).
Although the Raiders lost Yannick Ngakoue, he received help in the form of Chandler Jones. Jones exploded out of the gate, recording five sacks in Week 1. He wouldn't get his next sack until Week 9. Jones did finish with 10.5 sacks. Although he finished with a pressure rate of less than 10%, he still recorded an additional 15 QB hits.
Linebacker
Denzel Perryman emerged as a waiver wire darling. He was probably picked up just ahead of Week 1 or soon after. In some leagues, he may not have been added until Week 2 or 3. However, will he have a chance to repeat? I'm expecting a bit different look and deployment at LB. Perryman is a solid run stuffer but leaves a bit to be desired in coverage. I'm not paying for last season's stats.
I'm more intrigued at Divine Deablo's upside in the defense. Deablo appeared in all 17 games and produced a 15.2% tackle rate over his 296 defensive snaps. Graham deployed a single-LB more than 25% of the time - which was above the league average. He also deployed a big nickel package (five DBs) well above league average, as well.
Defensive Back
I'm still a believer in Jonathan Abram, but we'll have to see how Graham feels. Trevor Moehrig is more of deep safety and I'm not seeing much IDP production in 2022.
IDP Targets
Maxx Crosby, Chandler Jones (big-play scoring; EDGE/DL designation), Divine Deablo, and Jonathan Abram (more of a DB2/3)
Pittsburgh
Steelers
Keith Butler had been defensive coordinator since 2015 and announced his retirement at the end of the 2021 season. Mike Tomlin still has input on the defense, but Teryl Austin will be allowed to put his stamp on things.
Austin received the promotion after being Butler's assistant over the last three seasons.
Defensive Philosophy
I don't anticipate too many changes in Pittsburgh's defensive philosophy. Stephon Tuitt's return to the defensive line will be a boost to their pass rush and could keep the linebackers clean to get to the offensive backfield.
Defensive Line/EDGE
Austin is hoping Stephon Tuitt has a healthy 2022 campaign. He was the catalyst for their strong showing in 2020 and he was missed greatly in 2021.
Cameron Heyward is going to be 34 heading into the regular season but is still playing at an elite level. He recorded the most sacks (10) since his 2017 season (12), however, he's averaged 8.5 sacks over the last five seasons. I'd continue to draft Heyward as a DL2 until his wheels fall off.
Do I need to mention TJ Watt? I think we all know how dominant he is. I'm expecting some improvement from Alex Highsmith from a pressure rate standpoint. He'll have an impact in big play-scoring formats.
Linebackers
Once the strength of this team, it was a weakness last season and one of the core reasons their run defense struggled. The Steelers allowed five yards per carry and the most rushing yards in the league (2,483). Adding Myles Jack isn't going to improve things. He won't miss many tackles but doesn't have an impact at the line of scrimmage - just three TFLs and an average depth of tackle around three yards. However, for IDP, he's going to get the snap volume and the tackles.
His running mate looks to be Devin Bush, who hasn't looked the same since tearing his ACL in 2020. Will this be his year? The Steelers didn't pick up his fifth-year option and I don't see him playing a full-time role. Robert Spillane got the snaps in 2021 in their 1-LB sets.
Defensive Backs
Minkah Fitzpatrick cleaned up a lot of messes which led to a career-high 124 tackles - including 84 solos. Fitzpatrick's average depth of tackle was 5.4 yards, so the tackles didn't come from the LOS. He may not have as many tackles to clean up this season with Jack up front and returning Tuitt. He could still hit the 90 mark, but I'm not banking on a 2021 repeat.
Terrell Edmunds has been their primary box safety and, like Chuck Clark, doesn't get the tackle opportunities. Edmunds showed promise in 2019, recording 105, but has managed 157 total tackles over the last two seasons.
IDP Targets
Stephon Tuitt, Cameron Heyward, TJ Watt, Alex Highsmith (big-play scoring formats; EDGE/DL designation), Myles Jack, and Minkah Fitzpatrick