Fantasy Football Debate: Saquon Barkley vs. James Conner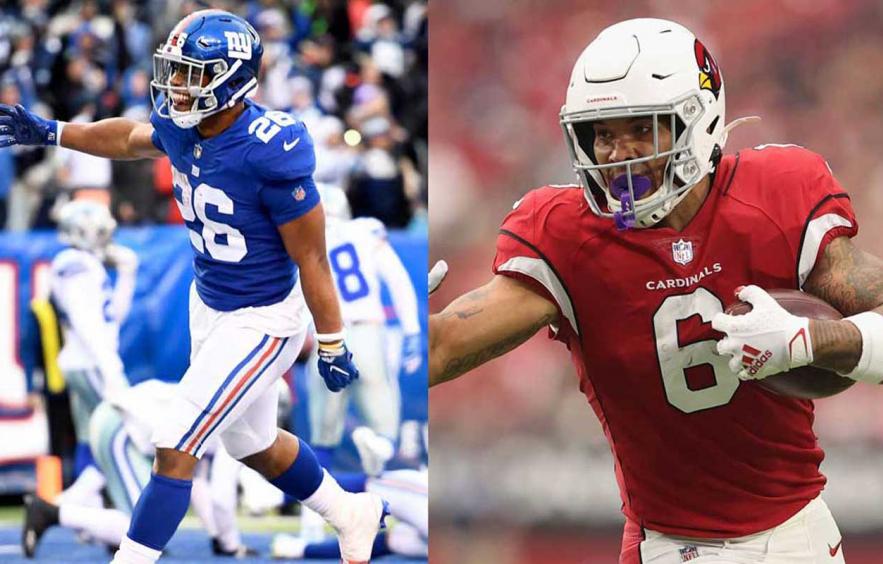 Sarah Stier and Christian Petersen/Getty Images
Saquon Barkley and James Conner are being drafted as RB10 and RB15 respectively, on Underdog Fantasy. In this debate, Chris Allen argues for Saquon Barkley while Brandon Niles fights for James Conner.
---
Click here for more 2022 Player Profiles!
---
The Case for
Saquon Barkley
Chris: There's not much doubt regarding who the better running back is from an NFL standpoint. Saquon Barkley won Offensive Rookie of the Year in 2018. He also broke the record for most receptions by a running back in their first year. However, those accolades were years ago. Meanwhile, James Conner went from a short-yardage hammer to the RB5 in a single season. At first glance, he offers a similar production profile at a lesser cost. But, after digging into Barkley's career, there are still reasons to believe in his talent.
A good offense is typically the hallmark of an early-round running back. Outside of Christian McCaffrey, we target efficient squads capable of moving into the red zone. The high-value touches lead to the points we need to pay off the early ADP. However, the Giants have been anything but efficient. And yet, Barkley has succeeded despite the problems around him.
Barkley Rushing & Receiving Ranks, 2018-2019

| Season | Yards After Contact | YAC per Att. | Missed Tackles per Att. | Broken Tackles per Att. | YPRR |
| --- | --- | --- | --- | --- | --- |
| 2018 | 3rd | 5th | 5th | 3rd | 5th |
| 2019 | 11th | 6th | 8th | 9th | 7th |
The Giants' offensive line never ranked higher than 25th in adjusted line yards. Additionally, the combination of Daniel Jones and Eli Manning was below-average in EPA per Play. Regardless, Barkley's power and effectiveness on the ground and through the air were among the weekly highlights. He missed three games in 2019 and still finished inside the Top 12 in every metric. But again, I'm referring to a timeframe long passed. We just watched him get injured while struggling to produce. But a closer look paints a brighter picture.
Barkley Rushing & Receiving Metrics, 2021 (Weeks 1-4, 12, 13).

| Metric | 2021 |
| --- | --- |
| Yards After Contact | 13th |
| YAC per Att. | 17th |
| Missed Tackles per Att. | 14th |
| Broken Tackles per Att. | 3rd |
| YPRR | 18th |
Barkley played at least 75.0% of the offensive snaps in five games last year. When healthy before and throughout the game, he matched rushers within the Top 20. He wasn't as elusive, but the team was in its worst state with injuries across the offensive and defensive line. So, it wasn't a matter of talent but poor injury luck to him and his teammates. But Barkley's mentally past the injuries and learning from a head coach responsible for an offense ranked fourth in EPA per Play since 2020. Plus, there will be concepts bringing Barkley back into the top-12 discussion this season.
Can't express how happy I am to see the #Giants finally using Saquon Barkley like this and in the red zone. A lot of diff names for this RB route (I also love the presnap motion) and @nickfalato and I have been banging the table for the RB to be used like this for three years. https://t.co/upHkSMl6V5

— Dan Schneier (@DanSchneierNFL) July 27, 2022
I'm highlighting a simple play. A play executed without pads, even. However, it runs tangent to Barkley's usage as a receiver. Since being drafted, he's seen 87.9% of his targets come at or behind the line of scrimmage. Usually, we'd take any involvement in the passing game. But short to intermediate targets (i.e., efficient targets) are conducive to top-tier fantasy results. It's how McCaffrey and Austin Ekeler have cemented their status. And luckily, Brian Daboll is more than willing to incorporate those routes into the Giants' aerial attack.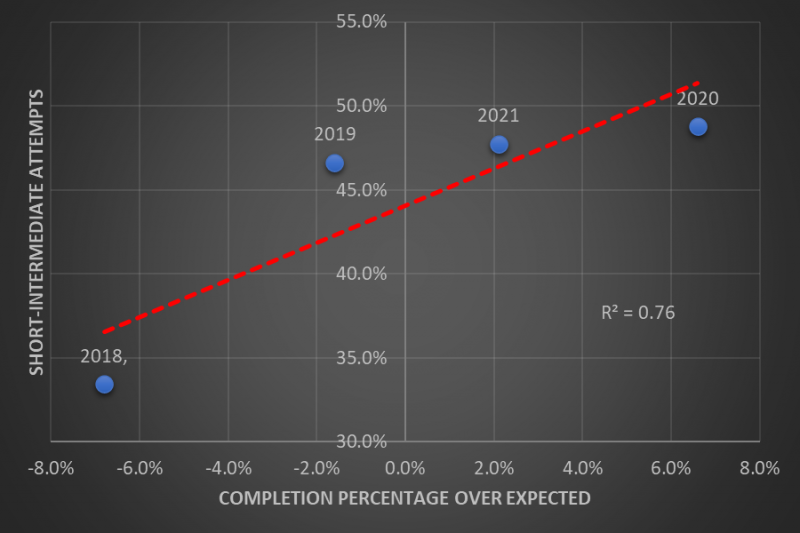 Josh Allen's rookie season was volatile at best. However, we watched him ascend as Daboll incorporated more layups into the offense. We should expect the same for Jones and the Giants. But look at their personnel options for this area of the field. Sterling Shepard is on the PUP list, Evan Engram is in Jacksonville, and Wan'Dale Robinson is a promising but diminutive rookie. At comfortably 50 pounds heavier, Barkley has the same ability as Robinson with the ball in his hands. As a result, it's reasonable to expect Daboll to use Barkley in this manner to ignite the offense, lending more credence to his draft cost.
Barkley's produced despite being on a weak team. The Giants should be more efficient with coaching changes and personnel additions. Playcalling has capped Barkley's ceiling as a receiver. We have evidence of downfield targets. There's no doubt Conner has the better quarterback, and Arizona's pace of play (seventh-fastest) can boost his touch count any given week. But, despite the injuries, Barkley's continued to be more effective as a rusher and receiver than Conner. Their respective draft costs may allow you to acquire both, but if forced to choose, Barkley outshines the competition for 2022.

The Case for
James Conner
Brandon: This debate was closer just a couple of weeks ago, before we started seeing chiseled pictures of Barkley at training camp, impressing onlookers with that rare trademark combination of size, speed, and receiving ability. Now, the ADP gap is larger between the two players, making Conner the easy selection for me a full round later.
I can't argue with the tremendous talent Barkley brings to the table. The arguments against Barkley have nothing to do with what he's capable of in the best of conditions. The problem is, how great are those conditions going to be for the former second-overall pick now entering a contract year?
The Giants look like they could really improve offensively with upgrades on the offensive line and the addition of Brian Daboll as the new head coach. Additionally, some better luck in the injury department would go a long way to helping this team rebound from a woeful offensive season. Only the Jaguars scored fewer points last year. However, these are all projections. We're hoping the Giants don't stink. We're hoping Daniel Jones looks like an NFL-caliber starting quarterback. We're hoping for health around Barkley. That seems like a lot needs to go right in order to put Barkley in the best possible position to succeed.
Then there's Barkley himself. He's missed at least three games in three of his four seasons, including four last year and all but two in 2020. He's definitely active in the passing game – 41 catches in a down year last season – but he's only scored 12 touchdowns in his last 28 games after scoring 15 as a rookie. If Barkley can stay healthy and if the Giants' offense can improve, then maybe those numbers get better but that's a lot to hang your hat on a round earlier than Conner.
Conner is not without his warts. Like Barkley, he's earned the end-of-name moniker "if-he's-healthy," as in, "I really like James Conner If-He's-Healthy." He missed 15 games in his three years as a starter in Pittsburgh and is now 27 years old.
However, in his first year in Arizona, he played in 15 games and rushed for 752 yards while splitting time with Chase Edmonds – who is now in Miami. Conner may continue to split time with newly-acquired Darrel Williams but armed with a new contract, his role as the primary back is solidified.
The Cardinals were 11th in the league in points scored and have an electrifying quarterback in Kyler Murray, who they made a strong attempt to mitigate injury risk last year by limiting his red zone carries. Do you know who got those carries? James Conner got those carries and wound up leading the team with 18 touchdowns. That's a role Conner is unlikely to lose and one reason why he's such an excellent value as the RB15 in drafts.
Conner is no slouch in the passing game either. He's caught at least 34 balls in each of his four seasons as a starter, including 55 passes in 2018.
When both players have "if he's healthy" attached to their names, give me the player with the most talent around him and a clear path to double-digit touchdowns, especially at current values. James Conner may not be the sexy name, but he's a name that can grind out fantasy points for your squad week after week and lead you to a championship.