Fantasy Football Debate: Allen Robinson vs. Chris Godwin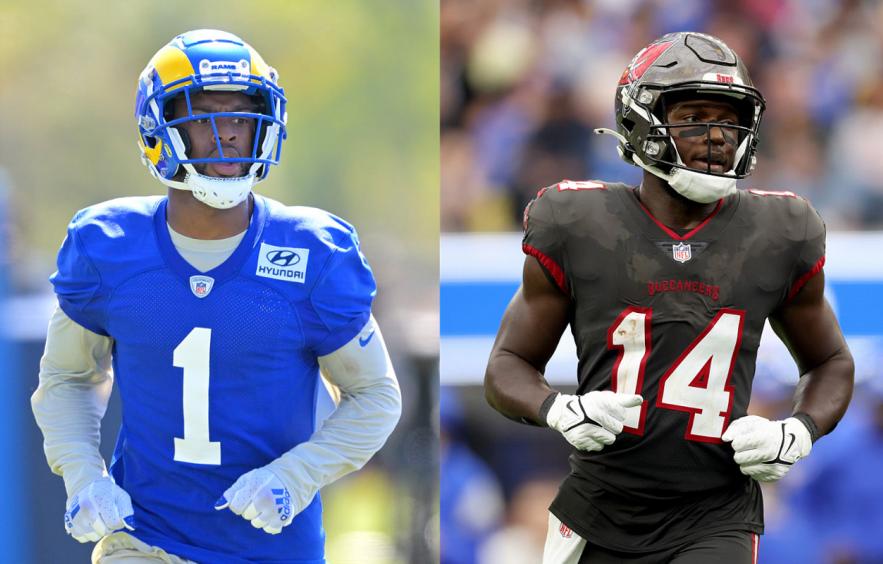 Jayne Kamin-Oncea/Harry How/Getty Images
Early in draft season, Allen Robinson and Chris Godwin had nearly identical ADPs but Godwin's has slid in recent weeks. With positive reports coming out of camp that Godwin could be ready to start the season, we may see those ADPs converge again.
In this debate, 4for4's Jeff Hicks will explain why he prefers the Rams' new wide receiver while Neil Dutton argues for Godwin, despite coming off of an injury.
---
Click here for more 2022 Player Profiles!
---
The Case for
Allen Robinson
Jeff: As an Allen Robinson supporter and drinker of his fantasy Kool-Aid, it is wonderful to see the wide receiver get a chance to win and be a fantasy target at the same time. The beauty of this debate exercise is that I get to write about not only a great wideout but tell you why he is a better option than another talented wideout. Leave it to 4for4 to pit two former Nittany Lions against each other.
I love Chris Godwin and he is in a winning situation and is well ahead of his recovery timeline (ACL surgery), but he returns to a crowded receiver room with enough unknowns to make him less appealing than A-Rob.
Before I compare the usage of Robinson and Godwin, let's look at how Robinson was utilized (or not) the past two seasons in Chicago.
Charts courtesy of Reception Perception
There is something to be said for limiting A-Rob's ability to take advantage of his size by taking away a large chunk of the field, especially since he is a successful downfield threat. I could write a novel on former Bears coach Matt Nagy's inabilities as a play caller and head coach, but let's just say he stunted the growth and talent of pretty much every Bears offensive skill player.
That will change in Los Angeles. Cooper Kupp is the WR1 for the Rams, but there is plenty of space to run outside for L.A. with Kupp expected to run in the slot in three-wide sets. According to Reception Perception, 64.6% of Kupp's sampled snaps were from the slot, which is important for Robinson. Kupp was also not utilized as a straight, downfield option. That is where we can look at Odell Beckham Jr.'s 2021 season.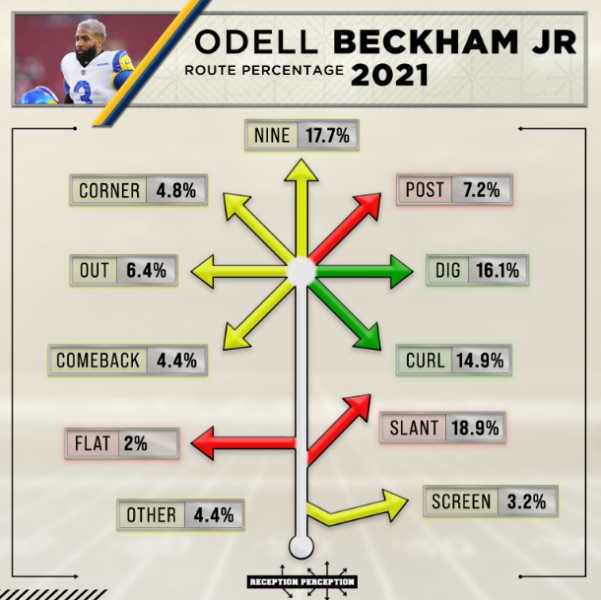 Rewind to Robinson's 2020 and this is where he will fit in Sean McVay's offense.
Back to the Robinson-Godwin debate. Godwin's role is locked in because of his rapport and success with Tom Brady.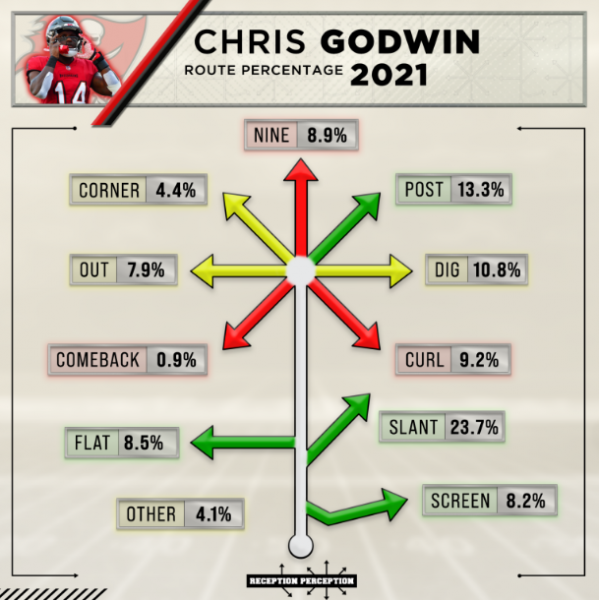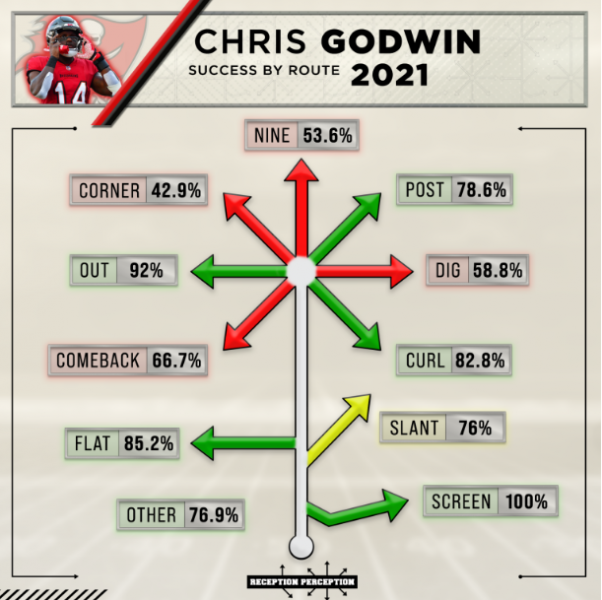 We see that Godwin is not limited in his route tree, but he is not asked to stretch the field as much as Robinson, therefore limiting his potential big-play abilities. It is not a lock that Godwin will not have big plays but after a number of changes on offense, including offensive linemen (and a July 28 injury to Ryan Jensen), guarantees are not there.
Godwin will be a starter once he takes the field, but he also has a lot more competition for targets. Mike Evans, Russell Gage, and the newly-signed Julio Jones make for a talented and crowded receiver room without mentioning Jaelon Darden, Tyler Johnson, and Cyril Grayson. Robinson will compete against Kupp, Van Jefferson, and Tutu Atwell—a bit of a talent difference (sorry Van and Tutu).
Both receivers had injuries in 2021, but a torn ACL is a different animal than hamstring tightness that needs rest. There is no guarantee that Godwin plays Week 1, but seeing him practice at the start of training camp is very much welcomed because no one wants to see great players on the sidelines. That alone gives an edge to Robinson; you cannot produce if you are not on the field.
We know Brady is the GOAT, but what we saw in 2021 is that Rams QB Matthew Stafford is a concrete lock as an unlocker of talent. Kupp was very good prior to Stafford's arrival, but the former Lions signal-caller catapulted Kupp to another level. Replacing Robert Woods/OBJ with Robinson will keep Stafford and the Rams offense humming, and potentially unlock a level of play we have not seen from the former Bear and Jaguar. That is scary for opponents based on what A-Rob has done with who he has had throwing to him since college.
Robinson is currently 4for4's 18th ranked wide receiver—six spots ahead of Godwin—but is only being drafted as the WR22 on Underdog.

The Case For
Chris Godwin
Neil: Straight off the bat, I must make this admission. I love Allen Robinson. Love him. Always have done. Anyone who can be as productive as he has been with the finest collection of late-night gas station attendants throwing him the ball since his college days is to be lauded. I am so happy for him to finally be on an offense that should see his talents put to good use.
But I still want Chris Godwin over him in fantasy.
Godwin is coming off a serious injury. Still, the reports from the team are encouraging regarding his overall availability in 2022 and his getting on the field in the early weeks of the season. The Buccaneers obviously are not too concerned about his long-lasting health, or they wouldn't have inked Godwin to a lucrative deal this past spring. Yes, I know they signed Russell Gage during the offseason. And yes, I know they waited until the eve of training camp to sign Julio Jones. But if Godwin can show that he has rehabbed sufficiently and can get on the field, I want Tom Brady's favorite target on my fantasy team.
"But I thought Mike Evans was Tom's guy?" I hear you say. You'd be ever so slightly wrong. While Evans scores a large number of Brady's touchdowns, his go-to guy all over the field is actually Godwin. In Weeks 1-14 last season, Godwin commanded a 22% share of the Buccaneers' targets, posting 92 receptions on 120 targets for 1,054 yards and five touchdowns. Evans drew 99 targets (18%), on which he posted 63 grabs for 885 yards and 11 scores. Brady's connection with Godwin is one of the most efficient of the GOAT's entire career, with an adjusted yards per attempt mark of 9.59 whenever Brady sent a pass to Godwin. So, we're getting volume and efficiency all wrapped up together.
As much as we've seen the Bucs with Brady under center embrace the long ball, Godwin lining up inside has been a vital cog in the offensive machine. Godwin lined up in the slot on 70.4% of his snaps last season. He finished fourth in targets (79), receptions (60) and yards (722) despite missing the last few games of the campaign. Incidentally, he was also fourth with 5.8 yards after the catch per reception from the slot.
Godwin also sees a large amount of work whenever the Buccaneers hit the scoring area. The Buccaneers attempted 133 passes inside the red zone last season, the most in the league. In Weeks 1-14 last season, Godwin drew 26 red zone targets, the second most in the NFL. With no Rob Gronkowski to compete for looks in this area of the field, Godwin should once again catch his quarterback's eye. It would be a surprise if Julio were to come into the team and emerge as a red zone weapon given his track record in Atlanta. Jones has 32 red zone targets combined in his last three seasons. Can Allen Robinson make his bones as the Rams' primary red zone option? While he may see some work inside the 20s, he will have to compete with Cooper Kupp, who dominated the red zone work for the Rams last season. He scored 13 touchdowns from 38 targets.
The Buccaneers' offense also offers their pass catchers more opportunities than the regular team, given their pass-first, pass-often tendency and pace of play. In neutral game situations in 2021, the Buccaneers passed 67% of the time, whereas the Rams were at 60%. When leading by at least seven points, the Rams pass to run ratio was 50:50. The Buccaneers? 61:39. On average, the Rams ran 63 offensive snaps per game. The Buccaneers were up at 69, and with more plays comes more passes, which only increases the opportunities for Godwin.
All of this assumes that Godwin is able to show he is healthy enough to resume his duties. I'm prepared to wait a few weeks for him to kick into high gear and assume his place at the head of Tom Brady's offense. Robinson must go into a new system, compete for targets with a wide receiver who shares a mind meld with his quarterback, and see them run fewer plays in total and fewer pass plays by design. In this battle of former Nittany Lions, Chris God-Wins for me. So you can take ARob at WR22, as people are currently doing on Underdog. I'll wait until WR30 and I'll take Godwin.