Did Rachaad White Really Land in an Optimal Spot?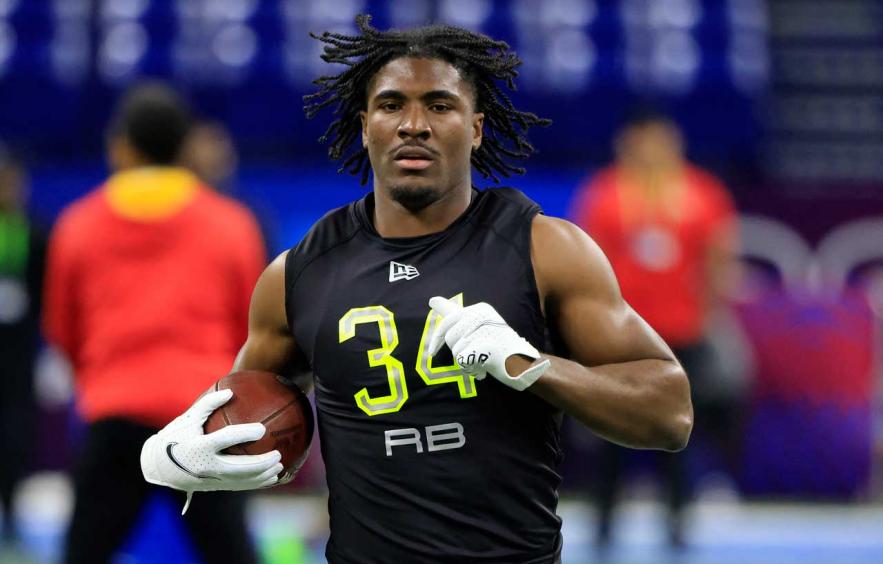 Justin Casterline/Getty Images
With the 91st pick (3.27) of the 2022 NFL Draft, the Tampa Bay Buccaneers selected 6'0", 214-pound running back Rachaad White of Arizona State. White was a disciplined runner in the zone running game and flashed his hands as a receiver, catching 43-of-48 targets during the Sun Devils' 2021 season.
---
Click here for more 2022 Player Profiles!
---
The rookie will have an opportunity to carve out a role early in the Buccaneers' offense, but he'll have to try his hand while sharing the backfield with Leonard Fournette, who ranked 12th in backfield touch% (58.3%) last year, despite missing three games. Let's take a look back at Rachaad White's brief college career before we dig into exactly what his year one fantasy production may look like in Tampa Bay.
A Single Devilish Year
Though White was a three-star recruit, it took him a bit of moving and shaking before he rose to the big time, starting his collegiate career at D-II Nebraska-Kearney, transferring to Mt. San Antonio College, and finally landing in Tempe in 2020. Arizona State only managed to play four games due to COVID in Rachaad White's first year, so he only has one full season of D-I football under his belt, but he did make the most of his opportunity.
The Sun Devils were a very run-heavy team, but that doesn't minimize how much of this offense ran (and passed) through White; his 37.8% college dominator rating sits at the 87th-percentile, thanks largely to ranking second on the team with his 48 targets. His (almost) complete lack of pass protection snaps is likely going to be an issue at the next level to begin his career, but his passing game chops should still be looked at as a positive on the whole; his 2.25 yards per route run, for example, led this entire 2022 running back class.
Rachaad White's trump card is assuredly his pass-catching ability; with soft hands and open-field vision, it's surprising that he only has six punt or kick returns on his ledger over his two seasons with Arizona State. That's all the better for his fantasy outlook, as it will hopefully mean he isn't splitting time on special teams as a rookie. His shiftiness would show up during his NFL Combine testing, with an elite 9.87 RAS score the last straw to help keep him in Day 2 of the NFL Draft, ultimately being paired with one of the most running back target-happy quarterbacks in fantasy football history.
An Immediate Role in the Offense, Maybe
Given Tom Brady's lengthy history of supporting pass-catching backs over the years with the New England Patriots, it came as no surprise when he continued to pepper the position in his first two seasons as a Buccaneer.
Though you don't see a terribly high usage% rank for running back targets in Tampa Bay, you'll quickly remember that the team has had Chris Godwin and Mike Evans sitting atop the wide receiver depth chart over this timeframe, not to mention a number of solid ancillary pieces to go along with the pair. Even so, you'll still see a high number of raw targets going to the running back position simply due to the high-volume passing attack that has emerged from the Tom Brady/Bruce Arians passing attack, with the number of team RB targets ranking sixth and third in the NFL over the past two seasons.
With Ronald Jones now out in Kansas City, the backfield behind Leonard Fournette seems to be up for grabs, and if Scott Reynolds, longtime Buccaneers reporter for Pewter Report, has a leader in the house, it is none other than Rachaad White;
"Running back Rashaad White just looks the part. His build and the way he moves just resemble an NFL running back. White has natural hands and catches the ball effortlessly. When he runs the ball, he just glides on the field with long strides. I've maintained that White will beat out Ke'Shawn Vaughn for the No. 2 running back spot behind Leonard Fournette this year. After watching White in rookie mini-camp, I feel even better about that prediction."
It is definitely worth noting that the backup role correlated to near-unplayability in fantasy last year, as despite being a part of the NFL's second-highest scoring offense in 2021, Ronald Jones finished as the overall RB57 in half-PPR scoring. By the same token, Jones was also one of the least efficient running backs in the league, despite playing behind arguably the league's best offensive line.
Ronald Jones

Efficiency Amongst Qualifying RBs 2021

| Yards After Contact/att. | Broken + Missed Tackle% | Routes Run | Yards per RR | Yards/Target |
| --- | --- | --- | --- | --- |
| 2.1 (45th/53) | 6.9% (49th/53) | 73 (73rd/84) | 0.9 (76th/84) | 4.9 (65th/84) |
If Rachaad White ends up cinching up the RB2 role on this offense, it would be an absolute shock if the team used him in the passing game as sporadically as they used Ronald Jones. It would be an even bigger shock if the rookie performed as poorly with his opportunities. I mentioned earlier how White had very little D-1 experience with pass protection, but Ronald Jones happened to be one of the absolute worst pass protecting running backs in the NFL last year, so it wouldn't take much of anything for the rookie to slide right into that role to learn on the fly. That's probably not exactly what 44-year-old Tom Brady wants to live with, but I bet he would like a little explosion from his running back when he gets him the ball, too. And White assuredly has that.
The rookie is all but guaranteed to be playing second-fiddle to Leonard Fournette in his first season, but it's not unreasonable to think he can sneak upwards of 150 touches in this offense in year one. That would put his ceiling somewhere in the RB4 range, with clear upside weeks if Fournette were forced to miss a game here and there throughout the season.

Bottom Line