Is Daniel Bellinger Set for a Giant Opportunity in New York?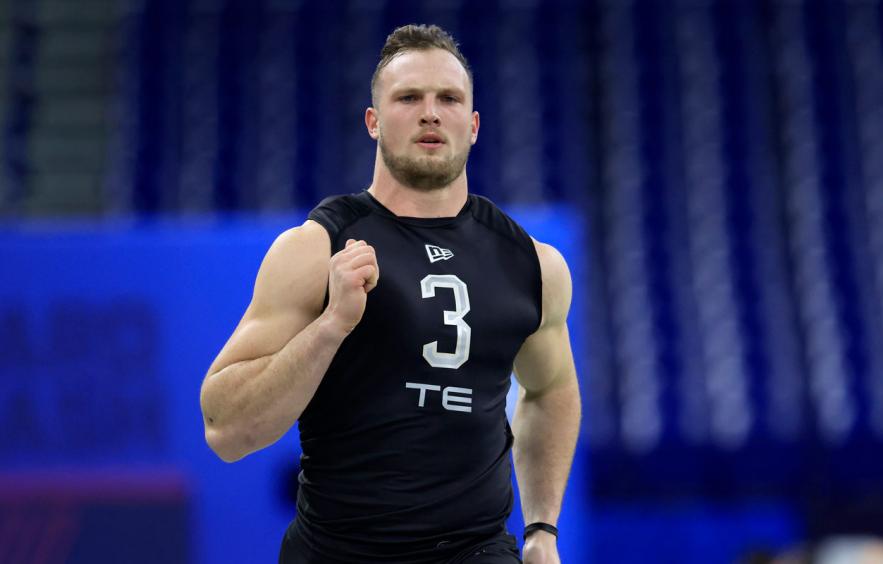 Justin Casterline/Getty Images
A year ago Kyle Pitts outperformed all other rookie tight ends since the Mike Ditka era after being taken with the fourth overall pick. Now, a year later, the NFL watching world could perhaps be forgiven for a lack of excitement regarding a tight end taken in the fourth round of the NFL Draft by one of the worst-performing franchises over the last half-decade. Daniel Bellinger is no Kyle Pitts; we should make that clear from the get-go. But few people are, and this doesn't make him any less intriguing of a prospect.
---
Click here for more 2022 Player Profiles!
---
Athletic but Under-Utilized in College
Bellinger played his college ball for the San Diego State Aztecs. It would be fair to say that he ended his time with the program as a slightly underused asset in the passing game. Bellinger amassed a grand total of 68 receptions in four seasons, bringing him 771 yards and five touchdowns. These counting stats are not likely to blow anyone away. But he did account for 16.8% of the team receiving yards in 2020 (203 out of 1,211) and 15.2% a year ago (357 out of 2,351). So, he cannot be considered a complete non-factor as a receiver, especially after the catch. According to Pro Football Focus, Bellinger averaged 9.1 yards after the catch per reception, tied for the 10th most among all college tight ends in 2021.
Bellinger was invited to the NFL Scouting Combine and did himself absolutely no harm with his performances in the athletic tests. He ran the fourth-fastest 40-yard dash among the 12 tight ends who participated, clocking a time of 4.63. Bellinger was third out of 13 with a 34.5 Vertical Jump, while only one other tight end put up more reps on the bench than his 22. Bellinger set the pace with a 125 Broad Jump, the best out of the 10 players who put their performance on tape for evaluators to see. All told, Bellinger posted a 109.7 Speed Score, a metric that measures a prospect's size-adjusted speed that placed him in the 88th percentile among all tight ends. Not a bad week's stay in Indianapolis—I think you'll agree.
Intriguing NFL Landing Spot
Bellinger was, as previously stated, taken in the fourth round of the Draft by the New York Giants. The Giants have pretty much stunk since they won the Super Bowl following the 2011 season, with just two winning seasons and a single playoff appearance in that time. They've lost 10 or more games in each of the last five seasons and seven of the last eight. The Giants have gone through four head coaches since Eli Manning led them to their second Vince Lombardi Trophy in five seasons. Not exactly an ideal landing spot for anyone, you could argue.
But there are reasons to believe that the fit between the Giants and Bellinger is close to being ideal, even ignoring the fact that two of the most productive rookie tight ends in the 21st century both played for the team. For information, Jeremy Shockey caught 74 passes for 894 yards and two touchdowns for the Giants in 2002. Evan Engram, 15 years later, reeled in 64 balls for 722 yards and six scores. According to John Daigle's Vacated Target Tracker, the Giants' offense has seen a lot of their 2021 targets walk out of the door this offseason. 226, to be precise, the seventh most in the NFL. These targets account for a 40.1% share from a year ago, the eighth biggest. As for tight end looks, well Engram is no longer a Giant, and his exit has contributed to the Giants lacking a league-high 121 tight end targets from a year ago.
"But Dutton" I hear you about to say. "Bellinger isn't going to come in and swoop up ALL of those targets, is he? I mean, he's not even going to see all the tight-end targets, is he?" You've made your point, although somewhat aggressively. It would be strange if the Giants were to make Bellinger a primary focal point of the offense as a rookie. But he is joining a tight end room that is not exactly blessed with top-tier talent. I liked Ricky Seals-Jones and considered him a "winner" after the NFL free agency. Jordan Akins has had his moments too, but Bellinger has one edge over these players. He can block.
Coming from one of the leading rushing attacks in all college football, if Bellinger could not block then he would not see the field. While not exactly the best run-blocking tight end in this draft class, he was a long way off being the worst. If we are to assume rational coaching from new Giants' headman Brian Daboll, then the Giants should want to try to run the ball with Saquon Barkley in 2022. If this is the case, then I assure you that Dabol or Barkley will not want Seals-Jones or Akins anywhere near the field. Seals-Jones ranked 92nd in run blocking last season according to PFF, while Akins was 131st. Bellinger can do it, and if he's on the field doing it and doing well, the Giants might see the benefit of KEEPING him on the field. Unconfirmed rumors suggest that being on the field can increase a player's productivity, but I'll need to get that confirmed.
2022 Fantasy Appeal?
Even if Bellinger can carve out a good chunk of playing time for himself, it would be somewhat surprising if it were to lead to fantasy superstardom in 2022. This seems to be reflected in his present ADP over at Underdog, where he is being selected after 85 other tight ends. The Giants is not an offense fantasy managers should be too excited about having pieces of this season, and Bellinger is not immune to this. But in the coming seasons, he is a name that you should keep in mind. I don't know when it will toll, but the bell will toll for Bellinger.

Bottom Line
Bellinger was an under-utilized receiver in college but was able to contribute when given a chance to catch passes and flashed some YAC ability.
Bellinger was one of the most athletic tight ends among this year's class and boasted an almost elite-level Speed Score.
Bellinger finds himself on a roster and in an offense that should see him take to the field early and often.
Bellinger is an extreme longshot to be fantasy relevant as a rookie, but at his present ADP, he could be worth a very late dart throw.