Ricky Seals-Jones Could be a Giant Fantasy Bargain in 2022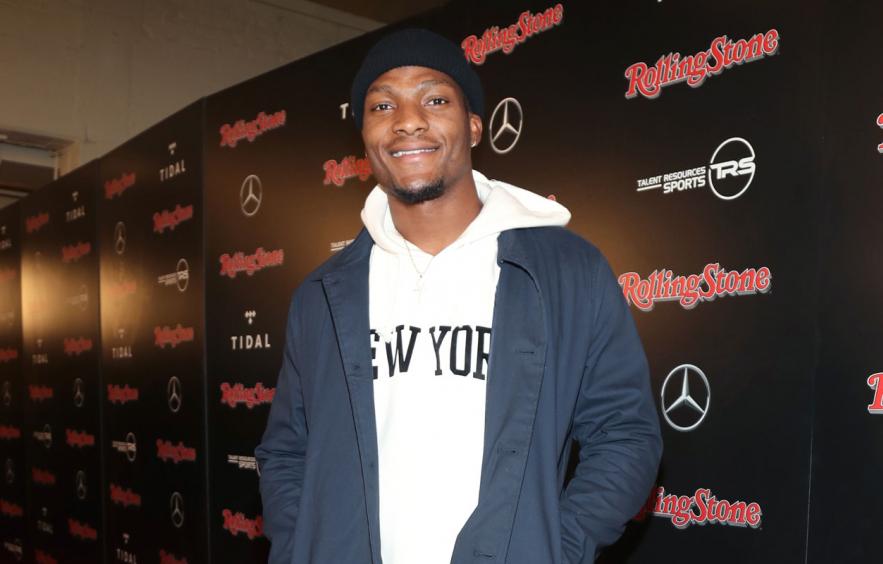 Cassidy Sparrow/Getty Images
The Washington Commanders trade for former Philadelphia Eagles quarterback Carson Wentz is not the only "Old Face, New Place" signing by an NFC East team. Ok, it's probably the most high profile. But I digress. The New York Giants reinforced their tight end room this past week with the signing of former Commander Ricky Seals-Jones. Seals-Jones signed a deal worth $1,187,500 for the 2022 season, according to Over The Cap.
It's not a particularly sexy signing, nor is it likely to elicit much excitement outside the Giants front office or the Seals-Jones living room. But as we currently stand in late March, this move has some sneaky fantasy appeal to people like me. And by definition, people like you, dear reader.
---
Click here for more 2022 Player Profiles!
---
Filling a Giant Hole
The Giants, according to the available targets tracker provided by my colleague John Daigle, have plenty of targets to spare from a year ago—36.5%, or 206, of their targets in 2021 went to players no longer on the roster. Of this figure, 121 went to tight ends. Only the Los Angeles Chargers have more vacated tight end targets as I write this. Evan Engram is now a member of the Jacksonville Jaguars, while Kyle Rudolph and Levine Toilio remain on the Free-Agent market.
Seals-Jones currently finds himself atop a depth chart ahead of superstars like Jake Haussman, Chris Myarick, and John Rysen. A cursory glance through the stats of this group shows that Seals-Jones has the leg up in terms of career production. Never really a superstar for the Arizona Cardinals, Cleveland Browns, Kansas City Chiefs, or the Football Team, Seals-Jones has 90 catches for 1,044 yards and 10 touchdowns since 2017. The remaining trio can boast a combined NFL career stat line of three receptions for 17 yards and a touchdown. Myarick owns all three of these catches.
Seals-Jones also has some recent experience of playing almost every offensive snap. Between Weeks 5-8 of the 2021 season, he was in on 98.3% of the Football Teams plays. Seals-Jones earned PFF's fourth-best blocking grade for tight ends during this span. He ran 195 routes over this span, the second-most of any tight end in the league, and commanded a 16.6% target share. His numbers were not exactly outstanding, as he reeled in 3.8 receptions per game for 36.2 receiving yards. Seals-Jones averaged 6.7 half-PPR points per game. But he did not enjoy stellar play from his quarterback during this time. Taylor Heinicke posted an adjusted completion rate of 69.1% between Weeks 4-8, as per PFF. This was good for last among all quarterbacks with at least 150 dropbacks.
So we have seen that Seals-Jones can play on every down and not disgrace himself, even with subpar play from the guy passing the ball. But how does this help him in New York?
Speeding It Up
Seals-Jones is not the only newcomer to the Giants this offseason. They have a new head coach in Brian Daboll, who was previously the offensive coordinator of the Buffalo Bills. The Bills benefited greatly from the play of their quarterback over the last few years, which made a number of their player's fantasy relevant. Well, Daboll isn't bringing Josh Allen with him to the Giants. So that's not going to help Seals-Jones and the like score more fantasy points. But what he will bring in is an injection of pace.
The Bills averaged 26 seconds per snap in neutral game situations in 2021, getting off an average of 71 plays per game whenever the game was within one score. The Dallas Cowboys were the only team that operated at a faster pace, as they averaged 73 plays per game. The 2021 Giants, by comparison, were practicing for a parade, dawdling towards 57 plays per game.
So we have a team with a head coach that wants to get as many plays run as possible, as quickly as possible, without having to make substitutions. We have a tight end with recent experience and relevant production in an every-down role. Unless the Giants prioritize defense in the upcoming NFL Draft and nail every pick, this is still a team that will find itself behind an awful lot in 2022. This means passing the ball, and that means passing the ball to players on the field. And that my friends, means Ricky Seals-Jones. At least for now.

And All For a Low Low Price
I am not saying that Seals-Jones is going to be a superstar in 2022. I'm not crazy. Well, I'm not THAT crazy. In his latest Never Too Early Rankings, John Paulsen has Seals-Jones down at the TE37. But, assuming he can fight off the threat of Chris Myarick, and any potential draft choice by the Giants, Seals-Jones is the lead tight end for the Giants. Given they are likely to pass the ball more and run more plays, this makes his current ADP over at Underdog something of a bargain.
He doesn't have an ADP at Underdog. So anyone drafting now can land a starting TE with no real volume concerns or competition for targets at his position on his team with their very last pick in drafts. How is this not worth a shot?
The Bottom Line
Ricky Seals-Jones has a proven record of production given a heavy workload, all the while playing with a borderline NFL starting quarterback.
The New York Giants will look to play fast and keep defenses on their toes by rolling with players who can play every snap, on both running and passing plays.
Ricky Seals-Jones is a starting tight end on a team that is going to have to take to the air, and you can get him for a song in best-ball drafts.