NBA Win Totals Betting Preview: Atlantic Divison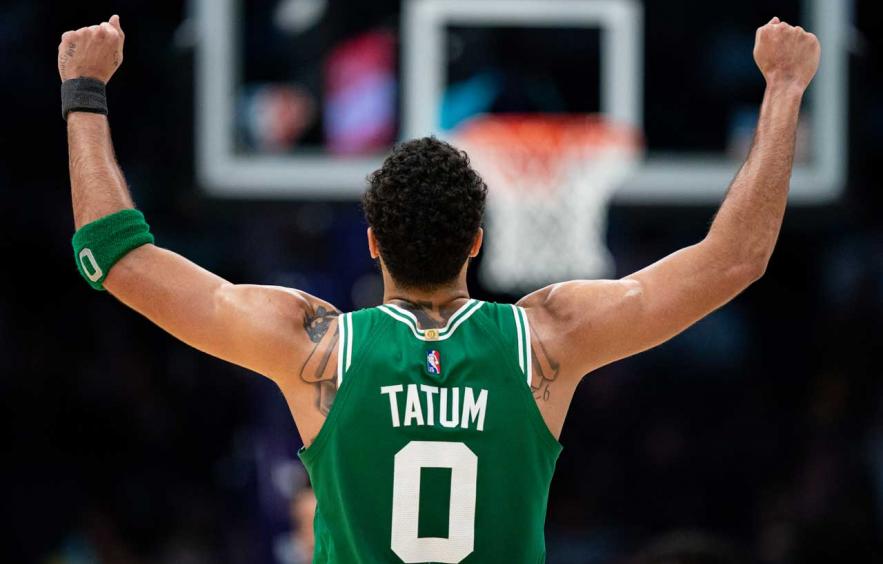 We are back! Joe Metz and I started our divisional preview series with the Northwest and now we continue with the Atlantic. The Knicks and Nets dominated the headlines from this division but the Sixers were able to add a few pieces, the Raptors were sniffing around big moves and the Celtics are coming off their first NBA Finals trip in 12 years. With all that said, the win totals are very similar to where the teams closed last season, so how much has really changed? The best way to quickly look at up-to-date win totals is over at 4for4's Future Odds Table.
---
Boston Celtics
2021 Record: 51-31
2022 Win Total: o54.5 (+100 DraftKings) / u56.50 (-125 BetMGM)
Key Additions: Malcolm Brogdon, Danilo Gallinari (torn ACL)
Key Losses: Aaron Nesmith, Daniel Theis
The defending Eastern Conference champs were a tale of two teams last season. Through January 7th, the Celtics were 18-21 with a +1.5 net rating. After that date, they went 33-10 with a net rating of +12.9, by far the best in the NBA. The question leading into this season, is how much of that is replicable and how much can it be banked on with the highest win total in the NBA?
Jayson Tatum and Jaylen Brown are clearly one of the best combos in the league and took strides in their playmaking, both setting career highs in assists while maintaining scoring production. With the addition of Malcolm Brogdon, the bench gets deeper but there is one area of concern. The health of Robert Williams is paramount for Boston being an elite team. With Williams out last season, the Celtics were 11-10 and there is no other big on the roster with his verticality to cause players issues at the rim. Last season Williams was able to prove he could take on more minutes, going from 18.9 minutes to 29.6 per game but with how he broke down in the playoffs, there should be a plan to give him nights off.
When looking at a total this high, almost everything has to go right and they very could for Boston but there remain concerns. The team with the highest win total has gone 3-8 to their win total the last 11 years in 82-game seasons and the division should be better on a night-to-night basis this season.
Bet: No bet

Brooklyn Nets
2021 Record: 44-38
2022 Win Total: o49.5 (-115 Caesars) / u51.5 (-125 PointsBet)
Key Additions: Royce O'Neale, TJ Warren, Edmond Sumner, Yuta Watanabe
Key Losses: Bruce Brown, Andre Drummond, Goran Dragic, LaMarcus Aldridge, Blake Griffin
Just another quiet offseason for the Kevin Durant and Kyrie Irving-led Brooklyn Nets. After a season with all kinds of distractions, injuries, sabbaticals, and trades, the Nets look like a team that can compete in the East. When Durant and riving were on the court together without James Harden, the Nets were +12.6 on 1,033 possessions. That is the basis of a contending team.
The rest of the team around them has to be good to withstand the inevitable games missed by Durant due to injury as he is in his mid-30s and the injuries/rest of Irving. Brooklyn traded for Royce O'Neale, why would they do that (Windy point), because there was a desperate need for another wing defender with Bruce Brown in Denver. O'Neale along with Ben Simmons, Durant, and Nic Claxton give the Nets the chance to improve on their 21st-ranked defense last season. If one of TJ Warren or Joe Harris has a return to form coming off long-term injuries, the Nets would be thrilled and it would lengthen a rotation that will need to be utilized.
While on paper the Nets have plenty of potential to be awesome, there is no better team to prove why "on paper" can be a pitfall, than the Brooklyn Nets. If they win 55 games, it would not be that surprising but if Kevin Durant reinstated his trade request midseason, that would not be surprising either. If forced, the lean would be over and if that is your lean, have some antacids on deck.
Bet: No bet
Philadelphia 76ers
2021 Record: 51-31
2022 Win Total: o50.5 (-110 BetMGM) / u50.5 (+100 DraftKings)
Key Additions: De'Anthony Melton, PJ Tucker, Danuel House, Montrezl Harrell
Key Losses: Danny Green, Paul Millsap, DeAndre Jordan
This season is a bit of a reset for Philadelphia with getting an entire season of James Harden with Joel Embiid and pieces around the margins that fit the new style better. After the trade, the Sixers had the fifth-best net rating in the NBA and had a top-10 offense and defense. Over a larger sample size, that is the basis of yet another team that can contend in this division.
Outside of the two stars, Tyrese Maxey took a huge step and will be critical as a secondary ball-handler and shooter. While 18.5 points and 3.5 assists do not knock you over, shooting 48% from deep in that time definitely sticks out. Maxey showed pre-Harden that he is more than capable of running the show with bench units or when Harden gets a night off. Joel Embiid is at his peak and an MVP candidate brings the ceiling way up for this team. Add in the savvy draft night deal for De'Anthony Melton and the signings of PJ Tucker and Danuel House and the rotation for the Sixers looks playoff ready.
If the Sixers can repeat the fifth-best net rating or close to it over an entire season, then this is an over. You have to worry about the depth and lack of a tanker in the division for getting easy wins as well as health with Embiid's history and some of the older additions.
Bet: Over 50.5 regular season wins (-110 BetMGM)
Risk: 1.1 units on BetMGM to win 1 unit.
Toronto Raptors
2021 Record: 48-34
2022 Win Total: o45.5 (-122 FanDuel) / u46.5 (-110 BetMGM)
Key Additions: Otto Porter Jr., Josh Jackson, Juancho Hernangomez (Bo Cruz),
Key Losses: Yuta Watanabe, Svi Mykhailiuk
The Raptors were up there this offseason in the team whose name was mentioned around all the big names but was not able to get a deal done. That partially has to be due to seeing what it took for this roster to get to 48 wins last season. Five players on Toronto averaged 35+ minutes: Fred VanVleet, Pascal Siakam, OG Anunoby, Scottie Barnes, and Gary Trent Jr. Siakam and VanVleet were the top two minutes-getters in the league. It is tough to think that could be repeated and have the roster hold up.
The Raptors added Otto Porter Jr and Josh Jackson to their roster of wings to help cobble together a bench unit that allows the starters to rest close to a normal amount. The biggest question and area of improvement is the shooting. Toronto had the 16th-best offense and 11th-best net rating while having the 27th-ranked TS%. The Raptors played similarly to a hockey team that just gets the puck on the net and hopes for the greasy goal. They were second in ORB% and had to own the shot attempts to make up for their lack of shooting. What can be pointed to most as a reason for some upward movement is the development of Scottie Barnes, who showed tons of potential as a rookie.
The number is baking in a little regression but with the East getting deeper and the Raptors' style of play not having a great track record of being sustainable over multiple seasons, there is plenty of concern to have over this team, even if the parts individually are attractive.
Bet: u46.5 (-110 BetMGM)
Risk: 1.1 units on BetMGM to win 1 unit.
New York Knicks
2021 Record: 37-45
2022 Win Total: o37.5 (-134 PointsBet) / u39.5 (-105 BetMGM)
Key Additions: Jalen Brunson, Isaiah Hartenstein
Key Losses: Alec Burks, Nerlens Noel, Taj Gibson, Kemba Walker
Is it fun to make fun of the Knicks when things appear to not go their way? No doubt. When looking at the offseason moves in comparison to this win total, there are reasons to take them seriously. As much as the Jalen Brunson contract bothers some, he is an adult point guard who can run the offense. That is not something the Knicks had for the majority of last season. New York had the 21st-ranked offense last season with Julius Randle having a worse season than many could have imagined and RJ Barrett learning as an initiator.
The defense should be solid with Tom Thibodeau in command for now and with the Knicks re-signing Mitchell Robinson and bringing in Isaiah Hartenstein. There could be perimeter defensive issues but with reliable backline defenders, New York should at least be passable on that end.
The biggest question is the log jam on offense. Brunson, Barrett, and Randle are all lefties that like to attack in similar ways and areas of the court. Getting Obi Toppin on the court more would make sense, but with how stubborn Thibodeau can be and all the money in the front court, who knows if that happens. There could be a big adjustment period that puts this win total in more question than some may think.
Bet: No bet
For the most up-to-date picks check out my Twitter and subscribe to our Discord. This sheet from Dan Rivera tracks all my betting picks (and those from the rest of the betting staff) on the year. Just click on the tab with my name on it for the results.
---
This article is intended for entertainment purposes and adult users only. Call 1-800-GAMBLER if you have a gambling problem.