Robert Woods Deserves More Fantasy Respect in 2021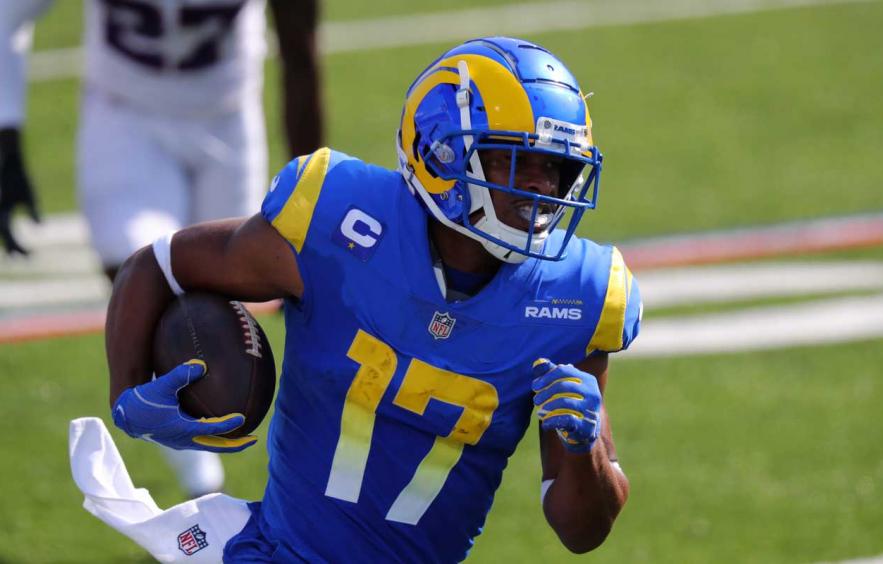 Timothy T Ludwig/Getty Images
In fantasy football drafts, popular, big-name players are often given priority over less flashy ones. However, in many cases, these less flamboyant players have done nothing to deserve the disrespect placed upon them in drafts. No player exhibits these qualities better than Robert Woods. Since signing with the Rams in 2017, Woods has consistently put up stats among elite company. His situation has only improved this season, as he is now attached to the best quarterback of his career and is in an excellent offensive system. Here's a look at why, once again, Robert Woods is being slept on at his current Underdog ADP of WR16 in half-PPR leagues.
---
Editor's Note: Read more player profiles from the 4for4 staff!
---
Great Numbers Every Year
You might not have realized it, but since joining the Rams, Woods has been near the top at every single major receiving category. He ranks 10th in fantasy points scored, ninth in receiving yards, and eighth in receptions, finishing as a top 20 wide receiver in each of the last three seasons. Woods has also routinely exceeded expectations—he has either matched or outperformed his ADP in each of the last four seasons. Year in and year out, he is undervalued in drafts, despite consistently performing above and beyond what is expected of him.
Woods is also incredibly dependable from season to season. Last year, he had the third-most snaps played among all wide receivers. In 2018 and 2019, he ranked fourth and fifth, respectively. He has played 47 of the last 48 regular-season games and finished with below five targets in just four of them. Additionally, he is reliable once the ball is thrown to him, dropping just 2.5% of his targets in this stretch.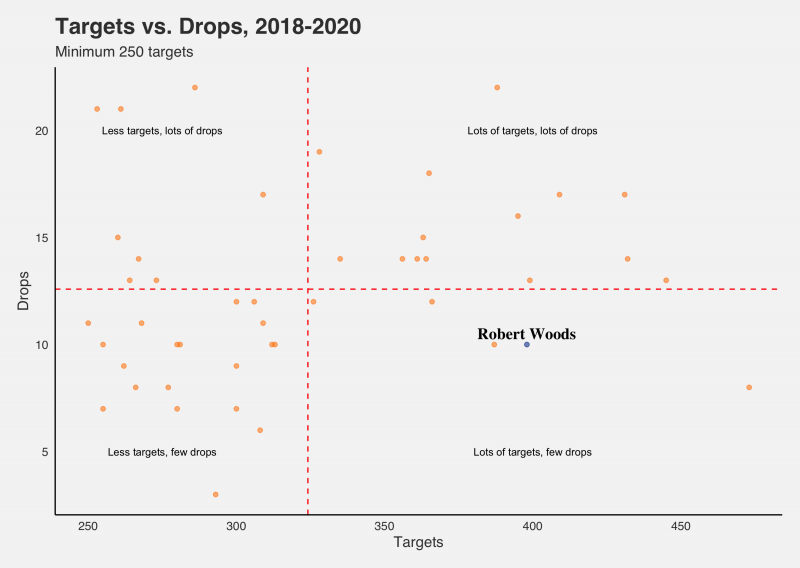 Woods has been elite at catching passes–he has one of the highest target amounts since 2018, but has dropped very few passes.
Best Situation of his Life
Not only has Woods proven he can be a valuable fantasy asset in the past, but he is also is in the best situation of his career to produce in the present. The Rams' acquisition of Matthew Stafford back in January was a trade that should prove to be excellent for Woods's fantasy value. He will go from Jared Goff, a quarterback notorious for his tendency to only be as good as the system around him, to Stafford, who is quite the opposite. In Detroit, Stafford often had a poor supporting cast and made a living out of putting up big numbers on bad teams. Now that he is on a Los Angeles team chock-full of weapons, things should change. If Rams coach Sean McVay could get two Pro Bowl seasons out of Goff, just imagine what he could do with a talent like Stafford.
One area where Woods has excelled in the past is his versatility. He is one of the few wide receivers capable of dominating both on the inside and outside. Since 2017, Woods has 2,142 snaps from the outside, and 1,370 from the slot, per ProFootballFocus. Heck, Woods can even produce on touches behind the line of scrimmage. He ranks fourth among all wide receivers in rushing attempts (62), third in yards (439), and second in touchdowns (4) since joining the Rams. With Stafford's arrival, Woods's multifaceted skill set will allow him to thrive, specifically on deeper plays. Stafford ranked top five in the NFL in passer rating on throws more than 20 yards downfield last season. This is a huge upgrade from Goff, whose deep-ball passer rating was bottom 10. Stafford also pushed the ball downfield more than Goff in 2020, ranking fourth in air yards per passing attempt (Goff, for comparison, ranked 34th). Suffice to say, the Rams offense with Matt Stafford should be much more explosive this season, leading to an increase in big plays for Woods. Here's a complete statistical breakdown of Stafford versus Goff in 2020:
Stafford vs. Goff Statistical Comparison, 2020

| Stat | Matthew Stafford | Jared Goff |
| --- | --- | --- |
| Expected Passing Yards | 4,007 (9th) | 3,869 (11th) |
| Expected Passing TDs | 27.4 (14th) | 20.4 (21st) |
| Adjusted Completion Percentage | 73.8 (26th) | 78.6 (T-6th) |
| Air Yards per Attempt | 9.4 (T-3rd) | 6.7 (34th) |
| Deep-Passing Grade | 93.0 (8th) | 61.7 (33rd) |
| Big Time Throws | 32 (8th) | 13 (26th) |
| Throws to the End Zone | 61 (T-9th) | 16 (T-30th) |
Data via PFF
As you can see, Stafford has Goff beat in most categories, blowing him out in areas such as deep passing grade and end zone throws, both of which bode well for Woods. The only area where Goff has the advantage over Stafford is in Adjusted Completion Percentage, which can be explained by Goff's low-risk playing style.
No Volume Concerns for Woods
Barring injury, Woods is also locked into a large target volume this season. There are no proven wide receiver options on the Rams aside from Woods and teammate Cooper Kupp, so the tandem should see the lion's share of targets. Historically, Stafford has been more than able to support two phenomenal wide receivers for fantasy football. In 2014, both Golden Tate (WR13) and Calvin Johnson (WR15) were elite fantasy options and combined for a total of 272 targets and 2,408 yards. Three years later, Marvin Jones (WR9) and Golden Tate (WR15) had a very similar output, putting up 227 targets and 2,104 yards together. Other pairings such as Kenny Golladay and Marvin Jones have also put up gaudy numbers with Stafford as their quarterback. It's easy to imagine Woods and Kupp putting up similar numbers as past duos under Stafford, leading to fantasy dominance for the both of them.

The Bottom Line
Robert Woods has done nothing but produce since arriving in Los Angeles four seasons ago, but is consistently undervalued in drafts despite frequently exceeding expectations.
With Matthew Stafford replacing Jared Goff under center, Woods's fantasy value will improve–Stafford is a much better quarterback than Goff, and will be able to elevate the Rams' offense.
Stafford will also be able to maximize Woods's versatility, specifically in the deep passing game. His historical support of multiple elite fantasy options also bodes well for Woods and Cooper Kupp, who are the clear top options in the Rams passing offense.
Woods's current ADP of WR16 is likely closer to his fantasy football floor as opposed to his ceiling, and as long as he stays healthy, it's very possible that Woods finishes as a top-10 fantasy football wide receiver in 2021.