Projected Three-Down Linebackers In 2021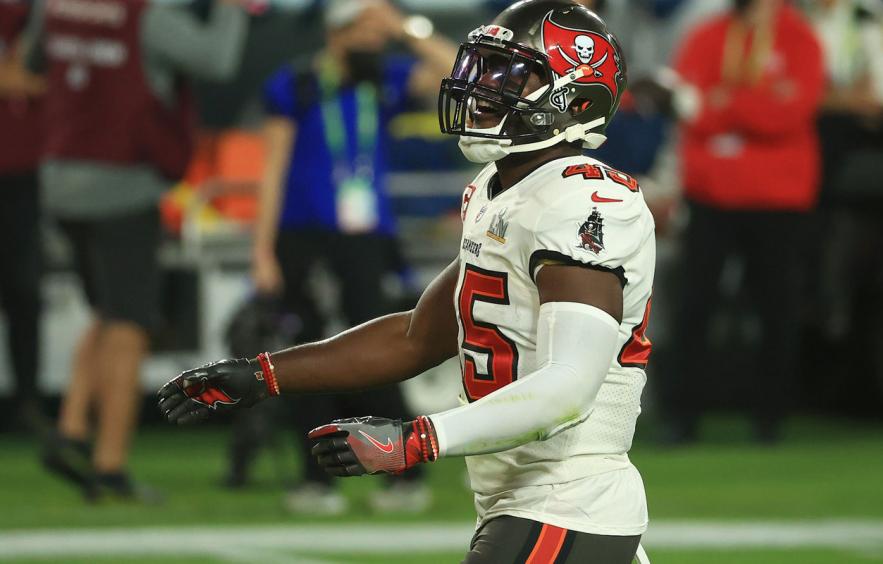 Mike Ehrmann/Getty Images
I usually compare linebackers to the running back position. There are two-down guys and three-down guys, and obviously, the three-down guys are the ones you want to target for IDP leagues.
We're heading into training camp and the preseason. COVID muddled things up last season, but for 2021, we're on track for a normal offseason program. We should get our training camp reports and preseason games will help shape the story.
---
More IDP Content: Breakout DBs | Breakout DLs | Breakout LBs | DB Rankings | DL Rankings | LB Rankings
---
This will be updated throughout the rest of the offseason and during preseason games as news breaks and information is presented.
Here's a look at the projected three-down LBs for 2021 and who'll wear the dot.
2021 Projected Three-Down Linebackers

| Team | Player | 2020 Snap Rate | 2021 Projected Playcaller |
| --- | --- | --- | --- |
| ARI | Isiah Simmons | 34.0% | |
| ARI | Zaven Collins | 0.0% | x |
| ATL | Deion Jones | 96.0% | x |
| ATL | Foyesade Oluokun | 83.0% | |
| BAL | Patrick Queen | 80.0% | |
| BUF | Tremaine Edmunds | 85.0% | x |
| BUF | Matt Milano | 31.0% | |
| CAR | Shaq Thompson | 97.0% | x |
| CAR | Jermaine Carter | 27.0% | |
| CHI | Roquan Smith | 95.0% | x |
| CIN | Logan Wilson | 32.0% | x |
| CLE | Jeremiah Owusu-Koramoah | 0.0% | |
| CLE | Anthony Walker | 68.0% | x |
| DAL | Keanu Neal | 85.0% | |
| DAL | Micah Parsons | 0.0% | x |
| DEN | AJ Johnson | 98.0% | |
| DEN | Josey Jewell | 93.0% | x |
| DET | Jamie Collins | 74.0% | |
| DET | Alex Anzalone | 50.0% | x |
| GB | Krys Barnes | 41.0% | x |
| GB | De'Vondre Campbell | 79.0% | |
| HOU | Zach Cunningham | 85.0% | |
| HOU | Christian Kirksey | 53.0% | x |
| IND | Darius Leonard | 80.0% | x |
| IND | Bobby Okereke | 66.0% | |
| JAX | Damien Wilson | 49.0% | |
| JAX | Myles Jack | 83.0% | x |
| KC | Anthony Hitchens | 56.0% | x |
| KC | Willie Gay | 25.0% | |
| LV | Cory Littleton | 78.0% | |
| LV | Nicholas Morrow | 66.0% | x |
| LAC | Kenneth Murray | 93.0% | |
| LAC | Drue Tranquill | 0.0% | |
| LAR | Kenny Young | 46.0% | |
| LAR | Troy Reeder | 41.0% | |
| MIA | Jerome Baker | 84.0% | x |
| MIN | Eric Kendricks | 70.0% | |
| MIN | Anthony Barr | 9.0% | x |
| NE | Ju'Whaun Bentley | 60.0% | x |
| NO | Demario Davis | 99.0% | x |
| NYG | Blake Martinez | 97.0% | x |
| NYJ | CJ Mosley | 0.0% | |
| NYJ | Jamien Sherwood | 0.0% | |
| PHI | Alex Singleton | 68.0% | |
| PHI | Eric Wilson | 96.0% | x |
| PIT | Devin Bush | 27.0% | |
| PIT | TJ Watt | 83.0% | |
| PIT | Joe Schobert | 99.0% | x |
| SF | Fred Warner | 94.0% | x |
| SF | Dre Greenlaw | 68.0% | |
| SEA | Bobby Wagner | 99.0% | x |
| SEA | Jordyn Brooks | 32.0% | |
| TB | Devin White | 93.0% | x |
| TB | Lavonte David | 99.0% | |
| TEN | Jayon Brown | 58.0% | x |
| WAS | Jamin Davis | 0.0% | |
| WAS | Jon Bostic | 92.0% | x |
Arizona
Cardinals
I was not expecting the Cardinals to draft Zaven Collins in the first round, a year after drafting Isaiah Simmons at No. 7 overall. In what seemed like seven seconds, Steve Keim iterated Collins would be the MIKE linebacker and call the plays. So, where would that leave Simmons? Simmons appears to be on track to be a three-down LB with Jordan Hicks now becoming an after-thought. Arizona's base defense, they typically deployed two linebackers frequently, so Collins and Simmons project for a lot of work. Arizona lost Haason Reddick and De'Vondre Campbell to free agency, so Chandler Jones will have to pick up the edge-rushing slack left behind by Reddick.
8/16/2021: Zaven Collins wore the dot for Arizona' defense. Isaiah Simmons was mostly aligned inside on the right or left, but didn't play all that well.
Green Dot: Zaven Collins
Atlanta
Falcons
Deion Jones and Foyesade Oluokun will return as Atlanta's three-down LBs in 2021. Oluokun enjoyed a career year, recording 117 tackles which resulted in a 13.1% tackle rate. He also added pass rushing, as he was deployed on 137 pass-rush snaps and generated a 16.8% pressure rate. Jones enjoyed a solid season with 106 tackles and pitched in 4.5 sacks and two INTs. Both should be on the field for the majority of the snaps in 2021 with Jones wearing the dot and calling the plays.
Green Dot: Deion Jones
Baltimore
Ravens
Patrick Queen enjoyed a breakout year as a rookie where he recorded 100-plus tackles. Queen went through typical rookie struggles especially against the Chiefs in Week 3. One of his biggest issues, which I hope he cleans up, is the missed tackles. Queen missed a tackle in every five attempts - resulting in 23 misses total. Those are significant fantasy points left on the field. He was efficient as a pass rusher, producing 21 total QB pressures and a 19.4% QB pressure rate. The Ravens deployed one-LB on over 20% of their defensive snaps, so I'm not really enamored with their options in two-LB sets. Queen is the only Baltimore LB I'm targeting.
7/31/2021: Keep an eye on Malik Harrison. He could be in line for more snaps this season alongside Queen. There will be competition between Harrison, LJ Fort and Chris Board. I do see Harrison separating himself from those two at some point.
8/16/2021: Patrick Queen looks locked in to a three-down role. Malik Harrison projects as a 70% snap guy. Really good fundamentals and is going to stick his helmet in to cause fumbles. Chuck Clark is calling the plays.
Green Dot: Chuck Clark
Buffalo
Bills
Buffalo is pretty vanilla with their defense and should continue to run Tremaine Edmunds and Matt Milano as their three-down LBs. Milano tested the free-agent waters but returned back to Bills Mafia. Milano ended up missing three games during the season but was deployed more on pass-rush situations, though he was better in coverage - allowing a 68% completion rate when targeted. Edmund is still an IDP producer, but we'll see how long that continues. He's still young, having just turned 23, and is entering his fourth season. Edmunds should still call the plays and wear the dot. As long as he's on the field, he'll produce fantasy-relevant numbers. He's coming off his third-straight 100+ tackle season and produced a 13.1% tackle rate over 911 defensive snaps.
8/29/2021: Quiet preseason for Buffalo. Tremaine Edmunds and Matt Milano got some snaps in Week 3 preseason against Green Bay. Edmunds wore the dot.
Green Dot: Tremaine Edmunds
Carolina
Panthers
Shaq Thompson is the only Carolina LB I'm targeting from this group as he's the only true three-down LB. Thompson played over 1,000 snaps in 2020 and his role should remain the season heading into 2021. He needs to make plays and cause more turnovers.
8/1/2021: Shaq Thompson is dealing with some lower body tightness, but doesn't appear to be anything concerning. Thompson and Jermaine Carter were the nickel linebackers - so Carter will be worth watching in deeper leagues. Carter has never been an every-down guy, but could get the opportunity this season. He's improved his coverage - allowing just a 72.9 QBR when targeted. Last season, he recorded a 15.2% tackle rate over 282 defensive snaps with an average tackle depth of 2.3 yards. If he can get nickel snaps and be on the field for 80% of the snaps, he could be a nice little late round flier.
8/16/2021: The Panthers brought in Josh Bynes for veteran depth. It's looking like Jermaine Carter will flank Shaq Thompson in their 2-LB sets. Carter is a late-round flier.
8/29/2021: Shaq Thompson and Jermaine played all of the first-half defensive snaps in Week 3 preseason. Carter is shaping up to be a late-round flier as a three-down LB. Shaq Thomspon is an LB3. Thompson called the plays.
Green Dot: Shaq Thompson
Chicago
Bears
While Danny Trevathan wasn't a true three-down linebacker, he was more than serviceable in 2021 and was a consistent IDP producer. He had five games of six tackles or fewer and four games of double-digit tackles. He's one of the more underrated linebackers you can get at the tail-end of your draft. Trevathan appeared in all 16 games and produced a 13.6% tackle rate - resulting in 113 tackles.
Roqaun Smith was the star of the defense and notched a career-high 139 tackles. He also contributed big plays, producing two INTs and four sacks. Chicago will continue to run two-LBs, but they did tinker with single-LB packages. I've got Smith as a tier-one LB and Trevathan is a solid LB4 target.
9/1/2021: I'm going to let Week 1 play out, but Alec Ogletree is on track to start opposite Roquan Smith. He could get the start, but it's possible he may not see every snap. If the Bears go DIME, Smith isn't leaving the field. Ogletree could be a bit 70%-80% snap guy, but we'll see. He's dealt with a myriad of injuries and he hasn't appeared in more than 85% of the snaps since 2017. Ogletree is a late-round flier and LB7 in redraft.
Green Dot: Roquan Smith
Cincinnati
Bengals
In 2020, this unit was a mess with no true option to depend on. Germaine Pratt led the way among linebackers in snaps, however, he was on the field 65% of the time. Germaine Pratt and Josh Bynes were mostly run stuffers, but Logan Wilson and Akeem Davis-Gaither had more pass-rush snaps. I think Logan Wilson will take on a three-down role, and while Pratt will be the other starter, I'm not counting on him appearing in more than 65% of the snaps.
7/31/2021: It's Germaine Pratt's job to win or lose. It seems like this is make or break season for Pratt. Logan Wilson is entrenched asa three-down guy. Pratt needs to hold off Akeem Davis-Gaither throughout camp for that three-down role.
8/6/2021: According to Laurel Pfahler, Logan Wilson has earned the dot and the trust of the locker room. Wilson's stock is up.
Green Dot: Logan Wilson
Cleveland
Browns
The Browns' linebackers were a bit weak in 2020 and the front office addressed the room during free agency and the draft, adding Anthony Walker from the Colts and drafting Notre Dame standout, Jeremiah Owusu-Koramoah. Their base defense in 2020 was a 4-2-5 and Joe Woods could deploy a similar package as his base in 2021, but he has far more speed at his disposal. Their nickel should be deployed on most personnel sets. If the Browns go DIME, their 3-2-6 deployment is going to be feared. This should be their quickest defensive package with Phillips and JOK. I think Walker and Jacob Phillips are going to be the three-down LBs this season. Phillips has experience calling the plays and has more familiarity with the defense, so I'm projecting Phillips to wear the dot.
7/31/2021: On Cleveland's first full-team drill, Anthon Walker, Sione Takitaki and Mack Wilson were the first three linebackers on the field. On passing down packages, Jacob Phillips and Malcolm Smith were the first group. I'm still confident Phillips is going to be one of the three-down guys, but he's going to have to earn it. This is shaping up to be a competition throughout the entire camp.
816/2021: Anthony Walker was held out against the Jaguars. Mack Wilson and Jacob Phillips were the first two LBs out in the first series. Phillips called the plays. Wilson did end up getting hurt, which is the last thing he needs right now due to the uncertainly of his roster spot. I think when Walker returns, he'll call the plays.
8/20/2021: Jacob Phillips suffered an injury during a joint practice with the Giants, that has turned out to be a torn bicep. Phillips' 2021 season appears to be over. This opens the door for Jeremiah Owusu-Koramoah to earn a three-down role opposite Anthony Walker. If JOK plays the way he did against Jacksonville, there's no way you can keep him off the field. Mack Wilson has earned snaps, as well. At this point, I'm targeting Walker and JOK in drafts.
Green Dot: Anthony Walker
Dallas
Cowboys
Jaylon Smith was the play caller and true every-down player. Mostly due to injuries to Leighton Vander Esch and Sean Lee. Lee retired and Vander Esch could be phased out of the defense. Due in part to Dallas drafting Micah Parsons in the first round. There's no doubt Smith, from a fantasy standpoint, is productive. He produced his second consecutive season of 140+ tackles with 154. So far, the plan for Parson is to man the middle and play in the box to utilize his sideline-to-sideline range and speed. As a former DE, he'll be pass rush force from the inside. I think Parsons and Smith are three-down guys this season. We'll see if Dan Quinn utilizes more three-LB packages, as Mike Nolan's two-LB packages dominated. With that said, I'm targeting Smith and Parsons only.
8/6/2021: Micah Parsons was as advertised in the HOF game against Pittsburgh. He was lined up all over the field and finished with 3 solo tackles and a fumble recovery over 11 snaps. When with the first team, I noticed him in the middle of the defensive huddle and on his second series, clearly wearing the dot. I think this is Parsons's defense.
8/20/2021: In a tweet from Clarence Hill, Jr., he states Jaylon Smith and Leighton Vander Esch are slated for special teams. Sums up their roles for the 2021 season. I think Micah Parsons and Keanu Neal are getting the majority of the snaps. You might see some sprinkles of Smith and LVE in certain packages. Jabril Cox has also looked good during the preseason, as well.
Green Dot: Micah Parsons

Denver
Broncos
Josey Jewell had the quietest 100-tackle season I can remember. He also appeared in 1,011 snaps - 93% of Denver's total. After recording 93 tackles in 2019, AJ Johnson produced 124 tackles. Both Jewell and Johnson are entering contract years and it appears they're in line to be the three-down LBs in 2021. I don't see them leaving the field in nickel or dime packages.
7/31/2021: Justn Strnad is going to be a name to place in your memory bank. He's displaying a quick burst and showing no lingering effects from a wrist injury that ended his season. He's still playing behind AJ Johnson and Josey Jewell. He's not going to make it easy, but he'll show he's competent in coverage to break through. Strnad's getting reps with AJ Johnson, so he's going to make Jewell re-earn his role.
8/22/2021: Josey Jewell has been dealing with an injury and hasn't been active. AJ Johnson and Justin Strnad were out with the first team in the second pre-season game and Strnad was calling the plays. As the saying goes, "never let them see your backup." We'll see what happens when Jewell comes back and what his role will be, but as of now, Strnad is getting the snaps right now.
8/29/2021: Josey Jewell and AJ Johnson received the majority of the defensive snaps in the first-half. Jewell is fighting off Justin Strnad, but he appears ready to start the season. Strnad is going to push him all season and could find himself replacing Jewell in coverage at some point. Cameras were all over the place during the Broncos/Rams game, but I noticed Jewell, Johnson, nor Justin Simmons were wearing the dot. I did notice Jewell in the middle of the huddle calling the plays.
Green Dot: Josey Jewell
Detroit
Lions
This is another group I'm not totally in love with. Jamie Collins is going to be 32, but coming off a decent season - at least from an IDP standpoint. He finished with 100 tackles and added three forced fumbles and six defended passes. Jahlani Tavai is another guy who isn't too mobile and doesn't project well as an every-down player. During rookie camp, Derrick Barnes was playing off the edge and inside. He'll be able to play stand-up and it was reported Barnes looked smooth as an ILB. For the upside, I'm targeting Barnes.
7/31/2021: It's been noted that Derrick Barnes has been picking the brain of Chris Spielman, one of the Lions' LB legends. Barnes is making the shift from edge rushing LB to an off-ball LB. Spielman has taken him his under his wing and it's observed Barnes is getting one-on-one time with Spielman after practices. I'm hoping these sessions translate to the field.
8/1/2021: The linebackers have been constant throughout the first four days. Jamie Collins and Alex Anzalone have been the nickel linebackers. Derrick Barnes will need to impress in August to nail down some snaps come the beginning of the season. Barnes has been dealing with an undisclosed injury and putting in work during team drills. The Lions look at Barnes as their future MIKE and he's been calling plays with the 2nd team. I'm hoping he gets the reps to prove he deserves to be on the field. Collins doesn't offer too much upside and has an LB3 floor. Anzalone is not someone I'm targeting and Barnes is a high upside late-round pick in redraft if he earns a three-down role.
8/16/2021: Alex Anzalone wore the dot, but he's been injury prone and inefficient. Really, the only LB I want is Derrick Barnes just for his potential upside. I'm passing on Collins and Anzalone.
Green Dot: Alex Anzalone
Green Bay
Packers
Green Bay mostly deployed one-LB around 60% of the defensive snaps. Christian Kirksey began the season as Green Bay's single 'backer, but the all too familiar injury bug got to him again. Krys Barnes received the second-most snaps behind Kirksey. This will be a group to watch in the off-season. While I believe in Barnes, Green Bay brought in De'Vondre Campbell for a veteran presence. We'll have to watch training camp and preseason to see who emerges as the LB in their single-LB packages.
8/11/2021: According to Matt Schneidman, Krys Barnes has been calling the plays. A three-down role looks imminent this season and should get all the snaps he can handle.
8/16/2021: De'Vondre Campbell sat out Week 1 against Houston. Burks played 41 snaps while Barnes got in and out with 13. Barnes wore the dot with the first-team.
Green Dot: Krys Barnes
Houston
Texans
Zach Cunningham is the only LB I'm targeting as of now. He's an elite LB and a weekly LB1. Cunningham recorded a league-high 164 tackles - producing an elite 17.4% tackle rate over 945 defensive snaps. He was in on 85% of the total. Who will his running mate be, considering they ran two-LBs nearly 80% of the time? I do think there will be a three-man battle between Christian Kirksey, Tae Davis and Neville Hewitt. I think Hewitt emerges as the three-down guy opposite Cunningham. He's proven to be durable, as he's appeared in over 1,800 snaps the last two seasons. The best ability in the NFL is availability and Kirksey really hasn't been. Cunningham is a top-five LB in IDP and I think fantasy managers might forget about Hewitt. I'd target him as an LB4 and hope for top-25 numbers.
7/31/2021: In deeper leagues, you'll want to keep an eye on Kevin Pierre-Louis. Neville Hewitt is competing for roster spot on the 53, s he's not guaranteed anything. It's notable that of all the free agent LBs Houston signed, KPL signed a two-year deal, while the other signed just one-year deals. Houston may like KPL's coverage abilities more - so that gives him a slight edge.
8/16/2021: Worth noting, Christian Kirksey and Kevin Pierre-Louis sat out their Week 1 preseason game along with Zach Cunningham.
8/22/2021: Plot twist - Christian Kirksey wore the dot even with Zach Cunningham active. Kirksey and Cunningham received the first-team snaps. Kirksey is in the conversation as an LB3 and sell-high candidate after Week 1 before the injuries pile on.
8/29/2021: Zach Cunningham was held out against Tampa for Houston's final preseason game. Christian Kirksey called the plays and it looks like he'll be the playcaller heading into the regular season.
Green Dot: Christian Kirksey
Indianapolis
Colts
Darius Leonard will be the man for the defense. He's my LB1 for the 2021 season. He'll be Indy's three-down LB and will continue calling the plays. Anthony Walker left for Cleveland in free agency which sets up Bobby Okereke for more snaps in 2021. Okereke played the majority of snaps from Week 2 through Week 8 - appearing on average of 87% of the snaps and averaging nearly seven tackles per game. Leonard will be one of the top LBs off the board and I like Okereke as an LB3.
7/31/2021: Darius Leonard is coming back from ankle surgery in June, so he may miss some training camp. GM, Chris Ballard, showed no concern about his availability once the season starts. Bobby Okereke is slotted in.
Green Dot: Darius Leonard
Jacksonville
Jaguars
Joe Schobert and Myles Jack are shaping up to be Jacksonville's three-down linebackers heading into 2021. Jacksonville deployed a vanilla defense and was running two to three linebackers the majority of the snaps. Schobert finished with a 13% tackle rate - resulting in 144 tackles in 2021. Myles Jack enjoyed a solid season from an IDP standpoint. He had seven games where he recorded double-digit tackles and finished with an ultra-efficient 12.7% tackle rate. Schobert is a top-seven LB and Jack is a borderline LB2 on the cusp of being an LB1.
8/13/2021: In a surprising move, the Jaguars traded Joe Schobert to the Pittsburgh Steelers. This doesn't change my outlook on Myles Jack. Jack could call the plays - since he has experience. However, he had the most efficient season of his career not wearing the dot. Damien Wilson appears to be the next man up, so we'll see what practice and the preseason game looks like. I think Wilson might end up calling the plays. Wilson becomes an LB4 and should be the three-down LB opposite Jack.
8/16/2021: Damien Wison on with the first team and wore the dot. Myles Jack and Wilson received the starters snaps.
Green Dot: Myles Jack
Kansas City
Chiefs
This was a messy group throughout the entire season and one I shied away from, mostly because of their rotations at the position. They were all over the place with their packages and while they ran two-LBs, it was fewer than 50% of the total snaps. They ran one-LB just over 30% of the time. Anthony Hitchens appeared in just over 750 snaps and was better in coverage and the pass rush. Damien Wilson was just behind Hitchens. Willie Gay, who appeared in 269 snaps, was their best overall LB. I think Willie Gay is set to take a full-time, true every-down role in 2021. While I like Nick Bolton, but I'm a bit apprehensive he could get caught up in the rotations opposite Gay.
7/31/2021: Wiliie Gay is going to make it difficult for coaches to bring him off the field, In just a few days, he's the best LB on the field. He was able to keep up with Tyreek Hill and defended a pass. He knows the playbook and is making plays in camp.
8/16/201: With Willie Gay out, there was a rotation at the LB spot.
8/29/2021: Willie Gay started alongside Anthony Hitchens, but it was Hitch who was calling the plays.
Green Dot: Anthony Hitchens
Las Vegas
Raiders
The Raiders ran two to three LBs the majority of their snaps, but it was their two-LB sets that dominated their package deployments. Cory Littleton didn't return on fantasy manager's investments and played well below expectations especially in coverage. Littleton defended 22 passes between the 2018 and 2019 seasons. In 2020, he had Bluto Blutarski's GPA - 0.0. He also saw a 39% decline in tackle output. But, he presents a great buy-low opportunity. Jon Gruden's ego isn't going to get the best of him and I think he'll return as a three-down LB. This will probably elicit some boos, but we need to remove the recency bias and see where opportunity presents itself.
Update 7/27/2021: According to Vic Tafur, Cory Littleton and Nick Kwiatkoski are going to "eat up the snaps" on their two-LB packages. Nicholas Morrow is expected to play often is the next man up in the event of injury or poor play. I really like Littleton as a bounceback candidate and can get him in the later rounds as a high upside LB2/3.
7/31/2021: I think Morrow's stock might be on the rise, especially since Jon Gruden loves the kid. I know Vegas gave Kwiatkoski big free agent money, but it appears Morrow could have a big role in the defense. Morrow is getting the majority of snaps with the first team, with Kwiatkoski sprinkled in as well.
8/1/2021: The LB situation still definitely muddled. Tanner Muse, Javin White have been mixed in with the starters. Might be more for evaluation and have varied based on alignment and two or three LB sets. Gus Bradley uses two-LB formations and Nicholas Morrow has received the majority of first-team reps than Nick Kwiatkoski. I would target Littleton and Morrow at LB.
8/11/2021: Nicholas Morrow and Cory Littleton have been the nickel linebackers and have been deployed the most during first-team reps. Morrow has experience calling plays, so I think he ends up with the dot.
9/2/2021: The Raiders brought in KJ Wright on a one-year deal and should see snaps out of the gate. More thoughts on the signing here.
Green Dot:
Los Angeles
Chargers
Kenneth Murray ate up the majority of the snaps at LB and was installed as the play caller from day one as a rookie. The Chargers ran two-LBs on over 80% of the snaps, but things could change under Brandon Staley and Renaldo Hill. The Chargers might use a 34 base, but Staley tends to focus on secondary with his schemes. Murray is going to be in position to make plays. Who'll play opposite Murray? I do think Drue Tranquill gets the first crack. His 2020 season ended after just five snaps. Don't forget about Drue at the latter part of your drafts as an LB4. Murray is a solid LB2 thanks to his secured playing time.
7/31/2021: Kyzir White, Drue Tranquill, and Kenneth Murray have been rotating as ILBs with the first-team defense. Daniel Popper observed Derwin James as the primary signal caller with Drue Tranquill getting some with the dot, as well. This may allow Kenneth Murray to focus more on pass rushing and get downhill after the ball.
Green Dot: Derwin James
Los Angeles
Rams
Boy, this might be the group I completely stay away from in 2021. I might just target Ernest Jones in the final few rounds and call it a day. You pretty much need to nail their LB, because they ran out one-LB on over 45% of the snaps. Micah Kiser was inconsistent and injuries limited him to just 559 snaps. Troy Reeder was a solid rush linebacker, but all three of his sacks came in one game. Injuries forced him into a three-down role over the final six games. Kiser, Reeder, Jones, Kenny Young and Travin Howard are all in an inextricable battle for snaps. Don't overpay for anyone in this group and get hoodwinked. As far as who calls the plays? That's up in the air, since the Rams lost season's play caller, John Johnson to Cleveland during free agency.
7/28/2021: Jourdan Rodrigue saw Jordan Fuller wearing the dot. This makes sense, as last season John Johnson III wore it last year. This keeps the continuity on the defense and ensures the playcaller doesn't leave the field.
8/11/2021: Kenny Young has been getting majority of snaps in 1-LB sets. Micah Kiser and Troy Reeder spending time in 2-LB sets. I do think this might be an LB group to fade in redraft.
8/22/2021: This might be a group I avoid in redraft formats. For dynasty, I'm still taking a flier on Ernest Jones. The LBs were all over the place in the first half against Denver. Micah Kiser and Travin Howard saw 100% of the snaps in the first two drives with Kiser wearing the dot. Then it was Jones and Howard. Then Howard and Kiser and the first half finished with Jones. As far as who wears the dot for the regular season, I still think it may end up being Jordan Fuller.
8/31/2021: Micah Kiser was a surprise casualty as he was one LA's final cuts. Kenny Young and Troy Reeder have been the main LBs during camp and Kenny Young has been a staple in their DIME and 1-LB sets. I still don't trust Young to hold down a three-down role and Reeder is shaping up to be on the field for 75%-80% of the snaps. As I've mentioned before, I'm probably avoiding these guys and just taking a shot on upside with Ernest Jones.
Green Dot: Jordan Fuller
Miami
Dolphins
Dolphins weren't too scheme agnostic and were creative with their fronts. However, they ran out one-LB over 50% of the time and two-LBs around 45% of the time. Jerome Baker appeared in 84% of the snaps and still managed to record over 100 tackles. He was nicked up but still managed to appear in all 16 games. He was off the field for just a handful of snaps over the final four games of the season. Kyle Van Noy had LB designation, but he was more on the edge, but he's no longer in Miami and headed back to New England. I think newly added Benardrick McKinney will be Baker's running mate.
8/31/2021: In a bit of a surprise, Benardrick McKinney was cut from the final 53. At this point, I'm only interested in Jerome Baker.
Green Dot: Jerome Baker
Minnesota
Vikings
The departure of Eric Wilson leaves over 1,000 snaps open, but make no mistake, it'll be Eric Kendricks and Anthony Barr. Kendricks is a top-10 LB and while Barr gets the snap volume, his deployment in the defense makes for less than ideal IDP fantasy production. He's never topped 80 total tackles in a season. The third LB probably won't get enough snaps to be IDP relevant.
Green Dot: Anthony Barr
New England
Patriots
The Patriots had a myriad of opt-outs which complicated things for New England. Their most important defender, Dont'a Hightower, was one of those opt-outs. The way Bill Belichick deploys his fronts bamboozles all fantasy managers. Hightower should be on the field the majority of the snaps and Kyle Van Noy should return to his edge responsibilities on the strong side. This is a group I'll mostly fade in 2021. Devin McCourty called the plays for most of the season, but I think Hightower takes back the responsibilities this season.
8/13/2021: Ju'Whaun Bentley played 26 snaps and when he was with the first team, he was wearing the dot. This could change week-to-week, but just relaying the information.
Green Dot: Ju'Whan Bentley
New Orleans
Saints
Demario Davis, I feel, is one of the more under-rated IDPs. Davis has been the play caller and has four straight seasons of 110+ tackles. Who'll be his running mate? Pete Werner is trending up as the candidate. I think the three-down guy opposite Davis should provide decent IDP value. They're running two-LBs over 80% of the time. Werner should be in a battle with Zach Baun, but I do think Werner earns the job.
7/31/2021: The battle between Pete Werner and Zach Baun has commenced and they're neck and neck early on - splitting the reps down the middle between the two. Demario Davis has praise for the rook, Werner. He call him smart and is always on. Although there's a competition, I think Werner is a natural weak-side LB and should win the three-down role.
8/11/2021: Kwon Alexander is back in New Orleans and is being eased back in. Pete Werner continues to make plays during his rookie camp. I like Werner's upside more.
Green Dot: Demario Davis
New York
Giants
Don't overthink this one - it's Blake Martinez and move on.
Green Dot: Blake Martinez
New York
Jets
The Jets are nothing, if not predictable. Gregg-g-g declares his guys and rolls them out there. Who will be the guys this year? CJ Mosley is back after opting out from the 2020 season. Since signing his big free-agent deal in 2019, Mosley has played a total of two games and 114 defensive snaps. I think he's one of the three-down guys, and I think Jarrad Davis comes out of the preseason as the guy opposite Mosley, but I don't think it lasts. I'm just targeting Mosley and putting Blake Cashman on my watch list for a waiver-wire addition. I'm passing on Davis. Last season's play caller Neville Hewitt, is now in Houston.
7/31/2021: So far, the three LBs on defense have been CJ Mosley, Jarrad Davis and Hamsah Nasirildeen. I think Salaeh is going to like Nasirildeen.
8/11/2021: Jarrad Davis has been getting snaps as the playcaller and could getting cross-trained in case anything happens with CJ Mosley. I do think Mosley ends up wearing the dot, but Davis could be emerging as a three-down guy - at least until his poor play causes him to get his snaps reduced. Remember, the Lions didn't want Davis back.
8/22/2021: Jarrad Davis wore the dot, but ended up getting carted off with an ankle injury. Jamien Smallwood came on in relief and called the plays. We might see some extra run for Smallwood and Hamsah Nasrilideen. Mosley is my main target among Jets' linebackers. In dynasty formats, I still like Nasrilideen's upside, but in redraft, it could be Smallwood who provides some late-round value.
8/29/2021: CJ Mosley was held out of New York's third preseason game against the Eagles. Jamien Sherwood played the majority of the first half along with Hamsah Nasirilideen. Sherwood called the plays and looks like he's on track to be the three-down guy opposite Mosley. Sherwood needs to clean up some technique issues heading into the regular season, as he had two really bad missed tackles and he gets bullied around a bit.
Green Dot: Jamien Smallwood
Philadelphia
Eagles
For some reason, Philadelphia kept trotting out Nathan Gerry and really wanted him to be a thing, even though he looked completely out of place. An injury allowed Alex Singleton to get on the field, and never gave up the reins - we all acknowledged him. Singleton appeared in all 16 games and finished with 748 defensive snaps. His 16% tackle rate will be unsustainable, but I think he'll be an LB2 this season - mostly because of the addition of Eric Wilson. Singleton and Wilson are shaping up to be Philly's three-down guys, as they ran out two-LBs over 50% of the time while running three-LBs 25% of the time. I don't see their third LB providing much IDP production - outside of injury. I think Singleton remains the play caller.
7/27/2021: Eric Wilson has been singled out as a three-down LB, with Alex Singleton and TJ Edwards mentioned. I think when all is said and done, Wilson and Singleton are your three-down guys.
7/31/2021: Eric Wilson has spent consecutive days with the second-unit. At this point, it might be more giving reps to evauate Davion Taylor. Taylor has flashed speed in coverage. Alex Singleton is still on the COVID-19 list.
8/17/2021: Eric Wilson and Alex Singleton were out with the first-team against Pittsburgh. Eric Wilson wore the dot.
Green Dot: Eric Wilson
Pittsburgh
Steelers
Pittsburgh's defense always seems to be productive, no matter the personnel. Their LB group was shaping up to be solid on paper, but injuries decimated the position. Pittsburgh's play caller, Devin Bush, suffered a torn ACL just six games into the season. Pittsburgh deployed Vince Williams and Robert Spillane and acquired Avery Williamson ahead of the trade deadline. Bush appears on track to return in 2021 and should resume the play-caller duties. Hopefully, the ACL injury didn't sap any of his speed.
8/13/2021: The Steelers acquired Joe Schobert. I do think there's enough room for two inebacker here in Pittsburgh's scheme. The Steelers will run their DIME 10%-15%, so it's possible Devin Bush comes off the field in their 1-LB sets, so he may end up playing 85%-90% of the total snaps. I would imagine Schobert will be the three-down LB here, as Pittsburgh is taking on his hefty contract. Robert Spillane's IDP-value is on life support right now barring injuries. I've dropped Bush to more of an LB2 and is ranked among the top-15 LBs. Schobert could get off to a slower start as he learns the defense, but he was acquired at the right time and has plenty of time to get acclimated before Week 1. It wouldn't surprise me to see Schobert calling the plays to allow Bush to concentrate on attacking downhill or applying pressure - similar to his role in Jacksonville and how he allowed Myles Jack to make plays.
Green Dot: Joe Schobert
San Francisco
49ers
Robert Salah left for Broadway, but former linebacker and IDP stud, DeMeco Ryans will take over. Ryans was an IDP standout in Houston, and I think he's perfect for the continued development of Fred Warner and Dre Greenlaw. I'm excited to see what kind of packages the 49ers run out. I'm just targeting Warner and Greenlaw.
Green Dot: Fred Warner
Seattle
Seahawks
Death. Taxes. Bobby Wagner. He's hitting the "old man value" stage of his career, but still remains the most consistent IDP producer and is still an elite LB. Wagner has appeared in over 1,000 snaps in four of his last five seasons. He hasn't recorded fewer than 130 tackles since 2015. Wagner will be without his running mate, KJ Wright. It does look like Jordyn Brooks is set to take over that three-down role alongside Wagner.
Green Dot: Bobby Wagner
Tampa Bay
Buccaneers
Tampa ran out two-LBs nearly 100% of the time, and thanks to their defensive line and edge rusher, they're kept clean and able to make tackles. Devin White and Lavonte David are the two LBs to own from Tampa, and them alone. David continues to be disrespected and is one of the top LBs in the game - both real-life and fantasy. He's still a solid, dependable, weekly LB1. His running mate, Devin White, broke out from a fantasy standpoint in 2020. White took over the playcalling duties and recorded 140 tackles. His points per snap spiked thanks to his pass rush prowess. White added nine sacks thanks to his increased usage in the pass rush. White recorded 130 pass-rush snaps and generated a 25.3% QB pressure rate. I don't expect the repeat in sacks, but he's still solidified as a top-three LB in 2021.
Green Dot: Devin White
Tennessee
Titans
Injuries have limited Jayon Brown to 24 games over the last two seasons. Brown signed a one-year deal, so he'll be on a contract year to prove he's worth big money. Rashaan Evans is a dependable tackler and missed just five over 958 snaps. Tennessee typically will run two-LBs and I believe Brown and Evans will be on the field for the majority of the snaps. Brown is a good coverage backer and allowed just a 69% completion rate and has 16 defended passes over the last two seasons. Before his season ended, Brown was producing an 11.7% tackle rate.
Green Dot: Jayon Brown
Washington
Football Team
Jon Bostic appeared in over 1,000 snaps and recorded 118 tackles. He should remain the signal caller and three-down player. I think rookie Jamin Davis ends up being the other every down LB opposite Bostic. Washington ran two-LBs on over 70% of their snaps and added a third on another 20%. Washington's third LB probably won't be in the mix for IDP production barring injury. I'm targeting Davis as an LB3 and Bostic, while unsexy, is still productive. I'm not overpaying, but if he's available toward the end of your draft, he's worth taking as your LB5. I also think Bostic calls the plays, but it'll be interesting to see if Davis is in the mix for the dot.
7/31/2021: Jamin Davis has been learning all LB spots and responsibilites that come with each. He's going to play primarily inside at the middle. He's going to have the luxury of playing behind one of the best defensive lines in the league, so holes are going to open up and allow him to use his sideline-to-sideline speed. It would not surprise me to see Davis take over the dot this year.
8/29/2021: All of the first-teamers were held out in Week 3. Cole Holcomb might be getting a chance, as he's been wearing the dot with Jon Bostic. Davis had a better outing in Week 2's tilt against Cincinnati. While Holcomb might start out as the playcaller, it could be Jamin's defense sooner than later.
Green Dot: Cole Holcomb