Kirk Cousins Isn't the Sexiest, but he's a Value Fantasy QB2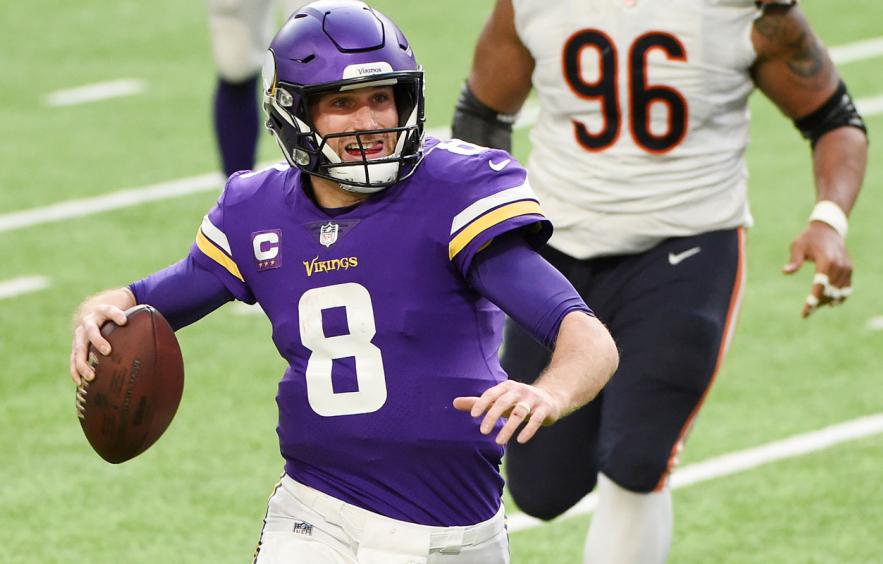 Stephen Maturen/Getty Images
Let's face it, there's never a line at the virtual (or real) sticker table to draft Kirk Cousins in fantasy football. Yet some drafters are falling over themselves to get to Justin Jefferson and Adam Thielen, and even reaching for Irv Smith Jr. both last season and so far in 2021.
---
Editor's Note: Read more player profiles from the rest of the 4for4 staff!
---
Sex sells in pretty much every category out there whether it's retail, food or even vacation rentals. Cousins is far from having any sex appeal—I'm not talking looks here—and is perenially overlooked come draft season. If you're looking for a solid option at QB after all of the shiny, mobile signal-callers are selected early in drafts, Cousins could be your guy in 2021, and here's why.
Kirk Cousins

is a Pretty Good NFL QB

Comparing Cousins to the rest of the signal-callers in the NFL since he arrived in Minnesota in 2018 drew some interesting results. The guy is better at throwing the football than he gets credit for both in real life and the fantasy circles. Here's a look at some of his numbers over the past three seasons as a Viking.
Average completion percentage - 68.9% (Ranks: 2018 -2nd, 2019 -5th, 2020- 9th)
Average yards per pass attempt -7.8 (Rank: 9th among QBs who played at least 36 games in three seasons, minimum 900 attempts)
Average completed air yards - 3,246 (Ranks: 2018 - 6th, 2019 - 18th, 2020 - 8th)
Completed passes -1,081 (Rank: 8th among QBs who played at least 36 games in three seasons, minimum 900 attempts)
Unfortunately, his lack of rushing prowess has kept Cousins out of QB1 contention for most fantasy seasons. He's finished as QB17, QB21 and QB12 in chronological order in fantasy points per contest over the past three years with Minnesota, however, he's now surrounded by possibly the best offense he's had which is very promising for Cousins' potential in 2021.
The
Vikings

are Loaded with Weapons

The o-line in Minnesota has not been great in recent years, but they did add a few pieces through the NFL Draft and free agency that could bring them to the middle of the pack in 2021. With a cleaner pocket, Cousins could see improvement in his fantasy output, especially with the weapons he's now blessed with for 2021.

Justin Jefferson is coming off a ridiculous rookie campaign, which was one of the best the WR position has ever seen. Thanks to exceptional route running and big-play mastery, Jefferson caught 88 balls for 1,400 yards and seven touchdowns, which translated to 14.4 half-PPR points per game (WR9). He even had seven contests with over 100 yards, and his 24 deep balls (over 20 yards) were 13th among wideouts. There is nothing to suggest that he won't be that guy again for lump gains and downfield touchdowns.

Then there's Adam Thielen, who has averaged 13.0 half-PPR points per tilt in his three years with Cousins, with two top-10 finishes in the category. Last year his fantasy success was in large part due to his 14 touchdowns, but he did manage to stay healthy and—despite the emergence of Jefferson down the stretch—was able to average 67 yards per game over the final six contests of 2020.
Dalvin Cook is a special player in the offense and helps to make Cousins one of the most successful play-action passers in the NFL. Cook sits ninth among RBs in both receptions (137) and yards (1,185) from 2018-2020 with Cousins as his QB and has posted the seventh-most receiving yards per game (30.4) in that timeframe. Throw in young TEs Irv Smith Jr. and Tyler Conklin and it's apparent Cousins has a myriad of places to throw the football this season.
Schedule & Game Script
The Vikings play in the NFC North which happens to be where Cousins scored the bulk of his fantasy points last season. Contests against Detroit drew 20.8 and 34.3 fantasy points, while the 32-year old posted 17.6 and 19.3 versus the Bears last season. Even the Packers allowed Cousins to drop 21.8 fantasy points on them in Week 1. He'll see all three of these teams twice in 2021, along with Dallas and Carolina, who surrendered 23.0 and 26.2 fantasy points to Cousins last year.
Minnesota's porous defense allowed for this production last season and while they took steps to improve their secondary, will still have weaknesses. That means more negative game scripts for Cousins equalling more fantasy goodness for those willing to draft him.
Bottom Line
While not the shiniest or newest of QBs in the NFL, Kirk Cousins is a solid real-life QB and a decent fantasy player.
His embarrassment of riches in the form of receiving options and real-life football acumen put him in the conversation as a solid QB2 in best ball formats, Superflex and QB2 leagues.
Kirk Cousins's ADP is currently 145 as QB19 in Underdog drafts and QB20 at 117.4 in MFL redraft formats, and he's ranked as QB17 in 4for4's rankings, presenting some value in early summer drafts.
Cousins is a great stacking partner for best-ball drafters who grab Dalvin Cook and/or Justin Jefferson or Adam Thielen in early rounds but is not advisable for redraft leagues unless they are in excess of 16 teams.