Julio Jones Offers Week-Winning Upside in Tennessee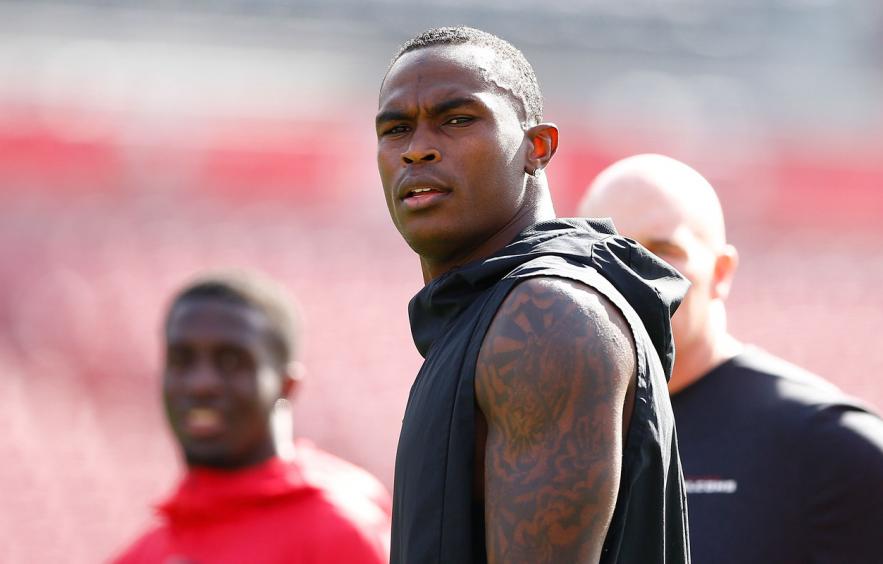 Michael Reaves/Getty Images
Moving over to the Tennessee Titans gives Julio Jones a chance to play meaningful games and put up some monstrous fantasy weeks. But, unfortunately, there is a narrative about his age, declining production, and opportunity this upcoming year. Jones is currently being drafted as the 13th WR and has an ADP of 38th overall on Underdog Fantasy. These numbers correctly identify Jones, who will put up big number weeks and some underwhelming performances.
---
Editor's Note: Read more player profiles from the rest of the 4for4 staff!
---
Julio Jones

Is Not A Normal 32-Year-Old

Julio Jones will be 32 years old entering the 2021 season, and for most players, 32 is a steep decline in production. However, he is not most players. Jones averages 95.5 yards per game in his career, and that number ranks first all-time. In 2020 Jones averaged under 90 yards per game for the first time since his second year in the NFL. However, if we take out the games in which he played less than 40% of the snaps, that average goes up to 100 yards a game. In the history of the NFL, there have been only 49 total seasons in which a wide receiver averaged 100 or more yards—Jones has five of these seasons.

Since 2018, Julio Jones has had 14 games with over 20 fantasy points (half-PPR), first among all WRs in the league. The excellent news for Julio is he will have five games against pass defenses that gave up at least 30 passing touchdowns in 2020. Another significant contributor to boom weeks for WRs is a negative game script, and the Titans are in line for a few negative game scripts or shootouts facing the Chiefs, Bills, Steelers, Seahawks, and Cardinals. The biggest concern moving forward for Julio Jones will be about finding targets on this low-volume and highly-efficient Titans passing offense.
Julio Fitting In With Tennessee
Schematically how will defenses match up with this Titans offense? Loading the box on Derrick Henry will leave man-on-man coverage for either Jones or A.J. Brown. On the other hand, Henry can run wild against soft boxes. In 3-WR sets, you could mix any of Jones, Brown or Josh Reynolds in the slot. Additionally, in these sets, all of these Titans' WR's are exceptional run blockers and will force defenses to tackle Henry with defensive backs. This 2021 Titans offense is more dangerous than previous years and will have a new play-caller that could change things.
Todd Downing enters as the new offensive coordinator for the Titans. Downing was the OC for the 2017 Oakland Raiders–in that season, he had 558 pass attempts and 370 rushing attempts. Last year's Titans under Arthur Smith had 485 pass attempts and 521 rushing attempts. If the Titans run a similar amount of total plays, and Downing was to lower his splits to a 55 % pass 45 % rush, we would see the Titans throw the ball nearly 550 times (Tannehill is currently projected for 523 attempts). That volume would give Jones opportunity to approach 120+ targets with upside for 80+ receptions, 1300+ yards and have enough impactful weeks in this scenario, reasonable given his current median projection. Touchdowns are king in half-point, and while Jones did not score a ton of touchdowns in ATL, there is room for that in a Downing offense. Of the 23 touchdowns the Oakland Raiders had under Downing, 15 of them went to their two most targeted WRs.
The Titans had a few pass-catching departures this offseason with Corey Davis, Jonnu Smith, and Adam Humphries. These departures led to 192 targets, 129 receptions, 1,660 yards, and 15 receiving TDs. These numbers won't automatically translate to Jones's production, but it opens the door for ample opportunity for him to perform from a fantasy perspective. Vacated targets don't typically translate to a single player, but when the context is Jones entering into an offense, it makes sense that you could see him acquiring a majority of it. The question is whether Henry, Jones and Brown can all be simultaneously fantasy-relevant.

Can Three Players Be Relevant?
Historically speaking, if you wondered whether there had been an offense to feature a top-12 fantasy RB and two top-24 WRs. The previous two years, we have had multiple offenses in which this occurred. The Dallas Cowboys did it in 2019 with Ezekiel Elliott, Amari Cooper and Michael Gallup. Additionally, the 2020 Minnesota Vikings did it with Dalvin Cook, Adam Thielen, and Justin Jefferson. Of course, the 2021 Titans won't be running as many plays as the 2019 Cowboys, but they may have similar usage to the 2020 Vikings. Currently, 4for4 projects Henry, Brown and Jones to all be fantasy starters.
The Bottom Line
In 2021, Julio Jones has a path to high-volume targets with a possible uptick in end zone targets in a more efficient passing attack.
The love from Arthur Smith to Todd Downing as the play-caller could result in an uptick in passing volume for Tennessee.
The trio of Jones, A.J. Brown and Derrick Henry can all be productive and capitalize on the ADP of where they are currently being drafted.
Jones has shown as much upside as any receiver on a weekly level and will offset any down weeks with huge week-winning production.