Super Bowl PrizePicks Strategy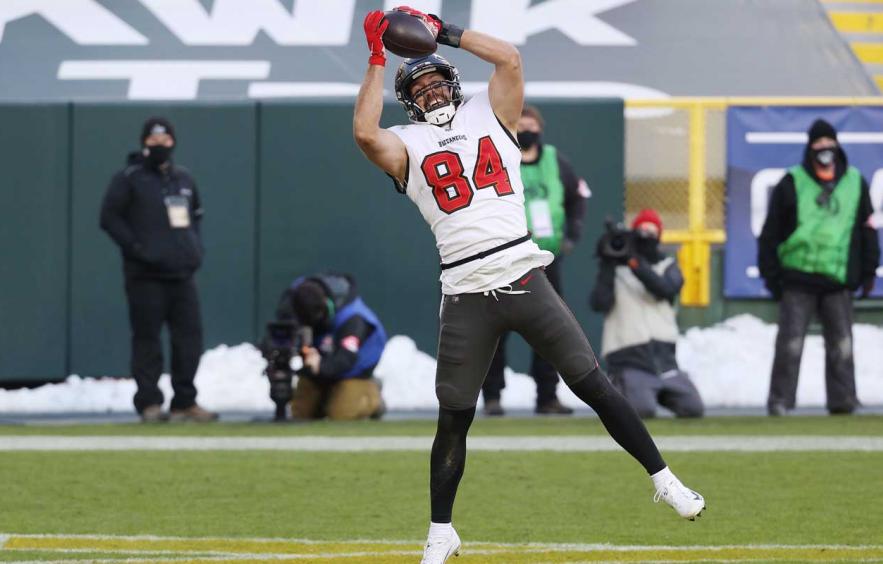 Dylan Buell/Getty Images
With the Super Bowl upon us, I want to introduce you to PrizePicks. They offer contests that revolve around choosing the correct side of a player's stats or fantasy points. Here are the basic rules in their own words:
Choose 2 or more players from the board.
Pick OVER or UNDER their projected fantasy score or single stat.


If you think a player will have a good game, go over. If not, go under.

Choose Flex Play or Power Play.


With Flex Play, you can miss one and still win!
With Power Play, you must get all your picks correct to win.
I'll do my best to supply picks that provide the best value when compared to our projections. You can combine any number of these picks depending on how risky you want to get. The more picks you select, the higher the payout. As a reminder, you will need to use at least two of these.
SIGNUP BEFORE THE SUPER BOWL and receive a 100% instant deposit match up to $100 from PrizePicks. PrizePicks is the simplest fantasy game on the market! Just pick 2-5 players and you can win up to 10x on any entry. Learn More →
Pick No. 1:
Tyreek Hill
PrizePicks Line: 6.5 receptions
4for4 Projection: 7.2 receptions
The last time these two teams met, Tyreek Hill posted the best game of his career with 13 receptions (on 15 targets), turning that into 269 receiving yards and three touchdowns. I doubt Hill turns in another performance like that but another big game is far from unrealistic. He'll likely draw a mixture of Carlton Davis, Sean Murphy-Bunting and Jamel Dean. None of whom should present too many issues. Ideally, he would line up against Carlton Davis again, who Hill cooked for 9-211-3 last time around.
Beyond a juicy matchup, the Chiefs figure to go pass-heavy here again. They passed 72% of the time in their first meeting, largely a product of trying to avoid the teeth of the Tampa Bay defense which is their run defense. With LT Eric Fisher out, they also may try to scheme up quicker passes for Hill and the other pass-catchers in order to offset the Bucs' nasty pass-rush.
Pick: Over 6.5 receptions
Pick No. 2:
Cameron Brate
PrizePicks Line: 2.5 receptions
4for4 Projection: 2.8 receptions
I think our projection might wind up being a little light when it's all said and done. Cameron Brate has taken on a bigger role since the playoffs started. He has 5+ targets in every game and receptions counts of 3, 4, and 4. In their last meeting, Rob Gronkowski and Brate combined for 10 receptions on 13 targets. With Brate out-targeting Gronkowski as of late and their routes run remaining fairly similar, Brate winding up with 3-4 receptions seems likely in this spot.
Pick: Over 2.5 receptions
---
Editor's Note: Make sure to read Connor's in-depth Super Bowl LV Breakdown for more Super Bowl analysis.
---
Pick No. 3
Antonio Brown
PrizePicks Line: 3.5 receptions
4for4 Projection: N/A
I'm not entirely sure if Antonio Brown is going to play as he's doubtful with a knee injury. He "participated" in practice on Tuesday but wasn't a full go. Head coach Bruce Arians said he is "getting close" so it's unclear whether or not he plays. If he does play, I'd be interested in taking the under on his receptions and yards (40.5). I like the under on his receptions more given his recent performances. In his last two games, Brown played on just 45% and 40% of the snaps, catching just three combined passes (on 6 total targets).
Pick: Under 3.5 receptions
Pick No. 4
Patrick Mahomes
PrizePicks Line: 325.5 passing yards
4for4 Projection: 376.2 passing yards
As I mentioned earlier while discussing Tyreek Hill, I expect the Chiefs to go pass-heavy in the Super Bowl. In nine games Patrick Mahomes attempted 41+ passes (the current line is set at 40.5 attempts), he's gone over 325.5 passing yards six times.
He should have no problem hitting this line as long as the Chiefs don't have a four-score lead heading into the fourth quarter. Add this pick to the over on Hill's receptions and receiving yards if you want to correlate your props.
Pick: Over 325.5 passing yards
Thanks for reading and if you have any questions about how to navigate PrizePicks, feel free to shoot me a message on Twitter @ConnorAllenNFL.