Week 2 NFL Pick'em and Survivor Pool Picks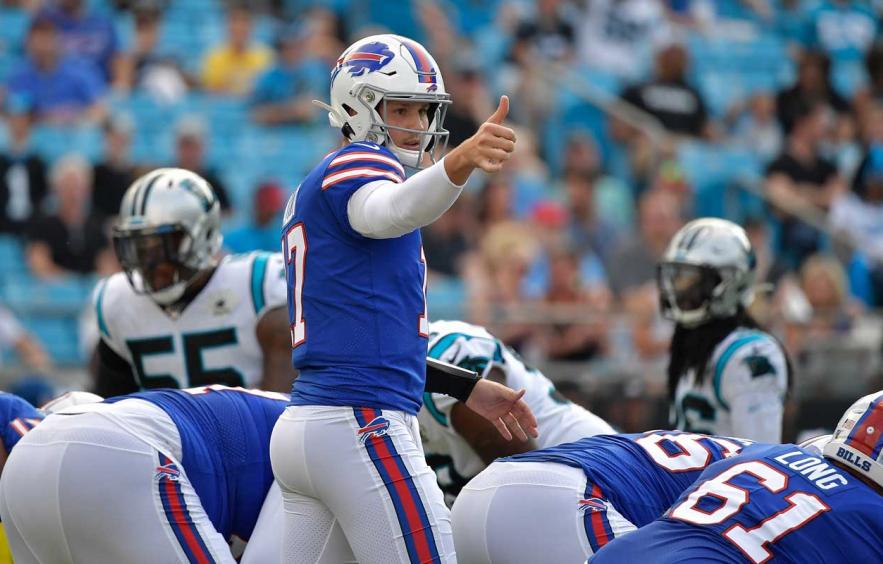 Grant Halverson/Getty Images
The opening week of the NFL season arrived with the force of a semi-truck, and with it, many folks got knocked out of survival pools or were less-than-successful in weekly pick'em contests. A crazy start like this can lead to opportunities for great value picks in Week 2 when the public overreacts to the events of one week.
With the help of TeamRankings' customizable tools and data, I'll go over the best value picks for Week 2, along with the top suggestions for survivor pools. I'll do my best to give you the info to get you back on track, or keep you going if your first week wasn't as disastrous as the majority of contest entrants out in the sports betting world.
*Give TeamRankings a try with a free trial for Week 2.
Week 1 Recap
It wasn't a great week for me, or most pickers out there, as the majority of public picks went to Indianapolis or Philadelphia. There were three major upsets in the NFL, which weren't highly picked by the public, as only 14% picked Jacksonville, 10% picked the Cardinals and 9% picked Washington.
My picks went 1-3, losing Indy, Detroit and Denver—not ideal, but at least I did get the Raiders coming out victorious over Carolina. Let's move forward to Week 2, where hopefully we find success in both pick'em and survivor formats.
Pick'em Pool Breakdown
Before I get into the picks, note that I'm not suggesting you should make all of the picks listed below. The best Week 2 picks for your NFL pool depend on strategy factors such as your pool's size, rules and prize structure, plus situational factors like your current place in the standings and number of weeks remaining.
However, these picks do provide some of the best opportunities to differentiate your Week 2 picks from your pool opponents, by taking on only a modest amount of risk, or no additional risk at all.
Favorite Favorites
San Francisco
49ers

@

Jets

This game is probably going to be a popular one and not one I suggest for a survivor pool since you may want to save the defending NFC Champs. However, for a straight-up pick'em, they are an excellent choice. The Niners are a touchdown favorite over the Jets with 74% odds to come out victorious by both Vegas and the TeamRankings model.

They are the third-highest choice by the public at 95.9%, so you'll win or lose with most people in your pool.
Pittsburgh
Steelers

vs.

Broncos

Both of these teams are playing on a short week, so with all things being equal, the team that doesn't have to travel has the edge. However, things are not equal here as the Steelers with a healthy Ben Roethlisberger and a dominant defense are on a different level than a Von Miller-less Broncos team—a double advantage for Pittsburgh.

The Steelers boast the fourth-highest odds to win at 76.8% by the TeamRankings model and are also the public's fourth-most popular choice after Green Bay, Kansas City and the 49ers.
Sensibly-Priced Favorites
Tampa Bay
Buccaneers

vs.

Panthers

The Bucs looked pretty ugly in the season opener, so many may be hesitant to pick them this week. In fact, some betters will be tempted to select the upset. However, Vegas has Tampa Bay favored by nine points over Carolina, which is tied for the largest line of the week. Plus, TeamRankings models have them with the second-highest win odds (77.3%) behind only Kansas City (80.9%).

Despite such high odds, the public is taking five teams more frequently than the Bucs in Week 2, making them a great value.
Buffalo
Bills

@

Dolphins

The Bills looked strong in Week 1, with Josh Allen throwing for a career-high 312 yards and two touchdowns, while adding another 57 yards and a score on the ground with his legs. Miami struggled on both sides of the ball, averaging a measly 4.6 yards per play and allowing three rushing touchdowns.

Both TeamRankings and Vegas have Buffalo at a near 70% win odds, with the public taking them at the fifth-highest rate.
Value Favorite Pick
The Week 2 slate features a few favorites the public is picking at a lower rate than their chance to win. These are popular because you can select the expected winner, yet still be somewhat contrarian at the same time.
Cleveland
Browns

vs.

Bengals

Since the Browns got slashed last week and the Bengals hung in there with the Chargers, the public tends to go with an upset here. Sticking with the team that's projected to win—in this case Cleveland by six points—can be valuable.

Both Vegas and the TeamRankings model have the Browns at just above a 70% win rate, while the public is only picking them 68% of the time. In this case, you can take the more likely winner and gain ground on 32% of a typical pool if the favorite comes out on top.

While I know it's tough to back the Browns after what we saw last week, it's too early to write off a team with a new coach and that much talent.
Survivor Picks for Week 2
Win Odds: Top 5 Week 2 Picks
Stating the obvious here, but higher is better when it comes to win odds. Everything else being equal, you want to pick the team with the best likelihood of making it through.
Here are the five safest teams this week, according to the TeamRankings Data Grid model (chances to win in parentheses):
Pick Popularity
Diversifying your survivor picks from the crowd is an advantageous strategy, as the pool winnings can increase significantly if your pick hits and another popular pick loses.
Here are the five most popular survivor picks for Week 2 (referencing Data Grid mentioned earlier):
Future Value
The last piece of the survivor pool puzzle is future value. If you fire off a powerful team in Week 2, you won't be able to use them later.
According to TeamRankings, here are the top five teams in future value entering this week for a 100-entry standard rules pool:
Note: The numbers in parentheses are a proprietary rating of future value found in the TeamRankings Data Grid, which is also impacted by factors such as pool size.
---