Week 1 NFL Betting Picks: Team and Game Totals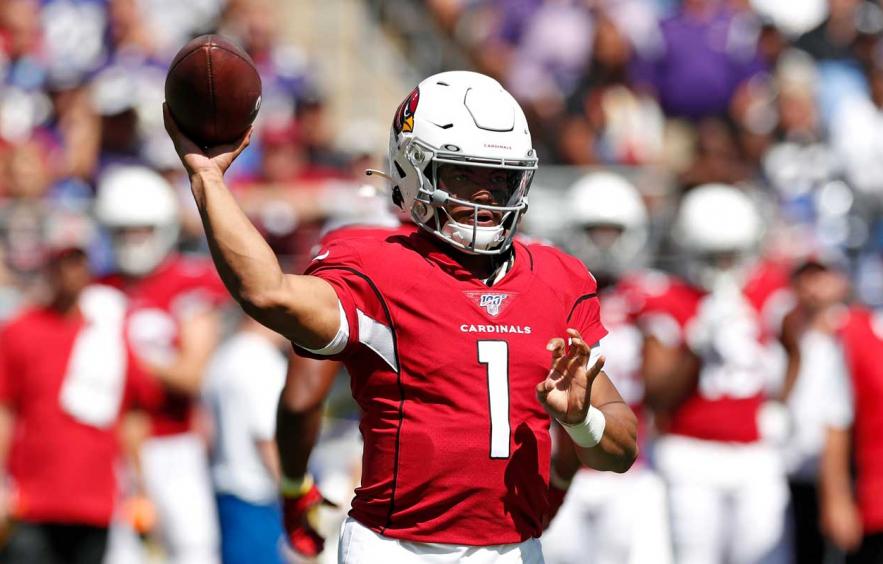 Todd Olszewski/Getty Images
There's nothing quite like Week 1 of the NFL season. The anticipation leading up to the season's opening weekend is unlike anything in sports. For a lot of reasons, this season is different, but I'm hoping we appreciate it even more than normal after these past six-plus months of existence.
Week 1 handicapping is also unlike any other week of the season. The Week 1 lines have been live and bet extensively since mid-April, which leads to a more-than-usual amount of line movement, both in terms of the spread and the total. We also have a new reality on our hands this season, and there's no way to quantify the effect that an empty stadium will have on teams and players alike—or the stress that comes along with exposure risks and constant testing. But here we are.
I'm going to be bringing you my favorite totals of the week here at 4for4, doing my best to update them on Sunday once we have all the key information before kick-off. In some instances, having less 'known' info will give us an edge and we'll act accordingly when that's the case. These markets move quickly, and I'm sure that from time to time, the line posted and referenced here will be gone. Feel free to reach out to me on Twitter, @RyNoonan, for clarification.
I'm also focusing on what I think is the biggest inefficiency in the market, and that's individual team totals. The majority of bookmakers don't post individual team totals until Saturday or Sunday because they know that the line is inefficient. It's simply derived from subtracting the point spread from the game total, and it isn't something that bookmakers focus specifically on setting. If they believed in the number, they'd post it early in the week with all the other game-specific lines. For the sake of this column, I'll be using the implied-team total until the number is live, and then update accordingly closer to kick-off.
Week 1 is often the most difficult week to handicap because we're relying less on actual matchup data and more on our priors. We can make speculative decisions based on off-season moves and coaching changes, but we don't really know what to expect until we see each team in action. This season, with no preseason games and limited padded practices, we have even less information to go off of than usual. Who has the bigger advantage, the offense or the defense? Will secondnd half fatigue show up in the form of missed tackles? Is continuity, whether it's on either side of the ball or coaching staff, the key to early-season success?
Let's dig into Week 1's totals.
Las Vegas
Raiders

@ Carolina

Panthers

- Over 47.5 (DraftKings)

This is the easiest matchup on the Raiders schedule until the middle of November. Las Vegas faces the league's most difficult schedule in Weeks 2-11, according to projected team win totals, but for Week 1 they get to face the youngest defensive unit in the league. Carolina used all of it's April draft capital to address the voids on the defensive side of the football, and they'll be asking a lot out of their draft class in Week 1.

The Raiders bring back all five starting offensive linemen and added multiple pass-catching weapons in the draft. Typically there are concerns regarding west-to-east travel in the early Sunday window, but I'll worry more about that later once the grind of the season begins to affect everyone.

There's very little continuity on the Panthers' sideline, but I'm bullish on the top-to-bottom changes this organization made in the off-season. New head coach Matt Rhule brings former LSU OC Joe Brady with him to Carolina. Previously Brady was on Sean Peyton's staff in New Orleans, a roster which included now-Panthers quarterback, Teddy Bridgewater. While that's not the continuity that we're looking for early this season, the familiarity here flattens the learning curve for Teddy and this offense.

There's a lot of noise in year-over-year turnover data, but pressure rate goes a long way in predicting an increase or decrease in turnovers. No team turned their opponents over less frequently last season than the Raiders did, and they've done little in the offseason to improve their bottom-five pressure rate from 2019. On top of that, last season the Raiders' defense ranked 30th in yards/drive, 31st in points/drive, and dead-last in drive success rate allowed. This is an easy lift-off spot for a Panthers' offense that I expect to play with an above-average pace.
New York
Giants

- Under 21.5 (BetRivers)

The analysis is pretty straight forward for this Monday night tilt. The Steelers led the league in sacks and pressure rate last season, blitzing at one of the league's highest rates. On the flip side, Daniel Jones struggled mightily last season while being blitzed, something that he's sure to see in spades against Pittsburgh.

The Giants are also running out three new starting offensive linemen this season, and while the potential for them to gel over the course of the season is likely, a truncated preseason certainly doesn't help matters this week. I bet this under earlier in the week at 22, and I'd advise taking it as long as it stays north of 20.
Seattle
Seahawks

@ Atlanta

Falcons

- Over 49 (DraftKings)

It's one of the most played out narratives of the offseason. I'm tired of talking about it, and you're probably tired of hearing about it. But we all want to know; Will the Seahawks let Russ cook? We may not get that answer this week, because Seattle might not have a choice.

The 2019 Seahawks had the lowest quarterback hit rate and third-lowest adjusted sack rate in the league last season, and that was with Jadeveon Clowney on the roster. The Falcons have a lot of issues, but they're bringing back all five starters on the offensive line to protect Matt Ryan, who has one of the league's most exciting pass-catching duos in the league at his disposal. If you like Atlanta to win, their 23.75 team total is something you should consider, as well.

This is a 'high tide raises all ships' spot. If Atlanta is going to have success throwing the ball like I anticipate that they will, Russell Wilson will be forced into keeping pace against this porous Falcons' secondary. Rookie A.J. Terrell will be thrust into action early and often, alongside defensive stalwarts Isaiah Oliver and Kendall Sheffield, two of the lowest-graded cover corners in 2019 according to Pro Football Focus.

It's all systems go for both of these passing offenses, and if Atlanta can keep up, they'll force Seattle's hand and prevent them from grounding and pounding away this high octane matchup.
Arizona
Cardinals

- Over 20.5 (DraftKings)

I was really impressed by what we saw from Kliff Kingsbury last season. The preseason narratives around his Air Raid offense and pace of play asperations fell to the waste side early in the season, but he adapted. Instead of locking into what he wanted to do, he took what he had and turned his team into one of the most efficient rushing offenses in the league. With an improved supporting cast and upgrades along the offensive line, the buzz around what Kingsbury and second-year quarterback Kyler Murray can and want to do is back on the rise.

The Cardinals covered the spread in both of their 2019 matchups against the 49ers, with the total going over comfortably, as well. It's been a difficult preseason for the 49ers. They've had a ton of injury issues on both sides of the ball, and those defensive injuries are going to be magnified this week. Their secondary has numerous question marks, DeForest Buckner was traded to the Colts for a first-round pick, Fred Warner spent weeks on the COVID list, and Nick Bosa and Dee Ford have been spectators for the majority of training camp. I got this number at 19.5, but I'd take it anywhere under 21.