Tight End Target Hunt: C.J. Uzomah is a Fantasy Value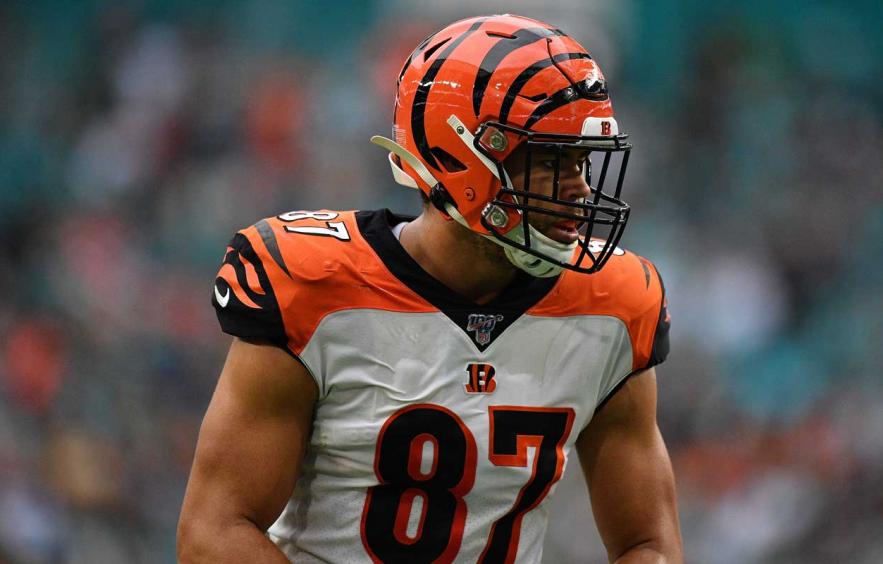 Mark Brown/Getty Images
What if I told you there's a tight end going undrafted in fantasy leagues whose quarterback is projected by our guy John Paulsen to lead the NFL in pass attempts?
You'd probably say, Denny, stop, we know this column is about C.J. Uzomah. We saw the photo. We read the headline. Get over yourself.
Nevertheless! Uzomah has no average draft position in 12-team leagues despite being the presumed starter for what should be a vastly improved Bengals offense. Joe Burrow, the aforementioned QB we expect to throw a load of passes in 2020, is also projected to complete the third-most passes to go along with nearly 23 touchdown tosses. Meanwhile, every Cincy pass catchers' ADP is depressed.
Someone is way off about this Bengals passing attack. Let's assume it's everyone ignoring the team's wideouts and tight end.
Projecting
C.J. Uzomah

's 2020 Target Volume

This late-round tight end series is all about seeking volume—or at least the potential for volume. That's what we should have with the 2020 Bengals, who have one of the lowest projected win totals in Vegas. They're as likely as anyone to face negative, pass-heavy game script as any team in the league this season. The Bengals shape up as one of the most fun teams for fantasy purposes this season. Why not grab a cheap part of the fun? Cheap fun is my favorite pastime. It's also the name of my Cheap Trick tribute group.

Uzomah has never had the benefit of consistent volume, or even intermittent volume, on his side. The guy's seen more than five targets only three times in his five-year career. That's because Tyler Eifert—the highly drafted tight end who was given every chance to succeed in Cincinnati—occupied the starting spot. You may have heard Eifert is gone, having signed with the Jaguars this offseason. That leaves Uzomah as the presumed starter for Cincinnati.

Tight ends got a pretty good shake in Zac Taylor's offensive system last year—Uzomah and Eifert combined for 103 targets, or 17.5% of the team's targets. Most of those targets (63) went to Eifert, of course, but Uzomah's splits with and without Eifert aren't bad. Uzomah's per-game targets nearly doubled (to 4.9) when Eifert was out of the lineup over the past two seasons.

More good news: Eifert ran a pass route on a healthy 72.5% of his snaps last seas on Taylor's offense. While Eifert's pass routes per game (22.4) were a little on the low side, when he was in the Cincy lineup, he was usually running a pass route—a key ingredient to tight end fantasy opportunity. Some would say it's the key ingredient. Others might agree.

Taylor's offense produced the ninth most offensive snaps in 2019 despite a leaky defense and an offense that, at times, couldn't stay on the field. Only five offenses threw more passes last season. With the league's second-lowest touchdown rate on pass attempts last season (2.9%), the Bengals would likely have seen not-insignificant touchdown pass regression even without the addition of Burrow.

Assuming the Bengals are near the top of the league in pass attempts this season, with Uzomah taking in a modest 11% of the team targets (around what Eifert saw last season), we're talking somewhere in the range of 65-70 targets for Uzomah in 2020. Bump that up to 13% and he would push up on 80 targets, or the 11th most targets among tight ends in 2019.

Now let's posit the Bengals are among the top two or three pass heaviest teams in 2020. An 11% target share would give Uzomah around 72 targets, and a 13% share would give him roughly 86 targets. That wouldn't be terrible for a guy who will go undrafted in almost every fantasy league.
I get that the presence of rookie Tee Higgins, the giant wideout out of Clemson, could take the shine off Uzomah's prospects, whatever they may be. Higgins could very well occupy the middle of the field along with—or perhaps instead of
—Uzomah. Thankfully, like every tight end profiled in this series, we don't have to pay much to find out exactly how Uzomah might be deployed in a pass-happy offensive attack. And like (almost) every tight end profiled in this series, Uzomah has a tasty 2020 schedule,
with 11 neutral, good, or great tight end matchups
.
You might not have a compelling reason to draft Uzomah in 12-team leagues this summer, unless your league mates are stockpiling tight ends. He does, however, profile as a cheap source of tight end targets in tight end premium leagues and 14 and 16-team leagues. As we say on Living The Stream, you could do worse.
The Bottom Line
Tyler Eifert is gone, leaving C.J. Uzomah as the presumed starter in Cincinnati.
Zac Taylor last year ran a pass-heavy offense that ran a lot of plays in 2019, generating offensive volume for Bengals players.
4for4 projects Joe Burrow to be among the NFL leaders in pass attempts, completions, and passing yardage