Tight End Target Hunt: Chris Herndon is a Fantasy Value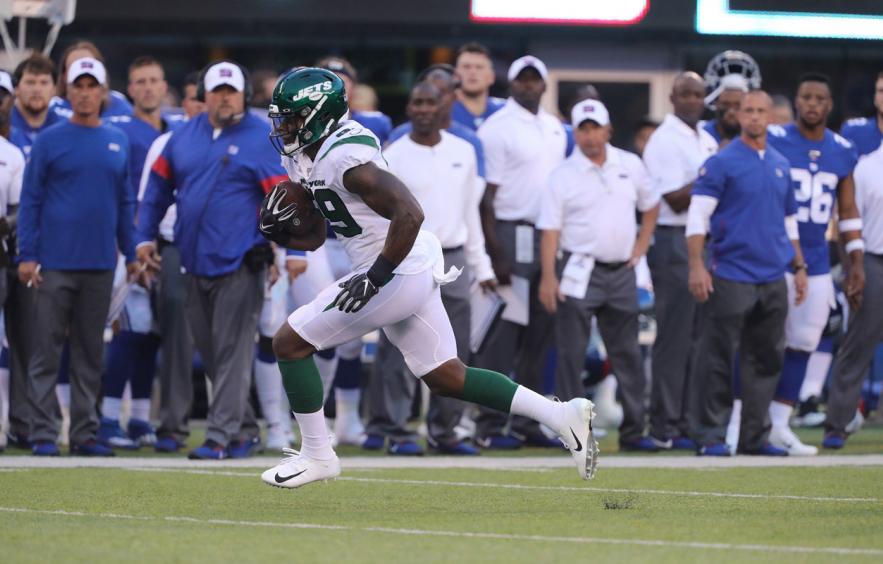 Al Pereira/Getty Images
I'm the guy who barges into complex fantasy football back and forths to remind everyone that—well, actually—opportunity is all the matters. People like me. I have many friends. More friends than you've ever seen. Bigly friends.
So naturally, this series is going to be about volume of opportunity that hasn't been incorporated into a player's average draft position. Over the next couple weeks, I'll write about late-round tight ends most likely to see the sort of opportunity that could translate to every-week usefulness in 10- and 12- team leagues.
The tight ends highlighted in this space will certainly prove valuable as streaming options in leagues where the waiver wire doesn't resemble grocery store shelves during a pandemic. But I'm writing about these tight ends because I think there's a fairly straightforward path to them becoming plug-and-play options for those who don't go all-in on Travis Kelce, George Kittle, or Mark Andrews.
Chris Herndon

's 2019 Season

I'm old enough to remember the following: the moon landing, Woodstock, Nixon's resignation, and fantasy footballers stashing Jets tight end Chris Herndon IV for two and a half months.

All of those events were equally shocking and memorable, especially the Herndon thing. Drafters were taking Herndon with one of their final picks in 12-team leagues—his draft-day price point was predictably higher in tight end premium formats—and waiting to deploy the tight end who had bursts of fantasy production in 2018.

It was a galaxy brain draft day strategy meant to avoid the pitfalls of streaming the tight end position. I have my every week tight end, Herndon drafters proclaimed. I have the guy who posted the 14th best rookie season by a tight end. Ever.

I take no pleasure in reporting it didn't work: Herndon saw two targets in his lone 2019 game, catching one ball for seven yards. The galaxy brain was foiled.

Today Herndon isn't being drafted in 12-team leagues. He's just barely being drafted in 14-team leagues. Because, see, people don't want the tight end playing in an Adam Gase offense, which is usually a never-ending pit of fantasy football despair.

And with that ringing endorsement, I'm going to tell you why you might consider Herndon in best ball leagues and—if you completely fade tight end in 12- and 14-teamers—in redraft leagues.
Tight Ends Under Adam Gase
Probably it's a coincidence that Gase's only NFL success came as the offensive coordinator for Peyton Manning's Broncos. One of the greatest quarterbacks to ever play surely had nothing to do with Gase's system working for once. Whatever you think of those Denver offenses scorching the earth in 2013 and 2014, we can't ignore tight end Julius Thomas's role on those teams.
Thomas, a late-round or undrafted afterthought in 2013 fantasy drafts, finished as the TE3 that season, averaging a cool 15.4 fantasy points per game. See below for how Thomas—who's one inch taller and a few pounds heavier than Herndon with an almost identical burst score—was used in Gase's Denver offense.
Julius Thomas

in Adam Gase's Offense

| Year | Games | Route Run % | Targets | Target Share |
| --- | --- | --- | --- | --- |
| 2013 | 14 | 47.3 | 90 | 20.1% |
| 2014 | 12 | 47.4 | 62 | 17.7% |
You might remember Thomas's fantasy value being buoyed by an unnatural 27.9% touchdown rate in 2014. You remember correctly. He also fought various ailments that season, missing four games and parts of other contests. The percentage of offensive snaps in which Thomas ran a pass route is deceptively low—recall that Peyton's Perfect Machine ran a ton of plays at its peak. Thomas still ran an average of 31 routes per game in 2013—a fantastically high number for a tight end if you want your tight end actually going into pass routes rather than blocking (you do).
This isn't to say that Herndon is going to replicate Thomas's 2013–2014 production. You heard it here first, folks: he won't. Herndon could, however, see consistent opportunity in a New York offense with plenty of vacated targets and bound for some semblance of (positive) offensive regression in 2020.
Chris Herndon

's 2020 Outlook

Even if you're among the millions who don't think of Herndon as the kind of player who commands targets, we can't ignore the 2019 targets now gone from Gang Green's offense. Thirty-seven percent of the team's targets have been vacated since the end of 2019—that's 183 targets. No team has more vacated air yards than the Jets, who without half of their 2019 air yards (2,031, to be exact). Those passes—and more, with the potential for a whole season with Sam Darnold at the helm—have to go somewhere. Why not Herndon, who saw a not-hateful 48 targets in the final 10 games of his 2018 campaign? Hell, Ryan Griffin had a five-game run last year in which he saw 28 targets for New York.

Then there's the total ineptitude of Gase's offense in 2019. Part of that, naturally, was missing Darnold for a chunk of the season and having to operate the offense with some of the worst QB play this side of the 2019 Steelers. The 2019 Jets had the second-lowest rate of touchdowns per drive (13.7 %) and the dead dog lowest touchdown rate per drive (24.1%). No one was even close to the Jets' 2019 touchdown scoring struggles. The second worst touchdown scoring team, the Bears, managed a touchdown on 29.6% of their offensive possessions.

With a full season for Darnold and the natural variance of touchdown scoring, a big-bodied target like Herndon is a fine and dandy candidate to benefit from the good kind of regression.

The inimitable Rich Hribar recently gave us a reason to consider players from teams that couldn't punch it into the end zone the previous season. Per Reebs, "61.5% of the teams that were below the league average in scoring rate per drive came back the following season and scored more offensive touchdowns than the season prior with an average increase of 10 touchdowns per season." That could be tasty for a team like the Jets, whose 2019 touchdown scoring was miles below almost every other offense.

Maybe there won't be a reason to draft Herndon in July and August drafts. Maybe he'll be camped out on your waiver wire come September. That's fine—there's no need to stash him in the year of our lord 2020 (apologies for getting religious). But remember why Herndon could fall into consistent opportunity for an offense with an ocean full of vacated targets and air yards, and one that should be (way) more fantasy-friendly this year.

Oh, and Herndon has 12 neutral of good matchups this season.
The Bottom Line