Here's How To Find Late-Round Upside in Your Draft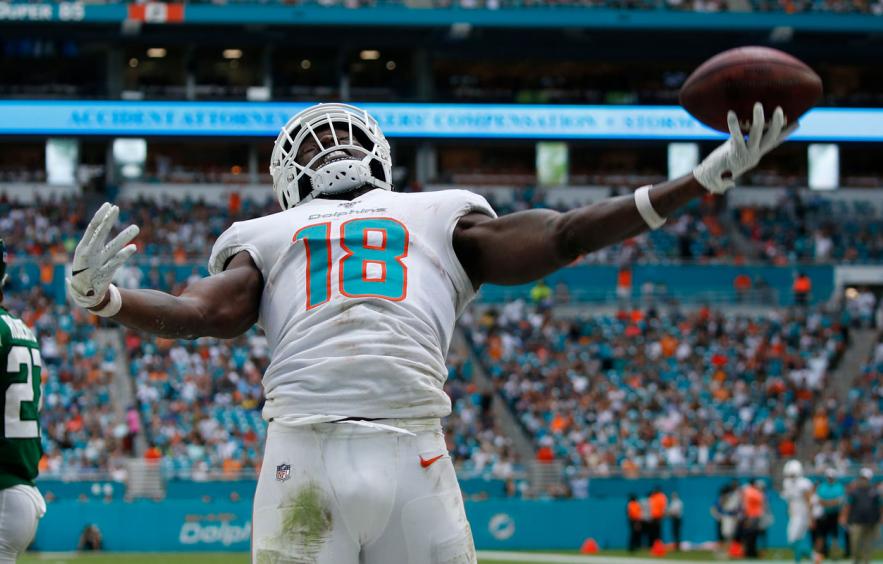 Joel Auerbach/Getty Images
When my softball team is up by a dozen or getting our collective face pounded late in a game, I deny my instinct to do what I always do and hit an opposite-field liner. I widen my stance, put a little more weight on my back foot, and swing as hard as I can.
I go for the fence I'll never reach, on the off chance I'll hit it pure.
And why not? There's no real upside to plopping one into right-center for the third time in the game. Usually, my home run hack ends with a pop up into left field. But who cares? The game is over. There's only upside to going for it all.
The same goes for the late rounds of your fantasy football draft, populated by a bunch of players with no statistical floor, but plenty of upside. They are the carefree home run swings of our little game—whacks at glory that could end up looking tremendously smart. And if not? Who cares.
Every August, I create the Fantasy Equity Score Report to pinpoint which early-round players have sturdy fantasy floors and which late-round selections have the most upside. The report explores a range of outcomes for more than 150 players, projecting their median prospects and their upper-end potential. Each of these projections hinge on a player's total touches, touchdown rate, yards per throw or catch, and a range of other measurements subject to regression.
The equity piece of the equation is the gap between where a player is being drafted and where his median and high equity scores would land him at the end of the season. A player with a negative high equity score is a red flag being drafted above his ceiling, while a guy with a positive median score should pique our collective interest. This process reveals the reliable yet boring types—guys with median and high prospects sitting near each other—and boom-bust players who have median and high scores miles apart.
Long-ball wideouts usually have wide gaps in their median and high projections, while possession receivers who post low yards per reception numbers will almost always have a solid median score and a modest high score.
Now to take a moment and highlight some later round successes from the 2019 Fantasy Equity Score Report:
Allen Robinson, who was being drafted as the 32nd wideout off the board in 2019, had a high projection that would land him at WR20—good for an attention-grabbing high equity score of 12. Robinson finished as the WR9 on the season. He was a clear upside option, per the report.
D.J. Moore had a high equity score that would have made him last year's WR17 after being drafted as the WR27 in 2019. Moore finished the season as the 16th highest scoring receiver in fantasy.
Jamison Crowder's 2019 high projection would have put him 23 spots ahead of his WR54 ADP last season. He finished five spots better (WR26) than his high projection of WR31. This, of course, was based on volume, not big plays.
Let's look at one receiver who might have the pop to propel himself into your starting lineup, week in and week out. He might lack great median projections, but like the line drive single when your team is down a dozen in the final inning, who cares. I've also highlighted a running back who showcased really well in the Equity Score Report.
Preston Williams

,

Dolphins

(ADP: WR56)

Median equity score: 17 (WR39)

High equity score: 26 (WR30)

Apparently Williams is fully recovered from the torn ACL that ended his season in early November, just as he was tearing apart opposing secondaries. Probably that's not-so-great news for DeVante Parker, who's being drafted six rounds ahead of Williams. But it means fantasy managers might be able to land a volume receiver in the final few rounds of their drafts.

Chan Gailey taking over as Miami's offensive coordinator is good for Williams as a deep ball threat (13.5 yards per catch in 2019), though Gailey's offense likely won't make Williams and Parker (maybe neither) target hogs in 2020. The reason: offensive pace. In five of Gailey's past six seasons as a coordinator, his offense has ranked in the bottom third in offensive pace. Gailey's teams play slow—that could hamper Miami's pass attempts even if they are terrible and forced into pass-heavy game scripts throughout the 2020 season.

Still, the equity scores say you could be drafting rock-solid WR3 with one of your final picks in a 12-team league. That's quite the luxury, especially if you spent much of your early-round draft capital on running backs.

We want players with a chance to emerge as no-brainer every-week fantasy starters in this part of the draft. Williams' path to such relevance is clear, as he averaged 7.5 targets per game in his eight contests before suffering the ACL injury. That's a 120-target season-long pace. Even if he doesn't reach that number in 2020, he's well worth your pick in the 12th round. The equity scores say so.
Jonathan Talyor,
Colts

(ADP: RB22)

Median equity score: 5 (RB17)

High equity score: 13 (RB9)

For Taylor truthers, it's hardly a shock to see him show up well in this year's Equity Score Report. He's a dominant runner on a team that defines itself as a hardnosed, run-first squad. The Colts want to Run The Damn Ball, and they showed it in 2019. Indy averaged 32.8 rushing attempts in 2019 victories, and regularly ran more than 30 times in close games. They put up impressive numbers on the ground, averaging 133.1 rushing yards per game, fifth-highest in the league.

To know how the team wants to operate, we don't have to look much further than the Colts' 47.4% rush rate when the team was tied or leading in 2019.

Last year, Marlon Mack led the team with 247 carries, taking 52% of the team's attempts. Give that to Taylor and he'd exceed his RB17 ADP by at least a handful of spots. Obviously we can't count on Taylor to have much of a pass-catching role in Frank Reich's offense; the rookie has struggled with drops in training camp and the team employs two runners (Mack and Nyheim Hines) who excel in the pass-catching role. But give Taylor a small slice of the backfield targets, along with a moderately efficient season on the ground, and he creeps into the top-10 running backs.

No other running back being drafted in Taylor's part of the draft (mid-to-late third round) has that kind of upside. He makes a lot of sense for fantasy managers who start the draft with a couple of receivers and are looking for a third-rounder with RB1 upside.