Fantasy Debate: Michael Thomas vs. Alvin Kamara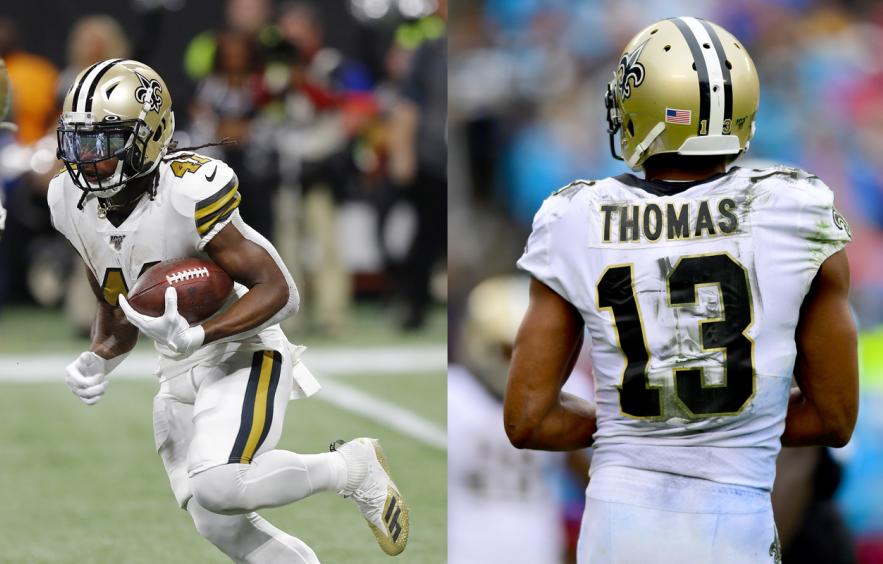 Kevin C. Cox/Jacob Kupferman/ Getty Images
Michael Thomas and Alvin Kamara are currently being drafted as the overall sixth and seventh players, respectively, in My Fantasy League redraft formats. In this debate, Jennifer Eakins will argue for Thomas, while Eric Moody takes the side of Kamara.
The Case for
Michael Thomas
Jennifer: This virtual ADP debate is different than ones we've done thus far, because not only does it involve players from different positions, but they suit up in the same uniform every week. Head to head, I always choose Michael Thomas over Alvin Kamara, and here's why.
A one-word mic drop—volume—sums up this battle perfectly, but I am being paid to actually write more words about this so I will go on. We always chase usage in fantasy football, and Thomas has been among the top nine wideouts in targets over the past three seasons, earning the WR1 spot last year with 186, (30 more than the WR2, Julio Jones).
Not only does Thomas see high volume, but he's also able to translate those targets to fantasy points. In 2019, he broke Marvin Harrison's reception record from 2002, hauling in 149 balls for a league-high 80.5% catch rate among wideouts. The Saints' WR1 posted an impressive 18.8 half-PPR points per contest, which finished as a nice 69 points above the WR2, Chris Godwin. Oh yea, and he also scores touchdowns, too. Thomas has found the end zone nine times in three of his four years in the NFL.
Last season, the Saints offense was seventh in the league in passing and 16th in rushing, and that was with Drew Brees sidelined in Weeks 3-8. This season they get a healthy Brees under center and are fortunate to play in an easy division when it comes to pass defense. At the end of 2019, the Buccaneers, Falcons and Panthers ranked 28th, 20th and 15th , respectively, in schedule-adjusted fantasy points allowed (aFPA) to receivers, while their defense against the run was much more successful. Carolina has plenty of room for improvement as the 32nd ranked unit versus the rush in aFPA, but Tampa Bay was ranked No. 1 and Atlanta was ninth last season.
Thomas's weekly floor in any variety of PPR league is unrivaled, as his 9.3 average targets per game and close to 108 receiving yards a contest puts him at 15+ half-PPR points and 20+ full-PPR fantasy points every week. And that's without even finding the end zone. If Thomas even gets a slight bump in touchdowns from nine to say 11 or 12, his ceiling grows even further.
As far as Alvin Kamara goes, it's not that I dislike him for fantasy purposes or otherwise, I just think getting the player with the greatest chance to lead the league in volume is the better choice. Thomas and Kamara could lose work to newcomer Emmanuel Sanders, but they both get the same ding and I think it will be minimal. I am aware that Kamara sees a plethora of targets too, I just like Thomas' fantasy outlook a bit better.
It appears our resident ranker John Paulsen agrees with me, as he has Thomas projected to post 243 half-PPR points to Kamara's 234. Every point matters. Don't be peer pressured into joining the great running back hoard of 2020, as guys like Nick Chubb, Josh Jacobs and Austin Ekeler should be there for you with your next pick, if you feel like you have to have a rusher at the top of the draft.
The Case for
Alvin Kamara
Eric: Kamara has been an elite fantasy football producer since he was drafted by the Saints in the third round of the 2017 NFL Draft. He's averaged 17.5 opportunities, 99.5 total yards, and 18 half-point PPR fantasy points per game. Kamara has finished as an RB2 or better in 78% in 45 active games. This is impressive considering he was less than 100% healthy last season. Kamara dealt with knee, back, and ankle injuries at different points of the season. He still finished as the RB12 in half-point PPR formats setting career-lows in total yards (1,330) and touchdowns (6). This was impressive considering future Hall of Fame quarterback Drew Brees missed five games. Kamara scored 13 (2017) and 18 (2018) touchdowns in his first two seasons.
You can expect positive regression in this area in 2020 considering the opportunities the Saints offense has historically provided it's running backs during the Sean Payton era. Did you know that his offenses in New Orleans have averaged 34.2 opportunities per game since 2006? This includes 10.7 targets per game. Kamara has also been very efficient with his touches in his three-year career. He's averaged 3.8 fantasy points per game more than expected and ranks third among all players in broken tackles since 2017. Kamara's statistical body of work is well documented. Let's discuss his prowess as a receiver.
Kamara (6.7 targets per game) has emerged the clear number two target in the Saints passing game over the last three seasons behind Michael Thomas (10) when you examine their per-game averages. Kamara has averaged more fantasy points per game in half-point PPR formats (18) than Michael Thomas (16) since 2017. The two Saints skill position players also compare favorably when you look at their yards per route run according to Pro Football Focus over the last three seasons.
You shouldn't be deterred by Kamara's fantasy production from last season when evaluating him in 2020. It helps to analyze his entire statistical body of work. Don't be sway be any of the false narratives that have recently surrounded Kamara. He's not disenchanted with the Saints franchise. You shouldn't question Kamara's work ethic or toughness.
Even though the Saints have a very bad schedule for running backs, according to 4for4's schedule-adjusted fantasy points allowed metric, he still has a great opportunity to finish as the RB1 in fantasy in a bounce-back season. Thomas is the best wide receiver in the NFL and is uncontainable, but Kamara's dual-threat ability differentiates him from other running backs and gives defensive coordinators migraines. He may even be used more as a receiver out of the backfield considering the Saints have a good schedule for wide receivers based on aFPA. You shouldn't hesitate to select Kamara over Thomas in drafts because of the supply and demand of viable running backs in fantasy football.