Week 9 Picks For NFL Pick'em Contests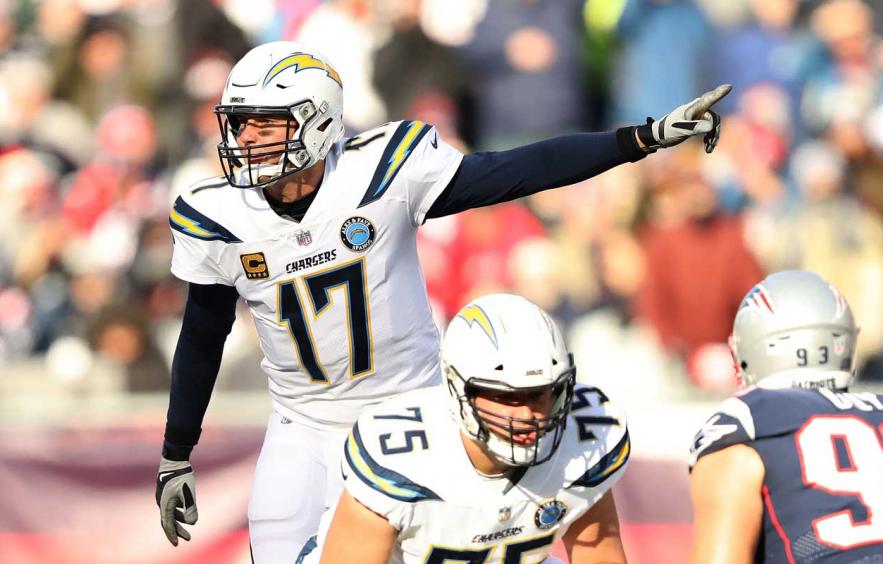 Elsa/Getty Images
This article was written by TeamRankings
Favorites continued their run last week, as the betting favorites went 13-2 straight up. Part of that is not surprising, because it was a week with few close games (by the point spread) and several perceived mismatches.
We highlighted the handful of closer matchups from last week, discussing two favorites that were coming at relative value (San Francisco and Green Bay), two slight underdogs who were closer to toss-ups (Philadelphia and Tampa Bay) and a longer shot underdog that appeared to provide the best value if you wanted to play for a big upset in a weekly contest.
Both the favorites won, while the Eagles rolled over the Bills and the Bucs came very close to knocking off Tennessee, losing in a game that featured a controversial quick whistle that negated a late Tampa Bay touchdown that would have given them the lead. It was almost a great week for the highlighted picks, but featured long shot Denver came up just short, as the Colts survived on a long field goal as time expired.
Let's take a look at where the value lies in NFL Week 9 picks for pick'em contests and office pools. Just keep in mind that for our full pick recommendations, customized for your pool and using all the latest win odds and pick popularity data, check out our Football Pick'em Picks product. (New TeamRankings users can also get a free three-day premium trial if you want to look around and see what we have to offer.)
Week 9 Value Picks For NFL Pick'em Contests
Below are five teams that float to the top of the value board for 2019 NFL Week 9. As a reminder, we are primarily looking at two factors here: a team's chance of winning, and how popular it is nationally as a pick.
This week's highlighted games feature two modest favorites coming at relative value, two underdogs in near-toss-up situations and unpopular, and one underdog with a realistic chance of winning with very few entries picking them.
Keep in mind we are not blindly recommending you make all of the picks below—the upset picks especially. Factors like your specific pool's size, rules, and prize structure all impact how risky versus conservative you should be overall with your Week 9 picks. But you should certainly think twice about picking against the favorites listed below because much better upset opportunities lie elsewhere.
(Note: Win odds and estimated national pick popularity data below may change between publication time and kickoff time. If you want to see the latest numbers, our product updates multiple times per day.)
No. 1: Pittsburgh
Steelers

(vs. Indianapolis

Colts

)

Win Odds: 49% (14th of 26 in Week 9)

Pick Popularity: 25% (19th of 26 in Week 9)

Pittsburgh and Indianapolis face off in a toss-up game, but the public is heavily on the Colts. The public is likely reacting to the differences in records here, as the Colts are 5-2 while the Steelers are 3-5. But those differences are almost entirely explained by results in games that could go either way. The Steelers are 1-3 in games decided by eight points or less, while the Colts are 5-2 (that's right, every Colts game has been decided by seven points or fewer this year), including their last-second victory over Denver on Sunday.

That means value when it comes to taking the Steelers because you are getting a team that has been playing better recently and has around a 50/50 shot of winning. They are also in a spot where the public is very low on them.
No. 2: Los Angeles
Chargers

(vs. Green Bay

Packers

)

Win Odds: 41% (20th of 26 in Week 9)

Pick Popularity: 7% (23rd of 26 in Week 9)

The Los Angeles Chargers aren't a great pick in all formats, but they could make for a solid choice if you are in a weekly contest, particularly one with a lot of entries. In that case, you can get a team with a realistic chance of an upset (the Chargers are only a three-point underdog) in a spot where only 7% of the public is taking them. If it hits, you shoot up in the weekly prize standings.

Just like the Steelers-Colts game, the perception in this one could be clouded because of close game performance. The Chargers are 2-5 in games decided by one score, while the Packers are 4-1.
No. 3: Cleveland
Browns

(at Denver

Broncos

)

Win Odds: 60% (7th of 26 in Week 9)

Pick Popularity: 60% (12th of 26 in Week 9)

This one is all about the quarterback situation in Denver, which has caused the point spread to shift from Denver as a small favorite in early release lines, to now Cleveland favored by about a field goal.

Joe Flacco hasn't been a world-beater by any means, but Brandon Allen is a 27-year-old journeyman who has never thrown a pass in the regular season and has been cut by two other organizations.

Right now, the popularity for Cleveland hasn't risen so high on this one to take away any value, and it's possible the public is not as clued into the Denver QB situation since it's not exactly one filled by an elite quarterback. The last time the Browns got to play a backup quarterback pressed into action, they handled the Jets for one of their wins.
No. 4: Jacksonville
Jaguars

(vs. Houston

Texans

in London)

Win Odds: 47% (15th of 26 in Week 9)

Pick Popularity: 31% (18th of 26 in Week 9)

Jacksonville and Houston are closer than the public is giving them credit for. The Jaguars have been competitive since Gardner Minshew became the starting quarterback, and almost won at Houston in Week 2. These teams are only separated by one win in the standings, and this one is on a neutral field in London.

The point spread is one of the lowest of the week (1.5 points for Houston) and given the lower pick popularity for Jacksonville, they are worth consideration in weekly contests or pools where you are looking to differentiate from other entries without taking too much risk on a bigger upset.
No. 5: Oakland
Raiders

(vs. Detroit

Lions

)

Win Odds: 55% (11th of 26 in Week 9)

Pick Popularity: 52% (12th of 26 in Week 9)

The Oakland Raiders are providing value this week as a favorite who is also being picked slightly less frequently than their odds of winning. The Raiders have been an inconsistent team, and have lost two in a row, though they were competitive in both. Perhaps more importantly, they are getting their first home game since September 15th, meaning their results have been skewed by playing a heavy road schedule.
Which Of These NFL Week 9 Picks Should You Make?
Once you know the best value opportunities of Week 9, you can often increase your odds to win your NFL pick'em pool by making some educated gambles on them.
Perhaps you bump up the number of confidence points you assign to a pick like Cleveland, or you go with Jacksonville or the Chargers in an upset. But there are a lot of potential decisions to make, and not all of them will make sense for your specific pool.
We built technology to do all the number-crunching needed to make the smartest decisions. Our Football Pick'em Picks product recommends the best weekly picks for your pool based on all the strategic factors that matter, like your pool's size, rules and prize structure. You answer a few questions about your pool, and it recommends the Week 9 picks that maximize your edge.
We invite you to give it (and all our other premium NFL tools) a try for free.
---
FREE TRIAL: 4for4 readers can get a free three-day premium trial to TeamRankings, including all game predictions plus customized picks for your NFL survivor pools and pick'em contests: Get Picks Now.
Picks & Tools From TeamRankings: Football Pick'em Picks | NFL Survivor Picks | Betting Picks
---