Week 8 Picks For NFL Pick'em Contests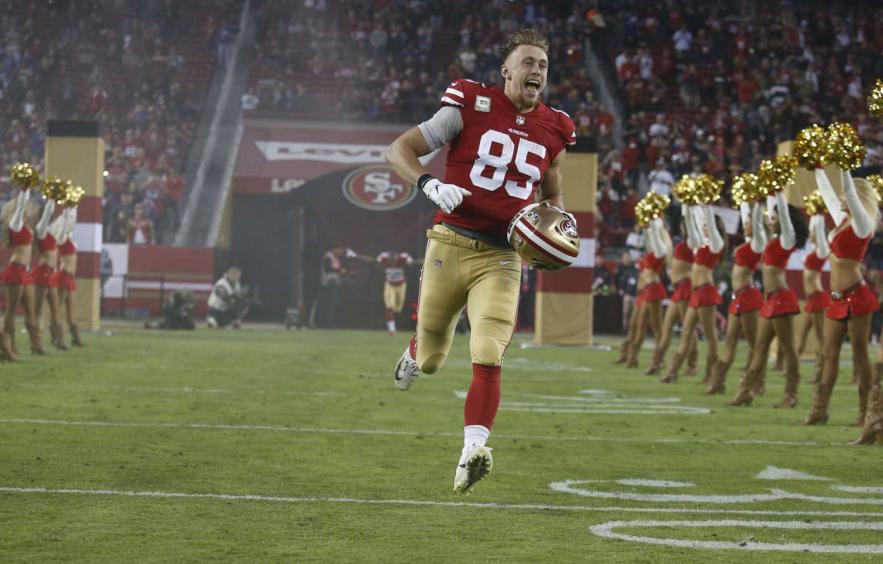 Michael Zagaris/San Francisco 49ers/Getty Images
This article was written by TeamRankings
After several weeks where the underdogs had their day, favorites returned to prominence in the NFL last week. Overall, favorites won 11 of the 14 games, with no major upsets where the favorite had win odds of greater than 70%.
Our recommendations last week centered on two very unpopular underdogs and three favorites being picked less than half the time by the public. Of the three unpopular favorites, two of them won (Indianapolis and Tennessee) while the other lost and looked ugly doing so (Chicago). Those two wins were above what the public would have gotten from those games (1.3 wins on average).
The underdog picks that are more advisable in weekly win pools, though, went 0-for-2. So last week was one for seasonal contests and a strategy of staying with the favorites. Adding in the three unpopular favorites we recommended here, a strategy that stuck with favorites would have netted 11 total wins versus 9.4 for the public based on popularity averages, an average gain of 1.6 wins against a typical entry in Week 7.
Let's take a look at where the value lies in NFL Week 8 picks for pick'em contests and office pools. Just keep in mind that for our full pick recommendations, customized for your pool and using all the latest win odds and pick popularity data, check out our Football Pick'em Picks product. (New TeamRankings users can also get a free three-day premium trial if you want to look around and see what we have to offer.)
Week 8 Value Picks For NFL Pick'em Contests
Below are five teams that float to the top of the value board for 2019 NFL Week 8. As a reminder, we are primarily looking at two factors here: a team's chance of winning, and how popular it is nationally as a pick.
This week's highlighted games feature two favorites at relative value because of the high popularity of all favorites this week, and three other games that should be in consideration in weekly contests or if you want to differentiate your entry.
Keep in mind we are not blindly recommending you make all of the picks below—the upset picks especially. Factors like your specific pool's size, rules, and prize structure all impact how risky versus conservative you should be overall with your Week 8 picks. But you should certainly think twice about picking against the favorites listed below, because much better upset opportunities lie elsewhere.
(Note: Win odds and estimated national pick popularity data below may change between publication time and kickoff time. If you want to see the latest numbers, our product updates multiple times per day.)
No. 1: San Francisco
49ers

(vs. Carolina)

Win Odds: 69% (11th of 30 in Week 8)

Pick Popularity: 85% (11th of 30 in Week 8)

Before discussing San Francisco, we should point out that this is a week where there isn't a lot of relative value. There aren't a lot of close point spreads this week, and the public is heavily on every favorite. Every favorite is being picked by at least 70% of the public, and nine of the 15 games have a pick popularity of over 90% for the favorite.

When it comes to the heaviest favorites (Minnesota, Pittsburgh, L.A. Rams, New England), there really isn't any value picking against any of them. There are, though, some differences when we get to the next tier of games.

San Francisco's win odds have them very close to several other favorites: Indianapolis, Jacksonville, Seattle, Detroit and Houston. But they have the lowest pick popularity of that group, as the other five are averaging being picked by 93% of the public.

Thus, if you want to search for upset value, there are options that provide more upside than going against the undefeated 49ers.
No. 2: Tampa Bay
Buccaneers

(at Tennessee)

Win Odds: 43% (17th of 30 in Week 8)

Pick Popularity: 31% (16th of 30 in Week 8)

With so many larger favorites this week, games like Tampa Bay-Tennessee take on more importance in weekly contests. It is tied with the Buffalo-Philadelphia game for the lowest spread of the week.

The betting market implied win odds are 42% for the Bucs, while our models are even more optimistic, giving them a 48% chance of winning.

The public, though, is taking Tennessee 70% of the time. You can understand why. The last time we saw Tampa Bay, Jameis Winston was turning the ball over six times in London in the loss to Carolina. Meanwhile, Tennessee benched Marcus Mariota in favor of Ryan Tannehill before last week, and Tannehill threw for over 300 yards in the win over the Chargers on Sunday.

Given that this is a week with relatively scarce options when it comes to close games, combined with Tennessee's higher popularity, Tampa Bay is an attractive upset pick here in a weekly contest to differentiate your entry.
No. 3: Green Bay
Packers

(at Kansas City)

Win Odds: 66% (13th of 30 in Week 8)

Pick Popularity: 79% (13th of 30 in Week 8)

Green Bay is favored by four points at Kansas City. The Packers are the favorite, of course, because Patrick Mahomes is nursing a knee injury and Matt Moore will almost certainly start for Kansas City. Aaron Rodgers is coming off a stellar performance against the Raiders and gets to face another defense that has struggled to stop opponents (though the Chiefs did have their best defensive game last Thursday against Denver).

Our models give Green Bay a 66% chance of winning, and they are being selected by 79% of the public. That pick popularity makes them a value, though, in comparison to other games this week. The Colts, for example, have only slightly higher win odds but are being selected by 96% of the public against Denver.
No. 4: Philadelphia
Eagles

(at Buffalo)

Win Odds: 46% (16th of 30 in Week 8)

Pick Popularity: 29% (17th of 30 in Week 8)

Philadelphia is another team that is a slight underdog this week but is coming in at fairly low popularity after their poor showing on Sunday Night Football against the Cowboys. Buffalo, meanwhile, sits at 5-1, though it should be noted the Eagles are the second-toughest matchup they have faced this season.

Philadelphia has had some injuries that impacted their offense, as left tackle Jason Peters was out, and DeSean Jackson still has not returned. Those are situations to monitor as the week progresses, but if they are playing, you can potentially get the Eagles at value here as the public overreacts to the last game.
No. 5: Denver
Broncos

(at Indianapolis)

Win Odds: 30% (22nd of 30 in Week 8)

Pick Popularity: 4% (25th of 30 in Week 8)

Denver put up an embarrassing performance in primetime last Thursday and were not competitive against the Chiefs. Indianapolis, meanwhile, has played the underdog role really well, beating those same Chiefs on the road in primetime and then winning at home against the Texans in impressive fashion.

Those factors are contributing to the Colts now being picked by a whopping 96% of the public. But unlike a lot of other games this week with high popularity for the favorite, the Colts are only a six-point favorite with win odds of around 67%.

While taking an underdog with about a one-in-three chance to win isn't advisable in all pool types, it could be a solid value play in larger weekly prize pools because the public is almost ignoring the Broncos entirely at this point after their poor performance last Thursday.
Which Of These NFL Week 8 Picks Should You Make?
Once you know the best value opportunities of Week 8, you can often increase your odds to win your NFL pick'em pool by making some educated gambles on them.
Perhaps you bump up the number of confidence points you assign to a pick like San Francisco, or go with Tampa Bay or Philadelphia in the upset. But there are a lot of potential decisions to make, and not all of them will make sense for your specific pool.
We built technology to do all the number-crunching needed to make the smartest decisions. Our Football Pick'em Picks product recommends the best weekly picks for your pool based on all the strategic factors that matter, like your pool's size, rules and prize structure. You answer a few questions about your pool, and it recommends the Week 8 picks that maximize your edge.
We invite you to give it (and all our other premium NFL tools) a try for free.
---
FREE TRIAL: 4for4 readers can get a free three-day premium trial to TeamRankings, including all game predictions plus customized picks for your NFL survivor pools and pick'em contests: Get Picks Now.
Picks & Tools From TeamRankings: Football Pick'em Picks | NFL Survivor Picks | Betting Picks
---