The Top DFS Running Back and Defense Stacks: Week 7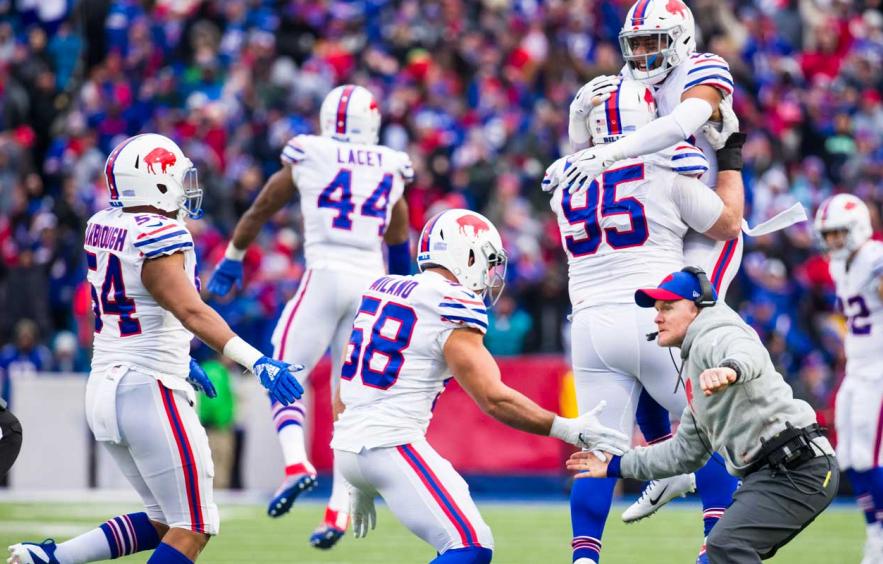 Brett Carlsen/Getty Images
These are the Week 7 running back-defense stacks on FanDuel and DraftKings. I'll examine where we might be able to get a solid defensive performance and volume-driven running production, including at least one RB-defense stack that will have minimal usage.
One should not base their weekly DFS lineup composition on the RB-DEF stack, as the correlation isn't nearly as strong as the QB-WR1 combo, for example. But considering RB1s—and only RB1s—get a decent bump in production when their team's defense scores at least 15 fantasy points, it's worthwhile to see where this stack might offer upside and differentiation for those who play large-field DFS tournaments. Running backs and defenses from the same team often face positive circumstances together.
It's these conditions that lead to fantasy points. Sometimes a lot of fantasy points—the kind that swing DFS tournaments.
Last week didn't go swimmingly, with Mark Ingram and the Ravens defense combining for 21 points, Adrian Peterson and Washington going for 25 points, and the Melvin Gordon-Charger stack stalling out with nine points. Turns out the Chargers have no home-field advantage, which we often seek in these RB-defense stacks.
Tevin Coleman

/

49ers

Combined percentage of FanDuel salary: 18.6%

Combined percentage of DraftKings salary: 19.4%

Tevin Coleman ($6,200 FD/$5,600 DK) has 36 touches in the two games since he returned from injury, so I suppose—to the great chagrin of Matt Breida truthers—Coleman is the unquestioned lead back for an offense that really, really wants to establish the run. Best yet: Coleman is the 22nd priciest running back on FanDuel main slate. His price (RB9) is a little less appealing on DraftKings. Nevertheless, as the online kids say.

The 49ers are among the run heaviest teams in the league through six weeks, running the ball 52% of the time while facing neutral game script. That rate skyrockets to 67% when the team is up by eight points or more. There's not much reason to think the Niners won't see plenty of positive script in this one—they enter as 10-point home favorites with an implied total of 25.5 points. Meanwhile, 42.9% of the plays run against Washington's defense this season have come on the ground, the eighth-highest mark in the league. The kicker: Washington opponents are finding room to roam in the rushing game, notching 4.6 yards per carry, and only Houston has allowed more receptions to enemy backs this year. Coleman's floor is certainly there; I think he has quite a ceiling as well. So does the 4for4 floor and ceiling machine, which projected Coleman's ceiling at 21.8 points on FanDuel and 23.8 points on DraftKings.

Washington's offense is a debacle beyond measure, and even if they try to establish the damn run against the 49ers' monstrous front seven, there will be sacks and turnovers to be had here. Washington allows a sack on a very nice 6.9% of its offensive plays, while the Niners sack the QB on 10% of their plays. Case Keenum should be under unrelenting duress against San Francisco ($5,000 FD/$4,100 DK). Only the Patriots and Bills defenses have a higher Week 7 ceiling than the Niners. Hold your nose, pay up, and profit.
Saquon Barkey/
Giants
Combined percentage of FanDuel salary: 20.5%

Combined percentage of DraftKings salary: 22.8%
The DraftKings price point on this combo is tough to swallow unless you can find a receiver or two with some kind of ceiling for tournament purposes. I maintain this is a worthwhile stack to deploy in Week 7, featuring a defense that surely won't have much usage.
With the seventh-highest Week 7 ceiling among RB-defense stacks, this combination looks to take advantage of a marshmallow-soft Arizona defense and an offense allowing 3.7 sacks per game and a rookie passer who has thrown four interceptions in the team's three losses this season. The Giants ($3,700 FD/$2,500 DK), by the bye, as three-point home favorites here. Enter Saquon Barkley ($8,600 FD/$8,900 DK): returning from his apparently not so serious ankle injury, the dominant runner gets a crack at an Arizona front seven seeing 28.5 rushes attempted against them on average. Only nine teams have allowed more rushing yardage through six weeks. Barkley's workload isn't in doubt, in case you were wondering. He has 14 and 21 touches in his first two games of 2019, and had 12 touches in the first half of the team's Week 3 game before he left with the injured ankle. Barkley's upside, in part, can be found in his pass game involvement. He had 18 targets in two and a half games before the injury. A mere three backs have a higher Week 7 ceiling than Barkley.
This stack has the eighth highest ceiling among RB-defense stacks for Week 7, per 4for4 projections. I see this as a high variance game that will likely feature a lot of plays—and a lot of chances for weird stuff to happen. That's what we'd need for a defense like New York's to hit their fantasy ceiling.
Frank Gore

/

Bills

Combined percentage of FanDuel salary: 19.2%

Combined percentage of DraftKings salary: 19.0%

If someone would've told me in 2012, when I got my first fantasy writing gig, that I'd be writing about Frank Gore ($6,000 FD/$5,200 DK) as a good and viable fantasy option, I would have told you we definitely exist in a vast computer simulation alongside other simulations, all of which have Frank Gore getting 20 carries at the ripe age of 36.

But how can we not play the lead back on a home team favored by 17 points against a Miami defense allowing 4.7 yards per rush and the second most schedule-adjusted points to running backs? Unless this game goes off the rails early, Buffalo should have boatloads of good game script. While they only run the ball on 42% of their plays in neutral game script, the Bills run the ball on 56% of their plays when leading by at least eight points. Gore, meanwhile, has at least 16 touches in every game over the past three weeks. Even with a slightly healthier Devin Singletary, we can expect Gore to get the lion's share of the carries. The Bills sport this week's second-highest implied total at 28.5 points.

Ryan Fitzpatrick is expected to start this week for the Dolphins, which might make this game more fun—nothing is less fun than Josh Rosen—but comes with serious potential for turnovers, and lots of them. Old Fitzy completed just half his passes and threw four interceptions in two starts to start the 2019 season. Fitzpatrick has proven an interception machine in losses, averaging 1.47 picks in 87 career losses. The Dolphins are giving up a sack on 11.4% of their offensive plays, the third-highest rate in the NFL. There's a reason Buffalo's defense ($5,500 FD/$4,300 DK) is the highest priced option on FanDuel and the second-highest on DraftKings. Not a single RB-defense stack has a higher projected Week 7 ceiling than this one. Find a way to get exposure to Gore and the Buffalo defense and bask in the glow of nonstop positive game script.