TJ's #Taek: Week 5 NFL DFS Recap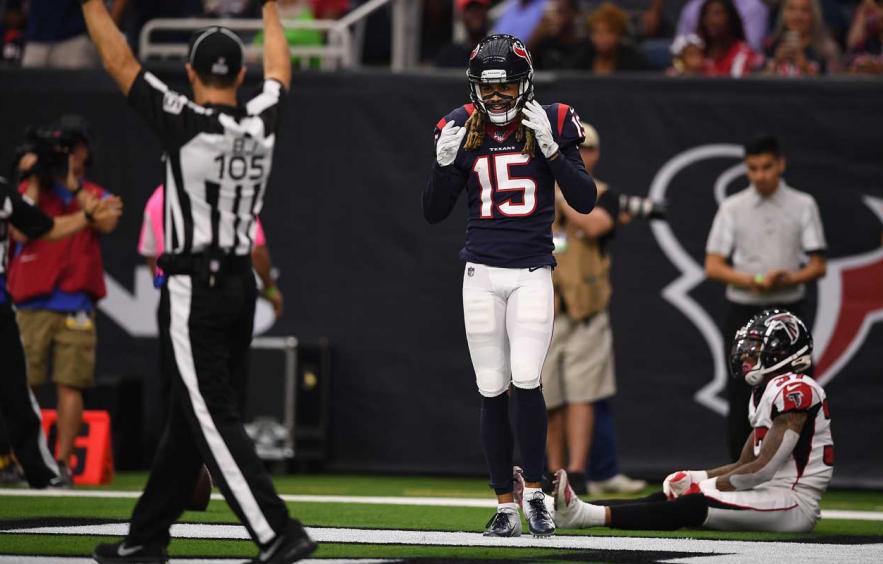 Mark Brown/Getty Images
Week 5's winning lineups from the biggest contests on FanDuel and DraftKings can be used to tease out lineup-building strategies and offer clues on how you could have landed on a similar team. Reviewing your hits and misses each week is imperative if you want to be a profitable DFS player but examining winning lineups is also a useful exercise in cultivating a winning approach.
DraftKings Week 5 Millionaire Winning Lineup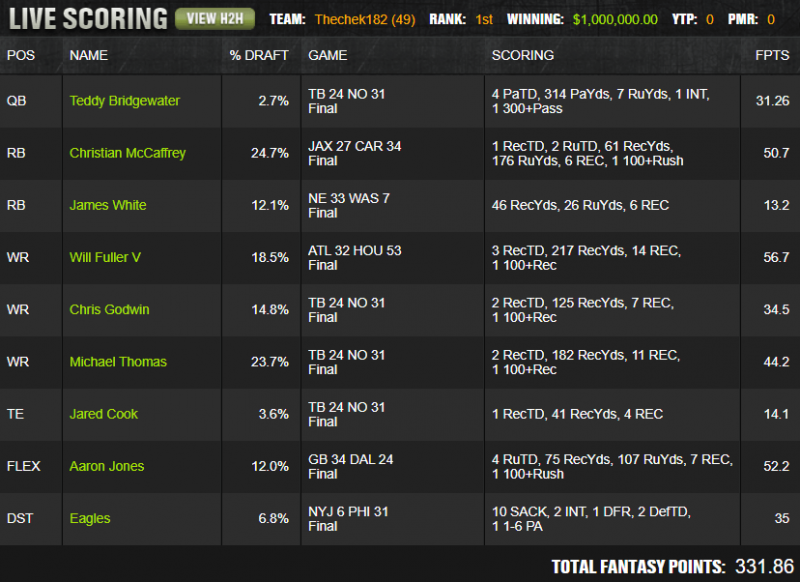 It was the a-chalk-alypse in Week 5 but winning a GPP still wasn't as simple as plying the best values in a lineup. One of the tournament concepts we've been hammering at 4for4 this season has been building a lineup that minimizes the number of times you have to be right. In the case of Thechek182's Millionaire winner, that meant stacking the Saints/Buccaneers game with an emphasis on the New Orleans side. By riding the hot hand of Chris Godwin while also targeting Tampa Bay's vulnerable secondary—the Bucs defense has now allowed four 300-yard passers and six 100-yard receivers, both the most in the league—Thechek182 was able to use Teddy Bridgewater and Jared Cook as necessary differentiation in a lineup with six players in at least 12% of lineups.
The game theory of tournaments can't always be boiled down to previous week targets or fantasy performances—sometimes you need to plant your flag in a game to stack and take the risk on unpopular plays that are on the field. Cook hadn't done much on the field through four weeks but tight end is a wasteland and ownership every week is concentrated around four or five players. With such a rare situation at one position, rostering the tight end in your game stack can make sense from a differentiation standpoint, especially when that player is in an unpopular, cheap pricing tier that will let you load up on an extra stud or two.
FanDuel Week 5 Sunday Million Winning Lineup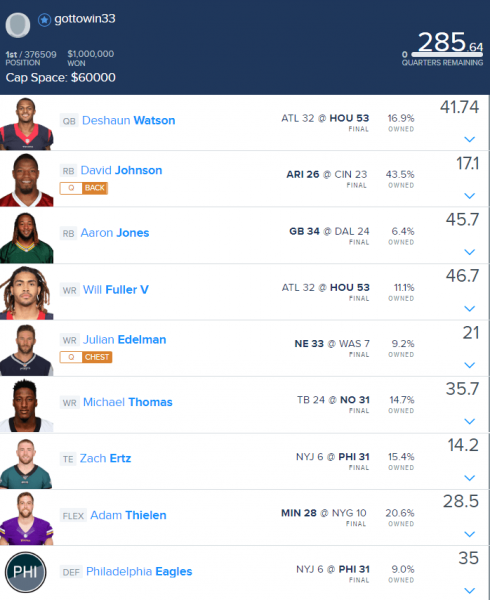 With an average ownership of 16.3% and no players owned in fewer than 5% of Sunday Million lineups, it may not look like there is a lot to take away from this winning, uber-chalky lineup but there are a couple of glaring takeaways I see. The most notable is that while this lineup did have some of the most popular players on the slate, it didn't have the two most popular, namely Christian McCaffrey and Ezekiel Elliott. Winning without McCaffrey's monster day is a nod to the fact that building unique lineups (win maximization) trumps optimization (point maximization) in large-field tournaments. Opting for Aaron Jones over Zeke points out the importance of leverage and benefiting from unlikely events—the Packers were road dogs and Zeke was supposed to have the positive game script, but this didn't come to fruition. Without two expensive running backs, gototwin33 was able to come up with an uncommon build even compared to those who rostered just one high-priced back.
This is only the second time since FanDuel implemented a Flex position at the beginning of last year that a wining lineup used a wide receiver at the Flex position. Given FanDuel's scoring, this is likely still an aberration and your lineups should still be overwhelmingly running back-heavy at the Flex. With that said, there is now enough of a sample that the public is likely aware that the running back in the Flex is the dominant strategy. Add some differentiation to your multi-entry tournaments with some wide receivers sprinkled into your Flex—just don't go overboard. Fading a running back in 10–15% of your lineups should be more than enough.
TJ's Final #Taek
Ever since the sites eliminated the Sunday night game from the main slate, late swap strategy has mostly been swept under the rug but there are still some instances where we should be paying attention to it. In Week 5, there were only two afternoon games and Ezekiel Elliott was the overwhelming most popular play left. Anyone battling at the top of GPP leaderboards had the chance to look at the rosters ahead of them and figure out if there were lineups with Zeke or Aaron Jones left. Those with Zeke on their roster trailing other Zeke owners would have been wise to swap to Aaron Jones, regardless of the outcome—that's the only way to leapfrog those ahead of you.
Keep this in mind in the coming weeks with so many bye weeks coming up, especially if you find yourself with one of the chalk plays left. There are five weeks left with only three afternoon games and two with just two games. All of these slates should have some obvious late swap spots if there is heavy chalk left.