The Top DFS Contrarian Stacks: Week 14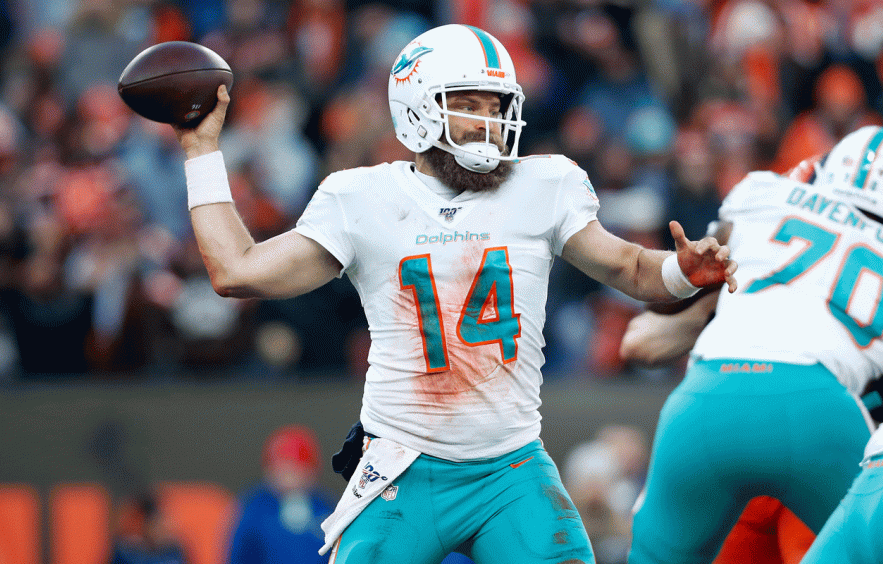 Getty Images
When laying out Week 14 NFL DFS contrarian stacks, I'll be using a combination of our Stack Value Reports and GPP Leverage Scores to find unique stacks that can take down a tournament. I encourage you to read the series on how to win a GPP in the DFS Strategy Hub. You'll quickly realize that taking down a tournament requires a balance of players ranging from low-owned to chalky.
I like building contrarian stacks around my chalkier core of players because you only have to get one instance correct for it to hit. For example, if we hit on a contrarian quarterback play while having a pass-catcher or two from that same game, the positive correlation of those stacks is technically getting one contrarian play correct despite filling multiple roster slots. I feel this is easier than having a chalkier stack while trying to hit multiple individual low-owned plays throughout the rest of your lineup. Keep in mind that these are contrarian stacks, so you don't have to use these stacks in a large percentage of lineups to be overweight on the field. They should be used in tandem with a chalkier core of players.
QB/WR1/Opp. WR1 Stack
QB
Andy Dalton

($5,200 DK/$7,000 FD)

WR

Tyler Boyd

($5,900 DK/$6,300 FD)

WR

Jarvis Landry

($6,500 DK/$7,200 FD)

I don't know if I had the orange and black colored glasses on last week or everyone else just didn't have faith in the Red Rifle. I played two cash lineups and one had Dalton and Boyd stacked. Someone who may not have watched the Bengals game may think Dalton had a pedestrian performance, but the tale of the tape tells a different story. Dalton didn't miss a beat since being benched on his birthday a few weeks ago. In fact, he should have had three touchdowns. I'm not one for "should haves" or "would haves" but both C.J. Uzomah and Tyler Eifert dropped would-be scores in the end zone that they'd haul in 99 times out of 100. This week he'll face a Browns' secondary that ranks 21st in aFPA to quarterbacks. He and Tyler Boyd, who has been targeted 20 times in two weeks since publicly complaining about his workload, make a solid pairing for their price. Boyd notched 100% of snaps this week and 97% last week—he's not coming off the field at all. He accounted for 36% of the Bengals' air yards and 27% of their targets. The Bengals' offense looked in sync with Dalton back under center, but it didn't exactly come through in the box score, which should keep their ownership at bay. Also overlooked is that the Bengals sat on their two-score lead for most of the fourth quarter, not requiring Dalton to throw much at all late into this game. That should be different this week.

Jarvis Landry has been sensational over the past month, yet his price seems to be stuck in neutral. Over the last four games, he has dominated the target share with 30% of the total team targets and 35% of the team air yards. Similar to Boyd, he doesn't come off the field, playing close to 95% of snaps over the last four games as well. The Bengals rank 19th in aFPA to wide receivers, but near the bottom in the league at yards allowed to the running back position. Landry, and this stack in general, is a nice pivot off of what could be a highly owned Nick Chubb. The Bengals have continually allowed running backs to gash them for big gains and big fantasy performances. On rosters in which Chubb is rostered, you are almost guaranteed for Andy Dalton to not be the rostered quarterback as rostering Chubb assumes a run-heavy, big lead game script for the Browns.
QB/WR1/Opp WR1 Stack
QB
Ryan Fitzpatrick

($6,000 DK/$7,400 FD)

WR

DeVante Parker

($6,900 DK/$7,200 FD)

WR

Robby Anderson

($5,100 DK/$6,400 FD)

For the second week in a row Ryan Fitzpatrick and his favorite target Davante Parker grace the contrarian stacks article. You would think that they'd be highly owned coming off a week in which they combined for over 60 DraftKings points, but they've got a big bump in price and many will shy away thinking they've been priced above their ceiling. There is something about Ryan Fitzpatrick when he's clicking. We saw it last year when he replaced Jameis Winston in Tampa, he can rack up the yards both through the air and on the ground in a hurry. He's not afraid to sling the ball into tight windows which creates more opportunities. It often translates into a few turnovers, but we can deal with they aren't too penalizing. Parker is third in the league over the last four weeks in air yards with an average of 125 per game. He owns almost half of the team's air yards over that span as well. More than the stats though, he's been absolutely uncoverable. He's coming out of breaks crisp, beating defenders for 50/50 balls, and flashing his run after catch ability. Hopefully, the price bump for these two will sway players in a different direction. I, for one, think that they are still priced within their range of outcomes. Against a pass-funnel Jets' defense, they should be able to have their way again.

I've dogged Robby Anderson this season, probably said I'd never roster him even, but times they are a changin'. It seems as though the Jets have made it a point to get Anderson more involved. I don't know if it has been a conscious decision made by the coaches or if Darnold just now realizes he has a legitimate downfield threat in Anderson. Over the last two weeks, Anderson ranks fifth in total air yards in the entire league. He's accounted for almost half of the Jets' air yards as well. The Dolphins rank second to last in aFPA to wide receivers. With two very poor secondaries facing off in this game, we could see a sneaky shootout here where both offenses move the ball through the air at will. Anderson, much like Parker, has come up in salary which should keep ownership off him a bit as well.
QB/WR1/Opp WR1 Stack
QB
Deshaun Watson

($6,500 DK/$7,700 FD)

WR

Will Fuller

($5,500 DK/$6,600 FD)

WR

Courtland Sutton

($6,400 DK/$7,300 FD)

If you only account for the games that Will Fuller started and finished, he ranks second in the league in total air yards. We've seen his ceiling, it's half a hundred DraftKings points. Though the Broncos have been solid defensively, he will likely avoid their top shutdown corner, Chris Harris. Additionally, they just lost Derek Wolfe on the defensive line, which is a big loss. The Broncos rank top five in aFPA to quarterbacks and top ten in aFPA to wide receivers, but this is a classic case of believing that defense just doesn't matter. We've seen Watson and this Texans' offense have success against similarly good defenses as they've scored a ton of fantasy points against the Saints in New Orleans and the Patriots last week. Watson can add yards on the ground as well, he's adding what equates to an extra passing touchdown in rushing production. This will be a low-owned stack with a massive ceiling.

Let's run it back with one of the more impressive breakout wide receivers this season. Sutton looked unstoppable last week against Casey Hayward, one of the more feared cover corners in football. The Texans rank bottom five in aFPA to wide receivers and bottom five in passing yards allowed. If this game turns into a shootout, Sutton will most likely eclipse his season average in targets of 7.6. The redeeming aspect of Sutton is that he has such high touchdown equity that he can hit value on low volume. Last week against the Chargers, he saw his lowest target total of the year, but turned in one of his best performances from a fantasy standpoint thanks to his ability to win jump balls in the end zone. This seems like one of those stacks that involves good players that just so happened to be going low owned. Often times I think we try to hard to find low-owned players and end up rostering bad players. That's not the case here.