TJ's #Taek: Week 13 NFL DFS Recap
Eric Espada/Getty Images
Week 13's winning lineups from the biggest contests on FanDuel and DraftKings can be used to tease out lineup-building strategies and offer clues on how you could have landed on a similar team. Reviewing your hits and misses each week is imperative if you want to be a profitable DFS player but examining winning lineups is also a useful exercise in cultivating a winning approach.
DraftKings Week 13 Millionaire Winning Lineup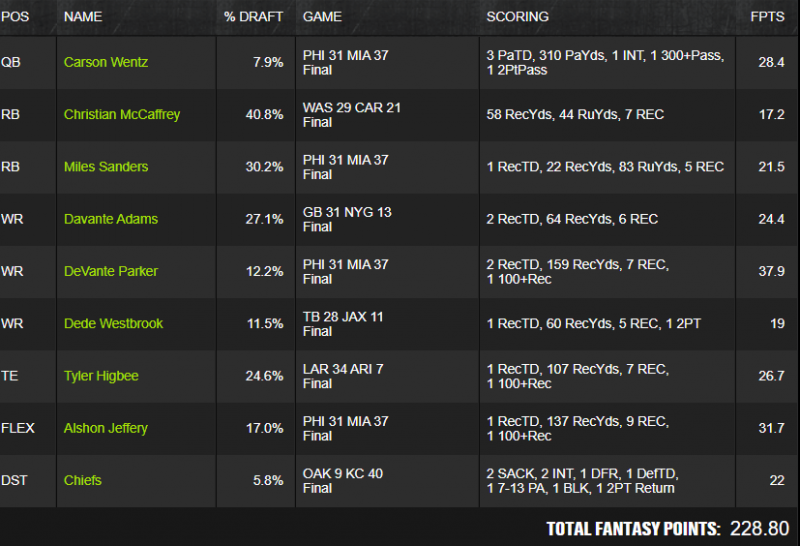 The chalk hit hard in Week 13 with the winning lineup carrying an average ownership of 19.7%, by far the highest we've seen this season. The players in this lineup were so popular that the first-place prize was split between two players. The only players owned in fewer than 10% of lineups were quarterback and defense, positions where anything over 5% ownership is somewhat high. Maybe the most interesting thing about this lineup was the fact it had no players from the Chiefs—the team with the highest implied point total—except for their defense. This was possibly a reaction to Sunday morning weather reports that predicted high winds, which often has a negative impact on the passing game and, ultimately, fantasy production. In almost any other scenario, rostering a $10,500 player who only produces 17.2 points is going to kill any chances of taking down a GPP but with ownership above 40%, Christian McCaffrey's average day was not a death blow. Considering McCaffrey's ownership should be considered when deciding whether to pay up for him, not because you might want to fade him, but because you might be okay with an average performance if his ownership remains this high even in the largest contests.
FanDuel Week 13 Sunday Million Winning Lineup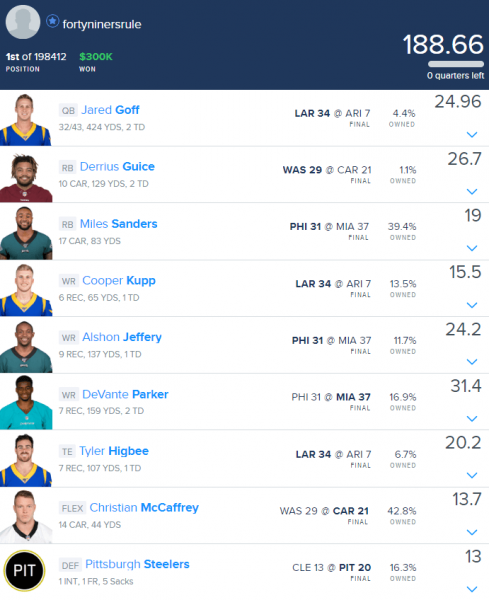 Again, this was a fairly chalky lineup with an average ownership of 17%, the third-highest from a Sunday Million winner this season. It wasn't a huge surprise that Jared Goff carried a sub-5% ownership despite the great matchup given his struggles in the previous three games. What is noteworthy is how price-sensitive the crowd was to Tyler Higbee, who was expected to see an increased workload with Gerald Everett against the worst tight end defense in the league. As a free square on DraftKings, Higbee was in nearly a quarter of Millionaire lineups but his TE9 price tag on FanDuel was too high for 97% of the field. If similar situations arise moving forward, that could be a trend to look to exploit.
Landing on Derrius Guice as a 10-point underdog would have been a tough sell to anyone going into the week but there may have been some merit to predicting a big day regardless of game flow. One of the most overlooked injuries of the week was the loss of Dontari Poe, one of the best run-stoppers in the league. I mentioned it in a breakdown but failed to account for the possibility of a big game from Guice.
TJ's Final #Taek
It's the time of year where the weather can have a serious impact on fantasy football but it's especially important to understand the effects weather can have on football and apply those lessons correctly. Fellow 4for4 scribe Chris Allen has done extensive work on how weather impacts fantasy football so I reached out to him for some insight. Here's what he shared.
Heat

The concern here gets into sports science and playing at high temperatures. Research highlights the risk of heat cramps, heat exhaustion and heat stroke due to the body's inability to maintain its core temperature. Muscle cramps from loss of sodium via sweating are possible requiring frequent hydration. If these temperatures hold throughout the game, don't be surprised to see players frequently pulled to rest, stretch and maintain proper fluid levels throughout the game. Using game totals since 2003, we can see how this has impacted games.

| Temperature | Games That Hit the Over | Pass Attempts Per Game |
| --- | --- | --- |
| 80-85 | 51% | 68.8 |
| 85-90 | 46% | 68.8 |
| 90-95 | 47% | 65.4 |
| 95-100 | 33% | 59.3 |
| 100 | 0% | 57.5 |

We saw this in Week 1 as Mike Evans' illness combined with the heat exacerbated the symptoms. In Week 2, New England was spotted using makeshift tents to combat the Florida heat.

Rain

It's not that rain will be present, but how much rain. From a historical perspective:

| Condition | Games That Hit the Over | Pass Attempts Per Game |
| --- | --- | --- |
| Mist | 35% | 86.5 |
| Light drizzle | 33% | 68.0 |
| Light rain | 37% | 69.9 |
| Rain | 25% | 60.1 |
| Heavy Rain | 75% | 79.5 |

Also, defining how much rain (precipitation rate) is equally important.

| Condition | Precipitation (inches per hour) |
| --- | --- |
| Light Rain | .01 - .1 |
| Moderate | .1 - .3 |
| Heavy Rain | >= .3 |

Light rain has lead to unpredictable events occurring on the field. Examples include:

Andy Dalton was intercepted as the ball slipped from his fingers in Week 1
Tyler Boyd slipped on the turf negating a touchdown. Also Week 1.
Chris Carson fumbling in Week 3. The slippery turf was a noted factor during his bad day that went to worse as he fumbled for the third time this season.
More slips and fumbles in Week 7 in Seattle. Seattle's broadcast began with the field under a constant drizzle. It led to slips and a fumble changing the tide of the entire game.

Moderate-heavy rain has produced two low scoring games.

WAS/SF – 0.1 inches per hour throughout the game–9 total points scored.
BAL/SF – 0.1 inches per hour throughout most of the game–37 total points scored, less than 300 yards total passing and 56 rushing attempts across both teams.

Wind

Historical trends have shown that wind speeds over 15 MPH cause the greatest impact on passing volume.

| Wind speed | Pass Attempts |
| --- | --- |
| 0–5 | 69.1 |
| 5–10 | 68.8 |
| 10–15 | 68.7 |
| 15–20 | 65.6 |

On top of that, concern over wind has two components: speed and direction. Stadium design also plays a role. The relative heights have been able to mute most of the effects as seen in Cleveland in Week 10 where the wind speed was 20 MPH. That, however, didn't happen in New England as their open section towards the back of the stadium has caused issues on the field as seen in Week 6.

Three of four wind games hit the under in Week 13 (NYJ/CIN, TB/JAX, KC/OAK).
Four games had their game totals drop in that same week by a point or more (KC/OAK dropped by 4.5).
Average depth of target and completion rate reduced for Wentz and Allen in Week 8 with rain and wind.

Cold

There's not really a huge impact, but it has been shown to cap passing games.
For DFS purposes, I see two especially actionable pieces of information—we will ignore the impact of high temperatures for now.
Light rain might produce a greater opportunity to capitalize from a fantasy perspective than heavy rain. My hypothesis here is that teams are still going to try to run out their game plan when it isn't pouring, which is why we see the unpredictable events compared to heavy rain where teams seemingly run more and scores are lower. In those light, but consistent rain games, we might find some under-the-radar fantasy defenses.
Wind is the enemy of fantasy and we usually get an indication from Vegas. Maybe the best way to capitalize on these situations is to fade potent offenses while hard-nosed set-it-and-forget-it types hold onto the hope that their favorite high-powered offense can out-throw the elements. The Kansas City game was the most obvious example in Week 13.
Keep these factors in mind over the final month of the season.