Potential Tackle Share Leaders in IDP Leagues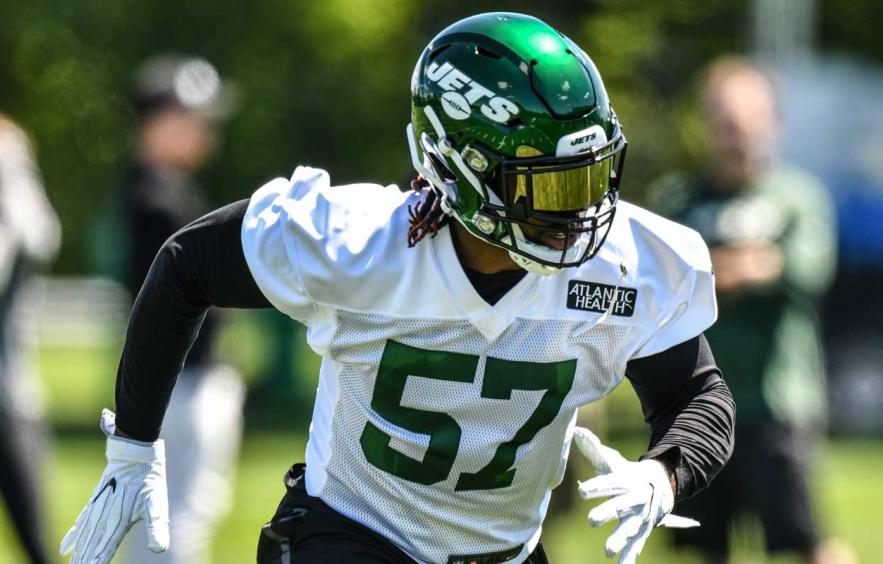 Mark Brown/Getty Images
As much as I love watching a QB get a good clean hit put on him, I'm all about the tackles. Tackles are predictable, as opposed to sacks or interception. I know linebackers or in-the-box safeties are going to rack up tackles quicker than Disney's box office numbers. Okay, maybe not that that quick. But linebackers—especially off-ball linebackers—are in position to make plays.
This offseason, there was a bit of movement at the linebacker position. I'm going to look at a few linebackers who could lead their new teams in tackle share for the 2019 season. Tackle share is determined by the player's total tackles divided by the total number of team tackles.
Below is the table with the projected tackle share leaders this season. You'll find analysis for the linebackers who've signed with new teams.
2019 Tackle Share Leaders

| Team | Player | Projected Team Tackles | Projected Tackle Share |
| --- | --- | --- | --- |
| Cardinals | Jordan Hicks | 865 | 14.4% |
| Falcons | Deion Jones | 925 | 14.6% |
| Falcons | Keanu Neal | 925 | 13.0% |
| Ravens | Patrick Onwuasor | 875 | 12.0% |
| Bills | Tremaine Edmunds | 900 | 15.0% |
| Panthers | Luke Kuechly | 910 | 15.4% |
| Bears | Roquan Smith | 900 | 14.0% |
| Bengals | Nick Vigil | 940 | 11.2% |
| Browns | Christian Kirksey | 900 | 13.3% |
| Cowboys | Leighton Vander Esch | 940 | 15.4% |
| Cowboys | Jaylon Smith | 940 | 12.8% |
| Broncos | Todd Davis | 930 | 12.0% |
| Lions | Jahlani Tavai | 880 | 11.4% |
| Packers | Blake Martinez | 890 | 15.2% |
| Texans | Zach Cunningham | 915 | 12.3% |
| Texans | Bernadrick McKinney | 915 | 11.6% |
| Colts | Darius Leonard | 935 | 16.0% |
| Jaguars | Myles Jack | 925 | 14.1% |
| Chiefs | Anthony Hitchens | 960 | 13.0% |
| Chargers | Jatavis Brown | 920 | 11.4% |
| Rams | Cory Littleton | 915 | 14.8% |
| Dolphins | Jerome Baker | 945 | 12.2% |
| Vikings | Eric Kendricks | 945 | 12.2% |
| Patriots | Jamie Collins | 875 | 10.6% |
| Saints | Demario Davis | 910 | 13.4% |
| Giants | Alec Ogletree | 975 | 12.0% |
| Jets | CJ Mosley | 945 | 13.8% |
| Jets | Jamal Adams | 945 | 12.5% |
| Raiders | Jonathan Abram | 920 | 12.5% |
| Raiders | Vontaze Burfict | 920 | 11.4% |
| Eagles | Nigel Bradham | 890 | 12.5% |
| Steelers | Devin Bush | 905 | 12.7% |
| 49ers | Kwon Alexander | 930 | 14.0% |
| Seahawks | Bobby Wagner | 945 | 15.3% |
| Buccaneers | Lavonte David | 930 | 13.7% |
| Titans | Jayon Brown | 960 | 11.7% |
| Redskins | Landon Collins | 965 | 12.5% |
| Redskins | Jon Bostic | 965 | 9.8% |
Arizona
Cardinals
Jordan Hicks was brought in during free agency and the Cardinals were extremely generous with the contract, giving a four-year deal to a guy who's played in 43 of a possible 64 games since 2015. In his two healthier seasons, Hicks has managed a 10.6% tackle share among Eagles linebackers. Now that he's in Arizona, there is very little competition for tackles. Antoine Bethea, who led Arizona in tackle share during the 2018 season (12.3%), leaves open 140 tackle attempts.
Hasson Reddick is playing on the edge in their 3-4 and the only other ILB on the roster right now is Joe Walker. Budda Baker was responsible for 10.2% of the total tackles, however, as long as Hicks stays healthy, he should eclipse the 115-tackle mark. I'm projecting the Cardinals defense to record around 865 total tackles, with Hicks responsible for 14.4% of the total.
Atlanta
Falcons
This one should be obvious: Deion Jones. The Falcons were without their two biggest playmakers for most of the 2018 season in Jones and Keanu Neal. Jones held a 15.2% tackle share in 2017, while Neal held his own with a 12.5% share. Last season, it was an LBBC (Linebacker By Committee) approach—De'Vondre Campbell was responsible for 10% of the tackles over the course of 899 defensive snaps. As we head into 2019, Jones is the alpha at the linebacker position and Neal should be a great complement—Campbell shouldn't be a consideration in IDP leagues this season.
I have the Falcons projected for 925 total tackles and Jones should hit the 135 tackle mark in a full season, resulting in a 14.6% tackle share. Neal won't be too close behind— he's projected for nearly 13% of Atlanta's total tackles.
Baltimore
Ravens
This one is going to be tricky. Normally, I wouldn't have to write anything as it'd be C.J. Mosley. However, Mosley signed a lucrative deal with the Jets and leaves a gaping hole in the middle of the defense.
Over the last two seasons, Mosley has been responsible for 14.2% of Baltimore's tackles. Now that he's out, he's leaving open nearly 130 tackle attempts. Patrick Onwuasor saw a steep 39% decline in tackle production from 2017 to 2018, thanks in part to a rotation with Kenny Young. That decline in production is right in line with his drop in playing time, seeing a 33% decrease in snaps.
Onwuasor has been tabbed as one of the leaders of the defense and is the early favorite to call the plays, which bodes very well for his IDP value in 2019. I have the Ravens projected for 875 tackles with Onwuasor leading the flock with a 12% tackle share. Onwuasor is the Raven ILB I'm targeting.
Jacksonville
Jaguars
Telvin Smith's shocking announcement that he was sitting out 2018 left IDP Nation aghast. It also left Jacksonville scrambling, but we only care about our fantasy rosters here.
Last season, Smith was responsible for 16.2% of the defense's tackles and his absence leaves open around 160 total tackle attempts to spread around. Myles Jack, when the carcass has been ravaged, will end up with lion's share of the tackles. Jack has been inefficient since becoming a three-down linebacker, producing a 9.7% tackle rate since 2017. That said, you can't ignore Jack's usage: 2,037 snaps in two seasons. He's not going to leave the field, and without Smith, he's going to have the opportunity to make a plethora of tackles.
Although I don't think Quincy Williams will lead the Jags in tackles, he's someone who should be on your radar as an LB4. Jack is the undisputed LB1 and your first target. I project Jacksonville to record 925 tackles with Jack garnering a 14.1% tackle share.
New York
Jets
This situation can be compared to a team running out two productive running backs. It's fine to own either, as both should receive significant snaps.
After bringing in Avery Williamson last season, the Jets signed the top free agent off-ball linebacker in C.J. Mosley. Willamson and Jamal Adams shared a virtual tie in tackle share—Willamson edged Adams out with a 13.4% share. This defense should allow three 100-tackle defenders.
Mosley would be my primary target of the defense. I'm projecting the defense to record 945 tackles and Mosley should be responsible for most of the tackles, resulting in a 13.8% tackle share. Jamal Adams won't be too far behind.
Update 8/20/2019: Avery Williamson is, unfortunately, out for the year with a torn ACL. Jamal Adams should step up and should be right alongside Mosley as one of the Jets' leading tacklers.
Oakland
Raiders
On the surface, it looked like Jon Gruden and Mike Mayock picked up every free agent linebacker. When free agency slowed down, they added Vontaze Burfict and Brandon Marshall to go along with last season's tackle share leader, Tahir Whitehead.
Whitehead was responsible for 14.6% of Oakland's tackles in 2018. With the recent additions, Whitehead may not even be a starter. Marshall and Burfict will be factors to man the middle and weak-side, along with Whitehead. Whitehead played on all but one snap last season, so it would be curious to see a decline in volume. With these three linebackers in place, it's possible the Raiders run with three on the field the majority of the snaps.
Of Marshall, Burfict and Whitehead, I'd project Burfict to lead the group in tackles, however, I see Jonathan Abram leading the defense in tackle share. Oakland declined Karl Joseph's fifth-year option, so he's looking more like a depth piece at this point. As long as Burfict stays out of trouble and limits the dirty plays to a minimum, he'll amass 100 tackles. Abram is going to be an in-the-box presence. I'm projecting the Raiders to record 920 tackles and Abram looks to lead the way with a 12.5% share. Burfict shouldn't be too far behind at 11.4%.
Philadelphia
Eagles
The Eagles allowed Jordan Hicks to go to Arizona in free agency and there could be a new face at MIKE in the city of brotherly love.
Nigel Bradham spent most of his offseason workouts nursing a hand injury. Upon Zach Brown's release from Washington, the Eagles picked him up off the wire and it was assumed he was going to man the middle, but Bradham appears to be first in line at the job with Brown manning the SAM role. Kamu Grugier-Hill isn't going away, however. He's pushing Brown and he could be the one coming off on sub packages, as Philly typically uses two linebackers roughly 75% of the time.
I project the Eagle defense to accumulate 890 tackles this season. If Bradham secures the MIKE role, he should reach the 100-tackle mark. Bradham's usage won't be in question, as he's been on the field for over 900 snaps in three-straight seasons. Bradham looks set to lead the Eagles in tackle share at 12.5%. He's the one I'm targeting deeper in the draft.
San Francisco
49ers
There was a bit of shuffling at the linebacker position, starting last season with the release of Reuben Foster in November.
Fred Warner emerged as a tackle machine for the 49ers defense and led the defense in tackles with 123, resulting in a 13.6% tackle share. Warner was shaping up to be the team's leader in tackles until free agency began. John Lynch and Jed York opened up the checkbook and signed Kwon Alexander to a four-year, $54 million deal, a risky contract for someone coming off a torn ACL.
Alexander is practicing in pads which is a great sign. Alexander is going to man the middle of the defense, with Warner playing outside as the weak-side linebacker. I'm projecting the 49ers to record 930 tackles, and as long as the injury bug stays away, Alexander should be responsible for making the majority of the tackles. I'm projecting a 14% tackle share for Alexander and he'd be the first San Francisco linebacker I target.
Washington Redskins
This linebacker unit is shaping up to be quite the IDP dumpster fire this season. Mason Foster and Zach Brown are gone. Reuben Foster was brought in last season, however, he's already out for the season with a torn ACL. You might want to have numbers from the DC area unblocked—you could be asked to come in for a linebacker tryout.
Foster led the Redskins in tackle share last season, as he was responsible for 13.9% of the tackles. Now that he's gone, Jon Bostic was brought in to be a veteran presence to the linebacker room and is already looking like one of the favorites to start and receive significant snaps. Shaun Dion-Hamilton is also working with the first-team defense. I don't think the tackle share leader is coming from the linebackers. It's going to be free agent signing, Landon Collins.
Collins is going to spend the majority of his snaps up near the line of scrimmage to try and mask some of the deficiencies at linebacker, a role he's accustomed to from his time with the Giants. Collins was the Giants' tackle share leader from 2015–2017 before a shoulder caused him to miss the final four games.
Collins will be playing with a chip on his shoulder and gets his former team twice. I'm projecting the Giants to record 965 tackles with Collins leading the way with a 12.5% tackle share. The only linebacker I'm targeting is Jon Bostic, especially if he wears the dot (the communication device).