Joe Mixon: From Good to Elite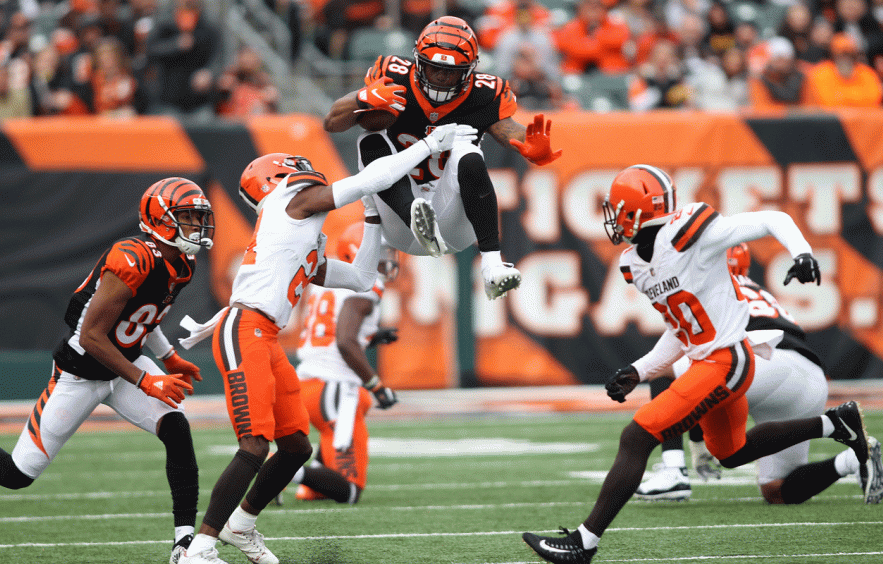 John Grieshop/Getty Images
No pun intended, but running backs usually hit the ground running. The top five fantasy backs last year all had stellar rookie seasons, including Saquon Barkley, who was a rookie last year. Usually, when a running back takes a while to produce, it's because of an injury (Melvin Gordon), or a crowded depth chart (James Conner). This is why it feels odd to be falling in love with Joe Mixon.
Mixon has been a good fantasy back through two years in the league. He was 10th among running backs in PPR formats last season, and he gained 913 yards from scrimmage sharing time as a rookie. He hasn't yet taken the leap to great, however, partially due to injuries, partially due to the depth chart in Cincinnati and partially because of the offense he's in.
This year, with each of the above factors improving, I fully expect Mixon to take that leap from good to elite.
New Offense
Mixon will enter his third season with a new coach and a new offensive system. After two seasons under a defensive-minded coach, Mixon will get the opportunity to work with new head coach Zac Taylor (36), known as a quarterback guru. He guided Ryan Tannehill's early development and was instrumental in Jared Goff's progression as quarterbacks coach with the Rams the last two years under Sean McVay. The Bengals hired Brian Callahan (35 when the season starts) as their new offensive coordinator. Callahan cut his teeth with the Broncos during the Peyton Manning years, then got to work as a quarterbacks coach during the Jim Bob Cooter years in Detroit before joining Jon Gruden in Oakland last season.
Two young, offensive-minded coaches should be a welcome change for a Bengals offense that finished 26th in yards and 17th in points last season. Todd Gurley was extremely active in the passing game the last two seasons, with 168 targets and 123 receptions during that span. Taylor saw first-hand the impact a talented pass-catcher out of the backfield can have and Mixon should get every opportunity to see his work in the passing game increase.
Callahan also has experience around pass-catching backs. Theo Riddick has been a prominent fixture in the Detroit passing game for years, and Jalen Richard was targeted 81 times last year with Callahan on staff. While it may be a bit concerning that Callahan hasn't been around a main back as the primary pass-catcher, he also hasn't been around a back nearly as talented as Mixon.
This offense may succeed, or it may not. It may lead to wins, or it may get both coaches run out of town. But one thing it will definitely do is provide ample opportunity to catch balls out of the backfield. Mixon's targets went from 34 in 2017 to 55 last year, and another jump to 80 targets seems very reasonable in this offense.
Protection
The Bengals prioritized blocking up front in free agency and the draft. While they got excellent seasons out of rookie center Billy Price and long-time stalwart Clint Boling at left guard last year, they struggled on the right side of the line. Free agent acquisition John Miller was brought in from Buffalo to provide an upgrade at right guard over Alex Redmond, who struggled last season, and the Bengals drafted Jonah Williams in the first round out of Alabama. Williams is a mauler who could start immediately at either tackle or guard, and early rumors have him moving to left tackle. If that happens, last year's blind side starter Cordy Glenn would move to the right side. Right tackle Bobby Hart returns, but he may be pushed by Glenn or Miller during camp. Either way, if Williams can be as good as projected, this offensive line could become excellent in a hurry.
In addition to the upgrades along the line, the Bengals used a second-round pick on tight end Drew Sample out of Washington. Sample has the ability to catch the ball as a third or fourth read, but he'll be primarily used as a blocker. He might be the best blocking tight end in this draft class and he was instrumental in paving the way for Myles Gaskin last year, who ran for 1,268 yards and 12 touchdowns on 4.9 yards per carry. In 2018, the Rams threw to the tight end a mere 14.96 percent of the time – fifth-least in the NFL – and it's likely Taylor will count on Sample to stay in-line to block.
Workload
Mixon is far and away the best back in Cincinnati. While Giovanni Bernard has more of a pass-catching pedigree and may be more in line with what Callahan has had to work with in the past, he's been hobbled by injuries in two of the past three years and is likely to play more of a supplemental role than be an actual threat to Mixon's workload.
Sixth-round rookies Trayveon Williams and Rodney Anderson have explosive talent, but Williams looks like a backup and Anderson had severe injury issues in college. Neither are likely to challenge for anything more than a backup role. If anything, they may push Bernard. Mixon was the running back of choice on nearly 75% of Bengals run plays last season, and that doesn't seem likely to change.
Mixon's 237 rushing attempts ranked eighth in the league last year, and he finished fourth in rushing yards with 1,168. This was despite the Bengals ranking 26thin first downs. If Taylor and Callahan can lead the offense to even an average finish in drive sustainability, then Mixon should be able to get in the top five in attempts. If he carries the ball even 15 more times and gets above 250, to go with 80 targets, he'll be an elite fantasy back by sheer volume. If the Bengals offense improves, so should Mixon's red zone opportunities, and he runs with enough power to avoid being pulled in goal-line situations.
Talent
Mixon is just flat out talented. During the 2017 draft, I wrote:
"Based on talent alone, Mixon might be the second-best running back in this class. He has the ability to make big plays, hits holes with conviction, and gets from the first to the third level of a defense in a flash. Mixon is an all-purpose back who can line up in the slot, run up the middle, and even help in the return game."
He's shifty, powerful and has excellent vision. Last season, he got the opportunity to show what he could do, and he should continue to improve this season.
Bottom Line
Mixon is going in the early-to-mid second round in most redraft leagues right now, and we have him ranked right around RB10, depending on the scoring. He looks like incredible value at these positions and I'd much rather gamble on him taking another step than take on the risks associated with Todd Gurley, LeVeon Bell and David Johnson, who are all going in the first round.
Be the person who takes Mixon in the second round as your RB1 and enjoy a season of top-five production in what looks to be a break-out year.