FanBall Week 3 AAF Breakdown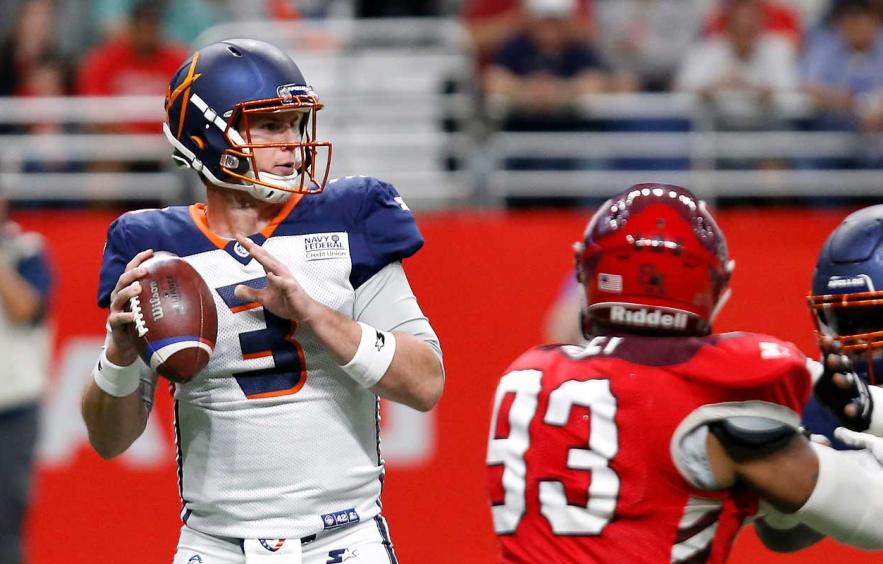 Edward A. Omelas/Getty Images
Patrick Allen is currently a student at CSUF transitioning fully into playing DFS and sports betting. Pat started playing fantasy football in 2008 and began playing DFS in 2016 and owes his quick rise to success to 4For4. Pat uses critical thinking and his ability to analyze situations from a macro and micro perspective to garner success in DFS.
---
Note: All stat lines reference the previous week's game, unless otherwise noted. If there is no injury news about a team, the team has not released injury reports to the public/beat writers so be sure to check back for updates as injury news continues to be released closer to lock!
Arizona Hotshots (-5) vs Salt Lake Stallions (+5) O/U 44
Week 3 will kick off with arguably the second-best game in the short history of the AAF in a rematch of Week 1 with the Hotshots and the Stallions. The first game to hit the over in AAF history, we can expect this one to have a decent amount of scoring but after seeing Hotshots QB John Wolford struggle a bit last week, we have to temper expectations and wonder if Salt Lake will be able to capitalize on what they saw Memphis do.
Hotshots Running Game
From a fantasy perspective, the Hotshots running game was a hot mess last week. Jhurrell Pressley (12 car, 57 yds, 4.8 yds/car) was on pace to have a demanding touch share but ceded work in Week 2 to fellow RB Tim Cook (13 car, 73 yds, 5.6 yds/car, 1 tgt, 1 rec) with the latter leading the team in touches with 14 last week. To support Pressley's case, he still leads the backfield with four red zone touches on the team, which is twice as many as everyone else on the team combined. To wrap up the rushing attack, Justin Stockton (7 car, 25 yds, 3.6 yds/car, 1 TD) will garner attention this week given that he was the only back to get into the end zone last week, but he could very well be going straight back to the bench if Larry Rose is active this week.
Hotshots Passing Game
Last week, we got a hint of why John Wolford belongs in the AAF, and a hint of why he shouldn't be in the AAF. After being stunned in the first half by Mike Singletary's defense, Wolford managed to finish with a somewhat respectable passing line: 14/22, 194 yds, 8.8 yds/att, 2 TD, 2 INT. Against the Stallions in Week 1, Wolford completed 62% of his passes for 275 yds, 4 TDs, and two 2-point conversions.
In their Week 1 matchup with the Stallions, the receiving game was led by WR Rashad Ross (5 rec, 7 tgts, 103 yds, 2 TDs) and TE Gerald Christian (3 rec, 4 tgts, 44 yds, 1 TD) as well as being supplemented by WRs Josh Huff (1 rec, 5 tgts, 5 yds) and Richard Mullaney (5 rec, 5 tgts, 57 yds). However, in Week 2 Josh Huff led the team in receiving after a broken play helped him muster a line of 2/84/0 on four targets with 50 of those yards coming after the catch. Ross, who put up a stellar line of 4/67/1 on four targets, remains the bonafide WR1 in this offense and his "disappointing" line in Week 2 was a product of the Express selling out to stop him.
To wrap up the passing game for the Hotshots, the Stallions have given up seven catches on eight targets for 86 yards, one TD and one 2-point conversion to opposing tight ends so we can expect Gerald Christian to play a solid role in this offense this week.
Stallions Rushing Game
The Hotshots got blown up on the ground last week by Zac Stacy and co. as Memphis was able to put up an astounding 175 yds on 39 rushing attempts for 4.49 yds/carry.
Through two weeks, the touch share counts for the Stallions is as follows:
Although Bouagnon and Oliver have a seemingly huge share of the backfield, Asiata is the team's designated TD vulture with one TD on two touches inside the 5-yard line.
Stallions Passing Game
The Stallions passing game experienced a decent amount of success in Week 1 versus the Hotshots but stalled as expected versus the vaunted Birmingham defense along with an injury to QB Josh Woodrum. Austin Allen filled in and was just about as effective as you'd expect an AAF backup QB to be, completing 15 of 31 pass attempts for 114 yards and a paltry 3.7 yds/att. Coupling the play of a backup with the defense of the Iron and the receiving game wasn't effective at all with De'Mornay Pierson-El leading the team in receptions and yards totaling 4 and 28 respectively.
Last week's target counts are as follows:
Pat's Thoughts
Wolford ($6,800) will be one of the best plays on the slate as he and Gilbert have separated themselves to show they're a full tier above all the other QBs in this league. Ross ($6,900) will undoubtedly be the highest-owned receiver of this bunch with Huff ($5,800), Mullaney ($4,400) and Christian ($3,500) looking to be quality pivots. We're bound to see TD regression for Ross as we can expect the Stallions to stop him at all costs this time around. With the Stallions allowing so much production to the TE position, Christian would be my favorite pick here price considered as well. RB Jhurell Pressley ($5,400) saw his price decrease along with his workload, causing me not to be as high on him as I was last week, but his talent and explosiveness are too good for that price.
On the Stallions side I'll be avoiding the run game for the most part but if QB Josh Woodrum ($5,200) plays, I'll look to stack him with TE Anthony Denham. Other than that, the Stallions side seems too hard for me to figure out for me to fill a roster spot when there are more sure spots across the slate.
Memphis Express (+15) vs Orlando Apollos (-15) O/U: 45
Memphis Running Game
The Memphis running game is headlined by Zac Stacy (19 car, 101 yds, 5.3 yds/car, 1 TD) who last week broke out as the first AAF player to rush for 100 yards. Singletary has shown two weeks in a row that he will rely heavily on his run game and let his defense do the work (but I mean who wouldn't when they have Christian Hackenberg at QB).
Through Week 2, the running game has been the Zac Stacy show as he leads the backfield with a 56% touch share and six touches in the red zone. The next two backs in Terrence Magee and Raijon Neal are both on a short leash as we saw Neal get pulled for Magee last game—their production is not worth the risk of rostering either player.
Memphis Passing Game
As mentioned above, Singletary is determined to establish the run and allow his defense to do the work on the other side. Old school smashmouth football, and it's worked—to an extent. The Memphis passing game has been everything but impressive. Through two weeks of football, Hackenberg has passed for merely 230 yards and 1 TD (he rushed for another TD last week as well) to WR Fabian Guerra (3 rec, 4 tgts, 1 TD). If the game gets out of hand, I'd hope that Singletary will move to the pass, but with Hackenberg, we can only expect limited effectiveness. That being said, no WR has received consistent targets over the past two weeks but it should be noted that Fabian Guerra has the easiest matchup on paper lining up against Apollos slot CB Bryce Canady who PFF grades out to a 41.7 coverage grade as he's allowed a catch rate of 80% through two weeks.
Orlando Running Game
Through Week 2, Akeem Hunt has lost his starting running back role and ceded it to former New Orleans Saint D'Ernest Johnson (8 car, 57 yds, 7.1 yds/car). Johnson was an incredibly efficient back last week averaging 7.1 yds/car and 7.0 yds/car in Week 1. Johnson's efficiency will be needed to put up numbers in this offense as the Apollo hardly choose to go to the ground (through Week 2, the Apollos have only rushed the ball 34 times).
Orlando Passing Game
Last week, presumed AAF MVP candidate Garrett Gilbert again put on a display for the ages, completing 19 of 28 passes for 393 yards, 2 TDs, and one 2-point conversion while averaging a league-high 14 yds/att. He'll be going up against a better defense on Saturday in the Iron who have already contained John Wolford and Co. for at least a half of football, but this offense has so much talent in the receiving corps that Gilbert should still be a good candidate to have a field day.
Against the Commanders last week, the receiving corps was led by Charles Johnson (7 rec, 10 tgts, 192 yds, 1 TD), Jalin Marshall (3 rec, 4 tgts, 84 yds, 1 TD) and slot man Ranell Hall (2 rec, 4 tgts, 19 yds, 1 2-point conversion). There's no reason we should expect it to be any different this week as these guys have proven they are far and away the best athletes on this side of the ball for the Apollos. It should be noted that we should expect Hall to be used a little more as he has the most favorable matchup against Memphis slot corner Terrell Bonds, who PFF grades out at 35.1 and currently allows an 80% catch rate. Singletary should be scheming on how to stop the Johnson and Marshall show.
Pat's Thoughts
Friends don't let friends play Christian Hackenberg ($5,300), but friends do let friends play RB Zac Stacy ($7,100). Stacy is one of the most reliable backs in the league right now when it comes to workload and it's evident Singletary will continue to lean on the run game to correlate with his defensive coaching tendencies.
On the Orlando side, the running game is too hard to trust just going off head coach Steve Spurrier's tendencies through two weeks. Garrett Gilbert ($7,300) will once again be the highest-owned QB this week despite his price. As Gilbert continues to separate himself from the average AAF talent, his price will be a lot harder to stomach, especially if you want to stack him with his favorite receiver, Charles Johnson ($7,400). I'll be looking for Singletary to stop Johnson at all costs so I'll more than likely be pivoting my Orlando shares to lesser owned WR Rannell Hall ($4,300) and the slightly more popular Jalin Marshall ($6,500).
Birmingham Iron (-7) vs Atlanta Legends (+7) O/U: 39
Birmingham Running Game
The Iron undoubtedly have the most talked about running game in the AAF as their backfield is headlined by former NFL and CFL RB Trent Richardson (19 car, 41 yds, 2.2 yds/car, 6 rec, 7 tgts, 1 TD). Richardson is the undisputed workhorse back, amassing 42 carries over the last two weeks. Although highly inefficient (averaging 2.4 yds/car), the Iron depend on the run game when they get to the red zone which provides great upside for Richardson. Outside of Richardson, we have Ladarious Perkins (2 rec, 2 tgts, 5 yds) who has replaced Richardson after a fumble. It should be noted that Perkins is more of a spark plug third-down back and throughout this season has shown that running between the tackles isn't his strong suit.
Birmingham Passing Game
If I told you the QB for the Iron was going to become a professional bowler before playing football at the DII level would you believe me? That's Luis Perez (24/38, 184 yards, 4.8 yds/att) in a nutshell and if his receivers didn't seem to have a case of the yips and could catch his passes, his numbers would have him competing with Garrett Gilbert for MVP. That being said, Perez is hardly to blame for the Iron's passing woes as his receivers have a drop rate over 50% this season. Last week, the Iron were without their WR2 Amba Etta-Tawo and pending injury news he should be replaced by L'Damian Washington (3 rec, 4 tgts, 27 yds) once again to provide support underneath for speedster WR1 Quinton Patton (6 rec, 7 tgts, 50 yds). It should be noted that if there were any game for Patton to fix his drop woes, it would be this one as he will be lined up against Outside CB Donatello Brown 65% of the time who is allowing a 100% catch rate this season.
Atlanta Running Game
This may be the toughest backfield to predict in the AAF to date. RB Tarean Folston (6 car, 20 yds, 3.3 yds/car) led the team in carries in Week 1 but was out-carried by fellow backfield mate Lawrence Pittman (9 car, 42 yds, 4.7 yds/car) in Week 2. Rather than taking a stab at Folston or Pittman in a game that Atlanta is expected to be trailing in, third-down back Akrum Wadley (8 rec, 8 tgts, 70 yds, 81 yds/after catch) should be considered after catching all eight of his targets last game for 70 yards.
Atlanta Passing Game
Matt Simms (17/25 completion rate, 160 yds, 1 TD 1 INT, 6.4 yds/att) could be OK at football but last week was against a poor Fleet defense so we should temper our expectations of Simms as he goes against a vaunted Iron defense that has arguably the best secondary in the league. Headlined by stud Jamar Summers, it will be hard for Simms to stay poised in the pocket and make the right decisions given the coverage disguises that Iron coach Tim Lewis has in store for him. Along with those challenges, no receiver had more than three catches last week and WR1 Seantavius Jones (3 rec, 7 tgts, 23 yds) is sporting a paltry 40% catch rate this season—he seems to be the only receiver on the team Simms seems comfortable throwing to week-to-week. Malachi Jones scored the lone TD through the air in Week 2 as he finished with a stat line of 3 rec, 3 tgts, 37 yds, and 1 TD.
Pat's Thoughts
As much as I don't want to play Trent Richardson ($7,200), if there were any week to lock him in, it would be this one, as the Iron face the lowly Atlanta Legends. His price is high, but his workload, especially around the goal line, is undeniable. Along with Richardson, Luis Perez ($5,700) makes a great contrarian QB option and WR Quinton Patton ($6,300) should see positive regression in the form of catches and TDs.
Personally, I don't think I'll be touching anything from the Atlanta side as the only piece I had relative interest in was WR Malachi Jones, but at $5,900 his price is too steep and I don't think his talent is a check I can cash.
San Antonio
Commanders

(+2) vs San Diego Fleet (-2) O/U: 43.5
San Antonio Running Game
San Antonio's Running game is led by former Charger Kenneth Farrow (13 car, 74 yds, 5.7 yds/car, 1 TD) who in their Week 1 matchup against the fleet carried the ball for 14 yards averaging a measly 2.6 yds/car albeit salvaging his week by scoring a TD. In Week 2 against the Apollos, however, it was a completely different story, as we saw Farrow carry the ball 13 times for 74 yards, averaging 5.7 yds/car and adding a score. Behind him we have seen Aaron Green (6 car, 19 yds, 3.2 yds/car) and David Cobb (7 car, 17 yds, 2.4 yds/car) split an even amount of time, with Cobb only coming in to give Farrow a breather and Green (3 rec, 5 tgts, 35 yds) coming in as a defined third -own passing back.
San Antonio Passing Game
San Antonio's passing game is led by QB Logan Woodside who, despite his receivers failing to perform, has continued to perform efficiently. Last week, Woodside was able to complete 20 of his 39 passes for 223 yards, 1 TD, 1 2-point conversion, 1 INT and 5.7 yds/att. The unfortunate part of this passing offense was that WR1 Mekale McKay (2 rec, 9 tgts, 36 yds) dropped five end zone targets and only caught two of his nine total targets from last week's game. Aside from McKay, De'Marcus Ayers (5 rec, 8 tgts, 80 yds) and Greg Ward Jr. (3 rec, 6 tgts, 12 yds) fill out the rest of the receiving corps. If there were any week for this receiving corps to get it together and finally catch passes thrown to them, it should be this one as San Diego's horrible secondary allows the highest cumulative catch rate in the league at 64%. Of the three, endzone target hog Mekale McKay should have some positive regression in that category as he will line up against Greg Ducre who PFF grades out to the lowest grade in the league at 27.4.
San Diego Running Game
San Diego's running game is undoubtedly lead by Ja'Quan Gardner who, through the first two weeks of the season, has shown that his efficiency and explosiveness is for real. Toting the ball 23 times for a total of 159 yards and 2 TDs, averaging 6.9 yds/car is going to be a tough feat to keep up, but impressive for as long as he can keep it going nonetheless. Other than Gardner, Terrell Watson (14 car, 49 yds, 3.5 yds/car) is San Diego's change of pace power back. With shotty QB play from Phillip Nelson, we can hope Martz leans on his run game again as the Commanders are allowing 4.93 yds/car to opposing run offenses thus far.
San Diego Passing Game
Last week we got Phillip Nelson's (14/30 completion rate, 142 yds, 1 INT, 4.7 yds/att) first start of the season as he replaces Mike Bercovici for the time being. The change in QB didn't improve the passing offense significantly (although it did provide us with a behind-the-back pass that even had Pat Mahomes in awe) but it did change the receivers outlooks as we continue through the season.
With Nelson at the helm last week, the WR/TE target counts were as follows:
Brown (3 rec, 6 tgts, 27 yds), Ford (1 rec, 4 tgts, 17 yds), and Spruce (4 rec, 6 tgts, 58 yds) will have the best matchups on paper and Nelson should give them a good opportunity to produce, as they'll be lined up against San Antonio slot CB Nick Orr and outside CB Zack Sanchez who PFF has given coverage grades on the season of 53.7 and 45.4, respectively, with Sanchez allowing an amazing 83% catch rate.
Pat's Thoughts
San Antonio definitely provides great value and salary cap relief this week in the forms of QB Logan Woodside ($6,100), RB Kenneth Farrow ($6,400) and WR Mekale McKay ($6,200). The Commanders are my favorite contrarian options and I have an inkling that the right pieces from this team mixed with the right chalk in the higher total games will be the nuts this week.
On San Diego's side, Ja'Quan Gardner ($7,000) continues to impress and despite his two-TD performance last week, he remains the cheapest of the stud running backs. He'll definitely be one of my highest-owned players this week along with my favorite value play of the week in WR Nelson Spruce ($4,800)—with Nelson at the helm, Spruce's NFL experience will begin to separate him from the rest of the pack.
If you have any questions or want to reach out, my Twitter is @PatrickAllenDFS.