Austin Hooper: Not an Exciting Tight End, But His Value Can Be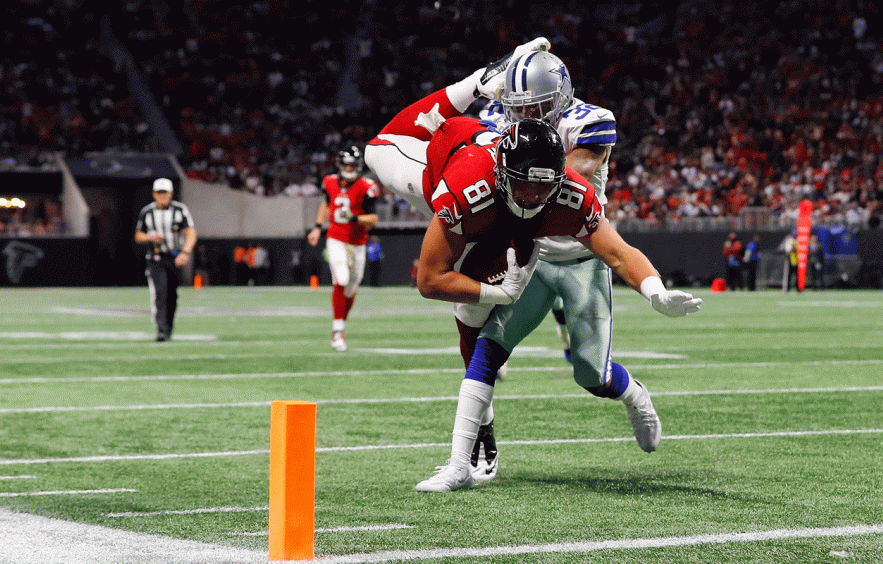 Kevin C. Cox/Getty Images
Going into his fourth year in the league, there isn't a TE people get less excited about than Austin Hooper. He's bland and boring but has the potential to be a TE1 this season for a pretty cheap price tag.
Sure, Hooper doesn't come with a ton of upside and he can be inconsistent, but this piece is highlighting the good in the 24-year old and why he's someone you can target in double-digit rounds in non-PPR and the ninth at the earliest in full PPR leagues.
Hooper's a Field Staple
Over the past two seasons, Hooper's snap count sits among the top guys at his position in the NFL. In 2017, he saw the playing field 787 of the Falcons 1026 snaps translating to 77%. Last year his snap rate was within the top nine TEs in the league at 76%.
All of this lends itself to a solid weekly floor for Hooper considering he's involved in a consistently potent Atlanta offense more often than not.
His Trajectory Points Upward
Hooper's workload and output have increased with each year in the league, and at just 24 years old, this bodes well for his production in the coming season. He's seen an uptick in overall targets, targets per game, total PPR points, PPR points per game, receptions and total yards over the course of his three-year stint in the league, and these numbers could swell again in 2019 as he and Matt Ryan's relationship grows another year stronger.
Austin Hooper

's NFL Career Output

| Year | Total Targets | TGTs/Game | Final POS Tgts | Total PPR Pts | PPR/Game | Final POS PPR | Receptions | Receiving Yds | TDs |
| --- | --- | --- | --- | --- | --- | --- | --- | --- | --- |
| 2018 | 88 | 5.5 | TE8 | 161 | 10.1 | TE6 | 71 | 660 | 4 |
| 2017 | 65 | 4.1 | TE17 | 119.6 | 7.5 | TE17 | 49 | 526 | 3 |
| 2016 | 27 | 1.9 | TE45 | 64.1 | 4.6 | TE38 | 19 | 271 | 3 |
Hooper's 5.5 targets per contest last year is a great starting point and it's reasonable to expect Hooper to see six-plus balls a game in 2019.
Short Yards Add Up
Sure, Hooper is known for being more of a short yardage guy, but that can still be a good thing, especially in PPR formats. If he's to best last season's fantasy output, he'll need more volume, and it's certainly a possibility in this year's version of the Atlanta offense.
With Tevin Coleman now out west in San Francisco, we could see Hooper used as more of an underneath option in 2019, adding to his production yet again this year.
Bottom Line
At a position that is rigidly hierarchical in 2019, drafters are forced to either pay up for Travis Kelce, George Kittle or Zach Ertz, grab the next tier of TEs a bit earlier than they are comfortable with, or just wait and pray. While not exciting or arousing in any way, Hooper is a player with a decent floor, who won't cost you too much. The fourth-year TE has the potential to finish with a surprisingly higher output than anticipated, which could be a difference maker based on his value.
Hooper is currently being selected as TE11 in the ninth round of best-ball drafts and is also TE11 in early redraft leagues, leaving boards in the late-10th round.