ADP Toss Up: Adam Thielen or Stefon Diggs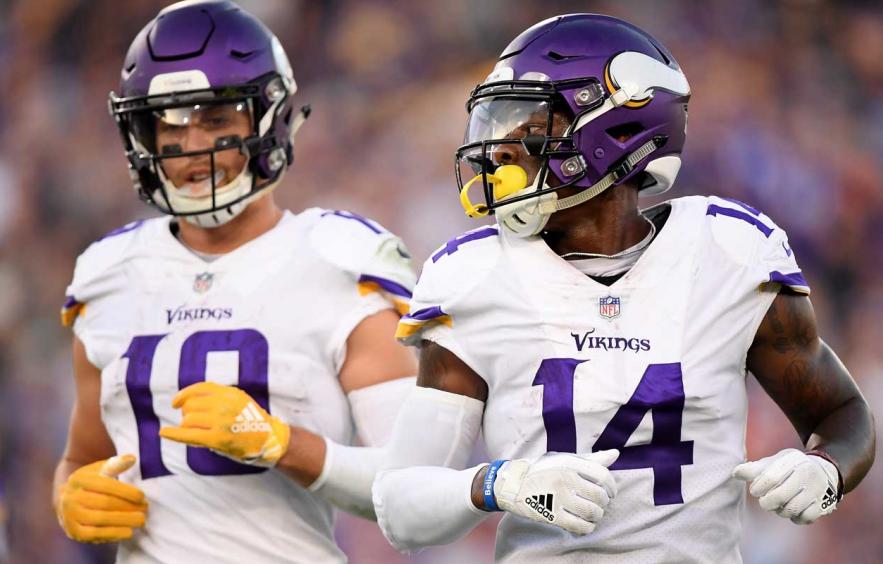 Harry How/Getty Images
Everywhere I look, I see Adam Thielen and Stefon Diggs joined at the hip. The two are being ranked right next to each other for 2019, despite Thielen beating out Diggs by about 40 fantasy points in PPR formats last season. There is a real possibility that the two are at the top of your board when it's your turn to pick in your fantasy draft. So, which should you pick?
Stefon Diggs

's and

Adam Thielen

's 2018
Let's start with the basics and compare who got more opportunity in 2018. Last season, Thielen yielded 153 targets while Stefon Diggs received 149. So not much of a difference. But what about for other segments of the field? Kirk Cousins ranked 31st in average air yards per attempt in 2018, so we know he liked to throw it short. In fact, 79% of Cousins' passes were short passes (less than 15 air yards). This was the 10th-highest short-yardage rate in the league. So, which pass catcher received more of those short targets? Thielen had a target share of 24% on short passes and Cousins had a completion percentage of 79% on these passes. Meanwhile, Diggs also had a target share of 24% on short passes, which Cousins also had a completion percentage of … 79%.
Okay well, what about passes to the right side of the field? Last season Kirk Cousins led the NFL in passes to the right side of the field. 65 of these attempts went to Diggs, 63 of them…to Thielen *sigh*.
Rather than just lists a player's average depth of target (aDOT), I like to see their distribution of air yards per target. Below shows the air yards distributions for a few Vikings players. The wider the violin, the more that air yardage amount occurred. The box represents the middle 50% of the data.
Vikings.PNG" style="width: 800px; height: 526px;" />
As you can see, Thielen had a slighter higher aDOT than Diggs. And as we know, generally more air yards result in more fantasy points. However, Kirk Cousins' violin seems to match Diggs' more than Thielen's. Now it should be noted that all this data was for the Vikings' whole 16 game season. For the first 13 games, John Defilippo was the team's offensive coordinator before being fired and replaced by Kevin Stefanski (who has the job for 2019) for the final three games. The two receiver's stats for those three games:
Diggs: 23 targets / 106 yards / 43.5 PPR Points
Thielen: 12 targets / 137 yards / 23.9 PPR Points
Who To Pick
So now the big question is who to draft. According to 4for4's half PPR rankings, Diggs is ranked as the WR14 with Thielen one spot lower at WR15. Using 4for4's average draft position tool, we see that Thielen is being drafted as the WR11 with Diggs being taken as the WR14. Clearly, it is tough to split the two receivers apart, and it should be—they are both awesome football players. They both have shown that they each can be productive catching passes from Cousins in just one season together.
The decision comes down to risk aversion. Thielen has had two great seasons recently and has yet to miss a game in his career(!). However, he will be 29 in 2019, and I would estimate that he is on the downward side of his career arch but will still perform fine Diggs has had a little more injury trouble in his career but has only missed three games over the past two seasons. Diggs is also entering his prime and will be 26 in 2019, on the opposite side of the career arch than Thielen.
I'd argue that Thielen is the safer pick—he's shown more the past couple of years and clearly is not injury prone. Diggs seems like the higher upside play, finishing as the WR11 in PPR formats and hasn't even entered his prime yet. With that being said, I would pick whichever contrasts with your first pick. If you feel your first pick was "risky", I'd lean Thielen since he's shown more consistency than Diggs. If you feel your first pick is a lock to produce and now you want even more upside, then I'd take Diggs. Regardless, both are poised to produce and will be great in 2019.