3 Teams That Will Go Over Their Season Win Total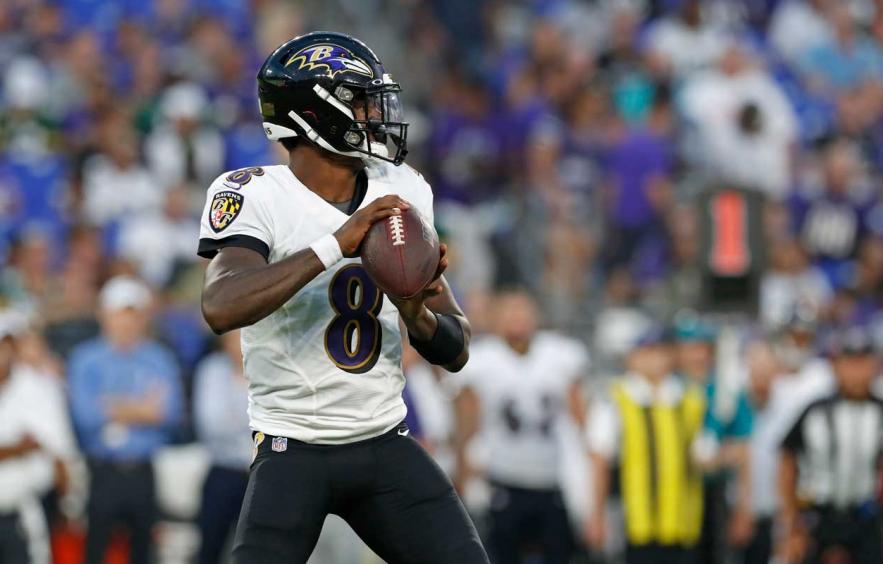 Todd Olszewski/Getty Images
Limit your plays.
It's a simple concept, one that most bettors understand and even agree with, but it's also the one mistake I see people making most year after year.
Below you'll read the three teams I like to go over their season win totals in 2019. Why only three? Because while I could certainly see the Patriots winning another 12-plus games, or the Packers rebounding, or the Rams not falling off despite their offensive issues in the Super Bowl, it's just not profitable to play the board. At some point, you need to pare things down, choose your best plays and let those ride.
Out of the three teams I chose to go over their win totals, two made the playoffs a year ago and the other will likely surprise you. If you enjoyed this piece and are looking for more betting content, I hope you'll check out my "3 Teams To Bet Under Their 2019 Season Win Total" and my "3 Players to Bet on to Win 2019 Offensive Rookie of the Year" articles as well.
Baltimore
Ravens

Over 8.5 Wins (+120)

Journey back to 2018 with me for a moment.

Having lost three straight games, the Ravens stumbled into their Week 10 bye with a 4-5 record and not much hope to make the playoffs. That's when John Harbaugh decided to turn the keys of the offense over to rookie Lamar Jackson, who proceeded to lead Baltimore to six wins in the team's final seven games.

"Lamar Jackson for the Hall of Fame," everyone proclaimed. "CHAMPIONSHIP!" Ravens fans shouted.

Then came Wild Card Weekend and the Chargers stuffed Jackson and the Ravens' vaunted running game. Despite the fact that Jackson led a fourth-quarter rally (with his arm, no less), the lasting impression was that the Chargers just laid out the blueprint for how to stop the Ravens.

And not just that game, but, like, forever.

This, of course, is illogical. Yes, the Chargers had the Ravens' number that day and yes, they had the perfect game plan to take away Baltimore's strength offensively. That said, it's not as if the Ravens haven't studied that game and now have a blueprint of their own for how opponents will try to defend them in 2019. To assume Harbaugh and his coaching staff went, "Ah crap, they got us. We're done. Let's get the hell out of here, people. We're done," is ridiculous.

It can be a fool's errand when trying to predict wins and losses based on strength of schedule, but that's not to say it's an utterly useless exercise. And the Ravens' schedule this season is favorable.

For example, we know the Dolphins and Cardinals are candidates to pick in the top five next April. Those are the first two opponents on Baltimore's schedule. From there, the Ravens play at Arrowhead and while the Chiefs are legitimate Super Bowl contenders again this season, Jackson and Co. played well in Kansas City before eventually losing in overtime. The Ravens will also face the Bills, Jets and Bengals (twice), as well as the Patriots off a bye and an early home game against the 49ers (a west coast team traveling east) in early December.

Let's just say the Ravens split against the Steelers and new-look Browns. Are you telling me this Baltimore team can't get seven more wins? Of course they can, and we're netting plus odds (+120) if they go no worse than 9-7.

Granted, a lot could go wrong. This team lost OLB Za'Darius Smith and DL Brent Urban, as well as linebacker C.J. Mosley and future Hall of Fame pass-rusher Terrell Suggs in free agency. That hurts. But the addition of Earl Thomas was huge and this front office and coaching staff is too good to let the defense plummet the way some expect.

Will Jackson have his ups and downs in Year 2? Of course. But let's not assume that just because the Chargers popped the Ravens' balloon a year ago that this Baltimore team isn't capable of winning another 10 games again in 2019. The Ravens know exactly who they are offensively and it's not as if every team Baltimore will face has the Chargers' talent defensively.

Blueprint or not, teams still need to slow Jackson down.
---
DraftKings Sportsbook Deposit Bonus: Available to Currrent & New Users! Create an account, deposit and DraftKings will match 50% of the deposit amount up to $500. Additionally, new users will get their first bet matched with up to a $200 risk-free bet.
---
Philadelphia
Eagles

Over 9.5 Wins (-176)

I'll be honest, I don't like the -176 juice. That's expensive. But my gawd, 10 wins for the Eagles and we cash this prop? Yup. I like that.

Carson Wentz didn't play anywhere near the level last year that he did in his MVP-like season in 2017. Not only did he re-injure himself, leading some to question if the Eagles shouldn't just move on from Wentz and commit to Nick Foles (I certainly wasn't in that group), but he clearly wasn't letting it rip like he did in '17 before tearing up his knee in L.A.

That said, Wentz wasn't the couch fire that some made him out to be either. His completion percentage actually rose from 60.2% in 2017 to 69.6% in 2018. He also averaged more yards per game and his yards-per-attempt average climbed from 7.5 to 7.7.

While those stats aren't the end-all, be-all, they do go to show you that Wentz's play didn't completely fall off a cliff. Adding DeSean Jackson and rookie running back Miles Sanders should also give the Eagles some much-needed speed at the skill positions. (Jordan Howard is a capable two-down thumper, but it was good to see Philly add a legitimate pass-catching weapon in Sanders.)

Protecting Wentz could be a different story, however. Jason Peters missed a lot of time in 2018 and Brandon Brooks is coming off a January Achilles tear. Lane Johnson is back, but the interior of this line has serious question marks.

Fortunately, the Eagles don't have many issues on defense. Losing Chris Long to retirement and Michael Bennett in free agency hurts, but Fletcher Cox is a beast and Derek Barnett looked great before he suffered a season-ending shoulder injury in October. The secondary has some question marks, but this team should be able to get after the quarterback again.

Then there's the schedule. The Eagles will play the Redskins and Giants two times apiece, as well as the Lions and Jets at home. They do have difficult road games in Atlanta, Green Bay and Minnesota, but face the Bears, Patriots and Seahawks at home. Trips to Buffalo and Miami are winnable as well.

The bottom line is that this is a talented team that just won the Super Bowl three years ago. If Wentz stays healthy, I wouldn't be shocked in the least to see the Eagles win the NFC East and via for one of the top two spots in the conference. Either way, this is certainly a team capable of winning 10 games. I'm surprised their win total is that low.
Tampa Bay Bucs Over 6.5 Wins (-110)
Let's get one thing straight: I don't expect Arians to "fix" Jameis Winston. I'm sure you've heard or read something to that effect this offseason, along with the rationale that Arians has worked wonders with quarterbacks throughout his career.
Know who those quarterbacks were? Ben Roethlisberger, Andrew Luck and Carson Palmer. Combined, that's nine Pro Bowl appearances, two NFL passing yards records, two NFL passing touchdown records, an Offensive Rookie of the Year, two NFL Comeback Player of the Year awards and two Super Bowls.
In other words, Big Ben, Luck and Palmer are/were extremely talented players. I love the brash Arians and his "no risk it, no biscuit" philosophy. But it's not as if Drew Stanton and Ryan Lindley turned into Hall of Fame quarterbacks just by breathing the same air as Arians. He has had a lot of success in the league, but it's not as if Roethlisberger, Luck and Palmer haven't had success with other coaches.
Circling back to Winston, the Bucs didn't extend his rookie contract for a reason, and it's not just because of his off-field history. Winston has a high football IQ but often plays like Jay Cutler on Cutler's worst day, which is to say he believes he can use his strong arm to fit passes into the tightest of windows, often resulting in turnovers. Winston is entering his fifth season in the NFL. How many quarterbacks have truly reinvented themselves in Year 5? No, Winston is who he is.
That said, Arians doesn't have to "reinvent" Winston for the Bucs to have success in 2019. He merely has to accentuate Winston's strengths and minimize his weaknesses.
Winston is not without talent. In fact, talent has never been the issue. He can read coverages and play from within the pocket. He throws a nice deep-to-intermediate pass and has good arm strength. But he makes too many mistakes that lead to turnovers. Perhaps a strong presence like Arians, who is never afraid to speak his mind and give an honest assessment of his players, can get Winston to see the light.
Meanwhile, the Bucs will likely finish in the bottom half of the league in defensive scoring but they do have some good young talent on that side of the ball. Lavonte David is a stud and the addition of fifth overall pick Devin White of LSU gives Tampa's linebacker unit a large dose of speed. Corner Carlton Davis had a rough start to his rookie season but improved in the second half. I'm also intrigued by 2019 second-rounder Sean Bunting, who should benefit from new DC Todd Bowles' desire to be physical with opposing receivers.
Some key advanced metrics are in the Bucs' favor as well. They lost three games last season—against the Steelers, Bengals and Giants, respectively - by exactly three points. In each of those games, they turned the ball over four times but forced only one turnover (against Pittsburgh) themselves.
Granted, bad teams turn the ball over, and Tampa was a bad team in 2018. Still, the Bucs also outgained each of those three opponents by a significant margin, proving that they were truly in each game but sabotaged their own success by turning the ball over.
With better overall coaching from both Arians and Bowles, I see the Bucs showing improvement after finishing 5-11 last season. Are they a playoff team? Not likely, although nothing would surprise me given the parity in the league. With less turmoil at the quarterback position, better luck and cleaner overall play can I see Tampa winning seven games in 2019? Certainly.