2019 Offensive Line Rankings: 1-10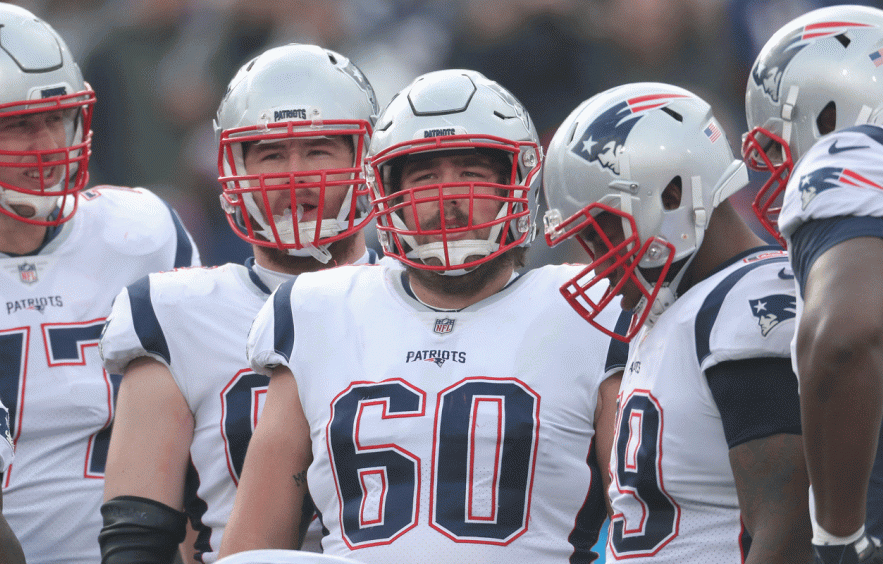 Tom Szczerbowski/Getty Images
Evaluating Offensive Line play regarding its effect on fantasy football output has been a stone unturned throughout the course of our game within a game. I have touched on some of the information I use to spit out my O-Line metric in my first article for 4for4, and followed up with five fantasy football assets whose outputs were shifted directly because of their offensive line's play.
---
More Offensive Line Rankings: 22-32 | 21-11
---
Today we continue our deep dive to rank every single offensive line in the NFL, from 10 down to 1.
10. Carolina Panthers
This is a pretty ballsy placement for a team that's been an average unit at best for the last few seasons, but I think they have made a good deal of positive reforms along the trench line. The retirement of center Ryan Kalil was a void immediately filled by signing former Denver Broncos center Matt Paradis. And the departure of brother Matt Kalil will leave room for an influx of talent.
Matt Paradis missed game action for the first time in his career, breaking his streak of 3,850 consecutive snaps last November when he went down with a fractured right fibula. He's set to join his new team sometime in the month of June. Not to take away from Ryan Kalil's impressive 12-year career, but Paradis should be an upgrade to both the run and pass-blocking aspects of the line. Paradis is even more impressive in the run game, where Sports Info Solutions had him pegged with a blown block percentage of 0.30%, good for fifth-best in the league (out of 31) among qualifying centers. (SIS's blown block is described as "any time a blocker does not successfully block the defender they attempted to engage with.")
Carolina was already doing well in the run game, racking up the NFL's highest rushing yards per attempt and finishing 2018 ranked 10th in Adjusted Line Yards (4.56). With recently re-signed right tackle Daryl Williams also on the mend, this is a scene Head Coach Ron Rivera is all too familiar with. In a recent interview, he made it clear he's not resting on his laurels quite yet; "I see we have some potential, but at the end of the day it's about being able to stay healthy, too. We felt pretty good going into last year, then we lost three tackles in four days of practice. We've just got to stay healthy and be fortunate that way."
The Panthers took appropriate steps to ensure they won't be up the creek without a paddle by drafting two tackles this year; Greg Little in the second round and Dennis Daley in the sixth round. The former is gifted with size to instantly be NFL-ready (6'5" 325 pounds) but the polish is not there yet for ironically named Little. Questions about laziness and hand placement will likely keep Little from seeing playing time in year one, but some good coaching should make him a high upside depth piece.
9. Dallas Cowboys
Dallas has snuck into the top nine and can push itself up the list even further on the back(s) of health. The biggest piece of this puzzle is center Travis Frederick who is looking to return to the field of play after missing 2018 with a diagnosis of a rare disease called Guillain-Barre syndrome. The autoimmune disease was causing him numbness and a lack of strength; both signs that something could have proved much worse than a loss of a year of work. It's a very serious disease but one that Frederick has been able to battle through. Recovery from a 2018 shoulder surgery will also keep him out of OTAs and June's mandatory minicamp. It's something to keep an eye on through the summer but there was a vote of confidence from Frederick himself when he remarked "…I don't think there's any reason to come back if you can't do it at that level" in regards to four Pro Bowl berths in his first five seasons.
Long term anchor of the blindside Tyron Smith is another incredible talent battling injuries. But that story is nothing new, as Smith has played exactly 13 games in each of the last three seasons. Regardless of nagging injuries, he makes a noticeable difference when he's on the field, proven both by his dominance and the underlying numbers.
The #Cowboys suffer a pretty significant drop in offensive production when Tyron Smith isn't on the field. pic.twitter.com/tKEgq7nnTq

— Marcus Mosher (@Marcus_Mosher) May 21, 2019
While the yardage may not seem like a lot (21 yards/game), that point total is eye-popping. Dallas scores an entire touchdown less when Smith is unable to play. How much would it affect your fantasy projections if you were giving the Cowboys offense 16 fewer touchdowns in 2019? Here's hoping that both Frederick and Smith see the field early and often so we can unlock the full potential of Dak Prescott and Ezekiel Elliot this year.
Here are some of #DallasCowboys LT Tyron Smith's best blocks of the season pic.twitter.com/ZgmyW8ryXG

— John Owning (@JohnOwning) November 1, 2018
8. Philadelphia Eagles
The Eagles are getting really damn old. But with age comes wisdom, and Philadelphia will be boasting the second-most experienced line in the league if everyone maintains health through the preseason. Like Andrew Whitworth of the Los Angeles Rams, All-Pro Left Tackle Jason Peters will play at least one more season before hanging up his cleats. He performed as well as ever in 2018 but the 37-year-old missed over 20% of the team's snaps while dealing with back problems. If he continues to play pivotal snaps as the season trudges on, I think we can put Peters' injury history on the back burner.
A more pressing injury concern is that of right guard Brandon Brooks who went down with a torn Achilles in the Divisional Round of the playoffs. Being that it happened in January, Brooks' availability for Week 1 is in question, let alone preseason camp. Pro Football Doc David Chao commented on the progress just last week.
Coming alomg nicely but still a ways to go. Somewhat flat footed on right. Being a guard makes week 1 return possible but the January injury makes it far from a guarantee. https://t.co/c4D3mmDcdK

— David J. Chao, MD (@ProFootballDoc) May 28, 2019
The Eagles have one of the deeper offensive line rooms in the league, so Brandon Brooks or Jason Peters missing time – however likely that is – should not decimate their performance. Philadelphia made a proactive move by using the number 22 pick in the NFL Draft to acquire Andre Dillard, a left tackle from Washington State. In a perfect world, Dillard will not see the field in 2019, sitting behind Peters and perfecting the zone blocking scheme the Eagles will ask him to learn. Backup left guard Stefen Wisniewski did an admirable job as a utility man last season and adds depth behind both guard and center positions. Below is Eagles Offensive Line Coach Jeff Stoutland analyzing Andre Dillard's game tape.
7. Green Bay Packers
The presence of two elite offensive tackles on the same team is a misnomer in modern NFL, but Green Bay is one of the few teams sporting this reality with David Bakhtiari and Bryan Bulaga. The Pack attempted to beef up the interior of the line with a pure iOL – something they are not known for doing. In recent Packer history, they have been known for taking tackles in the draft and converting them to the inside (see: Josh Sitton, T.J. Lang and J.C. Tretter). Elgton Jenkins of Mississippi State became only the third center taken by the Packers in the NFL Draft since 1997.
The Packers look to be going the Frank Ragnow/Detroit Lions route by setting Jenkins up at the guard position to relieve some of the pressures that come with playing center. "His main area of focus is going to be at the guard position," new Head Coach Matt LaFleur remarked during OTAs. This will likely put the pressure on incumbent left guard Lane Taylor, who was the weakest link and a liability in the run game.
Besides embarrassing their quarterback in beer chugging contests, the Packers tackles are also damn good at setting the edge for their running backs. Green Bay ran the ball on an outside zone concept 43.3% of the time last season, the fifth most often. While they will no doubt be running a new run scheme under Matt LaFleur, it is one predicated on outside zone blocking, so not a lot should be changing for the offensive linemen. The Packers finished 2018 with 4.71 Adjusted Line Yards – seventh best – and did so on the back of the outside zone.
6. Los Angeles Rams
The Rams lost more games started along the offensive line than any other team from 2018-2019. Left tackle extraordinaire Andrew Whitworth mulled over retirement before deciding to come back for another season, saving L.A. from losing 60% of its line. Even still, they lost 236 games worth of experience when both LG Rodger Saffold and C John Sullivan moved on from the team. They have enough talent at tackle between Whitworth and Rob Havenstein to justify this ranking but the turnover cost them a top-two placement.
If I'm being completely transparent, I've never heard of Brian Allen, who is currently slotted as the man who will take over at center for John Sullivan. He played sparingly along the line last year and almost entirely in the last two weeks of the season. According to a conglomeration of scouting reports ahead of the 2018 NFL Draft, Allen was a slow-moving prospect who may have trouble in pass protection against athletic interior rushers but shows intensity and the ability to finish thanks to his gold medal high school wrestling background. While I may not know exactly how the former fourth-rounder will fare if he gets the start Week 1, I do know that replacing Sullivan will be the easiest shoes to fill. Sullivan was the worst performer on a team that ranked first in adjusted line yards (5.49 – a whopping 0.30 more than second place) and fifth in adjusted sack rate (5.4%).
Like the Packers above, having two high-class tackles means a lot, and I trust Sean McVay to keep defenses guessing. And for those reasons, the Rams remain in the upper crust of O-Line units despite their losses.
5. Chicago Bears
A team that has long respected the importance of trench warfare (typically from the defensive side of the ball), the Bears have gathered quite the complete offensive line unit through the draft. Each of LT Charles Leno, LG Cody Whitehair, C James Daniels and RG Kyle Long were drafted by Chicago. The lone outlier, Bobby Massie, will be entering his fourth season as a Bear. Four of these guys have been coalescing together since 2016, which is unheard of.
Chicago has by far the worst adjusted line yards (3.91 – 28th) of any top-10 team, but they are keeping Mitchell Trubisky clean while he continues to learn the position at the NFL level which is much more important for fantasy purposes. The Bears allowed 64 QB hits and committed only 22 penalties along the offensive line – both numbers that land in the top-four.
If I've learned one thing in the process of writing this series, it's that franchises prefer not to start their rookies at center during their first year. The Bears are no different, as they will be the third team this offseason to shift their sophomore offensive guard back to the center position he played in college. James Daniels will be permitted to further flash his elite technique and athleticism while scanning the defense and, of course, handling snapping duties. The move should further raise the ceiling on an already established offensive line.
4. Indianapolis Colts
Through five weeks of the 2018 season, Andrew Luck and the Colts limped their way out to a 1-4 win-loss record, were victimized by 10 sacks and threw their way to a paltry 6.09 yards per pass attempt. From Week 6 until the end of the season, the team allowed only eight more sacks, averaged 7.87 yards per attempt and finished out the season 9-2, securing a playoff berth. The Week 6 return of LT Anthony Castonzo and the gelling of the line in general with rookies Quenton Nelson and Braden Smith helped to propel not only Andrew Luck but also saw the running game average 125+ yards from Weeks 6 – 17.
Indianapolis was able to present their caliber of depth throughout the season, as injuries forced them to start ten different men along the offensive line, one of the highest marks in the league. Despite injuries to four of their starting five they still maintained lofty statistical finishes, ranking second in adjusted sack rate (4.0%) and fourth in adjusted line yards (4.83). New OL Coach Chris Strausser is unquestionably walking into a comfortable position.
3. New England Patriots
While Strausser sort of fell into a great place, Dante Scarnecchia has been creating a great offensive line room for years, regardless of which bodies are in them. It's long been talked about that Scarnecchia is one of the best offensive line coaches in the league, but how do we quantify what that means for the team? Justis Mosqueda (@JuMosq) had that same question and did the leg work to find out. He created a metric that compared year-to-year offensive line performance to the NFL average in both team sacks given up and team tackles for loss given up. The information was pooled from every game beginning in 2004 through Week 14 of 2018 and to say that the results were conclusive would be an understatement.
(Thanks again to @JuMosq for use of the graphic)
Scarnecchia trounced the competition. His offensive lines prevented far more tackles for losses than any other coach's units and his teams ranked second in sacks prevented compared to league average. Of course, the men on the field are the ones doing the actual work, but this spans between 2004 – 2013 and 2016 – present (Scarnecchia briefly retired). Dante will have his work cut out for him this year as the ever-important left tackle position is still up in the air.
Trent Brown went ahead and made himself some money by signing with the Oakland Raiders this offseason, which left a hole in the line. Last year's first-round pick Isaiah Wynn still has an uphill battle to return from last year's torn Achilles but is currently slated to take over the role. If Wynn can't go, then this year's third-round pick Yodny Cajuste will have to hurry up and develop into an NFL quality tackle. It's time once again for Scarnecchia to flex his coaching muscles.
2. New Orleans Saints
The Saints sported just about as many offensive line accolades as a team can, with four of the starters receiving a Pro Bowl invitation and Ryan Ramczyk, the only man left out being selected to the AP Second-Team All-Pro team. New Orleans would be number one here if it weren't for the retirement of center Max Unger, one of the least penalized players the league has ever seen.
.@saints O-Line is without argument the league's best unit at the halfway mark. They combine power with finesse. You need both. Much respect to OLINE coach, Dan Rousher. #BaldysBreakdowns pic.twitter.com/3FwbjYxODu

— Brian Baldinger (@BaldyNFL) November 5, 2018
Here are the stats in which the Saints finished top-five last season; adjusted sack rate (4th), adjusted line yards (2nd), QB hits allowed (1st), O-Line Penalties (1st), and Sacks Allowed (2nd). Drew Brees set the NFL record for completion percentage behind this line, thanks in large part to a clean pocket.
The #Saints OL kept Drew Brees clean on a truly impressive 74.3% of his dropbacks - that was the 3rd highest rate this past season, with the top 3 having quite a bit of separation from the rest of the pack. The league average was 66.7%.#WhoDat ⚜ pic.twitter.com/rtprfheFvU

— PFF NO Saints (@PFF_Saints) May 10, 2019
Not coincidentally, the top three quarterbacks on that list comprise the top three teams in these rankings. Pass protection is important. The departure of Max Unger is a big hit, but the team is left with four high-quality offensive linemen. Terron Armstead for example, was the most consistent pass protecting tackle when on the field last season according to Sports Info Solutions. Of all qualifying tackles in 2018, Armstead had the lowest adjusted blown block percentage (0.11%) – AdjBB% takes the extent to which a player's defensive opponents had forced blown blocks in their other matchups above those offenses' averages, and uses that as a strength-of-schedule adjustment for blown block rate. It's safe to say Brees' blindside is well taken care of.
The camp battle between Nick Easton and 48th overall pick Erik McCoy will determine who takes over for Unger. The Saints offense is notoriously "multiple" as they run zone, gap and man schemes in their running game, which could be difficult for McCoy to learn by the end of Summer. Though, if early OTA reports are to be believed, the rookie is coming along nicely.
1. Pittsburgh Steelers
Well, here we are. The best offensive line in the NFL for producing fantasy points is the Steelers. Let's run through the stats the same way we did with the Saints. The following stats are the ones in which the Steelers finished in the top-five; adjusted sack rate (4th), projected experience (3rd), O-Line penalties (3rd), sacks allowed (4th), and SIS's blown block (3rd). This is nothing new to Ben Roethlisberger, who has been gifted a stout line for most of his career. Pittsburgh has finished in the top half of the league in adjusted sack rate for seven straight seasons, with finishes of eighth, fourth, first, and fourth since 2015. The string of excellence lines up with Mike Munchak's stint as the Offensive Line Coach, but he's off to begin his second chance as the OLC in Denver.
This offensive line will undergo it's first change in personnel since the middle of the 2015 season. Marcus Gilbert was traded to Arizona, who could use all the O-Line help they can get, leaving the right tackle position vacant. There is a four-person deep competition for the position but all signs point to Matt Feiler holding the job after he earned 668 snaps at RT in 2018.
Things may end up looking a little different in front of Roethlisberger in 2019 and Mike Munchak will not be on the sideline, but I'd still expect a hotbed of fantasy production thanks to years of continuity.