17 Draft-Worthy Fantasy Players With Injury Concerns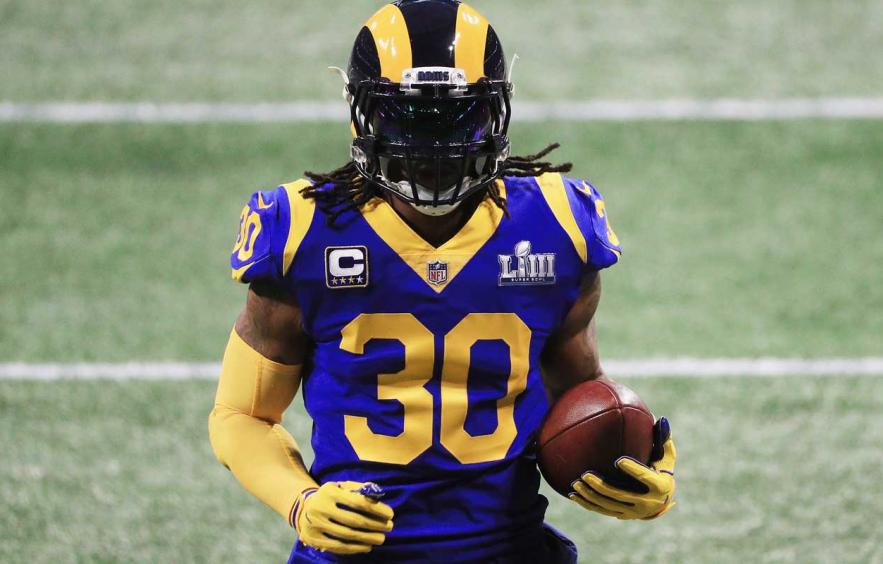 Mike Ehrmann/Getty Images
I am thrilled to be back for another season with the awesome team here at 4for4 fantasy football. As we start to really rachet up our preparation for drafts and the start of the fantasy football season, we would be remiss to not discuss the main injuries that players are currently dealing with. In past seasons we would break down the injury and discuss whether or not this would be something that would be a concern for the upcoming year. This year we are going to go with a green, yellow, or red light format to determine whether or not the players we discuss have injuries that would warrant some hesitation, or if they are a full go.
This list will be updated throughout the preseason to make sure you are fully prepared and aware of every notable injury and its impact on your drafting. Let's get right into it as the list will only continue to grow as the season approaches.
Todd Gurley

,

Rams

Chronic Knee Issues

Yellow Light - At the end of last season and into the playoffs, Gurley did not look like the same player who totaled 21 touchdowns over the span of the year. This offseason has only raised more concerns over Gurley's knee issues and whether or not his workload is going to be scaled back. While more chronic, persistent issues can be troublesome to predict, even if they cut back Gurley's workload, I still believe he'll produce at a very high level. For those who are willing to take the risk, he could be a steal as he's going significantly later than he has in the past. As long as you account for the possibility that his workload won't be near what it was but still has big upside in the snaps he does play, then he's worth taking!
Amari Cooper

,

Cowboys

Strained Heel

Yellow Light - Cooper was able to practice without any pain during Monday's practice which is a great sign for his availability for Week 1. I would still heir on the side of caution as foot issues do have a tendency to hang around, especially when players try and ramp things up on game day. Things are trending in the right direction for Cooper, so hopefully he doesn't have any setbacks leading up to game day in Week 1.
Keenan Allen

,

Chargers

Sprained Ankle

Yellow Light - There continues to be very little information as to how Keenan Allen is progressing from his ankle sprain that he suffered in the preseason. Until we get further information as to where he currently stands, I would be very pessimistic on his availability for Week 1 unless we get some clarity.
DK Metcalf

,

Seahawks

Knee Scope

Yellow Light - Metcalf received the best case scenario as the scope he went in for revealed nothing more than a minor clean up. Coach Carroll seems to be optimistic that Metcalf could be back as soon as next week, but I would temper those expectations as Metcalf will have to go through some vigorous testing and rehab to ensure that his knee is up to speed. He's trending in the right direction, but I would again be cautious of his usage early on as to not risk further irritation to the knee if he does return before Week 1.
A.J. Green

,

Bengals

Ankle Surgery

Red Light - Green still remains in a walking boot after his ankle surgery and still remains without a clear timetable as to when he might return to doing higher level activity. I would expect Green back either in Weeks 5 or 6 as he'll be further removed from the surgery and be stronger and more conditioned. Remember even when he does return I wouldn't expect him to be at his normal status, he might need some time to get his feet under him.
Cam Newton

,

Panthers

Sprained Foot

Green Light - Newton was not limited during the media portion of the Panthers practice on Monday which is an excellent sign that he is trending in the right direction to be ready for Week 1. Hopefully he will not have any setbacks and will be close to 100% by the time the season starts.
Trey Burton

,

Bears

Strained Groin

Yellow Light - Burton has been recovering from a sports hernia surgery, but apparently now he suffered a mild groin strain last week. The timing is not ideal as most soft tissue injuries do have a tendency to linger, and the fact that the Bears play Thursday night does not help his cause. I would have a backup plan just in case as the Bears will likely proceed with caution as to not risk further aggravation that'll cost Burton more games.
Cooper Kupp

,

Rams

ACL Tear

Yellow Light - Kupp is only eight months removed from ACL reconstruction surgery, and although he's made great progress, fantasy owners should still heir with some caution. As we've seen in the past, players who return from an ACL tear normally take 11-12 months to fully be recovered. While I anticipate Kupp to be ready to start Week 1, there might be some rust as game speed is always different compared to practice and preseason. Continue to keep an eye on how he progresses and just how much the Rams use him during the preseason to truly gauge how fast he's recovering from his knee surgery.
Jerick McKinnon

,

49ers

ACL Tear

Red Light - McKinnon was sent to IR for the second straight year as he was dealing with setbacks with his surgically repaired knee this preseason. That opens up more opportunity for Tevin Coleman and Matt Breida to be more productive in McKinnon's absence.
Trent Taylor

,

49ers

Jones Fracture

Red Light - Taylor has already been ruled out for Week 1 as he continues to recover from a Jones fracture in his foot. Jones fractures normally take longer than the expected timetables that most set for athletes so he is no guarantee to be ready by Week 2 either.
Julian Edelman

,

Patriots

Broken Thumb

Green Light - Reports are that Edelman suffered a broken thumb at the beginning of July and is expected to miss the rest of training camp and likely the preseason as well. The fact that there has been no news on a surgery needed for his thumb is a great sign that he should be close to 100% by the time Week 1 starts. With Rob Gronkowski retired, Edelman should continue to be a pretty safe bet for consistent numbers, especially in PPR formats, with Tom Brady under center.
Derrius Guice

, Redskins

ACL Tear/Hamstring Strain

Yellow Light - Guice is apparently supposed to get some work in during the Redskins third preseason game, so this is the most encouraging news that we've heard on him in a while. The hope is that if he does play, he's able to come out of the game unscathed which would then likely cause his draft stock to rise. Guice is still a risky proposition as there is a lot of unknown about how he is going to handle coming off ACL reconstruction, but the Redskins have to be excited to get him back on the field.
Tyler Eifert

,

Bengals

Ankle Surgery

Red Light - This designation has less to do with the fact that Eifert appears to be trending in the right direction after suffering a broken ankle last year, and more that Eifert has played in only 14 games over the past three seasons. He can be a late-round flier if you are feeling optimistic about Eifert's production, but at this point, especially at the TE position, it doesn't make much sense to take a chance on him.
Emmanuel Sanders

,

Broncos

Achilles Rupture

Yellow Light - Sanders has been participating in a limited fashion during training camp so that is a great sign. Considering that he tore his Achilles in December, his chance to be available for Week 1 of the regular season is pretty much set barring any setbacks. The primary concern that remains to be seen is how effective will Sanders be, as Achilles ruptures are known to limit explosiveness especially only being eight months removed from surgery.
Will Fuller

,

Texans

ACL Reconstruction

Green Light - Fuller will be 11 months removed from ACL reconstruction by the time Week 1 rolls around. He's been participating in training camp without limitation so if he continues to progress without issues, he'll be ready to provide that deep threat for Deshaun Watson once again in 2019.
Marqise Lee

,

Jaguars

ACL Reconstruction

Yellow Light - Lee was activated off the PUP, which is a good sign for his availability hopefully sooner than later. Him being activated puts him on track to possibly be ready for Week 1, but we've seen in the past that no ACL recovery is created equal and Lee isn't guaranteed consistent targets even if he does play Week 1 so I'd let this one play out before using draft stock on him.
Delanie Walker

,

Titans

Ankle Fracture/Dislocation

Green Light - Walker went down in the first week of last season with a brutal injury that has taken a while to fully recover from. Marcus Mariota will be happy to have his favorite target back and all signs point to Walker being ready for Week 1 without any limitations. Walker may not be the player he once was, but his rapport with Mariota and the fact that Jonnu Smith has not really taken advantage of his chances leaves him as a solid TE option.