TJ's Take: Week 8 NFL DFS Recap
Week 8's winning lineups from the biggest contests on FanDuel and DraftKings can be used to tease out lineup-building strategies and offer clues on how you could have landed on a similar team. Reviewing your hits and misses each week is imperative if you want to be a profitable DFS player but examining winning lineups is also a useful exercise in cultivating a winning approach.
This is a free offering in our weekly content contained in the 4for4 DFS subscription. To get access to all of our weekly DFS analysis, sign up here!
DraftKings Week 8 Millionaire Winning Lineup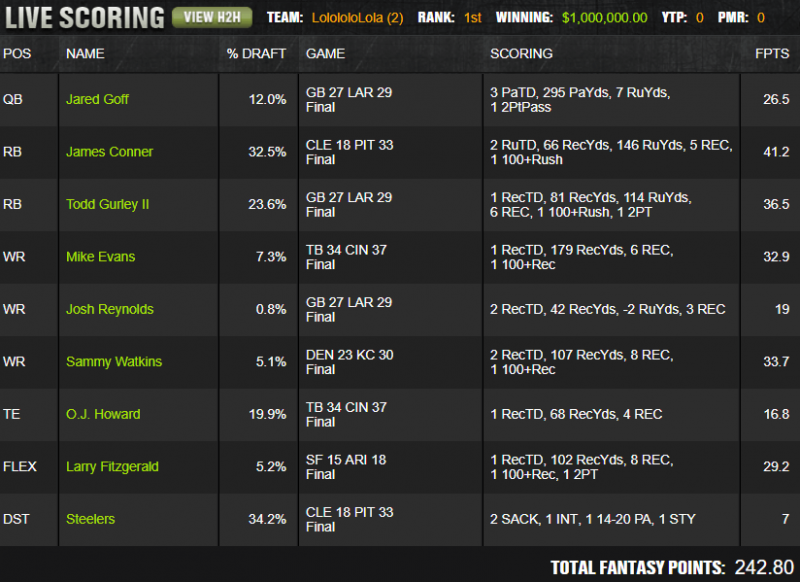 LolololoLola needed only two entries to bring home a $1 million prize in Week 8, riding three different team stacks to victory in the most recent Millionaire. There have been many instances this season of winning lineups with multiple correlation plays. Compared to mixing and matching core plays with a single stack, embracing various correlation plays in a single lineup makes sense as a tournament strategy—this effectively limits the number of times that you have to be right about a situation to hit big instead of trying to pinpoint individual players from multiple teams who will have big games.
There are only a few high-volume running backs in explosive offenses and paying for those players has proven profitable this season (more on that later). LolololoLola rode that trend with two backs priced over $7,000 and ownership above 20 percent, offsetting those chalk running backs with four receivers owned in fewer than 10 percent of lineups.
What Were the Indicators for the Low-Owned Plays?
Mike Evans and Sammy Watkins were both projected for relatively low ownership in games that were expected to be very high scoring. Top-tier wide receivers, such as Evans, who are being ignored are often great GPP targets because the position is so high variance and ownership rarely reflects the actual ceiling expectation of individual players in the elite tier. Watkins was a great leverage play off of his popular teammates. Both were featured in the Week 8 Slate Breakdown.
Similar to Watkins, Josh Reynolds was getting no attention on a team that was expected to have a high-scoring week with multiple chalk players. With Cooper Kupp out of the lineup in Week 7, Reynolds tied for the team lead in snaps and saw one of Goff's seven red zone targets. On a high-powered offense like the Rams, being on the field for most of the snaps can lead to almost any player having a huge day.
Larry Fitzgerald had been slowed down by injuries and an anemic offense in recent weeks but San Francisco has been abysmal against players in the slot this season. Going into Week 8, four defenses on the main slate had allowed more fantasy points per target to players lined up in the slot and just three had allowed more yards per target, according to SportsInfoSolutions.
FanDuel Week 8 Sunday Million Winning Lineup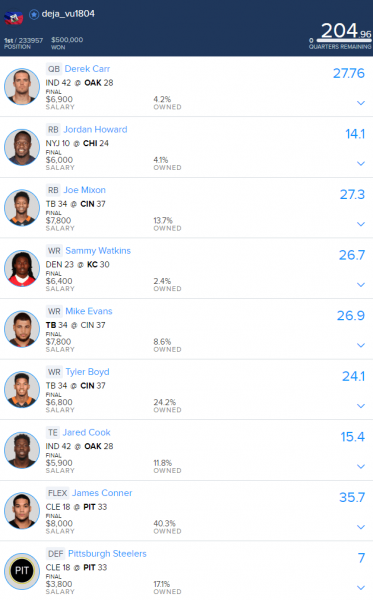 Week 8 featured six games with an over/under of at least 49.5 points, meaning that more than half of the offenses on the main slate had a realistic shot to be in a shootout. deja_vu1804 targeted one of the least popular offenses from those games—the Raiders—as the QB/pass catcher stack to lead the team to victory. Pat James highlighted the Colts/Raiders game as one to zero in on while every other player in the winning lineup was featured as an overweight GPP play in the Week 8 Breakdown. This lineup is a nice hat tip to the accuracy of the tools available at 4for4, but also highlights how much nuance goes into winning a GPP. The perfect player pool was laid out last week—matching the pieces just perfectly is always the hard part.
Note that like Week 8's DraftKings winner, deja_vu1804 played three different sets of teammates. This also marks the eighth time in as many weeks that the winning Sunday Million lineup used a running back in the FLEX spot.
TJ's Final Take
I've used this space to emphasize how important it is to take advantage of the DraftKings CSV export function as part of your DFS research and with the season halfway through, it's a good time to reflect on winning GPP trends. It can be dangerous to look at data from previous seasons since pricing algorithms are always evolving and DraftKings has seemingly made some sweeping changes to their pricing this year—salaries have been tighter and paying up for quarterback is often an unjustified sacrifice. Just last week, for example, the price difference between the QB1 and QB2 was the same as the gap between the QB2 and QB10.
In order to stick to data-driven analysis and avoid anecdotal narratives, here's a look at the average ownership percentages and salaries for each position in winning lineups this season:
DraftKings Winning Millionaire Average Ownership and Salary

| Position | Avg Ownership | AVG Salary |
| --- | --- | --- |
| QB | 7.0% | $5,525 |
| RB1 | 22.3% | $7,800 |
| RB2 | 20.0% | $6,475 |
| WR1 | 13.2% | $7,200 |
| WR2 | 7.7% | $6,250 |
| WR3 | 8.9% | $4,275 |
| TE | 12.7% | $4,013 |
| FLEX | 10.5% | $5,463 |
| DEF | 12.3% | $2,863 |
Key Takeaways
It's felt like a fool's errand to not pay up for elite running backs this year and we have the data to support that. Six of the eight winning Millionaire lineups this season have rostered at least one running back priced above $7,000 and half of this year's winners have featured two such backs.
Only three winning lineups have used a quarterback priced at or above $6,000 and no winner has used a signal caller with a salary of at least $6,500. For context, eight of the 20 available quarterbacks in Week 8 had salaries of at least $6,000.
The "onesie" positions often have relatively flat ownership so it's not surprising when a winning lineup features a quarterback, tight end, or defense with single-digit ownership. Chalk tight ends and defenses, however, have been quite profitable this year. For tight ends, this likely speaks to the lack of depth at the position—there are only a handful of players at the position that have a GPP-winning ceiling. Defense is an extremely high-volatile position in fantasy and I'd expect some relatively unpopular defenses to start popping up in winning lineups before season's end.
Photo by Wil Vragovic/Getty Images.