The Ultimate Guide to Waiver Wire & FAAB Strategy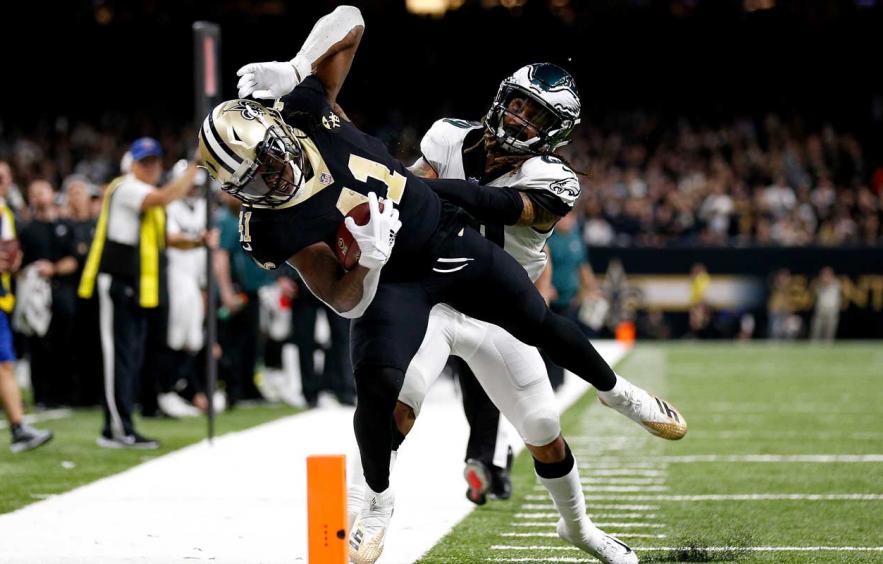 Jonathan Bachman/Getty Images
Fantasy football players wait all offseason to draft their season-long team(s). Once that high fades and the season begins, it is vital to master the waiver wire. We've all been there before - you drafted the perfect team. Nothing can stop it now. Not your league mates, your draft score according to the site that hosts your league, nothing.
Injuries start plaguing your roster. The offense that was bound to score 30-plus points every week puts up 30 during the first month of the season. Father Time is once again undefeated despite 14 years of consistent play from your WR2.
Mastering your draft is just the tip of the iceberg. If you choose to ignore the rest of your role as a fantasy manager, bad things will happen.
There are numerous ways to navigate waivers. The following is an in-depth look at different formats, strategies, and other considerations for your season-long league(s). To win your league, it is paramount to understand your league format and ways to have it benefit your team. League winners win at every step.
Waiver Formats
The following are not a be-all-end-all, especially with leagues agreeing to alter whatever format they decide to use.
Waiver Priority
After a week is played, the waiver priority gets set. The team at the top gets the first pick, followed by the second team, and so on. The team that gets priority can be set a few ways:
Worst is first - The team with the first record gets the first choice, and the win-loss record decides this every week.
Rotating - The choice to make a pick goes one through however many teams, and if you make a selection, you go to the end of the priority queue. The top team would have the last waiver priority the following week, and it cycles each week.
Continuous - Once you make a claim, you move to the bottom of the list. This applies to every team. Example: Team 6 does not make a waiver claim and eventually moves to the top of the queue. Team 6 would stay at one each week until the owner uses their claim.
These priority waiver options tend to be the most popular.
First Come, First Served
The name covers almost everything. Usually the first is served at a set time and runs until waiver close, OR, waivers do not close and runs the entire season that way. This is a difficult option if your league mates do not live in the same time zones, let alone incorporating family life, other hobbies (pssh, this is THE hobby), or non-traditional work schedules.
FAAB
FAAB is short for Free Agent Acquisition Budget, or Free Agent Auction Bidding. Managers have a set amount of FAAB to spend on waiver claims for the season. The league agrees on a budget, which usually falls in the 100-1,000 dollar range. Some larger/charity tournaments will set the budget to 10 to limit transactions. FAAB has seen an increase in popularity over the last five or so years and is another way to add strategy to a league.
Strategies
Waiver Priority
For lack of better wording, your waiver priority depends on your priorities. If you sit atop and only move down once you make a claim, it may make sense to sit and wait for a significant injury, QB change, etc. The only time this strategy would not work is if you stream any position (more on that later). Other ways to utilize this style is in trades, blocking other teams from a player/position of need, and setting your roster for the playoffs.
First Come, First Served
If you are in a league where every claim is sharp, knowing the happenings of every team in the NFL is a large advantage. All it takes is one day of forgetting waiver claims and a league-winning player is on another roster. Gotta keep your head on a swivel in these waiver streets.
FAAB
This strategy takes more time to delve into. Former 4for4er and current good guy of the fantasy industry Pat Fitzmaurice took FAAB recommendations from four years worth of waiver wire articles and presented the average percentage recommended for each position. I update those numbers using 2021 through Week 3 of 2022. John Daigle and Alex Gelhar have covered the waiver wire over that time using dollars and FAAB percentages. Here is what they recommended:
QB: 1% FAAB budget spent (Daigle) and rarely up to $10 (Gelhar)
RB: 8.4%, up to $25
WR: 8.1%, up to $10
TE: 9.1%, up to $7
It is unusual to see tight end with the most FAAB percentage recommended, but those are based on a few higher claims with fewer players listed weekly. It is also obvious that quarterback is a position to spend as little as possible on. The goal of onesie positions such as QB and TE is to use as little draft or FAAB capital as possible with the intent of finding the best option as the season goes on, or streaming. That has been a strategy popularized over the past 10 years that has recently found mixed results, but still a way to be different.
Running back and wide receiver are positions that will have more weekly recommendations and options on the waiver wire. Daigle has offered 30 total wideouts in 2022 compared to 12 tight ends, for reference. Spending more at RB and WR is seen more often because your starting lineup requires multiples of each (in the majority of leagues) and are often the players scoring the most points in fantasy football.
The other concern with using FAAB is deciding which players to use your budget on. Sometimes your draft falls short or players do not meet expectations early. It seems smart to bid large early but remember that health, playing time, schedules, and scheme matter for each player. Just because Player X looks like the new lead dog in a backfield does not mean he stays that way or gets that opportunity (looking at you Kyle Shanahan).
There are occasional players to go all-in on, like Justin Jefferson his rookie season. He was allegedly listed behind Olabisi Johnson (remember him?) on the Vikings WR depth chart, but obviously jumped him and is now one of the two best receivers in the game. The eye test is just as important as what is listed on a depth chart or perceived as a given opportunity.
Considerations for Waiver Claims
Strength of Schedule
SOS can be a fallacy but in certain cases it carries weight. An RB could become the top option for the worst team in the league, but with a schedule that could include three straight games against the top teams in the league is not always worth a waiver claim.
Another way to use the schedule is to fill a starting spot during a bye week. Sometimes the top option is not the best because of matchup. The fifth or sixth-best WR on waivers may end up having the best matchup for one week because of their opponent. Therefore, that is the player you want to add. The 4for4 Look Ahead Planner is the perfect tool for this.
Aim High
Similar to the one-week spike play, targeting players with a high ceiling for the remainder of the season are players to target before they get their chance to shine. Sometimes bad teams need to see how good their depth is once the playoffs are out of reach. Their third-round rookie RB or late-round WR have shown some glimmers of hope and may have the final 4-6 weeks to show out. Adding those types of players as your depth in Weeks 8-12 can be the difference between a first-round playoff exit and a championship.
Follow the Books
Vegas insiders have a better idea of the machinations of NFL teams than we do. Adding players from games with high expected point totals is a way to get a piece of the perceived scoring pie.
Streaming
I have mentioned it a few times but streaming is a way to mix and match players until they're too good to replace. QB and TE are the most likely positions to do this with, but kicker and defense are streamable.
Kickers and Defense
Do not draft these positions until the last two rounds and do not look to burn higher claims on them. Of course, a team defense can turn out to be the best option all season after going undrafted. Beyond that situation, most are low-cost options.
Be A Jerk
As long as your league allows for all teams to make waiver claims throughout the season - in the playoffs or out - block teams from getting a position of need if you have a higher waiver claim/more FAAB. This is an excellent strategy when you face a team that just lost a starter and there are a few options to consider for a waiver claim.
Sabotage
Not every big-named player has a good season. Teams that are good may tend to sabotage-drop a well-known player to add at a position of need. Another team will see the big-name player, add them, and potentially drop a useful player themselves. If that dropped player would look good on your roster, bingo bango.