The Ultimate Guide to Waiver Wire & FAAB Strategy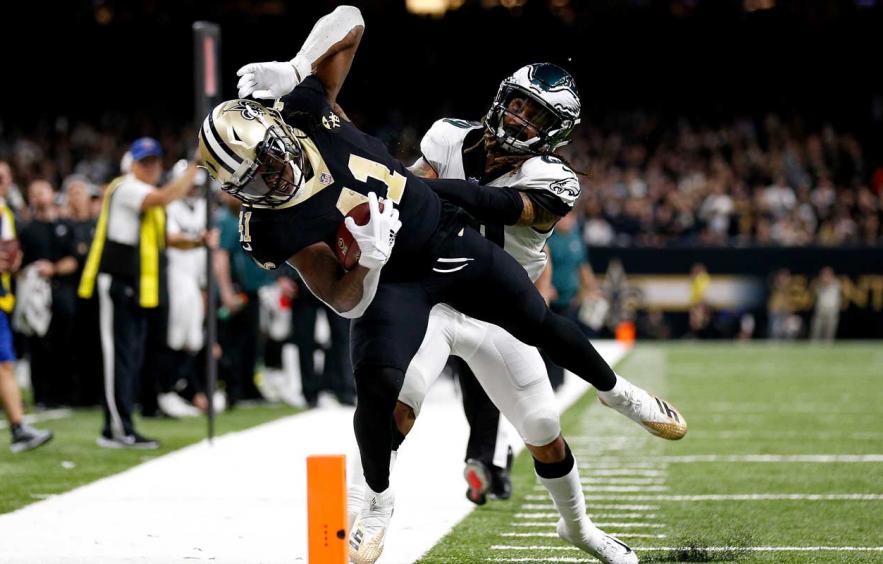 Jonathan Bachman/Getty Images
It didn't take long for Tim Hightower to go from semi-tragic figure to fantasy football legend.
A competent but limited rotational RB with the Cardinals from 2008 to 2010, Hightower joined Washington in 2011, ripped up his knee early in the season, then was out of the league for three years. He signed with the Saints in 2015, was cut the day before the season opener, re-signed two days later, was cut again the following day, then re-signed for a second time in early November. After Mark Ingram was placed on IR with a shoulder injury following the Saints' Week 13 game, Hightower took over as the lead back. He produced 95 total yards and a TD in Week 14, went for 85 total yards in Week 15, then went off for 169 total yards and two TDs in Week 16 – championship week in most fantasy leagues. Hightower was the No. 2 overall RB during that span.
Hightower carried thousands of fantasy owners to titles less than a month after being owned by almost no one. For a decade now, friends and league mates gathering in bars and rec rooms have recited the story of how Hightower came out of the ether to win one owner a championship and dash the title hopes of another.
And to think that Hightower was just a lightly regarded waiver wire guy.
Last season, Raheem Mostert was unowned in all but the deepest of fantasy leagues when the regular season began. From Week 11 to Week 16, he piled up eight touchdowns, with at least one score in each of those six games. Fantasy managers who picked up Mosert on waivers dramatically improved their starting lineups. Mostert won a lot of money for a lot of people.
The draft or auction might be the most important component of a successful fantasy season, but it's only the first step. Owners who win championships typically make a series of significant in-season upgrades. Sometimes this is done through trades -- which you can evaluate with our Trade Evaluator to ensure you come out on top -- that deliver key pieces. Often, it's done via the waiver wire.
No matter how many players are selected in a draft or auction, there are always gems that go unmined. Getting your share of these jewels is crucial. Some of the players on the waiver wire turn out to be dynamic contributors capable of turning a mediocre team into a playoff contender, or turning a decent team into a title contender. And sometimes, the difference between making the playoffs and missing out is the ability to find a sturdy one-week patch when a bye or a minor injury leaves you temporarily short-handed. Your ability to navigate the waiver wire can often determine the course of your season.
Overview of Waiver Systems
There are variations of each, and some leagues have devised their own exotic methods of handling waivers, but most of the sites that offer administrative services to fantasy football leagues offer three types of waiver systems:
1. FAAB
This is an acronym for Free Agent Acquisition Budget, or, if you prefer, Free Agent Auction Bidding. Owners are given a season-long spending limit – typically 100 or 1,000 dollars – and unowned players are acquired through a blind bidding system. FAAB is generally regarded as the most equitable waiver system, and it also adds a thick layer of strategy to season-long leagues, making it very popular. We'll dedicate more space to FAAB in this article than to the other systems simply because it's so widely used and requires so much more tactical effort than the other systems.
2. Waiver priority system
Each week, teams are lined up in a waiver priority order. The team at the top of the list gets its choice of one or more available free agents. The team second on the list then gets its choice(s), and so on. Priority can be handled in a number of ways:
Rotating order. Teams are lined up for waiver priority, often based on reverse draft order. After a team has had first priority in a given week, that team then goes to the bottom of the order the following week, and everyone else moves up a spot.
Reverse order of standings. The worse your record, the higher you are on the priority list.
Continuous rolling order. This is similar to the rotating order, except that the list doesn't reset from week to week. After you make a successful claim, you move to the bottom of the order.
3. First come, first served
Any owner can grab a player at any time, though some leagues place weekly or season-long limits on the number of players you can claim. The popularity of FCFS is waning, and this system tends to be used mostly in smaller, less bloodthirsty leagues.
Waiver Strategy
FAAB
To start, we'll take a closer look at positional spending.
For several years I did 4for4's weekly Waiver Wire Watch article in tandem with The Godfather himself, John Paulsen (the esteemed Alex Gelhar handles WWW duty now and does a tremendous job of it). Every week, John and I would put our heads together on potential free-agent additions – players with less than a 50% ownership rate in Yahoo leagues – and come up with a recommended bid for each of them based on our rest-of-season rankings. We aimed for a number that would give you a strong chance to acquire the player you wanted without wasting your resources by overbidding.
I dug into the archives and looked at the Waiver Wire Watch's recommended bids from 2014 through 2017, beginning in Week 2 (after we've had a week's worth of results) and ending in Week 13 (the end of the regular season in many leagues). Recommendations are based on a $100 FAAB budget, so each suggested bid represents the percentage of your FAAB budget that you'd spend.
(Note: Suggested bids were estimated in some instances, such as when the late-season bid recommendation for a hot running back was to spend the remainder of your FAAB.)
First, let's look at the average suggested bids for the top five weekly waiver wire targets at each position over the last four years:
QB – 2.7
RB – 12.0
WR – 10.0
TE – 3.2
And here are the average suggested bids for the No. 1 weekly waiver wire targets at each position:
QB – 5.0
RB – 22.9
WR – 15.3
TE – 6.3
As you can see, RBs typically demand the greatest investment, and quarterbacks and tight ends are relatively inexpensive. This is a simple matter of supply and demand. It's harder to find productive RBs than it is to find productive QBs and TEs because (1) the ratio of productive fantasy RBs and WRs to starting spots that must be filled is smaller than it is at QB and TE. Also, RBs tend to get hurt more frequently than players at other positions, leaving the owners of injured RBs desperate to fill the void. 4for4 has had some of the industry's most accurate rankings due in part to the fact that we realize fill-in RBs can often finish among the highest-scoring players at their position.
Waiver wire QBs and TEs typically require a smaller capital outlay because these are "onesie" positions in many leagues: You start only one per week. That typically makes for a bigger pool of usable free agents at each of those positions. Some owners try to capitalize on the large pools of unowned QBs and TEs by "streaming" either or both positions – working the waiver wire relentlessly and shuffling different players in and out of the starting lineup based largely on matchups. (More on streaming strategy later.)
The Zero RB strategy, which has pockets of support in the fantasy community, advocates using early-round draft capital on pass catchers and back-filling the RB position in the middle and late rounds, adding attractive waiver wire RBs as needed.
It's a fine strategy, but the average suggested bids for RBs shown above illustrate a potential pitfall of the Zero RB strategy in FAAB leagues: Waiver wire RBs ain't cheap.
Owners in FAAB leagues can afford to change QBs and TEs as often as they change underwear due to greater fungibility at those positions. RBs, with their Gucci price tags, can't be shuffled in and out of lineups as frequently because you'll run out of money early on – unless you're willing to buy off the rack and settle for goods of lesser quality.
Every season there are backup RBs who suddenly acquire significant workloads due to injuries or benchings. Not surprisingly, the RBs who inherit workload windfalls become popular FAAB targets. (Often, one of the owners bidding most aggressively is the owner whose RB was injured/benched.) In selecting QBs, WRs and TEs from the waiver wire, you're looking for a combination of talent and opportunity. In selecting RBs from the waiver wire, opportunity is king and talent is a secondary consideration. You can try to cut costs by paying a lower price for a running back whose talent you believe in but who is buried on the depth chart. But at best you'll have to wait for your new RB to get his opportunity, and at worst the opportunity will never come.
The takeaway here should be obvious: Waiver wire RBs can be expensive in FAAB leagues, so plan accordingly.
Budgeting is obviously the critical consideration in navigating the FAAB system. The prices listed above should help give you an idea of what you'll need to spend on waiver wire replacements. But what's important is how you allocate your resources over the course of the season. Often, your spending will be dictated by need. A rash of injuries will inevitably force you to loosen the purse strings. But absent a run of bad luck with injuries, you should let your situation determine the pace of your spending.
If you're off to a poor start and clearly don't have the horses to compete for a championship, spend aggressively early on. The regular season is short, and if you don't turn things around quickly, you'll be roadkill. Identify the dead weight on your roster and be willing to pay a premium for the best replacements you can find. If, on the other hand, you're off to a fast start and your team has the look of a title contender, be thrifty with your FAAB money early on. As well as the season has started for you, there might be potholes ahead. By being thrifty early in the season, you'll be able to outspend your competitors later on if you need to plug a leak or if there's an irresistible player available on the waiver wire.
Before we move on from FAAB, let's take a minute to address all-in maneuvers.
Some owners are willing to spend their entire FAAB budget on a single player. It's not necessarily a terrible strategy if the player looks like a season-saver, but I personally would never empty out my coffers before I was on the verge of elimination in the playoff chase. Going all-in on a player in the early weeks of the season often proves foolhardy. Your savior free agent could bust, or he might not last for the entire season. You're playing a dangerous game if you leave yourself without any FAAB money to use in case of an injury emergency.
Waiver Priority System
There's really only one system-specific piece of advice for owners in these leagues: Do not squander your waiver priority if the waiver priority is rotated every week. Having first priority is an advantage you need to seize. If you have no glaring needs at any single position, take the best non-quarterback available. (Remember: QBs are more fungible assets than players at other positions.)
Sometimes the best way to leverage your waiver priority is with a trade. Is there an owner in your league desperate to plug a gaping hole? If you have no such holes of your own, talk to this owner before you make your claim. You can claim the player this owner covets and include him in a trade that upgrades you at another position.
First Come, First Served
The key here is to be attentive. Know what time the waiver wire opens for business each week (assuming that it shuts down between kickoff of the early Sunday games and the end of the Monday-night game). Determine your needs before the waiver wire opens and then act quickly to get what you want.
As with waiver priority systems, you can combine waiver acumen with trades to upgrade your roster. Seek to acquire the league's most coveted waiver wire assets, then flip them for assets that are more valuable to you personally.
Tactical Considerations
Pay Attention to Scheduling
In choosing waiver wire targets, a player's situation and ability are primary considerations, but it's important to pay attention to his upcoming schedule, particularly if you're shopping for a short-term stopgap. If you're trying to acquire a player who might be able to start for you the rest of the season, schedules are less important. But if, for instance, you need a wide receiver to cover a bye week or fill in for a starter who's going to be out for a game or two with a minor injury, look for an available receiver who has meaningful roles and faces bad pass defenses in the weeks where you'd likely use him. 4for4's strength of schedule Hot Spots gives you a color-coded bird's eye view of when each player has the best matchups.
Streaming
As mentioned earlier, this is a strategy whereby owners make a minimum initial investment in a "onesie" position – quarterback, tight end, kicker or team defense – and churn personnel at that position, taking advantage of favorable matchups and making minimal investments to acquire weekly starters. What makes this strategy attractive is that by making a minimal investment at one position, you can sink additional capital into other positions while still hoping to finagle reasonable production from the position you're ostensibly punting. A streaming approach works best in FAAB and, especially, FCFS leagues. It's a less viable approach in leagues that use a waiver priority system, because it's harder to get what you want from the waiver wire. In FAAB leagues, committing to a streaming approach means budgeting yourself accordingly. Don't make any big one-time expenditures on the position you're supposed to be streaming. Be thrifty, making low-cost acquisitions that will allow you to pick up as many streamers as you need while still leaving you enough money to address other positions in case of injury.
Take the Long View
Amidst the chaos of the regular season, a lot of fantasy owners develop tunnel vision, focusing solely on what's in front of them and failing to take in the entire scene. If you're looking at matchups when shopping the waiver wire, look at a player's matchups for the next several weeks rather than just his matchup for the week ahead. If you're trying to choose a long-term replacement for a player who's just gone on IR, look at what sort of matchups a potential replacement has during the fantasy playoffs. Try to keep ahead of your competitors with regard to players who'll be coming back from injuries or suspensions. Grab potentially valuable players a week or two before they're due to return from an injury rather than waiting until they're cleared to return.
Weakness Loves Risk, Strength Loves Certainty
If your team is off to a slow start, or if you're treading water but realize you don't have championship-caliber personnel, take some chances. Gamble on talented players whose value has been diminished by injury, suspension or positional logjam. Target players with compelling best-case scenarios, even if those outcomes are long shots. You can't afford to make only incremental improvements if you've dug an early hole for yourself – a 13- or 14-game regular season leaves little room for patience. Conversely, if your team is off to a fast start, or if you're 2-2 but sitting on a loaded roster, take a more conservative approach to waivers. If you have a strong team and need to pick up a player cover a bye week, target a consistent but low-ceiling contributor rather than an erratic performer who scatters the rare explosive performance amongst frequent no-shows. You don't want to take a goose egg in any lineup spot. Take the safer output, and the rest of your lineup can inflict the heavy damage.
Vegas Is Smarter Than We Are
Most of us fancy ourselves good talent evaluators, but we're rarely as good as we think we are. When shopping the waiver wire for bye-week fill-ins or other one-week fixes, let the Vegas oddsmakers be your guide. Give added weight to players in games with high over/under totals and players on teams that are heavy favorites. The oddsmakers let us know which teams they see as big scorers in a given week. When in doubt, heed their wisdom.
Late-Season Blocking
If you have an important game coming up against a top rival – particularly if it's a playoff game or a critical late-season showdown – try to anticipate which players he'd most want to acquire from waivers to use against you, then pick up that player yourself, even if you have no intention of using him. This really only works when your rival has one or two obvious waiver targets. But if executed well, this maneuver is the ultimate in fantasy football gamesmanship. The key is getting inside your opponent's head, discerning his/her plans and launching a preemptive strike. Sometimes you might even need to do it a week or two in advance. But if you have the resources and the foresight to pull it off, it can be a lethal strategy.
Kickers and Defenses
We've come to the end of the column and there's barely been any mention of kickers or defenses. There's a good reason for that: Kickers and defenses are highly fungible assets to be acquired as cheaply as possible. Kickers are wildly unpredictable, so don't waste significant FAAB money or your precious waiver priority acquiring one. Defenses are only slightly more predictable, and their value tends to wax and wane based on matchups. Don't over-invest.