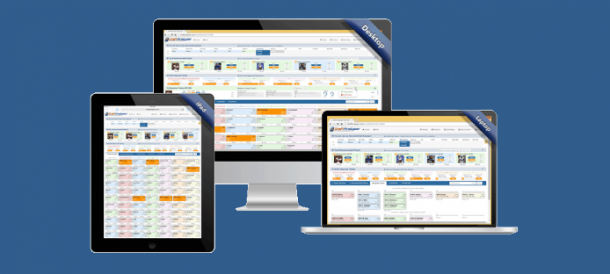 Never make a mistake and draft the best possible team with Draft Analyzer! Receive personalized draft advice updated after every pick based on 4for4's award-winning projections. Draft Analyzer's algorithms optimizes your entire draft (and team), you'll be able to track draft value by position throughout the draft and understand exactly which positions are trending. On draft day, you'll have access to the following:
Projected fantasy points (based on your scoring rules)
Average draft position data
Value based and dynamic value based metrics
Personalized draft recommendations after every pick
Projected and historical stats
Player durability and consistency rankings
Team fantasy stats, rankings and strength of schedule
Practice mock drafts in minutes
...and much more!
4for4 Classic Subscribers have basic access ($25 value) and can add leagues manually and do not have access to live draft sync.
4for4 Pro Subscribers have full access ($62 value) and are able to import all of your league's settings and live sync with your draft as it happens (it will auto-cross players off and give you reccomendations on who to draft in less than two seconds). You also receive access to Auction Analyzer, at no additional cost
Please login or subscribe to access your copy of Draft Analyzer today.
Quick Start Guide
For those who want to get right to it, follow these easy steps.
Make sure you're logged into 4for4 and click the orange-button "Launch Draft Analyzer" above to open the Draft Analyzer Dashboard.
Download the new Chrome Extension (it is only available on Chrome).
Open your league home page in a new browser tab.
Head back to the Draft Analyzer Dashboard and click the blue button "Add My League" and your league is imported and ready to go. If your league is not auto-detected on the first try, we suggest adding your league by choosing your League Site and entering your League ID.
We suggest double-checking your league settings, scoring and draft spot by clicking the "Settings Options" drop-down box next to your league.
Once your settings are confirmed, head back to the Draft Analyzer Dashboard and select the Draft Analyzer tool from the "Fantasy Tools" drop-down box and get drafting!
NOTE: If you are a Classic Subscriber, you do not have access to league import (Step 4) nor live draft sync. To add a league, you must use the third option after you click on "Add My League" (site template). Then you can go straight to Step 5.
Video Tutorials