Tips From Top Players: MFL10 Strategy with Pat Thorman and Rumford Johnny "Teasing out strategies from top performers," as Tim Ferriss puts it at the beginning of every Tim Ferriss Show is a useful exercise in any arena, fantasy football not excluded.
In part three of this series, I interviewed Pat Thorman of Pro Football Focus and Rumford Johnny of Draft Day Consultants to find out how they attack MFL10 best-ball leagues.
How many MFL10s did you play last year? How many do you plan on playing this year?
Pat Thorman: 73 in 2016. Have played eight so far (used credits) but am shut out as of now because I live in MA. Am/was planning to play as many as last season.
Editor's note: You can support the effort to protect fantasy football in your state by signing up HERE.
Rumford Johnny: 60. 40.
Do you find an edge in participating in more drafts at certain times during the year? When and why?
PT: I've had a slightly better win percentage in earlier drafts.
RJ: Just post-NFL Draft. People overdraft rookies, which allows for veteran values to tumble.
Is there a maximum amount of exposure you want to have to any single player? Will you forego value and bypass that player if that max exposure is reached?
PT: Roughly 30% exposure was my max, and only with later draft picks. I only will forego players based on exposure if they're early-round picks.
RJ: Usually try and vary higher value core players, but an overlooked value WR2? I'll max out.
In a vacuum, do you have an ideal

roster construction strategy

(# of players at each position) that you strive for? Any popular strategies that you almost always avoid?
PT: Yes, I typically keep to the same roster construction, with some exceptions. I don't go Zero RB in best ball drafts.
RJ: The basic 2-3 onesie players, with 8-9 WRs, 4-5 RBs.
Is there an unconventional roster construction strategy that you have successfully used in the past or would like to implement this year?
PT: No, all of my wins came using the same basic construction.
RJ: Just don't get cute with trying to zig when others zag. Don't get stuck with two bad QBs on run heavy offenses.
What is one rule that differentiates your MFL10 draft strategy from your traditional redraft strategy?
PT: Aside from keeping a closer eye on bye weeks and drafting backups at QB, TE and DEF, my strategies are mostly the same (other than no Zero RB).
RJ: Usually assume more risk. The bigger rosters allow for it.
How do you manage your bankroll, or at what point do you decide to make the jump from MFL10s to MFL25s, or even MFL100s?
PT: I sprinkle 25s and 100s in along the way, more as the offseason wears on. I'd rather play against fewer hardcore drafters when the stakes are raised.
RJ: I avoid 25s & 100s. The ROI just isn't there.
Do you plan on participating in MFL 50/50s this season? If so, how will you approach this new format?
PT: I will if the open games back up in MA. I'd most likely take a more conservative approach (3 QB, 3 TE, 3 Defense, fewer boom/bust players).
RJ: NO.
What is one tip that would you give to someone signing up for their first MFL10?
PT: Use an outside ADP source you trust and don't pick QBs too early and DEF until at least the 16th round.
RJ: Try a few free MFLzeroes. Pay attention to wild ADP swings and try and avoid those overhyped players.
Which player do you hope to have the most shares of in MFL10s this season and why?
PT: Tyrod Taylor, because it will mean his ADP stays low and he's the type of "spike week" player who pairs well with a more steady QB producer.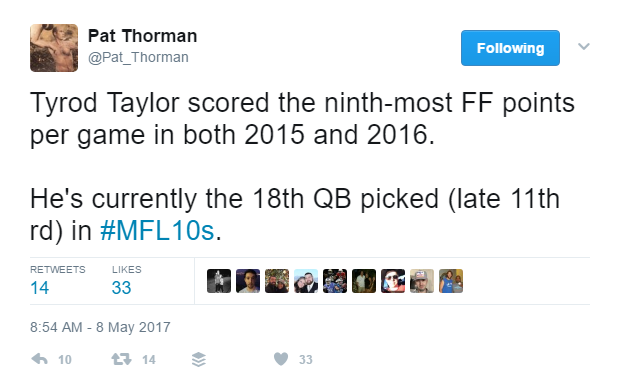 RJ: Kamar Aiken. A chance to be a WR2 in a top offense at WR5 prices.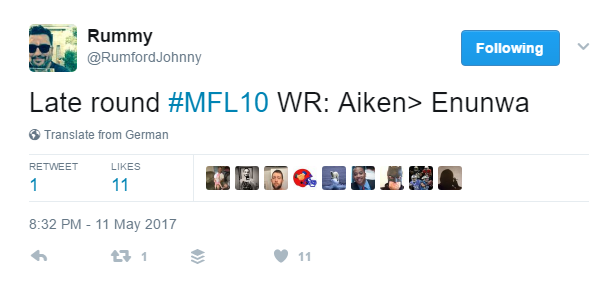 Thank you to Pat and Rummy for taking the time to talk some fantasy football. Be sure to give them a follow @Pat_Thorman and @RumfordJohnny.
Editor's Note: Subscribe now and get an early-bird discount on 4for4's 2017 Classic, Pro, or DFS products!
---
Related Articles