Kansas City Chiefs RB Jerick McKinnon set up for More Fantasy Football Success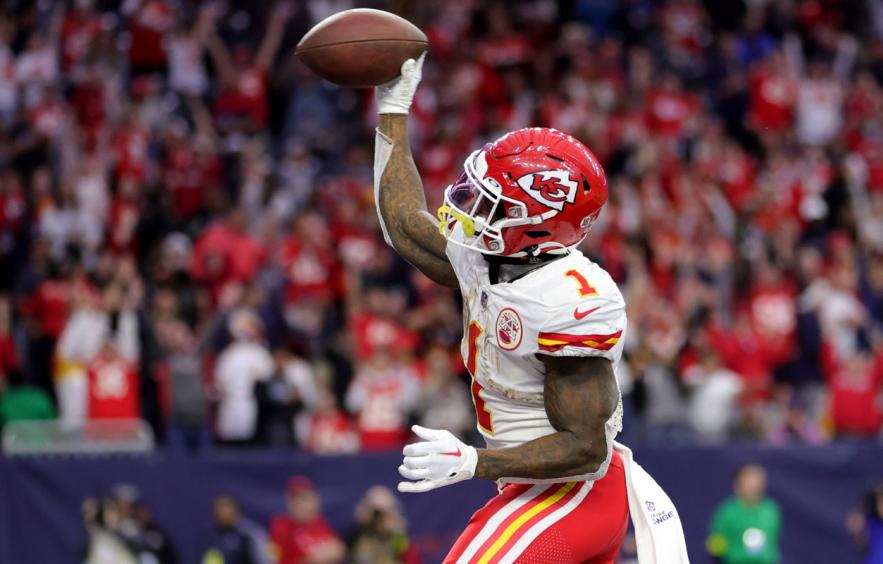 Carmen Mandato/Getty Images
The NFL will kick off Week 18 on Saturday with a bit of a murky AFC playoff picture, with the Kansas City Chiefs needing to secure a win, regardless of whether or not the Cincinnati Bengals and Buffalo Bills end up resuming or restarting their Week 17 game. The Chiefs currently sit in the No. 1 spot in the AFC, and will need to beat the division-rival Las Vegas Raiders and for the Bills to lose one of their next two games to clinch that top spot and enjoy the bye and home-field advantage that comes with the No. 1 seed. This is the first game of the Week 18 slate, so expect the Chiefs starting crew for most of the game unless it's an early bloodbath.
This all points towards a full game of the team's starting offense and an opportunity for running back Jerick McKinnon to continue what has been a career year, largely thanks to a recent explosion in receiving touchdowns. The Jerick McKinnon stats have been something to behold for fantasy managers who had the wherewithal to start him during the fantasy football playoffs.
McKinnon's Unlikely 2022 Season
McKinnon became the first running back in the Super Bowl era to record a receiving touchdown in five consecutive games — an accomplishment he insists is due to his circumstances. "It's play-calling," McKinnon said after the game. "It's Pat [Mahomes] finding me and it's the offensive line blocking super well up-front. It's a collection of everything."
With his eight receiving red zone trips this season, McKinnon passed Jamaal Charles for the most receiving touchdowns by a Chiefs running back in a single season. He also sits just one behind the NFL record set by Chuck Foreman in 1975.
Kansas City Chiefs RB Jerick McKinnon is an anomaly. He's in his ninth NFL season and his thrid team after experiencing two years on the sidelines in 2018 and 2019 due to a litany of injuries. In Kansas City's 27-24 win over the Denver Broncos on Sunday, McKinnon finished the game with five catches for 52 yards. More significantly, he added two receiving touchdowns, giving him an insane seven scores through the air in the last five games.
Though he was on the team last season, people forgot he was even on the roster until this same Week 18 of last season, when McKinnon had a season-high in both rushing and receiving yards and scored his only TD of the regular season.
Projecting Week 18
McKinnon will need only one single receiving yard this weekend to set a new career high, and if he can get to 50+ yards on the ground, it will be the first time he's accomplished that in four games of the same season since his rookie year of 2014 with the Vikings. He'll have a fantastic opportunity with his role to pad both of those stats against a Las Vegas Raiders defense that ranks 30th in schedule-adjusted fantasy points to the running back position. The Raiders are also fresh off a Week 17 matchup in which Jerick McKinnon's old team, the 49ers, got Christian McCaffrey 193 total yards on 19 rush attempts and nine targets.
McKinnon should be in for a big day, and is currently ranked as 4for4's RB13.