What is LeVeon Bell's Fantasy Value in New York?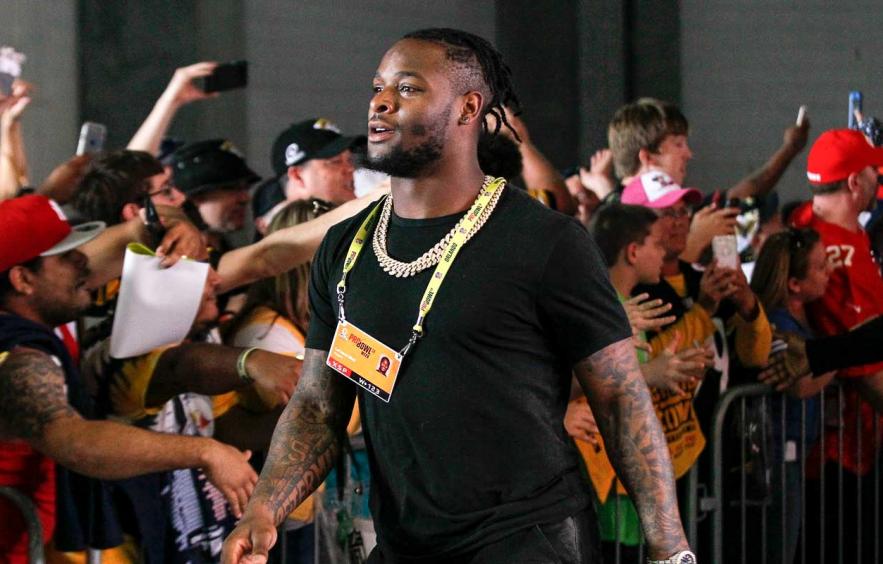 Don Juan Moore/Getty Images
Once the league year started on March 13, the New York Jets officially signed LeVeon Bell to a four-year, $52.5 million contract with $35 million guaranteed. Bell (mostly) got the payday that he was looking for, but how will the move to New York impact the star back's fantasy value?
It's no secret that LeVeon Bell has been among the best fantasy running backs since entering the league in 2013. Since his rookie year, Bell ranks second in both touches and PPR points per game, including a stretch from 2014–2017 where he finished as a top-five PPR back three times, with two top-two finishes. Much of that value can be attributed to his prowess in the passing game—Bell has finished outside the top 10 at his position in targets per game just once and ranked first in that category in each of the last two seasons that he's played.
While that production has been great for past fantasy owners, it's meant a lot of miles on the Bell tires—he is one of six players with at least 1,300 total touches since 2013 and he didn't even play in 2018. The other backs include two players who retired after 2017 along with LeSean McCoy, Frank Gore and Lamar Miller. None of those names are particularly exciting.
Part of Bell's reasoning for not playing under the franchise tag in Pittsburgh may have been because he noticed that wear and tear catching up with him—he hasn't played a full season since 2014 and missed at least four games twice in that span. His year off from football surely gave his body a much-needed rest but the other side of that coin is wondering whether he is in "football shape".
Adam Gase has been an offensive coordinator or head coach for each of the last six seasons, but the first two seasons were with Peyton Manning at quarterback, a player who single-handedly skewed the play-calling of any team he was under center for. Over his last four seasons as a play caller, however, Gase has utilized the running back position almost as much as any coach in the league. Since 2015, Gase's running backs have averaged a 58.6% team touch share with three of those offenses ranked in the top 10 in running back touch share. Additionally, his teams have ranked in the top half of the league in running back target share in three of the last four seasons.
The reason Gase hasn't produced a top-notch fantasy back—especially during his three-year tenure in Miami—is two-fold: the lack of a true featured back and game script. Going back to 2016, no Miami back was offered at least 300 touches under Gase and only one exceeded the 200-touch mark in a season. Meanwhile, only four teams have run more plays while trailing by at least a touchdown than the Dolphins over the last three seasons.
In Bell, Gase now has a back that can handle the vast majority of what has traditionally been a very high positional touch share. Whether the game script concerns will be alleviated in New York is much more unclear.
A look at the 2018 season doesn't paint a promising picture for the Jets' offense. New York ranked 31st in yards per drive and just five teams ran more plays when trailing by a touchdown or more. Of course, they were playing with a rookie quarterback in Sam Darnold and young quarterbacks often make a significant leap in year two. In addition to adding Gase and Bell, the Jets' front office added a 25-year old wide receiver, Jamison Crowder. When healthy, Crowder has been one of the more reliable slot men in recent years and any boost for Darnold can buoy the potential of this entire offense. 
Even before officially adding Bell, it was apparent that there was room for him to succeed in New York, at least from a volume standpoint. The Jets have 231 vacated carries from 2018 (fourth most) and 172 vacated targets (seventh most).
The biggest concern for Bell might be his new offensive line. LeVeon was spoiled in Pittsburgh, running behind a line that ranked in the top 10 in adjusted line yards in each of Bell's last four seasons. New York finished dead last in that category in 2018. Unsurprisingly, running backs haven't fared well behind bad run-blocking lines. Over the past 10 seasons, only two teams have finished in the top 10 in running back rushing yards behind a line ranked in the bottom five in adjusted line yards; six have ended the year in the top 10 in total yards from their running backs and seven have finished in the top 10 in PPR scoring from the position.
A look at the player level is similarly uninspiring. According to SportsInfoSolutions, of the 176 linemen who played at least 400 snaps last season, no Jet finished higher than 155th in Expected Points Added (EPA) on running plays. As of this writing, their only new starter on the line is former Raiders guard Kelechi Osemele, who finished 161st in rush EPA last season.
What It All Means for LeVeon Bell in 2019
Given his contract, workhorse status and Gase's history with running backs, LeVeon Bell steps into a situation where he should see the 75%+ touch share that fantasy owners have become accustomed to. In an Adam Gase offense, that should easily equate to well over 300 touches. Behind a bad line in an offense that needs to make a huge leap for Bell to have any significant touchdown expectation, the star back falls out of the top half of the first round where he has traditionally gone in fantasy drafts. Bell's usage in the passing game should bypass some of the offensive concerns but likely gone are the days of Bell rolling out of bed and consistently giving your fantasy team 20 points. 
Early post-free agency ADP has Bell at the back end of the first round and that should settle around the 1-2 turn as fantasy drafts ramp up. For my money, I'm looking to draft Bell only when he falls to me in the second round. A disappointing 2016 Todd Gurley-like season is well within Bell's range of outcomes in New York.